Inovio VGX-3100 HPV Data Adds To Conviction
Summary
Inovio reported positive Phase 3 VGX-3100 data.
In addition to treating cervical dysplasia, label expansion is likely.
DNA plasmid technology is poised to create a broad array of commercial therapies.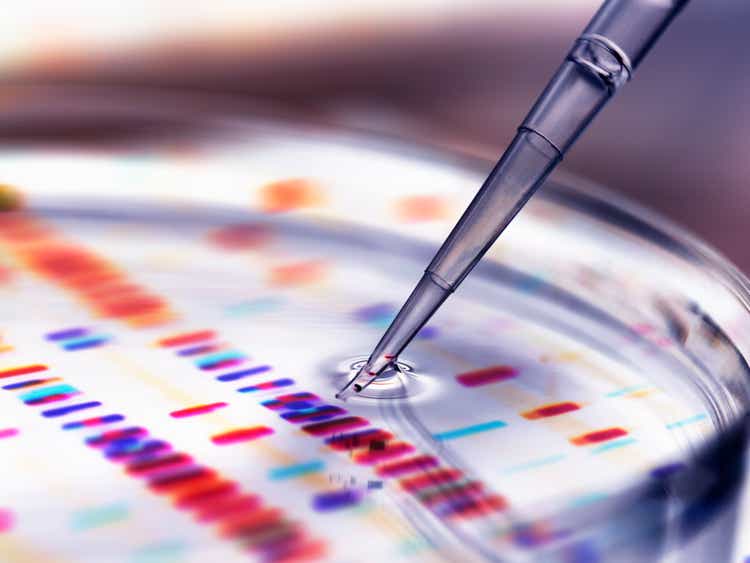 Inovio Pharmaceuticals (NASDAQ:INO) is a clinical stage biotechnology company. It briefly captured investor attention in early 2020 when it announced it had a candidate for a Covid-19 vaccine, INO-4800. That propelled the stock price from under $3.00 per share to over $30 per share in a little over 6 months. Delays in the vaccine have brought the stock price back down to earth, to the $10.00 per share range. I believe it has again become an investment worth considering.
The main likely source of value is VGX-3100 for HPV (human papilloma virus) caused cervical dysplasia, a pre-cancer lesion. This article will focus on VGX-3100 with only very brief recaps of Q4 2020 financial results and the therapy pipeline more generally. I will not cover INO-4800, which has been extensively covered elsewhere.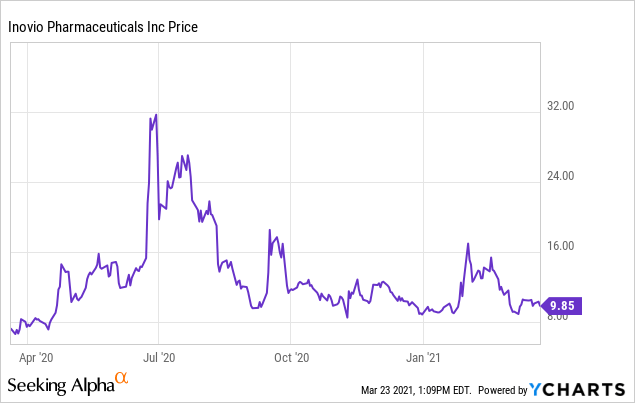 VGX-3100 Phase 3 Data
On March 1, 2021, Inovio announced positive topline VGX-3100 results from Reveal 1 Phase 3 study of cervical dysplasia. 201 patients with HPV-associated HSIL (high-grade squamous intraepithelial lesions) were treated. Currently approved treatments are various forms of surgery. In the patients for which endpoint data was available (MITT, modified intent to treat), the percentage of responders whose HSIL regressed, and HPV cleared, was 23.7% in the treatment group. That compares to 11.3% in the placebo group, with p=0.022, achieving statistical significance. All secondary endpoints were achieved.
There was some confusion because, for full disclosure, Inovio also released topline results for the ITT, intent-to-treat population. In this group patients without endpoint data were treated as non-responders. That included 8 patients. With that just 22.5% achieved the primary endpoint, and the results were not statistically significant. In the Q4 2020 analyst conference analysts asked about this. CEO Joseph Kim noted that the patients are still being followed for safety and durability of response. Prakash Bhuyan explained that the MITT data, which achieved the primary endpoint, is the usable data. The MITT data was provided "for completeness." Both sets of endpoints were prespecified, and the statistics will be assessed together.
Investors will still have to wait for more results before Inovio applies to the FDA for commercial approval. A second Phase 3 trial, Reveal 2, is still underway. It will need to confirm the positive Reveal 1 data in order to get FDA approval for the therapy. Inovio said the pandemic impacted enrollment, so there is not yet any guidance on when the trial will complete enrollment or be able to release data. In addition, a biomarker to predict responsiveness is being developed with Qiagen (QGEN). However, I would note that, if Reveal 2 MITT data lines up with the ITT Reveal 1 data (to date), that would be a failed trial.
VGX-3100 for vulvar neoplasia and anal dysplasia
HPV causes precancerous lesions (and sometimes eventually cancers) in other areas of the body besides the cervix. Inovio reported positive Phase 2 VGX-3100 data for vulvar neoplasia in January and plans to begin a Phase 3 trial this year. It also reported positive Phase 2 data for anal dysplasia in December 2020.
Related HPV targeted therapies in the Inovio pipeline include INO-3107 for Recurrent Respiratory Papillomatosis and MEDI0457 licensed to AstraZeneca (AZN) for HPV caused head, neck, cervical, anal, penile, and vulvar cancers. All of these indications are in Phase 2 trials.
Q4 2021 Results
Inovio reported Q4 2020 results on March 1, 2021. Revenue was $5.6 million, but that is from collaborations and grants, not product sales or royalties. The net loss was $24.3 million, leading to an EPS loss of $0.14.
Cash is crucial to get to data points and commercialization without selling more stock with the resulting dilution. Cash at the end of 2020 was $412 million, and the company raised more in January. Over 20 million shares were issued, raising $162 million. Even if the quarterly cash burn rate increases significantly, the total $574 million should fund Inovio through key data points and into a commercial rollout.
Technology and Rest of Pipeline
Inovio specializes in DNA plasmid technology. Engineered DNA segments are introduced to patients using plasmids, which enter cells but do not attach to chromosomes. They cause the cells to produce target proteins, which in turn can create an immune response.
The Inovio pipeline is extensive. In addition to the HPV and Covid therapies, there are two cancer therapies being tested. INO-5401 reported positive Phase 2 results for glioblastoma and is partnered with Regeneron (REGN). INO-5151 is in a Phase 2 trial for prostate cancer. There are also vaccines being developed for MERS, Lassa Fever, Ebola, and HIV, all of which are externally funded. Inovio is also in the early stage of developing its DNA-encoded monoclonal antibody technology, or dMAb, starting with INO-A002 for Zika, funded by the Bill and Melinda Gates foundation.
Conclusion
Inovio has reported 3 successful Phase 2 trials and one successful Phase 3 trial for VGX-3100. There is still moderate risk that the second Phase 3 trial in cervical dysplasia will fail. With some caution I predict that VGX-3100 will begin generating revenue in 2022. Predicting how much revenue could be generated eventually is highly dependent on pricing; it is too early for me to guess at that. If the FDA approves VGX-3100, Inovio's DNA plasmid technology pipeline should produce a string of new therapies for patients and returns for investors.
How to currently value Inovio depends on investor expectations about future value, including risk assessments. I have hope for Inovio's Covid vaccine, but it looks like it will be too late to sell in the U.S. market, so I have a wait-and-see attitude towards valuing it. The glioblastoma program looks promising, but I have seen several Phase 3 glioblastoma trials at other companies fail despite positive prior Phase 2 trials.
So, for now, until more data comes in, I am neutral if the stock price remains above $9.00 per share. As I write on March 23 the price has fallen to $9.86 per share, giving a market capitalization of $2.0 billion. I believe the technology, likely VGS-3100 success, and the rest of the pipeline justifies that. More positive data should propel the price higher. So while I am neutral short term, I am bullish for the longer run.
This article was written by
I provided stock and bond research and analysis to a small cap specialist investor, Lloyd Miller, from 2002 until his death in January 2018. For my own account I invest mainly in technology and biotechnology stocks. My technology and investment web site is openicon.com, where readers can view the notes I take to make decisions and to write articles for Seeking Alpha.
Analyst's Disclosure: I am/we are long INO. I wrote this article myself, and it expresses my own opinions. I am not receiving compensation for it (other than from Seeking Alpha). I have no business relationship with any company whose stock is mentioned in this article.
Seeking Alpha's Disclosure: Past performance is no guarantee of future results. No recommendation or advice is being given as to whether any investment is suitable for a particular investor. Any views or opinions expressed above may not reflect those of Seeking Alpha as a whole. Seeking Alpha is not a licensed securities dealer, broker or US investment adviser or investment bank. Our analysts are third party authors that include both professional investors and individual investors who may not be licensed or certified by any institute or regulatory body.