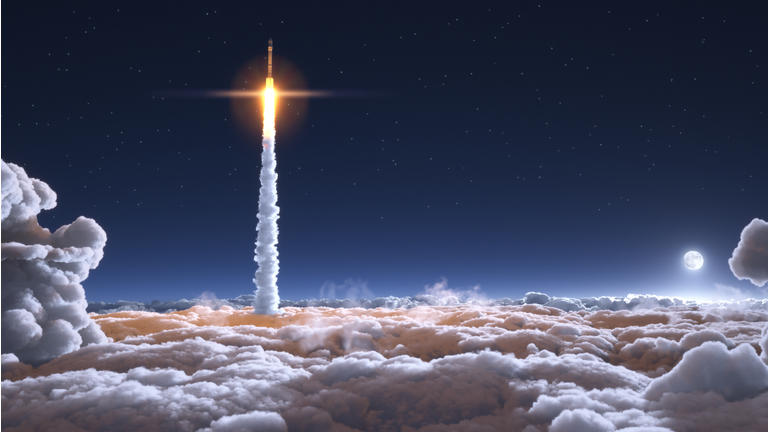 The anticipation has been building and the moment has finally come. ARK Investment's new product, the ARK Space Exploration ETF (ARKX), is ready to launch. It is the first product launched by Cathie Wood and the ARK team in two years and the markets have been eagerly anticipating this moment.
Back in January, ARK explained the four categories which would be targeted by the space ETF:
Orbital Aerospace Companies are companies that launch, make, service, or operate platforms in the orbital space, including satellites and launch vehicles. Suborbital Aerospace Companies are companies that launch, make, service, or operate platforms in the suborbital space, including drones, air taxis and electric aviation vehicles. Enabling Technologies Companies are companies that create the technologies required for successful value-add aerospace operations, including artificial intelligence, robotics, 3D printing, materials and energy storage. Aerospace Beneficiary Companies are companies that stand to benefit from aerospace activities, including agriculture, internet access, global positioning system (GPS), construction and imaging.
Many space names received a boost, and while the sector (and the other ARK ETFs) have since cooled, it is likely that these names will see renewed interest over the next week.
The fund is expected to list on Tuesday, March 30, 2021. While investors will have to wait a few days to find out which names have been targeted, I figured it was an opportune time to talk to Canadians about the Emerge ARK Space Exploration ETF [NEO:EAXP] [NEO:EAXP.U].
First Canadian-listed Space Exploration ETF
For Canadians, the Emerge ARK Space Exploration ETF will launch day and date with its U.S. counterpart. The Emerge ETF will be traded on the NEO Exchange, Canada's most disruptive senior exchange.
NEO is one of only two senior exchanges in the country. While it has been rapidly expanding, NEO has had success in the fund space. Notably, all of the E-ARK products and the first North American Psychedelic ETF chose to list on NEO instead of the TSX.
The ARK and Emerge ARK funds focus on industry disruptors. NEO is an industry disruptor itself. Focused on innovation and as a newer player to the game is looking to disrupt the long-stagnant Canadian stock market exchange industry. The partnership between Emerge and NEO is thus not all that surprising.
Circling back to the Emerge ARK Space Exploration ETF, it will be available in both a CAD [EAXP] and USD [EAXP.U] units. Another bonus? NEO provides live quotes and Level 2 data on its website free of charge.
It will be the first publicly listed Space Exploration ETF in the country. I'm sure this will be to the dismay of Harvest which recently claimed to be "Canada's first space industry ETF". Not to be, as ARK Investment's Canadian partner, Emerge, which is led by Lisa Langley and team will be first to market in Canada.
Why is this important? It has proven to be a competitive advantage. One need only look to Canada's recent Bitcoin ETFs to see how much of an impact this can have.
The Purpose Bitcoin ETF [TSX:BTCC] [TSX:BTCC.B] [TSX:BTTC.U] was first to market by a day, and as a result received all the attention - despite having higher fees. The Evolve Bitcoin ETF [TSX:EBIT] [TSX:EBIT.U] launched a day later and has received far less attention.
In fact, BTCC has more than 11 times asset under management than EBIT. A third has since entered the market and CI Galaxy Bitcoin ETF has half the AUM than Evolve.
While these space products will differ, Emerge will not only benefit from being first to market, but it is also the partnership with ARK Investment that sets it apart. The upcoming space exploration fund launch will be the first time that the E-ARK ETF launches day and date with its U.S. counterpart.
The Emerge and ARK Partnership
Earlier this week, my partner and I at Stocktrades had the chance to sit down with Emerge leadership earlier to get insight into this unique partnership and the upcoming Emerge ARK Space Exploration ETF. It is an exclusive, long-term partnership that dates back to a few years and in 2019 Emerge launched the Emerge ARK suite of ETF products.
The "real deal"
First, let's clear up some misconceptions. The E-ARK ETFs are not copycats, they are the "real deal". Emerge and ARK have entered into a partnership in which ARK Investment and Cathie Wood as Fund Manager (Sub-Advisor) do the research and make the investment decisions.
Since Emerge ARK products are Canadian, trades must be executed in Canada. How does this happen? Without detailing all of the intricacies, the ARK team shares trades daily with the Emerge team which vets and acts on said trades. In effect, the Emerge team follows Cathie's lead and the Emerge ARK products are intended to mirror their U.S. ARK counterparts.
The only exception is when individual holdings hit a certain threshold. The Emerge team has a strict adherence to the 10% limit for individual holdings whereas Cathie Wood has more leeway to go beyond this threshold with individual positions. Outside of this, the trades are identical as are the holdings - give or take a basis point or two.
Make no mistake, these are ARK ETFs through and through. Furthermore, don't be fooled by the website. The Emerge ARK products may only list holdings monthly, but they are following the same daily trade patterns as Cathie and the ARK team.
MER Fees
In terms of MER fees, the Emerge ARK Space Exploration ETF is expected to have similar MER fees as the other Emerge ARK products. It will have a fixed Management Fee of 0.80% and expected MER of 1.15%.
When the initial suite of Emerge ARK products were launched, they had a much higher MER fee and exited their first year with an MER of 1.96%. There were a number of reasons for this which included additional fees as a new ETF issuer, lower volume and assets under management (AUM) among others.
However, as the Emerge ARK products matured and AUM has jumped in a material way - fees have dropped. Unfortunately, the stigma of the high MER fee remains.
Recently, I've seen evidence of a National Bank advisor responding to a client in response to the Emerge ARK fees and the response? 1.70%. This was only a couple of weeks ago. My brokerage account, RBC Direct Investing, still lists the Emerge ARK products as having MER fees above 2%.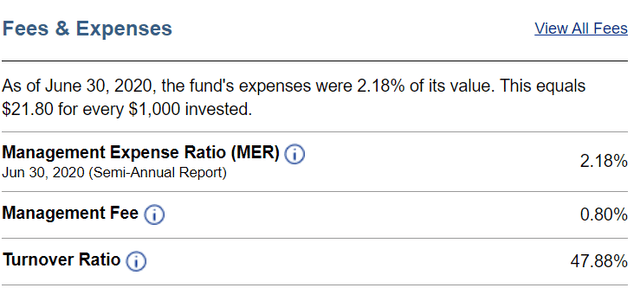 *Source - RBC Direct Investing - Emerge Global Disruptive Innovation ETF
A quick search on Emerge's website will quickly debunk these high MER ratios. Currently, they all have MERs of 1.15%.
Here is a snapshot of the marketing profile for the Emerge ARK Global Disruptive Innovation ETF (NEO:EARK):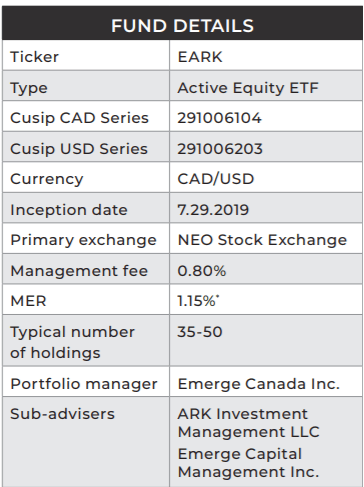 Emerge acknowledged these challenges, and is working hard to change the narrative. Furthermore, they anticipate the fees dropping below a percentage point by the end of this year.
While they will always be higher than its U.S. counterpart (0.75%), the narrowing gap should increase the attractiveness of the Emerge ARK suite of products.
ARK or E-ARK?
Holding the Emerge ARK funds instead of their U.S. counterparts' offer many benefits to Canadians.
The most obvious? Not all Canadian retail investors have a U.S. trading account or hold USD in their portfolio. The CAD Emerge ARK products are ideal for those in this situation. This is as simple as it gets.
Secondly, some discount brokers charge considerable conversion fees to buy and sell on U.S. Exchanges. Case in point, let's look at Wealthsimple - Canada's fastest growing discount broker and often compared to Robinhood as Canada's first no-fee trading platform.
Wealthsimple charges a 1.5% currency conversion fee. That is no small chunk of change, especially when one considers you are charged another 1.5% to convert your USD back to CAD. In this example, it is likely that buying/selling the Emerge products is more cost effective - especially if one plans on trading or holding over the short-term. Of note, many Canadian brokers charge a higher fee.
The Emerge suite of ARK ETFs are excellent options for investors to gain access and track its U.S.-based ARK counterparts. There are no additional hoops to jump through, such as those used to execute the Norbert's Gambit strategy to reduce currency conversion fees.
On the flip side, an argument can be made that a strengthening CAD is reason to buy the U.S. ARK ETFs. However, there is an Emerge ARK solution for that too. Each Emerge ARK ETF has a USD denominated version and can be an interesting option for investors who also want to leverage a strong CAD.
Of note, approximately 80% of inflows into the Emerge ARK products are in CAD.
Significant tax implications
Perhaps the single and most misunderstood reason to hold the Emerge ARK products are the tax implications. I will not go into great detail as it is worthy of an article all on its own. In quick summary, however, I will leave readers with this tax example provided by the Emerge team.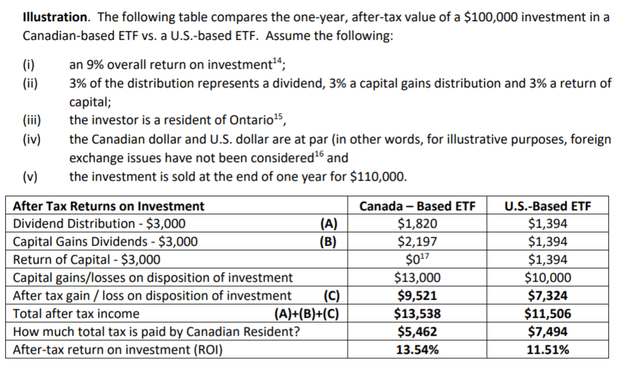 Interesting in learning more? You can read through the entire document.
What about performance?
One of the criticisms we've heard about Emerge ARK products is that they have underperformed the U.S. versions. Are these criticisms warranted? Here are a few of the fund comparisons over the past year. As you can see, the ARK ETFs have outperformed in a material way.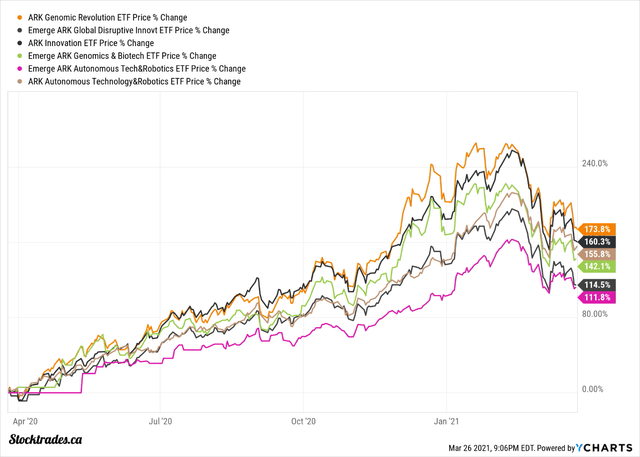 However, that gap is narrowing as the funds are maturing, and inflows and AUM increase. Remember, all of the Emerge ARK products were launched after their ARK counterparts. This is what makes the Emerge ARK and ARK Space Exploration ETF a milestone listing. They are being launched at the exact same time.
In support of the narrowing gap, the funds are tracking each other quite closely year to date and the gaps are no longer as material.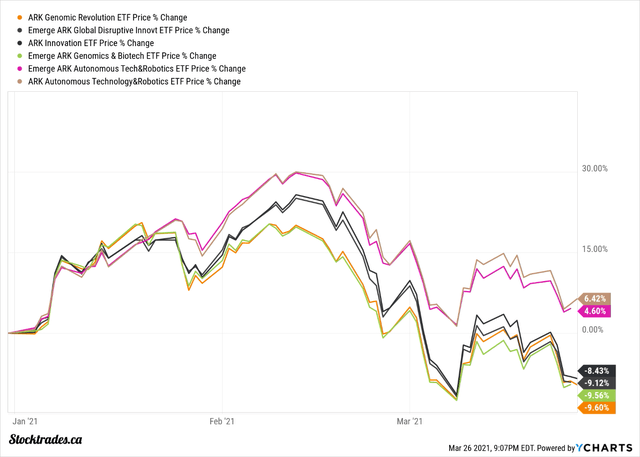 Final Take
The ARK and Emerge ARK Space Exploration ETFs are likely to see significant demand. Not surprising considering the historical performance of their sister products.
What is particularly attractive about ARK Investment's approach is its focus on disruption and innovation. While the investment style is likely to scare traditionalists, the investment landscape is changing, and the ARK team has proven to be ahead of the game in terms of investing for the future.
In my opinion, the ARK and Emerge ARK Space Exploration ETFs will be at the forefront of the next space race. For Canadians? Despite the narrative to the contrary, the Emerge ARK benefits appear to outweigh the negatives and Canadians would do well to hold the Emerge ARK funds.
*This article is intended for Canadian investors - a special article for Seeking Alpha Canadian resident subscribers. For more information on EAXP please click here.