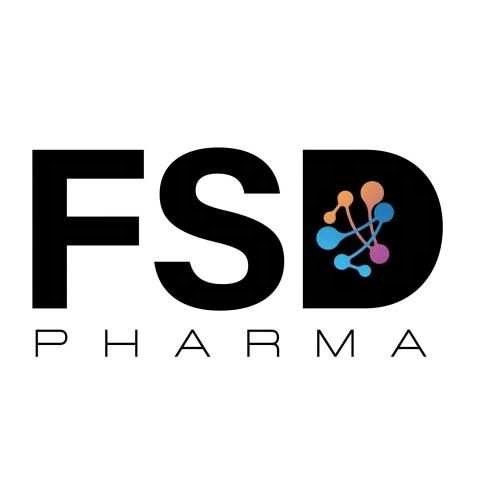 FSD Pharma (NASDAQ:HUGE) used to grow and process medical cannabis in Canada to help fund their research efforts in cannabinoids and the human endo-cannabinoid system. Although the company did not continue in their efforts to grow and process cannabis, they did find a chemical compound that reacts with the CB2 endo-cannabinoid receptors. The company ended their cannabis operations and put the proceeds towards a study using this compound to treat COVID-19 symptoms. They are beginning an additional study for the treatment of dogs and cats using the same compound.
FSD Pharma has less impressive financials because of their pivot, which cut off revenue streams. The company survives on its increasing valuation, which allows for greater direct offerings. Their COVID-19 treatment has great promise which will bring profits in the future, but, if the study begins in 2022, then that profit comes much later. The other study, on the treatment of dogs and cats, may come to fruition sooner with an end product. Either way, the company must find a way to stay afloat. It is possible that their proprietary strain of PEA can be produced and sold on the supplements market or new investors may be found to sponsor these studies.
For now, we should keep a close eye on FSD Pharma and their announcement. The stock has potential to rally and undergo an uptrend. For now, the stock has been on a one-year downtrend with a few rallies. The fundamental and technical signals are not strong enough to set up a long term or short-term investment strategy. I maintain that their research is very impressive and is worth following.
Cannabis research has looked at synthetic production of the THC trichomes for better control of variables and consistency. FSD Pharma has considered these limitations in using THC as a medicine in the treatment of life-threatening illnesses. Their solution was to find other molecules that interact in a similar way with the endo-cannabinoid system.
Their answer is palmitoylethanolamide (PEA), a fatty acid amide, which interacts with the CB2 endo-cannabinoid receptors in a similar way as THC and CBD. FSD Pharma has their own proprietary strain of ultra-micronized palmitoylethanolamide (FSD201) which they are using for trials and which they would ultimately bring to market as a medicine. The medicine has many different applications for human illness.
The human body has a tendency to attack itself when certain life-threatening circumstances emerge. The body's immune system can produce a cytokine storm, attacking its own organs in an attempt to rid itself of a deadly virus. This is the situation that affects hospitalized COVID-19 patients and causes death. There are also a variety of other illnesses, like bladder and colon disease, where the body has a tendency to attack itself for unknown reasons and cause daily symptoms and poor health conditions
The idea behind PEA used as a treatment of cytokine storm is that the molecule can reverse the inflammation caused by the storm before organ damage occurs or, in non-life-threatening illnesses, before irritation occurs. PEA interacts with the human endo-cannabinoid CB2 receptors to bring about the negation of the effects of the cytokine storm.
The company is preparing to undertake their Phase 2 study of PEA used to treat cytokine storm in hospitalized COVID-19 patients. Their study will apply the medication to hospitalized COVID-19 patients and look for efficacy. The company is currently seeking more proceeds to pay for this study and does not believe the study to begin until the end of 2021.
Meanwhile, they have undertaken, via a licensing agreement, another study and potential end product, which uses PEA to treat bladder and colon illness in dogs and cats. The theory behind using PEA to treat dogs and cats is much the same as the assumptions behind treating humans, i.e. harnessing its anti-inflammatory properties.
The company is experiencing some turbulence with their executive board and with the final sales of their cannabis production assets. The medical science behind their research and application is amazing and truly an inspiration from cannabis science. There is great reason to watch the company and their stock as things come to fruition.
The company's financial situation needs improvement
| | | | | | |
| --- | --- | --- | --- | --- | --- |
| Price in Millions $US* | 3/22/21 | 12/31/20 | 9/30/20 | 6/30/20 | 3/31/20 |
| Price | 2.14 | 1.56 | 2.55 | 3.83 | 3.79 |
| Enterprise Value | 71.38 | 20.84 | 37.94 | 46.95 | 39.76 |
| Market Cap | 93.05 | 38.13 | 49.32 | 53.03 | 45.59 |
| | | | | | |
| Cash And Equivalents | | 17.52 | 14.01 | 9.86 | 5.94 |
| Total Current Assets | | 26.87 | 26.64 | 21.62 | 18.01 |
| Total Assets | | 41.97 | 42.20 | 38.32 | 35.34 |
| Total Liabilities | | 5.66 | 10.24 | 4.57 | 5.06 |
| Net Income | | (3.19) | (13.54) | (4.40) | (8.84) |
| Total Debt | | 0.51 | 1.03 | 1.48 | 1.62 |
| Book Value/Share | | 1.89 | 2.15 | 3.30 | 3.51 |
| | | | | | |
*Financial data from www.TIKR.com
The company's financial situation is stable in that cash and assets outweigh liabilities. There is no current revenue or revenue prediction. The company is bringing in proceeds from direct offerings and selling off their cannabis production assets. The cost of R&D as well as running trial research is tremendous. The company admits that they need more funding to complete the different trials.
Their debt continues to decrease from quarter to quarter as does their Net Loss. Their assets, which consists of the remnants of their cannabis operations, will be converted to cash and help fund current operations. The company has other options for raising proceeds.
As the company's enterprise value and market capitalization continues to increase, direct offerings may be enough to supply the appropriate proceeds. The issue of revenue and proceeds always affect biotech research companies which are just starting out and haven't brought their first innovation to market. The company's most recent announcements about their financial situation may be found here and here. Their 2020 annual report was filed with www.Sedar.com and can be found there.
Besides selling assets and making direct offerings, the company may find large investors with whom they can offer Warrants and other stock or licensing packages. Their research seems impressive enough to gain the eye of larger healthcare and biotech companies. There have been almost no other COVID-19 treatments in clinical stage studies. It would seem worth noting that FSD Pharma has a real candidate for treatment.
Their stock has experienced some rallies, but continues a 1-year downtrend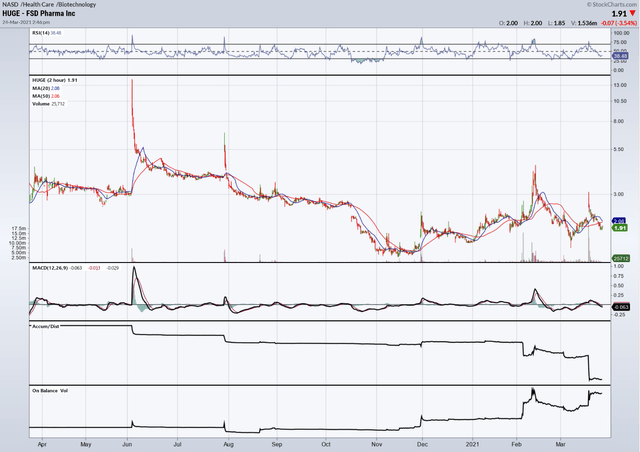 The company's stock price hit a 52-week high of $14 per share back in June 2020, when news was released that they planned to conduct a study using their PEA on COVID-19 patients. The stock is trading under its 20/50/200 moving averages. Its one-year performance is -36%. Its performance metrics are a bit skewed because of the $14 high, since the stock trades in a $1-$4 price channel. Volume and momentum have been increasing and its 3-month performance is worth considering.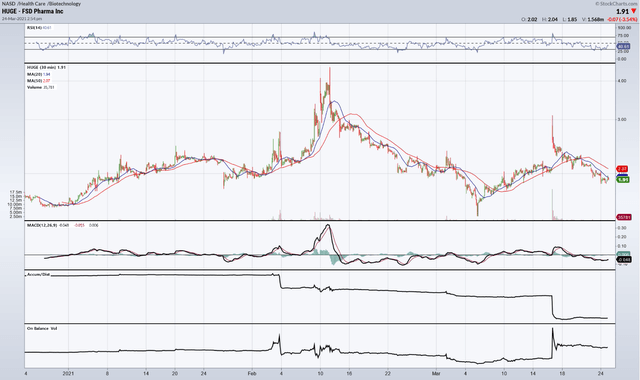 The stock price is up 13% in the last 3 months. Its YTD performance is 21.80%. Its most recent rally came with the news of its study concerning PEA used to treat dogs and cats. Future news will cause this stock to rally more. Until then, the price is nearing a $2 stabilization. There is no firm indicator of where the price is headed next.
Neutral Rating
I give the company a neutral rating with neither a buy nor sell strategy. It is important to watch the stock and the company's developments. Ideally, the stock price will find new higher price channels, once the company begins the Phase 2 study or picks up other studies. Either event will begin a signal for a buy strategy.
Risk: High
The company admits they need funds to complete future operations. If these funds do not materialize or their initial results of Phase 2 are disappointing, then there will be more downturn. Without a current product on the market, there is nothing to save the company except a buyout or a large investor. There is no initial or immediate concern with the company and its financials, but risk must be considered high for a large investment strategy.
Conclusion
FSB Pharma presents an interesting treatment for the COVID-19 pandemic. Their proprietary strain of ultra-micronized palmitoylethanolamide (FSD201) may prove effective in the treatment of the immune system's cytokine storm. The Phase 2 study must be completed before we will know any results or whether there is efficacy. PEA, in other settings, has already proved to be effective. It has been used to treat dogs and cats and serves as a micro-nutritional supplement for humans. As to the results of the company's medical research and their clinical studies, we wait and we watch for news and developments.