Epizyme Comeback Is Likely, Price Makes It A Buy
Summary
Epizyme is at a multi-year low.
Main cause of disappointment is slow sales of Tazverik.
Potential is great with label expansion and epigenetic pipeline.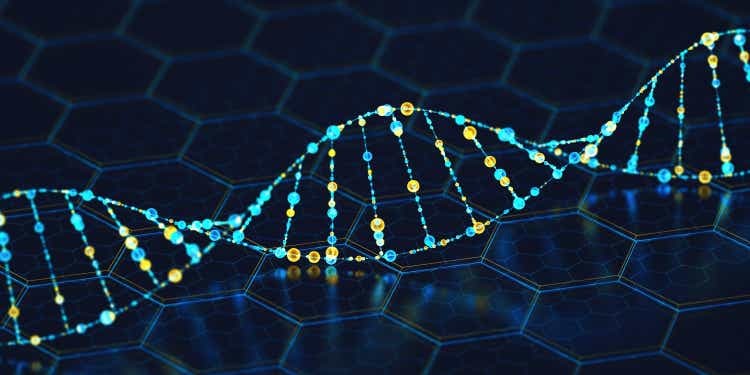 Epizyme (NASDAQ:EPZM) has been a commercial-stage pharmaceutical company for over a year now, following the FDA approval of Tazverik (tazemetostat) for treating epithelioid sarcoma in January 2020. On March 22, 2021, it fell under $8.00 per share for the first time since late 2018, despite going over $25.00 per share around the time of the drug approval.
I believe it is a tremendous bargain at this price, though there are still risks involved. This article will examine why the stock has fallen and why I think it is currently undervalued. That means it will examine the future potential of Tazverik, as well as the Epizyme epigenetic pipeline and platform. I note that I added to my Epizyme position last week.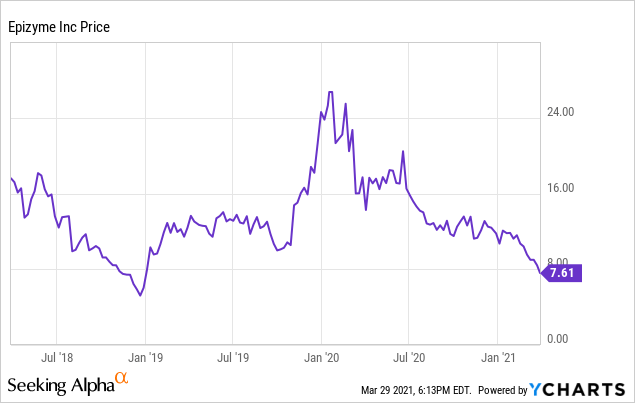 Tazverik Sales Disappoint
Epizyme received FDA approval for Tazverik (tazemetostat) for treating epithelioid sarcoma in January 2020. In June 2020 the FDA granted accelerated approval for Tazverik for follicular lymphoma when relapsed or refractory and testing positive for an EZH2 mutation, or not EZH2 positive but having no satisfactory treatment option. Because these were accelerated approvals, Epizyme is conducting confirming trials. Follicular lymphoma is currently a slow progressing but incurable cancer.
With about 15,000 new follicular lymphoma cases diagnosed each year, the patient numbers are expected to be significant even for a second-line therapy. However, Epizyme's Q4 2020 results released on February 23, 2021 showed only $4.5 million Tazverik revenue in the quarter. That is not impressive for a new cancer therapy. There are two likely reasons the ramp has been slow. One is the pandemic, which prevents doctors from seeing patients and making new diagnoses and from concluding a prior therapy has failed and a new therapy should be tried.
The other is the slow-motion nature of follicular lymphoma, which tends to progress slowly even when untreated. Finally, the response rates to Tazverik, while statistically significant, were not impressively high. In epithelioid sarcoma the ORR (overall response rate) from the trial was 15%. In follicular lymphoma, the response was better, particularly in patients with EZH2 mutations, who had an ORR of 69%, including 12% complete responses. In normal (wild type) EZH2 cancers, the ORR was 34% with 4% achieving a complete response.
Tazverik Revenue Potential, Including Label Expansion
How quickly doctors switch patients to Tazverik is hard to predict. In the March Epizyme presentation the company claimed its salesforce had reached 100% of the top-tier follicular lymphoma accounts and that at least 60% had started prescribing Tazverik. The number of new accounts prescribing the drug increased 50% in Q4. In addition, it was added to the NCCN (National Comprehensive Cancer Network) guidelines.
Expanding the follicular lymphoma label to include first-line, newly prescribed patients is the most straightforward path to increased sales. This will include combining Tazverik with other therapies. Slide 35 from the presentation provides a good summary of the opportunity: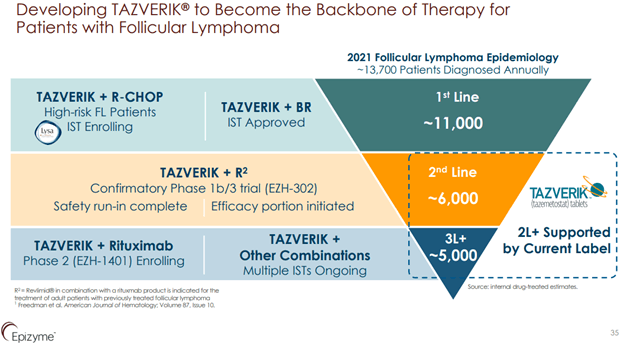 Source: Epizyme
But other cancers form an even greater potential opportunity. Nothing is guaranteed, but we have seen this with other blockbuster cancer drugs that started off with a narrow label, then kept expanding their labels to other cancer types. Epizyme has an extensive program underway to test these possibilities in the clinic. For instance, early safety results in combination studies for prostate cancer were summarized in Slide 48: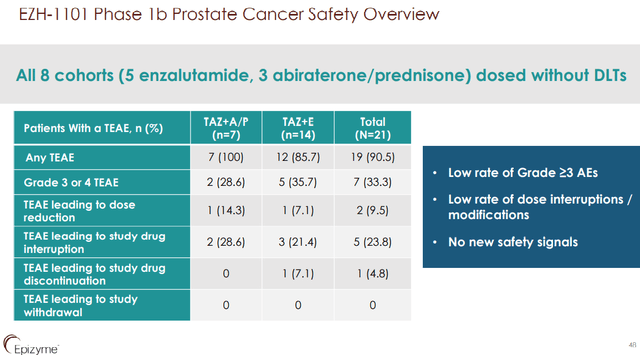 Source: Epizyme
There have been signs of responses in this early prostate cancer data set, including reductions of prostate specific antigen and size of lesions. Beyond prostate cancer, Epizyme is preparing for a screening trial in several blood cancers, as summarized in Slide 53: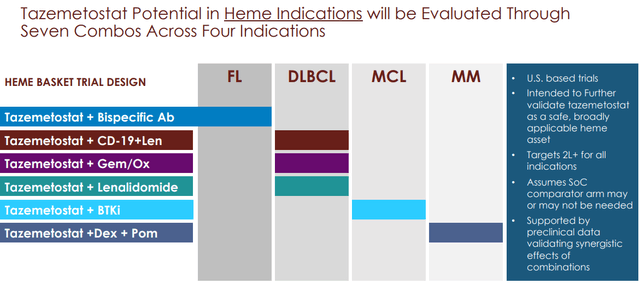 Source: Epizyme
Epigenetic Platform
Before reviewing the pipeline beyond tazemetostat I want to give a sense of how exciting the use of epigenetic therapies could be. If you are not familiar with epigenetics, I highly recommend you also listen to Ari Melnick's portion of the March 2021 Epizyme presentation, The Next Episode, Rewriting Oncology Treatment with Epigenetics.
When a sperm and egg unite the result is a single cell that has all the DNA needed for a new organism. During development, however, the cells differentiate into types, making up the various organs and their varieties of tissues. How does a cell become a heart muscle cell as opposed to any other tissue type? Epigenetics. Each cell type expresses only a portion of the genes available in the chromosome. A complex system determines which genes each cell expresses.
Some diseases, including cancers, result when something goes wrong with the epigenetic mechanism. In the case of Tazverik, it is sometimes able to correct the mistakes that flow from mutant EZH2 genes. EZH2 can enable cancer by silencing certain other genes. By inhibiting EZH2 those anti-cancer genes can be reactivated, causing the tumor cells to die or to be detected and killed by the immune system. The epigenetic system is composed of thousands of proteins, so there are many more avenues that might lead to medicines besides EZH2 inhibition.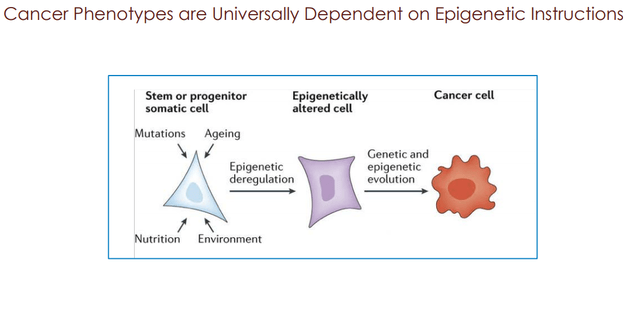 Source: Epizyme, Slide 19
Epizyme Pipeline
The Epizyme pipeline might currently look a bit thin, since it consists of Tazverik for a variety of indications plus PRMT 5 and PRMT 1 inhibitors that are licensed to GlaxoSmithKline (GSK) and have reached Phase 2 and Phase 1 respectively. However, the preclinical pipeline is quite broad, including 2 molecules at the IND-enabling stage, as shown here: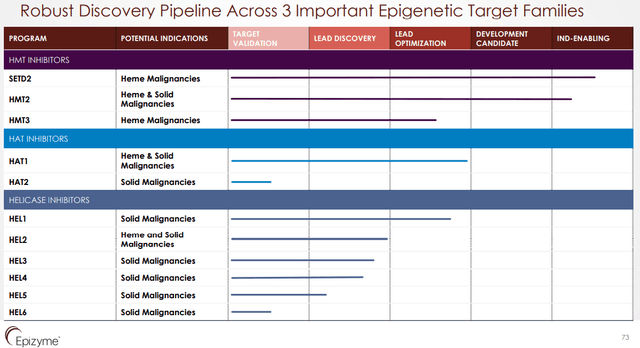 Source: Epizyme, Slide 73
Cash Balance and Burn
For Q4 2020, Epizyme reported revenue of $8 million, a net loss of $66 million, and a cash and equivalents balance of $374 million. It also carried $216 million of long-term debt. In 2021 guidance, non-GAAP operating expense was estimated at $235 million to $255 million. Yet cash is expected to last until at least 2023. That would imply that a revenue ramp is expected. Revenue would have to run around $65 million per quarter to reach cash-flow break even.
It is not clear to me whether that kind of revenue can be achieved with Tazverik's current indications, or whether it would require label expansion. If the later, I would expect a cash raise some time in 2022, hopefully when the stock price is higher, to minimize dilution of current stockholders.
Conclusion
This is the point where I must remind readers that there are risks in involved in investing in pharmaceutical companies that are in the clinical stage or early commercial stage. Other drugs are being developed for the diseases Tazverik targets, so there is no guaranteed market share. Some or all trials to expand the label may produce negative results. Pricing of therapies is always an issue and could be reduced by competitive pressure or new regulations. In addition, there are the usual stock-price volatility and general market risks.
Epigenetic therapies are likely to be one of the great pharmaceutical profit generators of the 21st century. The field is young, but Tazverik is proof of the concept, whatever its future sales may be. Epizyme management is standing by their prediction (Q4 2020, Slide 4) that Tazverik represents an over $1 billion opportunity in follicular lymphoma and epithelioid sarcoma, including label expansion to first-line care.
Of course management could be overly optimistic about that. But even if they are, the Tazverik label could be expanded to other cancers, and the epigenetic pipeline could produce more commercial therapies in the second half of this decade.
While there is risk, I believe accumulating Epizyme is a good bet for the second half of this decade. Maybe even short run if the stock bounces off its 52-week low of $7.44 set on March 29, 2021. If one is going to accumulate a stock, it is best to do it when the stock price is low. As long as you can stand the risk, now is a good time to accumulate Epizyme.
This article was written by
I provided stock and bond research and analysis to a small cap specialist investor, Lloyd Miller, from 2002 until his death in January 2018. For my own account I invest mainly in technology and biotechnology stocks. My technology and investment web site is openicon.com, where readers can view the notes I take to make decisions and to write articles for Seeking Alpha.
Analyst's Disclosure: I am/we are long EPZM. I wrote this article myself, and it expresses my own opinions. I am not receiving compensation for it (other than from Seeking Alpha). I have no business relationship with any company whose stock is mentioned in this article.

I first bought EPZM in 2015 and added to my position on 3/26/2021. I will not trade in the stock over the next 72 hours.
Seeking Alpha's Disclosure: Past performance is no guarantee of future results. No recommendation or advice is being given as to whether any investment is suitable for a particular investor. Any views or opinions expressed above may not reflect those of Seeking Alpha as a whole. Seeking Alpha is not a licensed securities dealer, broker or US investment adviser or investment bank. Our analysts are third party authors that include both professional investors and individual investors who may not be licensed or certified by any institute or regulatory body.