Specialty retail companies were hit pretty hard after the financial crisis mostly due to the pullback of consumer spending as well as the economic slowdown. But not all specialty retailers are created equal.
For example, Best Buy is typically viewed as a consumer electronic giant linked to the tech sector, but the stocks of two ho-hum do-it-yourself stores --Home Depot (NYSE:HD) and Lowe's (NYSE:LOW)--have outperformed Best Buy (NYSE:BBY), and the appliance giant Sears (NASDAQ:SHLD), as well as the S&P500 in the past year. (See Chart Below).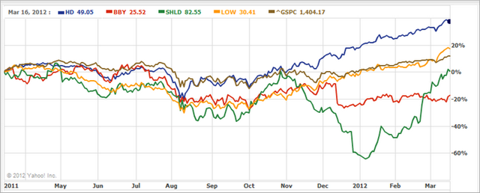 So who has the potential to be the fairest of all?
I recently had the misfortune of having to source three major appliances. The places I went include Home Depot, Best Buy , Sears and Lowe's . So I will base the discussion on these four companies, partly from the perspective of this personal experience
Not All Retailers Are Created Equal
The goal of my appliance procurement project was quite straight-forward; source all three appliances reasonably priced at one place, to be delivered and installed on the same day. However, due to the overly popular yet poorly implemented outsourcing model, and the mis-guided belief that customers are willing to sacrifice service for price, my seemingly logical procurement expectation turned out to be as lofty as the Northern Star for some retailers.
Best Buy - A Total Nightmare
At first, I found the desired models and specs at Best Buy Online, which is easy enough. However, the rest of the experience with Best Buy is nothing short of a nightmare.
The people at Best Buy Ordering Dept. I spoke to on the phone were all very poorly trained and inexperienced, with the computer system as well as procedure. Incidents such as accidental disconnect and order cancellation by mistake makes the ordering process very time consuming and frustrating. Nevertheless, I figured it was worth it, since all three appliances would be delivered, installed on the same day, or so I was repeatedly reassured.
Then the delivery was delayed four times and extended from two weeks to four months. The worst and most infuriating part came when, upon delivery, I was informed installation had to be separately scheduled, which could take another three days. That was the final straw and I refused the delivery on the spot in its entirety, while coming to the conclusion to never buy Best Buy... ever.
Online Only Stores
While shopping through basic no frill online only stores could potentially realize very significant savings over buying through retailers, the logistics is very challenging and stressful, particularly when you have to take off work to receive three appliances arriving on different dates, while scheduling installation separately.
Sears - Not Much Better
After a four month of ordeal with Best Buy and online only appliance sties, I then visited Sears, which is best known for its appliance center. The staff there was nice, but the prices looked high in general, and the delivery lead time was 4-8 weeks on the models I was interested in. Installation most likely would not be the same day as delivery since it is subcontracted out to a different company.
Lowe's - Close But No Cigar
The next stop was Lowe's, based on a friend's suggestion. While Lowe's pricing point seems reasonable, the one employee I spoke to at appliance department seemed to know very little beyond reading off of the display card. And similar to Sears, delivery lead time was also long, and no same-day installation either.
Home Depot Delivers as Promised
Out of desperation, I went to Home Depot. After all, Home Depot is best known as a home repair project store, instead of its appliance sales like Best Buy or Sears. However, to my surprise, the Appliance Specialist there was very knowledgeable and helpful in answering all questions. Best yet, all three models I was interested in were all reasonably prices and could be delivered in two days.
Although Home Depot also has the same outsourced model of the installation as its competitors, the delivery and installation could be scheduled on the same day right from the in-store system. And, just as promised, the delivery and installation of all three appliances did indeed complete on the same day (which was Saturday, March 17), and the whole process took three hours.
Home Depot Outshines
Investor's optimism towards recent housing improvement has helped to lift housing related stocks including Home Depot and Lowe's. Between the two, Home Depot has focused relentlessly on improving the customer experience since 2011, thus gaining market share from Lowe's.
JP Morgan recently noted that Home Depot's focus shifting to better understanding and servicing the customer through CRM (Customer Relationship Management) investments/initiatives, and supply chain improvement program should continue to lift its margin into 2012. The company's operating income is expected to improve 11% with an estimated P/E of 16.3 in 2012, which is lower than the current average P/E of S&P500 at 23.41.
Above all, my recent experience demonstrates how the Home Depot model could still beat the low-price online competitors, and that its focus on customer service and supply chain efficiency has trickled down to its retail store level where the other three companies failed.
Right now, various forecasts seem to point to a continuous gradual improvement in the U.S. and world economy. In this environment, Home Depot could be expected to deliver more than its competitors.
About Best Buy
As for Best Buy, I'd say it has the worst customer service with some of the most poorly trained personnel I've ever dealt with. There was a Forbes article entitled Why Best Buy is Going out of Business...Gradually, but based on my experience, "gradually" is probably an understatement.
Disclosure: I have no positions in any stocks mentioned, and no plans to initiate any positions within the next 72 hours.