3 Problems With RQI And Other CEFs
Summary
Because they offer such a high yield, closed end funds can appear attractive, especially to passive investors.
Among REIT CEFs, RQI is widely regarded as one of the very best.
However, RQI and CEFs, in general, suffer from 3 big problems, and for this reason, we avoid most of them.
Looking for a portfolio of ideas like this one? Members of High Yield Investor get exclusive access to our model portfolio. Learn More »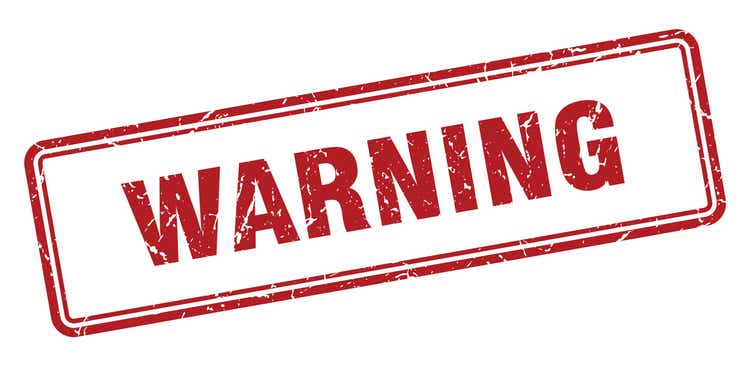 When it comes to REITs, there are a few different ways people choose to go about getting exposure to this space. The three most popular choices are ETFs (exchange-traded funds), CEFs (closed-end funds), or choosing to purchase REIT companies individually.
These days, CEFs are becoming more and more common. They do offer several advantages, such as:
Being actively managed
Paying often superior yield
Offering diversification
These benefits attract lots of investors.
However, at the end of the day, CEFs tend to lag behind in performance when compared to other benchmarks. Even Cohen&Steers Quality Income Realty Fund (RQI), which is supposedly the cream of the crop as far as REIT CEFs go.
If we take a closer look, we can see that RQI is taking much higher risks than many passive REIT alternatives, and still offering lower returns: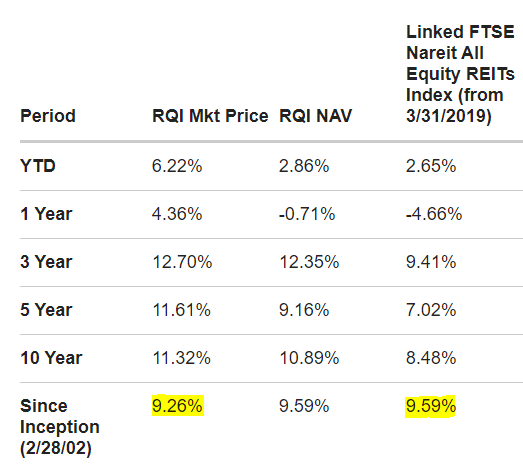 We can see above that the REIT equity index returned 9.59% compared to RQI, which returned just 9.26%. This lag in performance is not large, but it is very disappointing when you consider that RQI is taking much greater risks via leverage and active investing.
Similar results are seen across the entire CEF space and RQI is not an exception. Below we present the 3 biggest problems with CEFs, using RQI as the example.
1. Excessive Fees
We mentioned above that CEFs can seem attractive because they are actively managed. But this management comes at a cost: high fees and expense ratios.
Compared to Vanguard's Real Estate ETF (VNQ), which has an expense ratio of just 0.12%, you are paying about 15x more with RQI (1.63%). And even though you're paying for supposedly active management, the top holdings end up looking about the same to those in many of the REIT ETFs you can find on the market.
Perhaps 1.63% still sounds like a small number to you. But the longer your time horizon is, the more this eats into your profits. Over a 20 year investing period, this fee will diminish up to 30% of your gains. If you really want a passive strategy with diversification, you'd be better off opting for an ETF which has many of the same holdings but way less fees.
2. Leverage Problems
Another attractive feature of CEFs is their higher dividend yields.
But how are they able to pay out such a high number? Oftentimes, it is only possible due to the fund taking on excessive leverage.
RQI is a good example of this, as it has a 27% leverage ratio. This doesn't sound like a problem - until we hit a bear market. During the great financial crisis, RQI declined over 90% because of this additional leverage: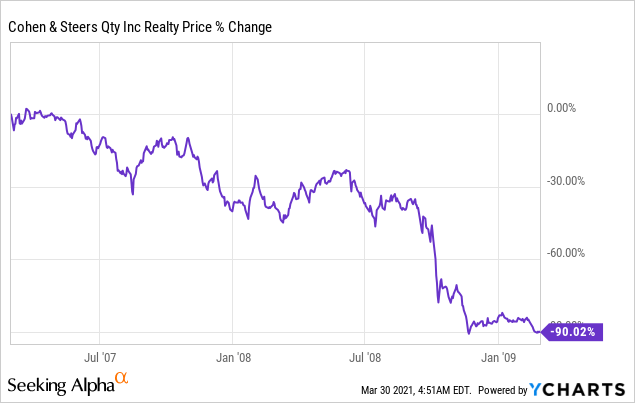 During the covid-19 sell-off, a similar thing happened, with RQI dumping nearly 57%: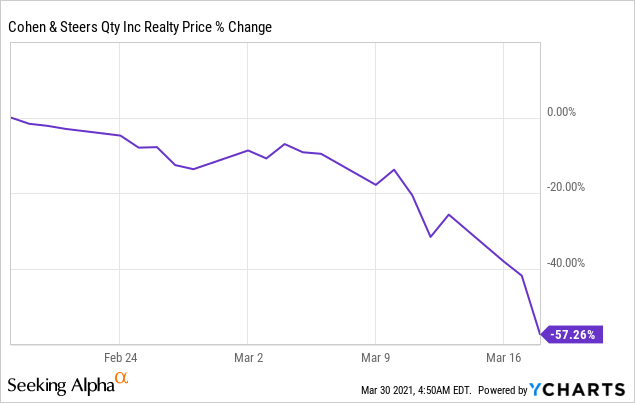 The lesson here is clear: this excessive leverage leads to steep declines and unnecessary volatility. For any additional upside you may achieve in bull runs, the fund will likely lose all of the gains in a bear market.
Many investors have a hard time stomaching volatility like this. In fact, many choose diversified vehicles like CEFs and ETFs hoping to avoid sharp swings like this in the first place. Most people would be better off with an ETF which is unleveraged and thus a lot more stable.
3. Not-So-Active Management
Many try to justify the excess fees of CEFs by saying that you're paying for the benefits of an actively managed account. However, the truth is that most of the closed end funds are closet indexed. This means that the actual portfolio is almost identical to benchmark sector performance - or, in other words, what you'd likely achieve just by holding an ETF.
Simply juxtapose RQI's largest holdings to Vanguard's Real Estate ETF (VNQ), and you can see that 7 of the top 10 holdings are the same:
In other words, more than half of the top holdings of this actively managed fund are identical as what you'd get by holding a passive ETF with way less fees.
This overlap becomes even more clear if we overlay the performance of the two funds. You can see that RQI tracks VNQ almost identically. In fact, the only difference is the higher volatility you get as a result of RQI's excess leverage: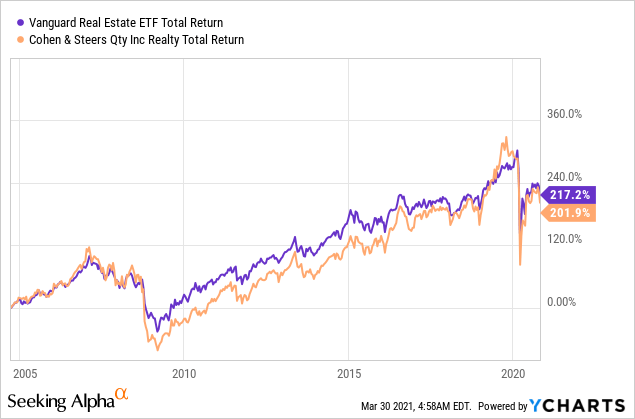 Conclusion
Due to the reasons above, VNQ and other REIT ETFs are a better choice for almost all passive investors. Even though it carries less risk, you'll likely outperform CEFs in the long run. The holdings are largely the same, but you get to skip out on the unnecessary fees and leverage.
For active investors, you must have enough conviction to choose your own individual stocks. It is possible to construct a portfolio of individual stocks that outperform the benchmark, but in order to do so, you need to know what sets the great stocks apart from the lackluster ones. In our own High Yield Investor portfolio for example, we only choose to invest in <10% of the available opportunities in our target universe.
We look purely for the best of the best, and skip any red flags, such as:
Lackluster balance sheets
Poor management
Significant conflicts of interest
Excessive leverage
This strict selection process has historically led to superior results: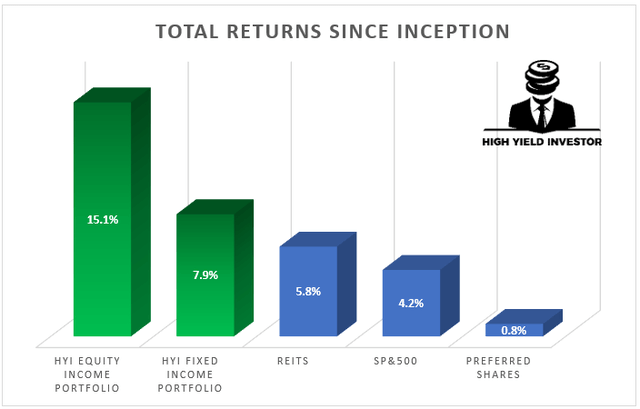 That said, actively choosing your own stocks also comes with its own sacrifices. You must take the time to research and do your own due diligence to find the companies that will outperform. For investors that don't have the time or interest to do this kind of work, it's often a better choice to go the passive route. But if you do, hopefully now you know that it's often a better choice to stick to ETFs, as you'll be avoiding the 3 big problems inherent in CEFs.
If you want full access to our Portfolio and all our current Top Picks, feel free to join us for a 2-week free trial at High Yield Investor.
We are the fastest growing high yield-seeking investment service on Seeking Alpha with over 600 members on board and a perfect 5/5 rating from 61 reviews:

Our members are profiting from our high-yielding strategies and you can join them today at our lowest rate ever offered.
With the 2-week free trial, you have nothing to lose and everything to gain.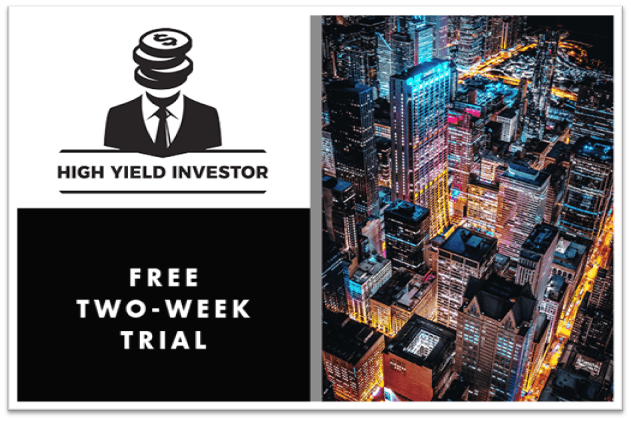 This article was written by
High Yield Investor
is a leading community of income investors that is supported by
Leonberg Capital
, a high yield specialist with over 2,500 clients, including hedge funds, private equity firms, family offices, and high net worth individuals. We spend 1000s of hours and over $100,000 per year researching the market and share the results with you at a tiny fraction of the cost. Joining our community will help you identify the most profitable opportunities BEFORE the end of the pandemic changes the entire dividend stock landscape and allow you to earn a sustainable 6-8% dividend yield that grows over time.
Click here to learn more!
Analyst's Disclosure: I am/we are long CCI; SPG. I wrote this article myself, and it expresses my own opinions. I am not receiving compensation for it (other than from Seeking Alpha). I have no business relationship with any company whose stock is mentioned in this article.
Seeking Alpha's Disclosure: Past performance is no guarantee of future results. No recommendation or advice is being given as to whether any investment is suitable for a particular investor. Any views or opinions expressed above may not reflect those of Seeking Alpha as a whole. Seeking Alpha is not a licensed securities dealer, broker or US investment adviser or investment bank. Our analysts are third party authors that include both professional investors and individual investors who may not be licensed or certified by any institute or regulatory body.