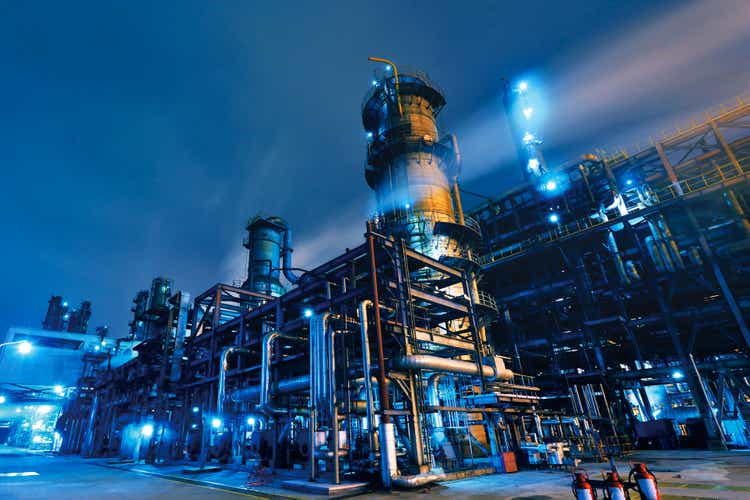 The VanEck Vectors Oil Services ETF (NYSEARCA:OIH), which is the leading fund for oilfield service providers, has rallied this year and I believe it will continue to do well in the future as the service companies benefit from the improvement in oil prices and the resulting uptick in drilling activity. However, it could take a while for service providers to completely recover to pre-pandemic levels.

Image: Seeking Alpha VanEck Vectors Oil Services ETF quote page.
The COVID-19 pandemic destroyed a large chunk of energy demand and pushed oil prices to historic lows in the first half of 2020. The oil producers around the world in general and the shale drillers in the US in particular reduced drilling activity and slashed capital expenses to minimize losses and preserve cash flows. The drilling activity in the US plunged as oil producers, ranging from oil majors like Exxon Mobil (XOM) to independent E&Ps like Continental Resources (CLR), removed hundreds of rigs.
The oilfield service providers like Schlumberger (SLB) and Halliburton (HAL), who were already struggling with anemic growth before the pandemic, came under a lot of pressure. However, with the rollout of multiple coronavirus vaccines, people returning back to work, and the business activities normalizing, the oilfield service providers are now facing a better outlook. The VanEck Vectors Oil Services ETF, which gives investors access to the biggest oilfield service companies, has risen by 24% this year, outperforming the S&P 500 which has climbed by 6% in the same period.
OIH: Exposure To Biggest Service Companies
The VanEck Vectors Oil Services ETF, or OIH, has more than $1.2 billion of assets and features a daily trading volume (30-day average) of more than 530,000 shares (or $100Mn) which makes it the biggest and most liquid oilfield services fund. By comparison, its rivals iShares U.S. Oil Equipment & Services ETF (IEZ), SPDR S&P Oil & Gas Equipment & Services ETF (XES), and Invesco Dynamic Oil & Gas Services ETF (PXJ) have $356 million, $147 million, and $65.8 million of AUM, respectively.
What I also like about OIH is that it comes with a reasonable expense ratio of 0.35%, which means the fund charges $35 each year on every $10,000 of investment. XES also charges 0.35% but IEZ and PXJ have higher expense ratios of 0.42% and 0.63%, respectively.
OIH gives investors concentrated exposure to the leading service providers in terms of market cap and trading volume. It holds 25 of the largest energy companies that provide drilling, equipment, and other related services to the oil and gas producers. OIH picks stocks and allocates assets on the basis of adjusted market cap. As a result, the three of the world's biggest service companies Schlumberger, Halliburton, and Baker Hughes (BKR) always sit at the top of OIH's holdings table and get a significant share of the net assets. The three companies currently account for nearly 37% of the ETF's assets, with Schlumberger and Halliburton representing 19% and 11.7% of the fund's assets, respectively.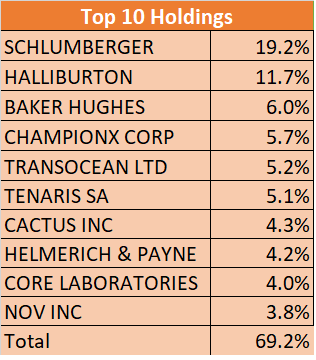 Image: Author
OIH's holdings struggled with weak revenues and earnings last year. The revenues of Schlumberger and Halliburton fell by 28.3% and 35.5%, respectively, and both incurred substantial losses in 2020. However, Schlumberger and Halliburton reported improvement in revenues and earnings on a sequential basis in Q4-2020 and look poised for a turnaround in the future.
Looking Ahead: Turnaround In Progress
The oilfield service providers don't have direct exposure to oil prices, but their customers do. The revenues and earnings of the service companies are underpinned by how much the oil and gas producers are willing to spend. The upstream industry substantially cut back spending and reduced drilling activity last year in response to the oil price crash. But oil prices have risen significantly since Q4-2020, with the US benchmark WTI crude climbing from around $37 a barrel in early-November to $60 at the time of this writing.
Several E&Ps have resumed drilling activity following improvement in oil prices. The US oil and gas rig count, which fell from nearly 800 rigs at the start of 2020 to under 250 rigs by late-August, recovered to 351 rigs by the end of the year, according to data provided by Baker Hughes. The business climate improved which is likely the reason why both Schlumberger and Halliburton delivered better-than-expected quarterly results. The oil prices have increased further while the US shale drillers have deployed 66 additional oil and gas rigs since the start of 2021, which bodes well for the oilfield service companies.
The US shale oil producers, however, remain focused on generating healthy returns, robust free cash flows, and rewarding shareholders with dividends and buybacks. The shale drillers, which previously targeted aggressive production growth, now aim to grow volumes at a moderate pace, at best. Still, the fact that some of the biggest players in the industry are getting back to work and have deployed rigs to maintain or grow production is a positive sign for the service industry.
For instance, Pioneer Natural Resources (PXD), which is one of the leading shale oil producers from the Permian Basin, has ramped up drilling activity and is getting to a point where it can deliver a 5% increase in oil production on a consistent basis over the long-term (as long as it keeps getting support from oil prices).
Pioneer Natural Resources as well as Devon Energy (DVN) and ConocoPhillips (COP) are among those companies that have used the downturn as an opportunity to acquire smaller oil producers and are now ramping up drilling activity in response to the improvement in oil prices. Occidental Petroleum (OXY), on the other hand, has increased drilling activity to mitigate the impact of field decline and stabilize production at around 1.14 million boe per day.
Meanwhile, some other companies who haven't added rigs yet have been working through their inventory of drilled but uncompleted wells (DUCs), which can allow them to stem the normal field decline and maintain or even grow production. Either way, the demand for oilfield services is climbing, whether it's drilling or completion. Against this backdrop, OIH's holdings, which reported an improvement in earnings in Q4-2020, might continue delivering top and bottom-line growth in the coming quarters.
Halliburton and Schlumberger, two of OIH's top holdings, are also optimistic about their future in North America. Halliburton believes that the current year, which started on a strong note recovery in E&P work, might turn out better than the second half of 2020. Halliburton expects to see an increase in both drilling and completion work, although the latter will likely outpace the former.
That being said, I think the oilfield service companies may go through a slow, U-shaped recovery, at least in 2021. That's because some of the biggest oil producers, including Exxon Mobil, Chevron (CVX), and EOG Resources (EOG), are still exercising caution and, in my opinion, likely won't meaningfully increase capital expenditures or drilling activity until the major economies contain the pandemic to some extent, global energy demand continues to recover, OPEC+ brings back curtailed volumes, and oil prices stabilize at more than $50 a barrel.
EOG Resources, for example, has promised to neither increase CapEx nor production in 2021. Instead, it will focus on generating robust free cash flows of $2.4 billion at $50 oil, increasing dividends by 10%, and reducing debt while maintaining oil production at 440,000 bpd. The company will still deploy more rigs to offset the impact of field declines and hold production flat. But unlike some of its peers, it's not targeting even a modest increase in output.
However, if the conditions in the oil market improve and prices remain steady at $50 or higher, then the company has said that it could target an 8% to 10% increase in oil production from 2022-23. Similarly, Chevron has kept its CapEx budget flat at around $14 billion. The company, which is one of the major players at the Permian Basin, has said that it will eventually increase Permian expenditures to $4 billion from $2 billion currently and push production higher, but that's not going to happen in the short-term, or at least until the market conditions get better. For now, Chevron will keep working with five rigs in the Permian, down from almost 20 a year earlier.
Takeaway and Risks
I think OIH's holdings will likely continue to witness an increase in service demand in North America in the coming quarters. This will likely have a positive impact on their earnings. This should have a positive impact on OIH's performance. The ETF's shares have rallied this year and I think the bullish run might continue in the future as its underlying holdings grow earnings. However, it could take more than a year for the oilfield service providers to recover completely.
A turnaround could be a slow process, and there might be a few hiccups along the way, but it could reward patient investors. The ETF is priced at 0.96x book value, which is largely in line with its peers. I think investors should consider buying OIH, although value hunters might want to wait for a dip.
That being said, note that OIH's performance will get influenced by oil prices. If, for instance, the US and other countries fail to contain the pandemic due to the emergence of new COVID-19 variants or other reasons and implement strict lockdowns and travel restrictions, then oil prices might come under pressure again. In this case, the oil producers will cut spending and reduce drilling activity, just like last year, which will dampen the prospects of oilfield service companies and OIH will likely tumble.
Additionally, I think OIH might underperform the broader energy sector during a downturn since many service companies have weak balance sheets and the risk of a decrease in cash flows can weigh heavily on their shares.