Summary
Osmotica closed its fourth quarter and full-year 2020 with dropping revenues.
It looks as if another clinical trial will be required to refloat arbaclofen ER.
Osmotica has signaled its interest in a strategic deal but has been reticent as to the form it might take.
Upneeq is Osmotica's one bright hope; whether it can support a positive value proposition for shareholders is highly uncertain.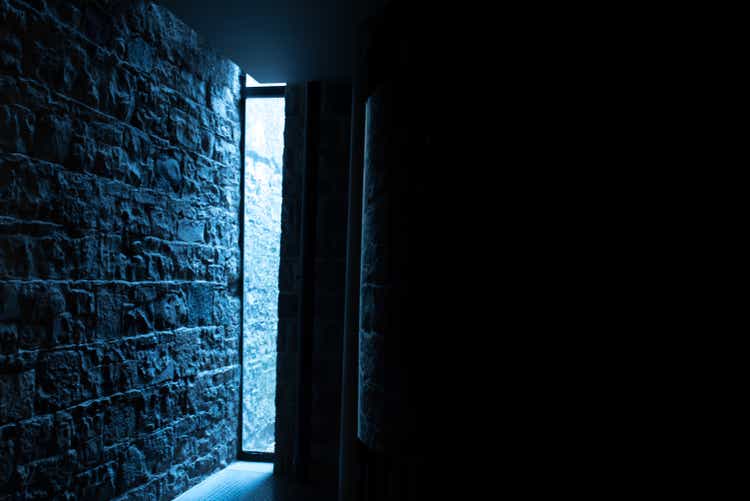 Osmotica (OSMT) is best characterized as a stock in transition. As such, it requires careful monitoring.
This article reviews Osmotica's recently closed Q4, 2020 earnings. Its situation is dark, with its future prospects resting on the unproven shoulders of its recently launched Upneeq in the treatment of ptosis. In this article, I will describe Osmotica's challenges and its prospects for overcoming them.
Osmotica's legacy business is rapidly diminishing
Osmotica's legacy revenue-generating business has produced nice revenues over the years, with sales of a variety of specialty neurology and women's health products. As of 12/31/2019, its portfolio included 30 non-promoted and six promoted products (p. 5). These provided cash flow for R&D and business development.
Unfortunately, a variety of factors have contributed to a horrendous reduction in revenues from these products. The situation reported in the following extract from its 3/30/21 10-K (p. 92) is dire: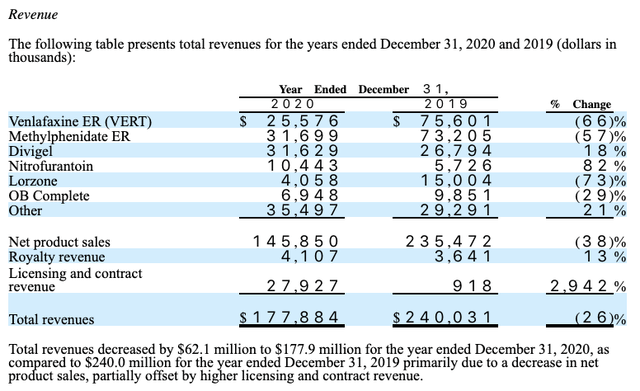 Arbaclofen's complete response letter has added to Osmotica's woes
When I last reported on Osmotica, "Osmotica: In Active Transition", it offered prospects of an imminent FDA approval of its arbaclofen ER as a consolation prize for its dropping revenues. The FDA knocked the bloom off that rose when it issued its CRL on 12/29/20. The CRL did not mince any words, providing that Osmotica's NDA:
... did not provide adequate justification (including in its most recent NDA amendment) for the statistical analysis of the change from baseline to Day 84 in TNmAS-MAL scores comparing arbaclofen 40 mg to placebo, one of the co-primary endpoints. The FDA made a number of recommendations in its CRL, including that the Company conduct a new study in order to provide substantial evidence of efficacy of arbaclofen.
Ouch. The pain runs even deeper when one considers that this was the second rejection for arbaclofen ER. It was also rejected in 2015 as discussed in the Transition article. Osmotica subsequently ran a new >500 person clinical trial as it tried to resurrect its molecule.
Despite this second roadblock, Osmotica is not one to give up easily as reflected by the following excerpt from its above referenced 10-K filed on 03/30/21:
... We continue to believe that arbaclofen ER tablets can provide a meaningful benefit to patients. On March 4, 2021, we participated in a meeting with the FDA to discuss their recommendations in the CRL, during which we explored selective review of the currently available data and options for a path forward for FDA approval, including conducting another clinical study.
"A full speed ahead, damn the torpedoes" attitude will seem refreshing to some, and foolhardy to others. Given the seriousness of MS-related spasticity, I fall in the positive camp. As long as Osmotica sees a reasonable shot at approval for arbaclofen ER it should go ahead with a new study to answer the FDA's efficacy concerns.
Osmotica's plans to refresh its operations with a deal are still in a gestation phase
In the above-referenced Transition article, I cited Osmotica's Q3, 2020 earnings release which included the following announcement:
...the Company today announces that it is undertaking a comprehensive review of strategic options to maximize shareholder value. The options under consideration include asset disposals, re-financings, commercialization or collaboration agreements. The review will also include the initiation of a process for the sale of the Company, which will commence shortly.
I noted that the company's plans were as yet protean and unformed. As I was preparing this article, I was hoping to find some meaningful status update. Its 03/2021 Barclays Global Healthcare Conference 15 slide Investors' Update presentation seemed just the place to gain some updated insights.
Good idea. However, it netted but the thinnest of gruel. Search though I did, the following was the only color I could find as to the plans for this important process:

"Under way and robust", you can take that to the bank, but the bank will surely want just a bit more information and so did I. By searching for the word "strategic" in its above cited 2021, 10-K, it becomes apparent that the company is very much in a state of flux.
In its "going concern evaluation" at page 118 of the 10-K it states:
The Company is currently undertaking a comprehensive review of strategic options to maximize shareholder value. The options under consideration include divestitures of non-strategic assets, re-financings and commercialization or collaboration agreements. In the event the Company is unable to generate sufficient proceeds from these strategic options such that it can reduce, retire or refinance its existing debt, the Company believes it has sufficient plans to effectively manage its expenses and avail itself of cure provisions provided for in its credit agreement, in order to maintain compliance with its debt covenants therein. The use of the cure provisions will result in utilization cash to pay down the debt balance.
This section goes on to emphasize that the company's continuation as a going concern is not immediately dependent on its strategic initiative. Since the bulk of its expenses are discretionary, it has the option of reducing expenditures. In other words, the company prefers to generate a strategic deal that will allow it to comfortably pursue its initiatives, if no such deal is on offer, it will tighten its belt.
Osmotica's newly FDA approved Upneeq has great potential
While Osmotica's challenges are significant and daunting, it would be wrong to assume that it has no potential merit as an investment. Its newly approved and launched Upneeq® (oxymetazoline hydrochloride ophthalmic solution) 0.1% in the treatment of ptosis has potential to vault the stock to new levels.
Osmotica's Barclays conference slide deck referenced earlier provides pictures describing ptosis. The presentation is primarily devoted to Upneeq. It includes slides with details relating to its MOA, cause, prevalence, development, and launch strategy.
According to different sources, Upneeq has a considerable peak sales potential. Jeffries has pegged it at upwards of $250 million; RBC Capital at $339 million. If it were able to realize on such potential, it could justify a market cap exceeding $1 billion.
Under such a scenario, Osmotica would be a multibagger, on the strength of Upneeq alone. Osmotica's modest market cap as reflected by the chart below shows that it has room to run: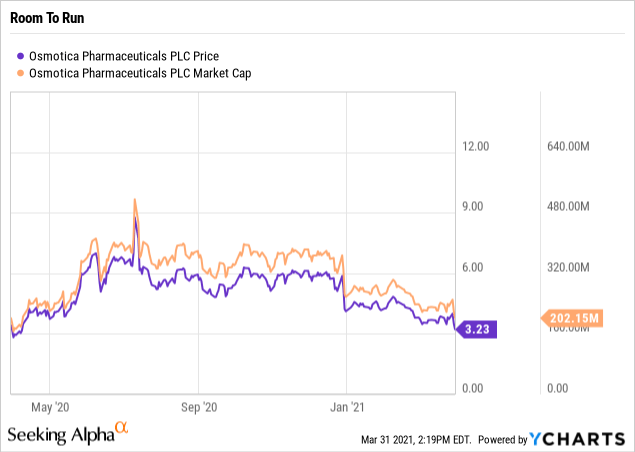 For optimistic folks, there are grounds for enthusiasm; I have a more cautious take. On the plus side, Upneeq has a broad, relatively nonthreatening label, with its usage for the treatment of acquired blepharoptosis [ptosis] in adults. Ptosis, also called drooping eyelid, can present cosmetic concerns or, in more serious cases, can actually interfere with eyesight.
Being a gentleman of mature years, as I charitably refer to myself, I have gone from never having heard of ptosis to one who now recognizes that I am seriously inflicted with the condition. Based on its benign side effect profile, I am a prime candidate for multiple sales.
One concern that will likely impact my decision on actually trying Upneeq relates to its business model. As described in its latest 10-K (p. 32), Upneeq is available on a cash-only basis:
Upneeq is only available through our pharmacy, RVL Pharmacy, and is a cash only product not covered by any private or government insurance. We control the price for Upneeq which is consistent for all patients. Although we believe this cash only model with consistent pricing is a benefit to patients, the price or distribution model may not be accepted by clinicians or patients and may negatively impact filled prescriptions and sales of Upneeq.
Conclusion
I am at the stage where I would rather squint than pay; I suspect that some may agree with me. On the other hand, there is a market for Upneeq. Whether it will build, to what level, and the time it will take to do so are known unknowns.
Osmotica has an interesting story. Whether or not it will prove to be a productive investment is the question which only time will tell. I have a tiny stake in the company. I do not plan to add to that stake until I see that it has put a strategy in place which is effectively realizing on Upneeq's significant potential.
This article was written by
Writing under the pseudonym "out of ignorance", I very much regard investing as a learning process. Investing failures are tuition paid. Investing successes enter the trove of lessons learned. In my Seeking Alpha articles I share my experience from decades of investing and from ~5 years of focused research on a variety of stocks, in recent years with a primary emphasis on healthcare stocks. I greatly appreciate those who take the time to share their reactions to articles, particularly those who share relevant anecdotes and experiences.
Analyst's Disclosure: I am/we are long OSMT. I wrote this article myself, and it expresses my own opinions. I am not receiving compensation for it (other than from Seeking Alpha). I have no business relationship with any company whose stock is mentioned in this article.

I may buy or sell shares in any stock mentioned over the next 72 hours.
Seeking Alpha's Disclosure: Past performance is no guarantee of future results. No recommendation or advice is being given as to whether any investment is suitable for a particular investor. Any views or opinions expressed above may not reflect those of Seeking Alpha as a whole. Seeking Alpha is not a licensed securities dealer, broker or US investment adviser or investment bank. Our analysts are third party authors that include both professional investors and individual investors who may not be licensed or certified by any institute or regulatory body.