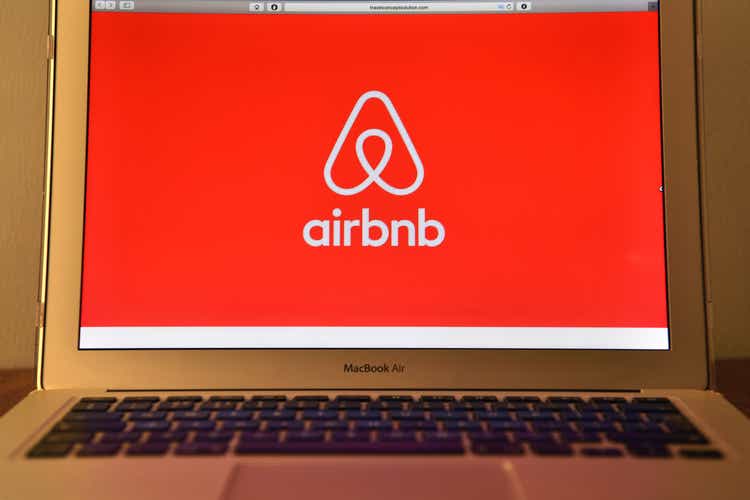 Destination and experience platform Airbnb (NASDAQ:ABNB) went public in December, and the stock has been a success with a $100B+ market cap, and shares trading up from IPO day levels. While the stock may seem expensive (and to be fair, it's certainly not cheap), long-term investors should look past near-term valuations and focus on the immense runway available to the business. Airbnb is positioned like none other to benefit from the "post Covid" economy. We will look at a number of growth drivers that will fuel years of growth for Airbnb, enabling it to outgrow its valuation in time.
Post-Covid Travel Recovery
The first and most obvious growth driver is the eventual comeback of the travel industry. Airbnb was growing at a rapid pace leading up to Covid, and we can see the disruption to the business that occurred in Q2 at the height of lockdowns. Nights and experiences booked were also down (28%) in Q3 and (39%) in Q4. Despite this, adjusted EBITDA materially improved in FY2020 to ($251M).

source: Airbnb S-1 filing
As populations become vaccinated and travel begins to recover, there is expected "pent-up demand" for travel after people have been largely restricted for the past 12+ months.
As many folks "ease" back into travel, I expect many travelers to prefer secluded accommodations such as those provided by Airbnb hosts versus hotels in urban areas where people are forced into close contact. This will be a potential driver behind Airbnb to take market share from hotels.
Continuation Of International Expansion
Airbnb operates in approximately 200 countries around the world. Despite this, a majority of Airbnb's operations are concentrated in the North America and EMEA regions. Collectively, these geographies combine for 72% of 2019 nights and experiences booked, and 81% of total revenues.

Source: Airbnb S-1 filing
International travel is an example of how Airbnb can take advantage of its platform. International travelers can use a synonymous platform to travel to different countries and markets without as much hassle as working to book destinations themselves in various geographies.
Also, the company will be able to expand in population dense, emerging economies where Airbnb currently has low penetration. This would include geographies such as China, India, Latin America, and Southeast Asia.
Increasing Prominence Of Telecommuting
A big misconception is that Covid has been a driver behind folks working from home. But in reality, the rise of computers and connectivity had already started this trend years ago.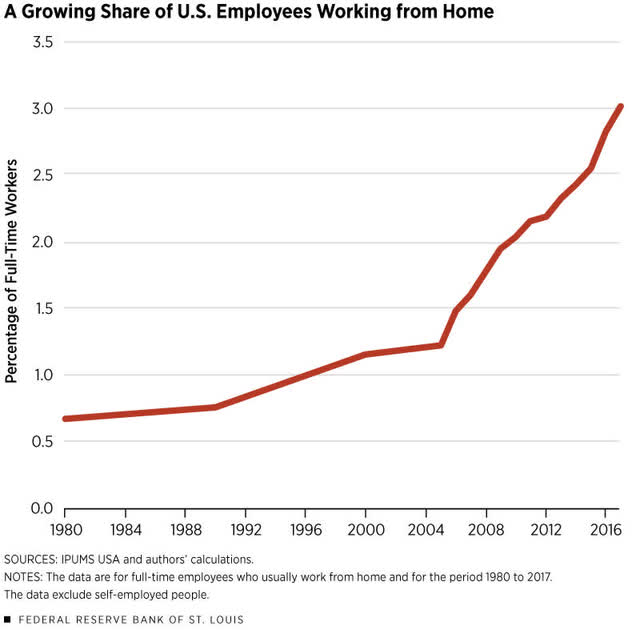 Source: Federal Reserve Bank of St. Louis
This trend simply accelerated in 2020 as Covid forced employers to adapt at a larger scale. While some employers will snap back to office located work as Covid passes, we are not completely "going back" to the way things were years ago.
Many Fortune 500 companies have adopted long-term policies for part- and full-time remote work, and as technology continues to advance, we will likely see telecommuting become increasingly prominent. This will enable folks to take their work with them when they travel. This will drive increased rates of travel over time, and Airbnb will benefit from the trickle down of this as a large player in the travel industry.
Airbnb Experiences
Aside from the growth and reach of Airbnb in destination travel, the company has expanded its business model to incorporate an "experiences" marketplace. Travelers can purchase experiences, services/activities that hosts provide.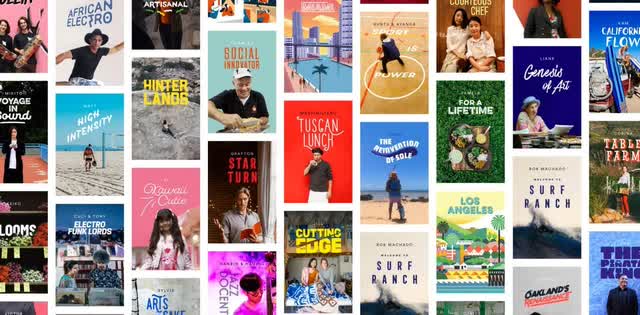 Source: Airbnb
As of now, Airbnb has experiences available in roughly 1,000 cities around the world. Considering that Airbnb has active listings in roughly 100,000 cities globally, the experiences marketplace is in very early innings. I expect this to increase by multitudes over the course of the rest of the decade.
Looking At Valuation
The largest complaint against Airbnb stock has been its valuation, ever since IPO day. At a glance, valuation concerns are understandable. If we look at EV to Sales, Airbnb currently commands multiples of:
31.4x 2020 revenue
22.5x 2021E revenue
16.6x 2022E revenue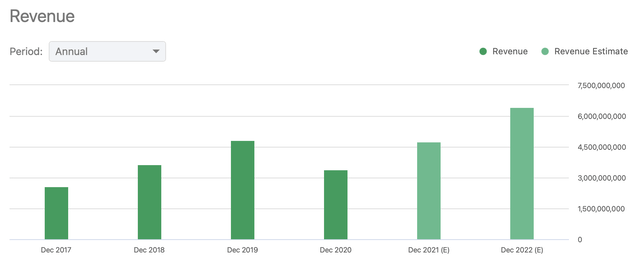 source: Seeking Alpha
We can see from the chart above that revenue estimates follow the ascending pattern that is expected to reflect a slow but steady rebound in travel. As Covid passes, it's estimated that Airbnb won't surpass 2019 revenue levels until 2022.
I believe this is a flawed argument, as the disruption due to Covid is masking the growth and strong fundamentals that are "under the hood" of Airbnb. The stock isn't "cheap" by any means, but over the next few years I believe that Airbnb will see revenue growth accelerate as Covid passes and the growth drivers we discussed above begin to gain sustained traction.
I've seen a lot of folks talk about "waiting for a dip" in Airbnb to meaningfully build a position. The problem with that is that quality businesses tend to stay expensive over time. Especially when the market is smart enough to see the long term growth that Airbnb is poised to take advantage of. Long-term investors are better off dollar cost averaging into a position, adding more aggressively on the types of dips that we saw over the course of March.
Wrapping Up
Airbnb is a difficult stock to evaluate for many, because it is compared to other hospitality stocks. However the scalability of Airbnb's platform skews these comparisons. The nature of Airbnb's business also positions it better than most to capture the catalysts that will drive continued travel growth over the coming 5-10 year period. For these reasons, Airbnb stock is more attractive once you look past valuations at face value.