174 Billion Reasons To Invest In Lithium
Summary
The U.S. government is going to invest $174 billion into EVs by 2030 via the infrastructure plan.
Lithium prices are blasting off, up 88%.
Volkswagen to build 6x 40 Gigawatt electric battery factories by 2030. This will fuel lithium demand.
Other companies (such as CATL) are also expanding EV battery production while Ford expands its EV capability.
At these prices, Lithium Americas is undervalued given the demand for lithium approaching.
Lithium Americas Blue Light Special
Sometimes Mr. Market is irrational and gives you quality companies on sale. I call these "blue light specials". For those that don't remember, K-Mart used to have a sale tactic where a siren would go off followed by "Attention K-Mart shoppers, attention K-Mart shoppers... on aisle 7" followed by a limited sale on an item.
Mr. Market does the exact same thing at times by giving you a limited sale. Great stocks like Lithium Americas (LAC) go on sale because humans (for the most part) engage in two practices. A) Avoiding risk due to fear and B) following the herd. Now at times A and B are very practical. I've dodged many a bullet in the market by stepping out of the way of a stampede of people bolting for the door of a hot stock only to buy in later at a cheaper price. On the flip side, you can beat the herd (usually) if you do your homework and get in on something simmering before the masses awake. Right now, you need to be doing your homework on lithium. The U.S. government's $174 billion infrastructure plan is going to electrify lithium stocks given time. Eventually the masses will awaken and we want to be in early before they are.Before we go any further this article is going to look at the macroview first and paint in broad strokes why lithium could be a good long term investment. With that said Lithium Americas is the focus of this article. Broad strokes first and then we narrow it down to the fearsome 5 lithium companies of which Lithium Americas is the leader.
174 Billion Reasons To Invest In Lithium
The U.S. Government is backing lithium via a $174 billion investment via:
"Enable automakers to spur domestic supply chains from raw materials to parts, retool factories to compete globally, and support American workers to make batteries and EVs."
"It will give consumers point of sale rebates and tax incentives to buy American-made EVs."
"It will establish grant and incentive programs for state and local governments and the private sector to build a national network of 500,000 EV chargers by 2030."
"Will replace 50,000 diesel transit vehicles and electrify at least 20 percent of our yellow school bus fleet through a new Clean Buses for Kids Program at the Environmental Protection Agency, with support from the Department of Energy."
"Will utilize the vast tools of federal procurement to electrify the federal fleet, including the United States Postal Service."
"Includes $25 billion for a dedicated fund to support ambitious projects that have tangible benefits to the regional or national economy but are too large or complex for existing funding programs."
"Increases resilience in the most essential services, including the electric grid." "Investing in water efficiency and recycling programs, Tribal Water Settlements, and dam safety." Author's translation: More water for mining operations potentially.
"Creation of a targeted investment tax credit that incentivizes the buildout of at least 20 gigawatts of high-voltage capacity power lines and mobilizes tens of billions in private capital off the sidelines" Author's translation: EV should put more demand on the power transmissions. The energy does not magically come from nowhere.
"Proposing a ten-year extension and phase down of an expanded direct-pay investment tax credit and production tax credit for clean energy generation and storage."
And oddly "Advancing environmental justice through a new Civilian Climate Corps".
The nation that can mine the lithium stands to benefit but also the nation that can process the lithium for its market will benefit from an energy independence and tax / job standpoint. China right now is in the lead via its international investments in various lithium companies and its massive EV battery production. If the U.S. government were smart they would invest in domestic suppliers of lithium and challenge the Chinese and maybe just maybe we are seeing the opening salvo of a bid to compete against them.
Meanwhile... In Gotham
Depending on who you look at and what flavor of lithium you are observing, prices can vary quite a lot. Yet the overall idea here is that prices are on the rise. Per Mining.com and Benchmark Intelligence:
Benchmark's battery-grade lithium carbonate midpoint price (EXW China, ≥99.0% Li2CO3) for mid-March shows the raw material up 88% just since the start of the year to over $12,600 a ton, the highest level since March 2019.

Benchmark says in its new report some transactions were concluded as high as $13,400 on signs of a market shortage with producers running out of inventory. The last time domestic Chinese lithium carbonate sold for more than $13,000 was August 2018.
And per Tradingeconomics.com, we can see lithium carbonate prices are up over 40% from the lows.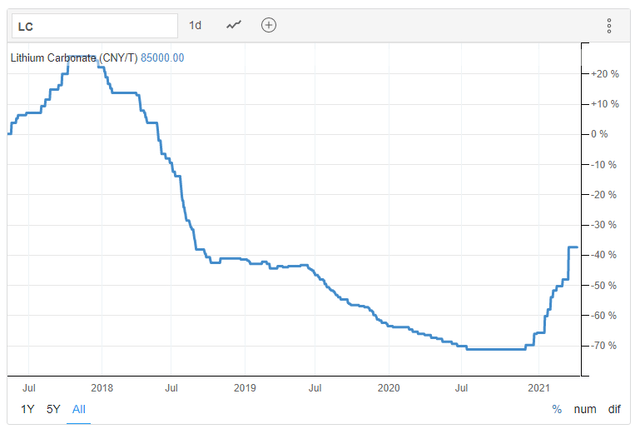 (Source: Tradingeconomics 5 year chart)
Also, it is not just lithium prices that are off to the races. A lot of metals that go into EV are popping in anticipation of supply constraints. Observe cobalt.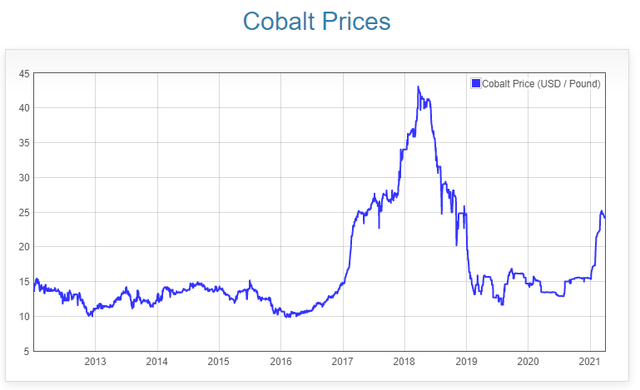 (Source: Dailymetalprice)
How about nickel prices? EV uses a lot of nickel to make an electric battery.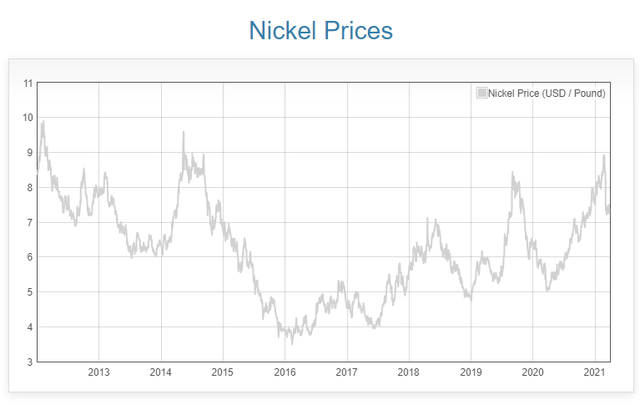 (Source: Dailymetalprice)
Choppy Waters Offer Opportunity
"What's going on with lithium?" and "Why is lithium down?" are questions I field every day from momentum traders. I've a few theories why Mr. Market is giving me quality companies at discount and frankly it does not matter from a long-term viewpoint but I will share anyway:
1. Many lithium miners raised money, thus throwing ice water on lithium stocks. Lithium Americas (NYSE:LAC), Nano One (OTCPK:NNOMF), Neo Lithium (OTCQX:NTTHF), Noram Ventures (OTCQB:NRVTF), and Cypress Development (OTCQX:CYDVF) and many more all raised capital.
2. Short selling may be impacting some lithium stocks. It is not uncommon to see a company raise money and then the shares are sold out asap for a quick profit and the company shorted. It happens but it's only short-term pain and quite frankly offers opportunity for the long-term investor.
3. Some companies are in a quiet period or operating under NDA such as Cypress Development (and I suspect Lithium Americas). This simply is not exciting and momo traders move on to other stocks with more sizzle. Again, this offers opportunity for the long-term investor. Short-term choppy waters, while unpleasant, offer opportunity. Math wins in the end and the U.S. gov throwing considerable funding into EV and lithium. Combine that with rising lithium prices and a global push for EV and you have a recipe for a multi-bagger if you have a quality that few humans have - patience.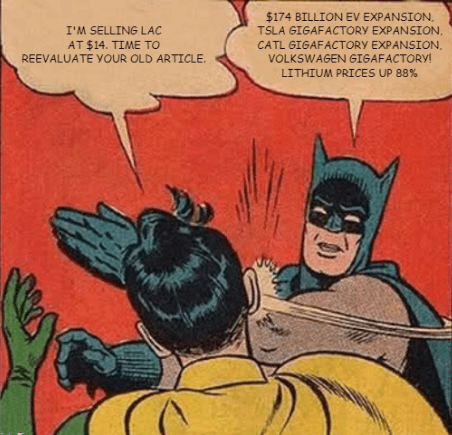 (Source: Imgflip meme generator)
Lithium Sea Change - A Need For Speed
I've been preaching it for years and I'll continue to say it. A sea change is coming to the auto market and the world. Just as cell phones altered the world forever the electric car is coming en masse and it will shake things up. Consumers will adopt electric for the acceleration and less maintenance costs due to fewer moving parts in an EV. Environmentalists like electric, but for the average joe the real benefit is acceleration. On the low side, we are looking at 0-60mph in 2.1 seconds. I have a need, a need for speed.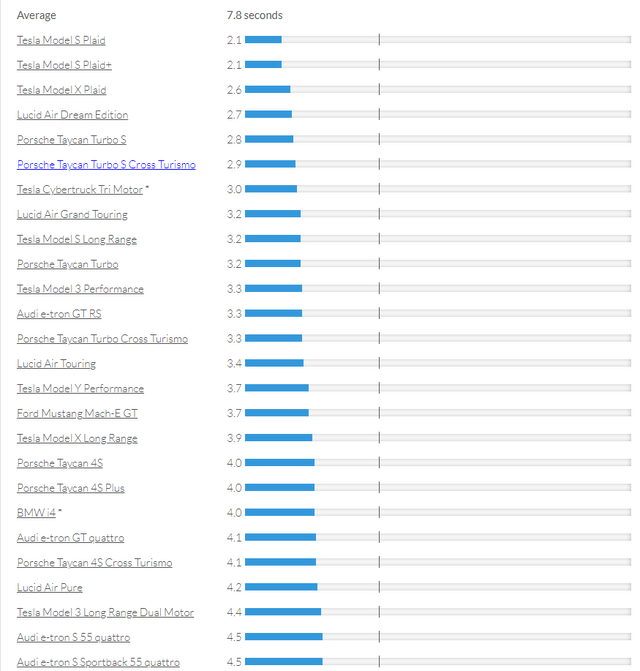 (Source: Ev-database.org)
As electric market percentages rise, we will see an increase in the lower priced models offering superior acceleration. Once the average consumer gets a taste of this, it will spread. On a side note, it makes me wonder how tire sales will be impacted as electric cars can be heavy.
Attention Lithium-Mart Shoppers
Attention Lithium Market shoppers! We are having a sale on Lithium Americas. Boy, what a sale it is. The company has recently dropped from the low $20s to its current price of $13-15 range. Let's explore why this is a blue light special. Reading through the March 2nd, 2021 form 6-K from Lithium Americas:
South America Mine News:
"Capital expenditures for the Project remain on budget with $477 million (84%) of the $565 million committed, including $388 million (69%) spent, as of December 31, 2020."

"Significant progress has been made on the lime plant, solvent extraction plant and lithium carbonate plant. The solar evaporation ponds are well advanced with sufficient brine inventory to support production ramp up."

"Based on the latest construction schedule, which assumes a reduced workforce at site in accordance with COVID-19 protocols throughout construction, the Company expects first production in mid-2022."

"In H1 2021, the Jujuy Energia y Mineria Sociedad del Estado ("JEMSE"), a company owned by the Government of Jujuy province, is expected to complete the exercise of its 2012 participation right, at which point it will receive and hold an 8.5% interest in Caucharí-Olaroz."
Nevada Thacker Pass News:
"All remaining state permits and water right transfers required to commence construction are expected later this year."

"The Company continues to evaluate partnership and financing opportunities for Thacker Pass, including the possibility of a joint venture partner."
Corporate News: Lithium Americas has $518 million as of February 28, 2021. That is quite a bit of capital. Long term liabilities as of December 31, 2020 are $127.3 million.
Lithium Americas Thacker Pass Lawsuits
On a side note, a lawsuit is floating around concerning Thacker Pass. Personally I do not give them much chances of success but all information has value. So lets kick the tires real quick and see what turns up.
First lets look from the top down and see if the company has support.1st off the proposed mine is on Federal land, land the BLM has approved for mining purposes. So Federal agency support is a go.
2nd Given the political push for EV (and the associated pork belly projects) we can assume Democratic support is a given from a broad brush stroke point of view. Will Republicans support it? Most likely IF the Democrats sweeten the pot. If not, it the proposed laws will go back to the drawing board to resurface again. Democratic party support and Presidential support is a go.
3rd Nevada is a very mining friendly state and we can see this via Nevada giving $1.3 billion in tax breaks to Tesla (TSLA) and tax breaks for Lithium Americas. Per Elko Daily:
"The lithium company will receive a total of $8.6 million in tax abatements, including a partial sales tax abatement worth $5 million, a $3.3 million property tax abatement and about $225 million in payroll tax abatements. Per its application, it expects to bring in more than $65.8 million in new local and state tax revenue."
4th Some of the rancher lawsuits try to paint a picture that if Thacker Pass moves forward that all sorts of species will be threatened. Go ahead and pull up Google Earth and type in Thacker Pass and look around. You will notice a lot of open land. A few acres providing for the national defense is not going to have a large impact. Now if LAC were in the same boat as say Ioneer (ASX:INR) with its almost extinct Tiehm's buckwheet (that only grows on a few acres on planet earth), they would have a major problem.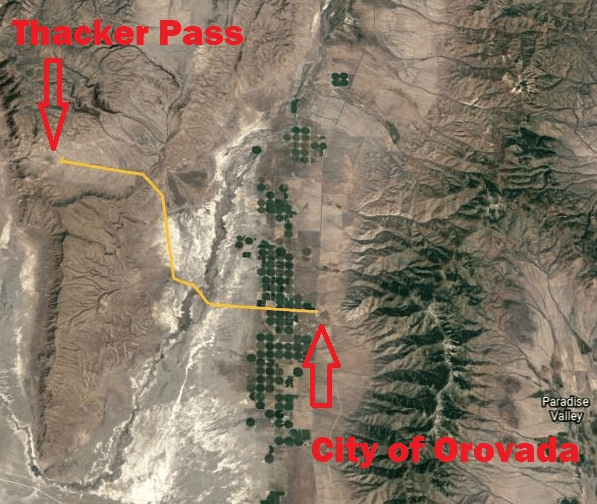 (Source: Google Earth, 115km above the surface)
So Thacker Pass moves forward and the waiting game continues. I suspect they are in talks with various groups concerning Thacker Pass or maybe they will simply build out the mine alone. Once the South American mine comes online, the profits from that should be able to allow them to wrap up the pass project. Meanwhile Volkswagen (OTCPK:VWAGY) is not standing idly by but rather entering lithium in a big way.
Volkswagen Commits to Lithium
The big VW has backed up the truck on lithium by committing to building 6x 40 giga watt factories in Europe by 2030.
Per Reuters:
The world's No. 2 carmaker, which is in the midst of a major shift towards battery-powered cars, said on Monday it wants to have six battery cell factories operating in Europe by 2030, which it will build alone or with partners.

"Our transformation will be fast, it will be unprecedented," Chief Executive Herbert Diess told Volkswagen's Power Day, which also featured the CEOs of BP, Enel and Iberdrola in an effort to match some of the buzz of Tesla's Battery Day last September.
More Electric.
Other companies are also building electric factories such as Ultium Cells 30 gigawatt factory below due to come online mid 2022.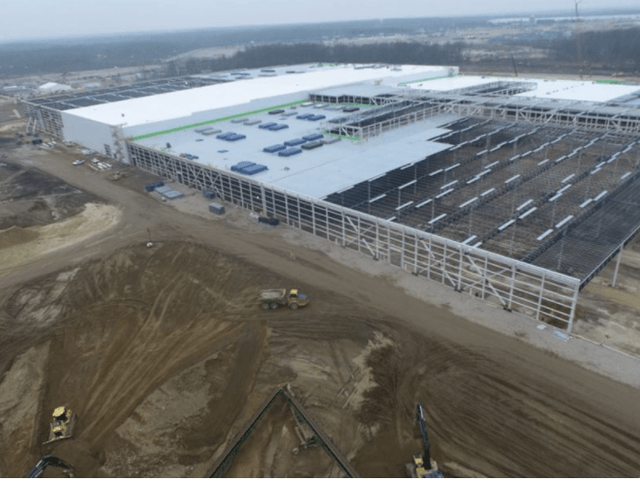 (Source: Ultium)
CATL is also growing at a fast clip by opening more battery factories.
The company intends to build a new battery plant in Guangdong, which in the first phase will have an output of 25 GWh of cells annually. In the longer term (2030), CATL would like to have a 150 GWh site in Guangdong.

The planned investment in the initial stage is 12 billion yuan ($1.85 billion).

According to reports from China, CATL is also expanding its other Chinese plants and is on track to increase its installed manufacturing capacity from 109 GWh annually in 2020 to 336 GWh annually in 2023.
Meanwhile Ford (F) is expanding its EV capabilities via an expansion.
The Lithium Fearsome Five
By now you might be foaming at the mouth ready to invest in lithium (key word: Invest), but who to buy? I've written plenty in the past about lithium and who I think is the best of junior minor breed but a quick recap would be:
1. Lithium Americas - With its 49% ownership in a now Chinese owned mine and a 2nd mine at the state permitting state in Nevada this one is a long term winner and my number #1 pick for most likely to pan out and at the least risky of these risky stocks. I cover Lithium Americas here.
2. Nano One - A lithium tech play with some very interesting technology. In bed with Volkswagen via a small tech exploration deal and a 2nd unnamed automaker is in a deal with them. I cover Nano One here.
3. Neo Lithium - A junior miner ran by the former CEO of Lithium Americas. In bed w/ the 800 pound lithium giant CATL. I cover Neo Lithium here.
4. Cypress Development - The most risky of the bunch as they do not have partner as of yet. They are currently building out a DFS pilot plant to test their proposed lithium clay extraction process. I theorize they will get in bed with Albemarle (ALB) long term. This is covered in more detail via my Cypress Development article.
5. Standard Lithium (STLHF)- An interesting direct extraction play in bed with a large preestablished company Lanxess (OTCPK:LNXSF). SA Author Long Term Tips wrote a piece about them here.
Lithium Risk
The auto industry is dependent upon third parties to manufacture semiconductor chips. Given the global supply crunch for semiconductors, they are supply constrained. How much this impacts EV autos is anyone's guess, but the perception might be something to at least be aware of. Long term, these issues will be resolved as companies like Taiwan Semiconductor (TSM) are expanding production (along with Intel (INTC) by establishing new plants in Arizona and expanding production at existing plants. Of course this takes time. In the case of a new fab, it will require years to build one out. I have seen a few murmurings that lithium recycling poses a problem as it might cut into demand but at best I view this as a long-term issue that is at worst 15+ years out. The only real issue that would give me pause for concern is just how much money the U.S. government owes and how large the deficit is. Yet gold & silver are a small hedge against inflation.
A secondary concern is a general market correction and of course politics of the current administration but that is a bit beyond the discussion here. The last bit of risk is mine approvals. Given the BLM has approved Lithium Americas mine and the state of Nevada is giving Lithium Americas tax credits I view the odds of lawsuits being successful has very low.
The overall strategic importance of lithium for the entire U.S. from a economic and defensive standpoint is too important vs a rancher that is mad because the federal government is approving a mine on federal land. Combine that with high paying jobs for an area that is economically challenged and my assessment is state approval comes next. Long term I would venture, having read the BLM documents, that Lithium Americas tries to get a permit to manufacture batteries on site. This is covered in one of my old article "Lithium Americas: A Plan To Make An Electric Car Battery Factory Near Tesla".
Conclusion
Once consumers get a taste of the acceleration that electric offers, there is no going back. Rising prices for lithium (combined with all car companies entering the electric fray) will result in more demand than supply can fill. This bodes well for lithium plays. Investors currently are too focused on what car company will be hot, be it Tesla (TSLA) or Volkswagen. The car companies are not where I want to put my capital. Sure the car market is changing and growing, but they are all fighting over the same TAM pie (total addressable market) be it ICE engines or electric.
All the car makers need lithium for electric cars thus vendor specific risk is diversified by investing in a basket of mines. It does not matter which car maker wins, in the end the electric cars will profit. Hence we profit no matter which car maker wins.
My capital is going into the white gold that is lithium. Lithium Americas is the least risky choice of the "Fearsome Five" lithium stocks if you are willing to rise the stock market waves and have an investor mentality.
This article was written by
"Never let formal education get in the way of your learning". - Mark Twain,,,You are here for one reason. You want "actionable Intelligence". If you wanted a history lesson on a company then Google is your friend. My aim is to provide intelligence that you can read, ponder, and then execute upon to make a profit or avoid a loss. A price of a stock is almost irrelevant. It is the last thing to consider when buying a stock. If you don't pay attention to management, financials (go back 3 years), the sector, global macros, your portfolio mix, along with risk/reward for capital used and the company news, you are ignoring all of the things that come before price. Price is mostly real-time sentiment. It is hardly ever a good indicator of value.People who only look at price will fail as investors, because price is a result of fundamentals, news, and sentiment. You have to learn to "take" from the market, if at all possible, make it give you what you want.Use targets, set limits, protect your capital with stops and if something changes fundamentally, review, review, review.You can't read too much. If it was easy everyone would be doing it. Now you have no reason to not get Alpha.
Analyst's Disclosure: I am/we are long LAC, NTTHF, NNOMF, CYDVF, NRVTF, STLHF. I wrote this article myself, and it expresses my own opinions. I am not receiving compensation for it (other than from Seeking Alpha). I have no business relationship with any company whose stock is mentioned in this article.

We also own NLC (Neo Lithium) and NNO (Nano One) on the Canada exchanges. We own long calls in LAC. We have sold puts against LAC.
Seeking Alpha's Disclosure: Past performance is no guarantee of future results. No recommendation or advice is being given as to whether any investment is suitable for a particular investor. Any views or opinions expressed above may not reflect those of Seeking Alpha as a whole. Seeking Alpha is not a licensed securities dealer, broker or US investment adviser or investment bank. Our analysts are third party authors that include both professional investors and individual investors who may not be licensed or certified by any institute or regulatory body.