We have been bullish on the shares of EDAP (NASDAQ:EDAP), a French medical device maker. We bought them for our old public portfolio at $2.36 in April last year and when we started our marketplace SHU Growth Portfolio last July, we added EDAP at $3.75 in late August and we haven't had regrets since: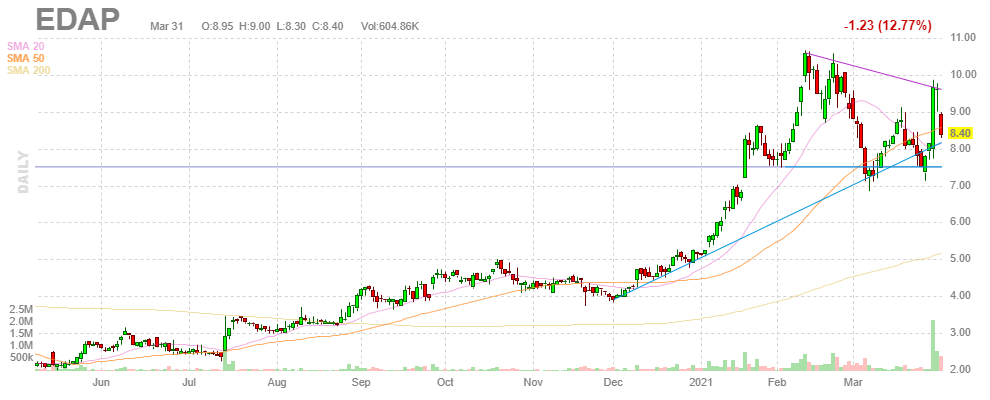 The bull case is fairly straightforward:
The company produces devices for HIFU (High-Intensity Focused Ultrasound) treatment for prostate cancer
HIFU can be used against other ailments
The market is still in the early innings
Device sales produce recurring revenues in service and parts
There is progress on the payor front
Much of the fundamentals have been dealt with in previous articles (see here, here and here) so we will be brief here. The company has three divisions: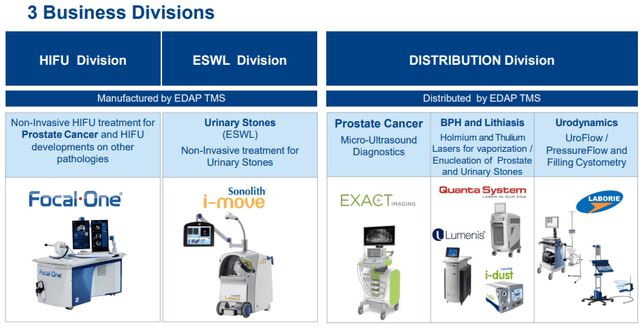 Source: company IR presentation
Besides their HIFU ablation device the Focal One, they also have some other devices they sell from their ESWL (Extracorporeal Shock Wave Lithotripsy) legacy business (like the Sonolith i-sys) used to remove stones from urinary tracts. Then there is the ExactVu, which is complementary to the Focal One (Q4CC):
the ExactVu has a lot of different capabilities, including being a normal ultrasound, being a device that does MRI fusion images as well as targeted biopsy and then the micro-ultrasound capabilities. So there is reimbursement for the 2 first, but not yet a dedicated reimbursement for the micro-ultrasound, and this is something we're working on.
Focal One + ExactVu
The market opportunity is really pretty large: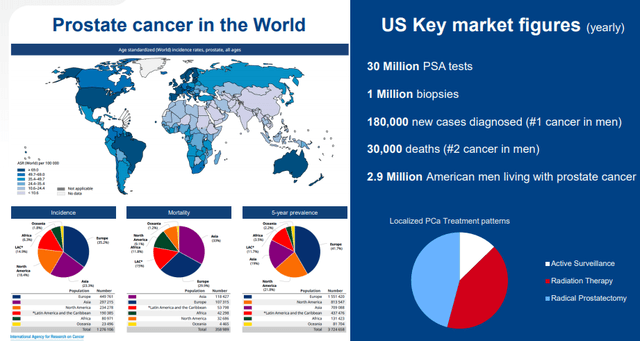 Source: company IR presentation
It's non-invasive, precise, produces little to no side effects and the efficacy is often higher compared to the current standard treatment, radical prostatectomy. You can read the interim result of the latest big study here.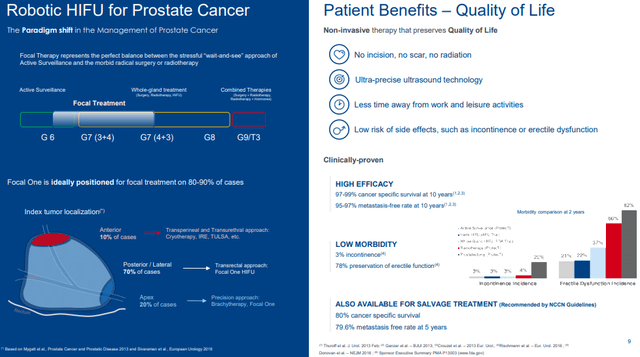 Source: company IR presentation
Of the 1.275M new prostate cancer cases a year, 220K are suitable for HIFU treatment of which the Focal One could treat 165K. Management estimates the TAM for the company's HIFU treatment as 3000 devices (which sell for $80K in the US and $60K in the rest of the world) or roughly $3B.
Add to that potential annual revenue (service, disposables, 10% renewal) of $595M and you see why the company has only scratched the surface.
But they are scratching some more as the company sold no less than 8 new HIFU devices (6 Focal One and 2 older Ablatherm) in Q4, but that is inflated as Q4 is seasonally the strongest quarter and there will also have been some catch-up demand as a result of the pandemic.
The momentum has apparently not carried over to Q1 also because the pandemic was still very much present in much of the world and hospitals were hesitant with CapEx. But be aware that quarters can be lumpy and the Covid situation can clear with the advancement of the vaccines.
The company entered into a distribution deal with Ab Medica for the Italian market, the fourth largest medical device market in Europe.
There is also progress from the US payor front as the company's CPT code for Medicare went into effect on January 1, with a 5% increase to $4500 per procedure versus 2020 and an average physician payment of $996, from the Q4CC:
As a reference, a comparable established minimally invasive therapies for prostate cancer, cryotherapy and brachytherapy yield an average payment of $786 and $738, respectively, under the same setting and patient conditions. A radical prostatectomy would pay $1,188 or $1,464 is performed laparoscopically.
Management is also partnering with two reimbursement consultancies, MTP and Argenta Advisors, in order to get the ball rolling for reimbursement for Medicaid and commercially insured front.
The company so far has focused its US marketing efforts on Tier 1 hospitals, but in the face of a receding pandemic and a more favorable reimbursement backdrop, it's expanding to Tier 2 and 3 hospitals, casting a wider net.
Other conditions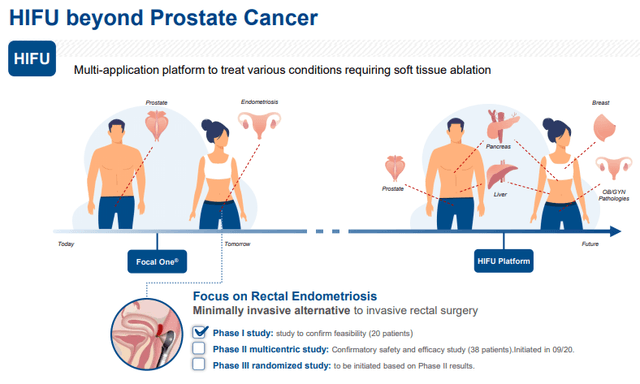 Source: company IR presentation
These are:
Rectal endometriosis
Liver cancer
Pancreatic cancer
Breast cancer
Gynecology
Basically, HIFU is a therapeutic tool for any condition requiring soft tissue ablation
These are all more or less in the embryonic stage, apart from the treatment of deep invasive endometriosis, where the French health authority had approved an upcoming phase II clinical trial last August.
That trial got delayed by Covid (and given the recent resurgence in France there might be some new delays, we speculate), but management is recruiting patients for that trial now, with 10 patients already selected.
Q4 results
Q4 results weren't a big surprise given that the company had already pre-announced these some while ago with revenue increasing 28.2% y/y to EUR15.4M and HIFU business revenue growing 50.8% at EUR4.4M.
The LITHO business grew 10.6% to EUR4.6M while the Distribution business increased by 29.7% at EUR6.4M and gross profit increasing by EUR1.9M to EUR7M.
For the whole year, revenues still declined by 7.2% as a result of the pandemic but the company has come out pretty well and even managed to produce EUR3.8M in positive cash flow, ending the year with a strong EUR24.7M ($30.2M) balance and EUR3.8M in debt.
Valuation
With a market capitalization of $280M, an EV of $255M, and sales of $47.8M, the shares sell at a pretty substantial multiple for a device maker with an EV/S of 5.3.
Analysts expect an EPS this year of $0.21 but that hasn't been updated for the Q4 results (although these didn't vary much from the preannouncement) so the multiple is pretty steep here as well.
Conclusion
The shares aren't cheap, but the company is set to grow again this year on the back of a receding pandemic and a more favorable US payer backdrop. Given that the company is still tiny in relation to its market opportunity and already cash flow positive and has an attractive business model generating some recurring revenues, we see further gradual upside for the shares.
Longer-term, the bull case is likely to be strengthened by the inclusion of other treatments besides prostate cancer.

If you are interested in similarly small, high-growth potential stocks you could join us at our marketplace service SHU Growth Portfolio, where we maintain a portfolio and a watchlist of similar stocks. 
We add real-time buy and sell signals on these, as well as other trading opportunities which we provide in our active chat community. We look at companies with a defensible competitive advantage and the opportunity and/or business models which have the potential to generate considerable operational leverage.