Sell Homebuilders And Buy Manufactured Housing
Summary
The combination of a shortage of housing and increasing demand for housing is a powerful tailwind.
While this tailwind helps both homebuilders and MH, strategic factors suggest MH will get more sustaining benefit.
UMH and LEGH are my plays on the space.
Looking for more investing ideas like this one? Get them exclusively at Portfolio Income Solutions. Learn More »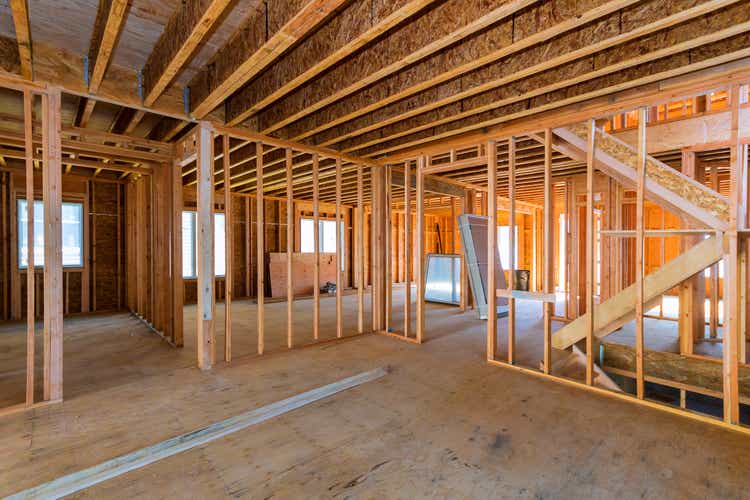 The Sell and replace thesis
As a value investor I feel compelled to warn my fellow value investors that the homebuilders might be a value trap. With impressive recent growth and price to earnings multiples under 10X, the homebuilders Lennar (LEN) and PulteGroup (PHM) look quite enticing at first glance. A deeper dive, however, reveals the earnings are near a cyclical peak and a shaky strategic foundation threatens future fundamentals.
In a previous article I discussed how the homebuilder's margins are being squeezed by sawmills charging astronomical prices for lumber and showed that the sawmills are more strategically positioned within the vertical.
Today, I want to show that direct competitors are also better positioned. Specifically, manufactured housing or MH has barriers to supply which make its long run fundamental outlook superior to that of traditional homebuilding. In this area, I think a basket of UMH Properties (UMH) and Legacy Housing (LEGH) looks opportunistic.
Demand for housing – a tailwind for both homebuilders and MH, but MH benefits by more
Unemployment has dropped to a post-pandemic low.

From a macro-economic perspective improving employment leads to increased demand for housing. While this effect would normally be incremental and somewhat small, it is being amplified this time around by the increased ability of people to work remotely. Without being forced to cluster in big cities, demand for homes in suburbs is ramping up significantly.
This demand is quite clearly beneficial for both homebuilders and manufactured housing providers. That said, the supply dynamic is, in my opinion, going to cause the manufactured housing providers to benefit far more.
Quite simply traditional home development is encouraged by the various layers of the government from local to national while MH is still somewhat restricted.
HUD (the department of Housing and Urban Development) has recently started to somewhat facilitate MH, but at the local level there is still a massive amount of NIMBY (not in my backyard) sentiment and red tape. This red tape makes new permits extremely difficult to obtain and has kept supply to a trickle.
The effects can be seen in the numbers.
Traditional housing construction has been increasing since the end of the financial crisis and post pandemic has spiked to levels not seen since the housing bubble of 2005-2006.

In other words, supply is keeping up with the increased demand when it comes to homebuilders.
Manufactured housing has had constrained supply. New MH deliveries have been around 94,000 per year for the past 3 years.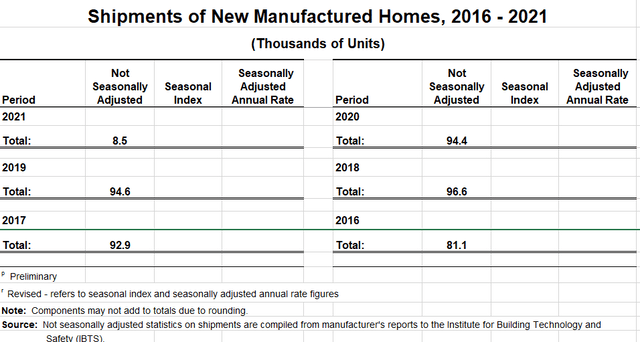 Supply of MH is not keeping up with demand for MH.
As a result, the value of MH properties has risen significantly.

Over this time period, traditional home prices have also risen significantly but there is key difference:
The rising prices of MH are secular in nature while the rising prices of traditional homes are more cyclical in nature.
Since Manufactured housing supply is so constrained, it rarely catches up with demand while the unconstrained supply of traditional housing has a tendency to overshoot.
Back in 2005-2006 far too much traditional home supply hit the market causing a dramatic oversupply when the recession hit. This is the basic boom bust cycle of homebuilders. Check out the peak to trough of the previous recession in which Pulte and Lennar lost 83% and 94% of their value, respectively.

Source: SNL Financial
In contrast, manufactured housing didn't get oversupplied so its dip was much more shallow. UMH Properties (UMH), a long tenured owner and operator of MH communities, did not suffer nearly as much during the financial crisis and was able to use that stronger positioning to grow nicely through the long expansion phase that followed the financial crisis.

Source: SNL Financial
I fear that traditional housing is headed for another run-in with oversupply and while I doubt it will be anywhere close to as bad as the financial crisis, it is generally not good to own such violently cyclical stocks at the peak of their cycle.
I can't tell you if the peak is today, next year, or 3 years off, but the earnings that Pulte and Lennar are getting presently are not sustainable forever.
A look at the earnings per share of Lennar over time shows that times can be really good or they can be really bad.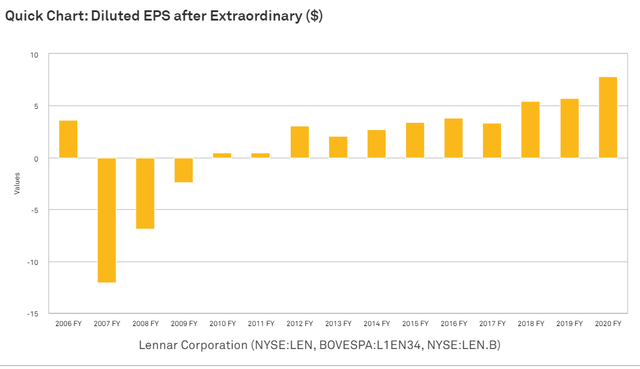 Source: SNL Financial
So while Lennar is trading at just 10X 2020 earnings, it is trading at a much higher multiple against its average earnings. Unless one thinks these boom times are going to last forever, we have to be cautious on using the current PE multiple of a highly cyclical stock.
Manufactured housing is still economically sensitive, but the impacts are less drastic because the supply is constrained. Compare Cavco's earnings below to those of Lennar above.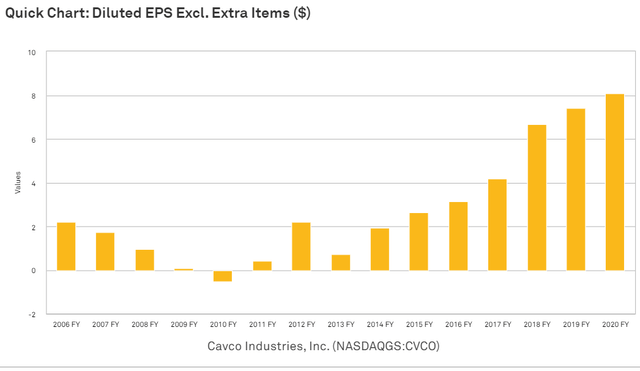 Source: SNL Financial
It was clearly impacted by the recession, but much less violently.
This is more than a mere difference in volatility. It boils down to MH being fundamentally in a superior position.
High demand and high supply is simply a worse outlook than high demand with low supply.
Low supply buffers existing operators in a downturn and amplifies the upside during the good times. Well, because MH remains so undersupplied it would appear we are heading into a long period of the good times.
The market understands this and trades Manufactured housing stocks at very high multiples.
Cavco (CVCO) trades at 28.8X forward earnings
Sun Communities (SUI) at 25.5X forward FFO
Equity Lifestyle (ELS) at 27X forward FFO
These multiples are warranted as I think earnings will grow enough to justify them. For these particular securities, however, the growth is priced in. At fair value, they should do fine but are not opportunistic.
Hidden gems
A persistent phenomenon across the market is that smaller stocks often get overlooked. There are 2 manufactured housing plays that trade at low multiples despite having access to the secular growth of the sector; UMH Properties and Legacy Housing Corporation.
LEGH is a direct peer of Cavco and is the 4th biggest producer of manufactured housing. Cavco correctly trades at 28X earnings, but LEGH is left in the dust at 10X earnings.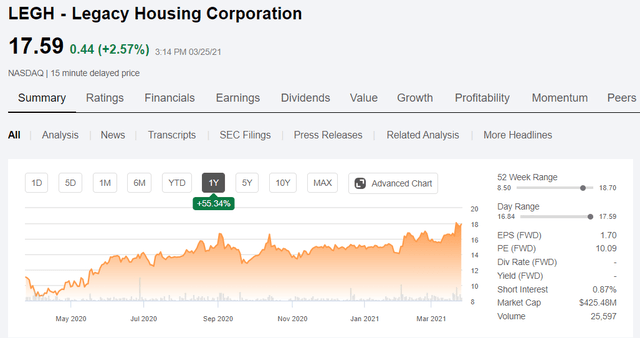 Source : SA
As LEGH grows and gets recognized by the market I think its multiple will start to creep up much closer to its peers. That would represent substantial upside to those who get in at today's price.
Legacy Housing is somewhat new to the public scene, but is already developing a nice track record of growth.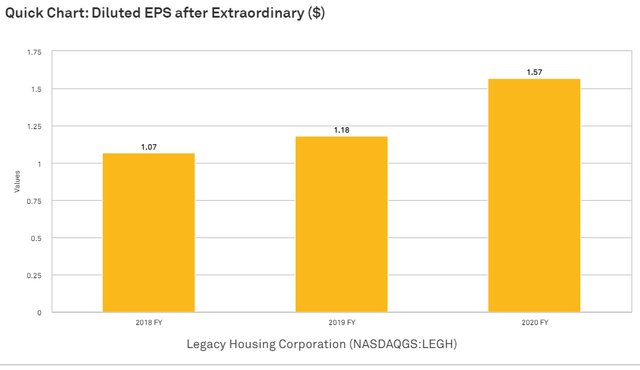 Source: SNL Financial
UMH Properties is a manufactured housing REIT and a direct peer of Sun Communities and Equity Lifestyle.
Unlike its peers which trade at 25X and 27X, UMH can be bought for just under 20X FFO. I find this opportunistically cheap given its impressive organic growth.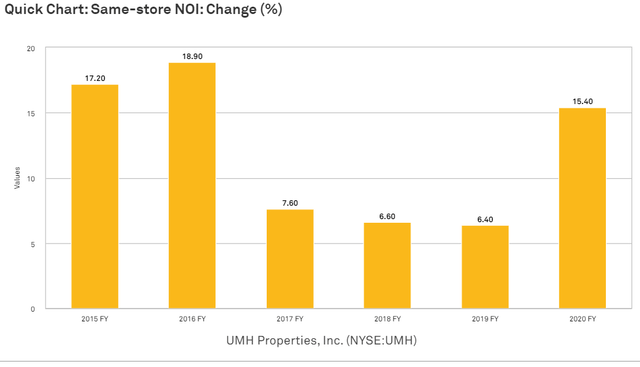 Source: SNL Financial
UMH's rental rates that it charges tenants are still about 20% below market rates so its NOI can keep ratcheting up until rents are in parity with market.
In brief, owning UMH and LEGH provides exposure to the tremendous growth of the manufactured housing sector but because these stocks are overlooked by the market, you don't have to pay for the growth.
I specifically like these stocks together because despite being in the same sector they actually somewhat hedge each other.
UMH as paired with LEGH
LEGH, as a builder of MH is a supplier of UMH which owns and operates MH communities. This entire industry vertical benefits from the strong demand for manufactured housing, but certain things could affect each business differently.
UMH is a big beneficiary of the red tape and regulatory environment which is stifling new MH permits. Without competing properties, the value of UMH's communities is rising swiftly. Thus, one of the greatest risks to UMH would be if the permitting process were to be relaxed.
LEGH, as a builder of MH, would benefit from the permitting being relaxed because it would allow them to increase their volume of business. 15 years down the road the relaxed permitting would not be good because it would risk oversupply similar to what happens in homebuilders, but because there are so few incumbents, LEGH would make so much money before that happened that it would be a net positive.
Wrapping it up
Strong employment and trends of moving to the suburbs are creating strong demand for all kinds of housing.
Homebuilders seem risky to me because I think they are at or near a cyclical peak. The supply constraints on MH makes its growth more secular in nature and it is therefore my preferred way to play the demand for new housing.
While the big MH companies are trading at fair value, some smaller overlooked MH companies are opportunistically cheap. I see favorable reward to risk ratio in owning UMH and LEGH.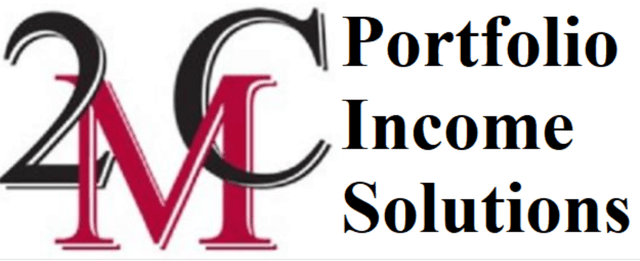 For a full toolkit on building a growing stream of dividend income, please consider joining Portfolio Income Solutions. As a member you will get:
Access to a curated Real Money REIT Portfolio

Continuous market commentary
Data sets on every REIT
You will benefit from our team's decades of collective experience in REIT investing. On Portfolio Income Solutions, we don't only share our ideas, we also discuss best trading practices and help you become a better investor.
We welcome you to test it out with a free 14-day trial. Lock in our founding member rate of $33.25/month (paid annually) before it expires!
This article was written by
2nd Market Capital Advisory specializes in the analysis and trading of real estate securities. Through a selective process and consideration of market dynamics, we aim to construct portfolios for rising streams of dividend income and capital appreciation.
Our Portfolio Income Solutions Marketplace service provides stock picks, extensive analysis and data sheets to help enhance the returns of do-it-yourself investors.
Investment Advisory Services
We now offer a variety of ways to invest with us.  Our focus is on maximizing client returns while staying within their risk parameters.  To learn more about our advisory services you may schedule a 15 minute intro meeting here: https://calendly.com/2mc/15minintro?month=2023-08
Dane Bowler, along with fellow SA contributors Simon Bowler and Ross Bowler, is an investment advisory representative of 2nd Market Capital Advisory Corporation (2MCAC). As a state registered investment advisor, 2MCAC is a fiduciary to our advisory clients.
Full Disclosure. All content is published and provided as an information source for investors capable of making their own investment decisions. None of the information offered should be construed to be advice or a recommendation that any particular security, portfolio of securities, transaction, or investment strategy is suitable for any specific person. The information offered is impersonal and not tailored to the investment needs of the specific person. Please see our SA Disclosure Statement for our Full Disclaimer.
Analyst's Disclosure: I am/we are long UMH, LEGH. I wrote this article myself, and it expresses my own opinions. I am not receiving compensation for it. I have no business relationship with any company whose stock is mentioned in this article.

All articles are published and provided as an information source for investors capable of making their own investment decisions. None of the information offered should be construed to be advice or a recommendation that any particular security, portfolio of securities, transaction, or investment strategy is suitable for any specific person. The information offered is impersonal and not tailored to the investment needs of any specific person. Readers should verify all claims and do their own due diligence before investing in any securities, including those mentioned in the article. NEVER make an investment decision based solely on the information provided in our articles. It should not be assumed that any of the securities transactions or holdings discussed were profitable or will prove to be profitable. Past Performance does not guarantee future results. Investing in publicly held securities is speculative and involves risk, including the possible loss of principal. Historical returns should not be used as the primary basis for investment decisions. Commentary may contain forward looking statements which are by definition uncertain. Actual results may differ materially from our forecasts or estimations, and 2MCSC and its affiliates cannot be held liable for the use of and reliance upon the opinions, estimates, forecasts, and findings in this article. S&P Global Market Intelligence LLC. Contains copyrighted material distributed under license from S&P 2nd Market Capital Services Corporation(2MCSC) provides investment research and consulting services to the financial services industry and the financial media. 2MCSC does not provide investment advice. 2MCSC is a separate entity but related under common ownership to 2nd Market Capital Advisory Corporation (2MCAC), a Wisconsin registered investment advisor. Dane Bowler is an investment advisor representative of 2nd Market Capital Advisory Corporation.
Seeking Alpha's Disclosure: Past performance is no guarantee of future results. No recommendation or advice is being given as to whether any investment is suitable for a particular investor. Any views or opinions expressed above may not reflect those of Seeking Alpha as a whole. Seeking Alpha is not a licensed securities dealer, broker or US investment adviser or investment bank. Our analysts are third party authors that include both professional investors and individual investors who may not be licensed or certified by any institute or regulatory body.