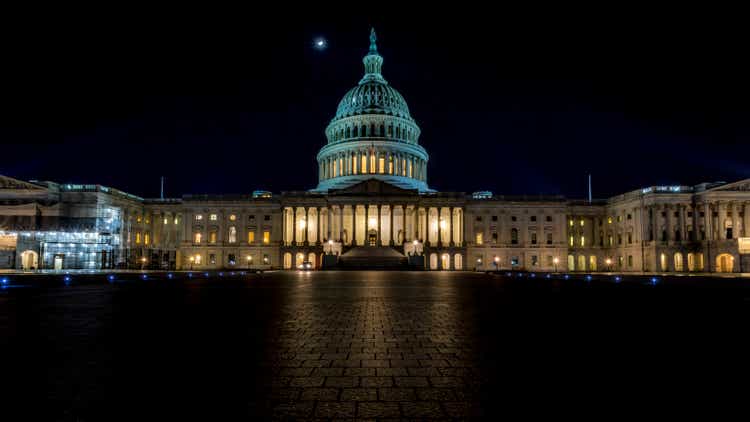 DISCLAIMER: This note is intended for US recipients only and in particular is not directed at, nor intended to be relied upon by any UK recipients. Any information or analysis in this note is not an offer to sell or the solicitation of an offer to buy any securities. Nothing in this note is intended to be investment advice and nor should it be relied upon to make investment decisions. Cestrian Capital Research, Inc., its employees, agents or affiliates, including the author of this note, or related persons, may have a position in any stocks, security or financial instrument referenced in this note. Any opinions, analyses, or probabilities expressed in this note are those of the author as of the note's date of publication and are subject to change without notice. Companies referenced in this note or their employees or affiliates may be customers of Cestrian Capital Research, Inc. Cestrian Capital Research, Inc. values both its independence and transparency and does not believe that this presents a material potential conflict of interest or impacts the content of its research or publications.
It's Just An Enterprise Software Company
Curiously for a company cofounded by a self-proclaimed libertarian, Palantir's (NYSE:PLTR) main stock in trade is selling software to governments to help them observe, collect and act upon data. So far, so Michel Foucault. So much has been written about PLTR since its founding some twenty years or so back that the myth now precedes the company. It's an analytics business. No, wait, it's an AI business. And lo, it hath become a supply chain business. And our favorite - it's the Deep State Operating System. (Nobody has written that yet. But it's just a matter of time before they do).
We have news. It's just an enterprise software company. Forget the razzmatazz, the wacky IPO ski videos, the crazy earnings call stuff, the "don't buy our stock" snippets. That's all just hoopla. Repeat after us. It's just an enterprise software company. It sells big ugly applications to big ugly customers and then sells armies of consultants to those same customers to install, integrate and manage those same applications. Siebel for the postmodern age.
Now, we own this name in staff personal accounts and we're long term bullish on it too. Short term, anything can happen as we know. But the long term thesis we have here is very simple. And for the purposes of the thesis we are going to ignore PLTR's relevance to non-governmental organizations. You know, like BP and so on. Here's why we're bulled up on Palantir for the long term.
What Long Term Investors Need To Know About Palantir Technologies
Since, like, ever, selling software to government customers was a miserable business. If you knew what you were doing you could maybe make a good business out of it over a decade or so, but usually this involved mainly bespoke software development - a c.10% EBITDA margin business if you do it very, very well - or taking on pieces of government departments and running them as an outsourced service provider using, in part, software you have written. This latter part sounds great - big book of business, very sticky revenue - until something bad happens which in government-land usually means somebody has the temerity to die or get sick or have an accident of some kind due to some lousy low-level administrative failures. And if those failures turn out to be wired into your code somewhere - and as the outsource partner you can bet that your friendly government client is going to be saying, who, us? And pointing the finger at you, the bad guy making the money - then that's going to cost you in terms of liability, insurance claims, corporate reputation, Twitter hate campaign and many other distractions from sleep that we're too tired to think of right now. In addition to the "I'm special and I need it made just for me" diktat that is handed down from the Politburos of the world, then you have the fact that governments require you to keep maintaining the software long after the thrill of living is gone. Your only choice here is to maintain a semi-retired army of developers who can still code in COBOL, Fortran, flip switches, punch cards and, probably, beacon flames. This sounds good, because they mainly kick back in the basement and swap lies about when they were hot young coders, but they tend to want things like retirement benefits and monitors set at the right level and comfortable chairs, lunch breaks, all that kind of old-line stuff. And not only do they not buy your blarney about how we're all one big family here so hey that stock award we said was coming, that's going to have to wait, yes we are getting the award in the C-suite, no you grunts aren't getting it, don't be so greedy, we're all a family here and have to pull together in tough times - not only do they call you out on it but, worse, they do it in front of the young naiifs that you have been happily neurolinguistically programming all these last years. Family. Together. My stock, yes. Your stock, no. Ooh look, free bagels! Mmmm. Bagels.
The tipping point has arrived, we think. With the third retirement of Complaining Bob And The Basement Army (another retirement payout, dangit) has come the dawning, creaking realization among a couple of creaking industries that you can't write hard coded applications in dying languages running on giant edifices anymore, lest you go the way of the Mayans. You need to step into the twentieth century. Install that, what's it called, Windows??? on your machines. Maybe consider that, er, whatsit, Internet thingummy. There are two such industries where we believe the moment may be upon us, and they are banking and government. To play the banking-joins-the-modern-age theme, we are long nCino (NCNO) - about which we have written here. And to play the government equivalent, we are long Palantir. This is, we believe, what long term investors should focus on. PLTR is the first company we have seen in a long career spent investing in software companies that has succeeded in selling a lot of software to a lot of government departments in a lot of different countries all at the same time. Their DNA is government, reflecting their initial focus way back in 2003. Even their early investors included government, in the shape of the CIA's venture fund, In-Q-Tel. (Perfectly aligned with those libertarian ideals, we think you will agree).
Let's take a look at some numbers.
Palantir Financials
As a recently public company we don't yet have access to the long time-series quarterly data you usually find in our notes. We will build that up over time as PLTR files its 10-Qs and Ks. For now, the annual story will do.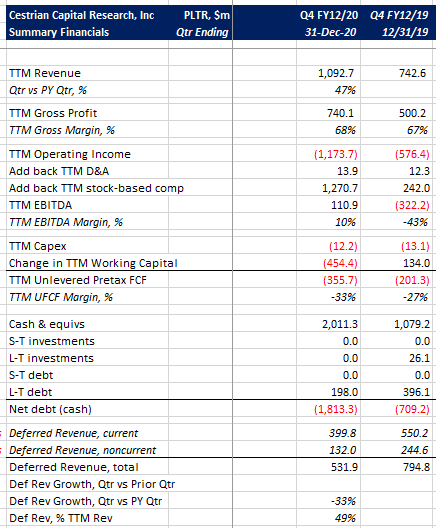 Source: Company SEC filings, YCharts.com, Cestrian Analysis
As we noted in our preview note prior to the stock commencing trading, PLTR was in a difficult place on fundamentals last year. The company, a prodigious consumer of cash in its earlier years, had helped itself to the cheapest form of capital prior to its direct listing - that being customer prepayments. And much of the revenue growth prior to that listing came about by recognizing revenue that once sat in the pile of deferred (prepaid) revenue on the balance sheet. Looks great to the auditor - perfectly sensible accounting - less good to the bank manager who is seeing a whole lot of revenue and earnings with no cashflow to match. We explain all in that preview note - if you share our interest in such deathly-dull topics as balance sheet accounting, you might like to read it. If you prefer to avoid the birch, we'll keep it simple: last year's revenue growth, lower quality; this year's revenue growth, probably higher quality.
The company guided to at least 30% revenue growth for FY12/21 and we suspect they will achieve that. It's a drop from the 47% clocked up for FY12/20 vs FY12/19 but 30% in government software is not at all to be sneezed at. With $1.8bn net cash in the bank we see no particular balance sheet risk to worry about either.
Current PLTR Stock Price
Despite much talk of PLTR achieving meme stock credentials, the stock has been all beaten up by the Q1 2021 growth stock selloff. We believe right now is an opportune time to consider adding to a long-term position or perhaps opening a new position. Here's how we see the stock chart.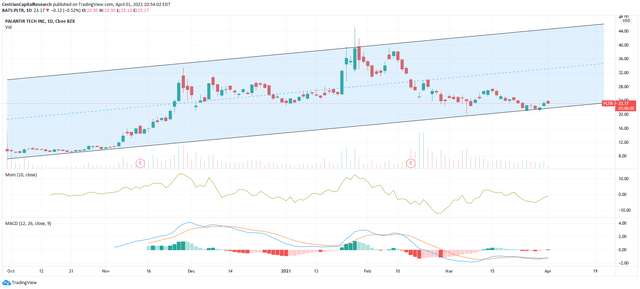 Source: TradingView, Cestrian Analysis
Looks to us as if the stock is bumping along that lower support line. We believe that support line will hold since we are both bullish on the market at large for 2021, and for PLTR specifically.
Palantir Valuation
At the most recent close, PLTR's valuation stood at: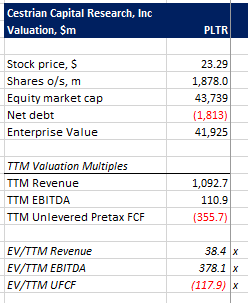 Source: Company SEC filings, YCharts.com, Cestrian Analysis
38x TTM revenue for 47% growth would stack up fairly well against cloud stocks, but this isn't really a cloud stock insofar as it doesn't have the flywheel model spinning yet and it has a heavier services component to the revenue than say a ZScaler (ZS). So on a fundamental basis, valuation is high. On the chart though, not so much. And as recovering modernists we like the chart a lot better than we like the fundamentals right now.
Is Palantir A Good Investment?
Palantir can, we believe, be a very good long term investment. As with all newly issued software stocks today, the fundamental valuation leans expensive and the business model problems - that pesky cashless growth we referred to above - aren't fully resolved. So risk abounds. We can't tell you whether you should invest - only you can decide that. But we can say that with our own money, we are happy shareholders in Palantir and we think that over time it can drag government software into the modern era. We ignore the hoopla and focus on that core value potential. We will be watching every quarter as usual to see how the story develops.
Cestrian Capital Research, Inc - 1 April 2021.
To learn more about our popular 'Marketplace' service The Fundamentals, click here.

Our Marketplace service provides:
'Cloud Decade' long-term, 10-year-horizon investment portfolio.
'Mouse Raid' and 'Tealeaf Technicals' short-term trade ideas.
Regular pre- and post-earnings reviews on all our covered stocks.
Extensive investor education content.
Vibrant, supportive chatroom featuring subscribers from many walks of life.
We run a real-money service publishing the research we conduct to invest personal account funds. Subscribers get alerts on any planned buy or sell order in covered stocks, ahead of time. You get the opportunity to buy or sell before we do.