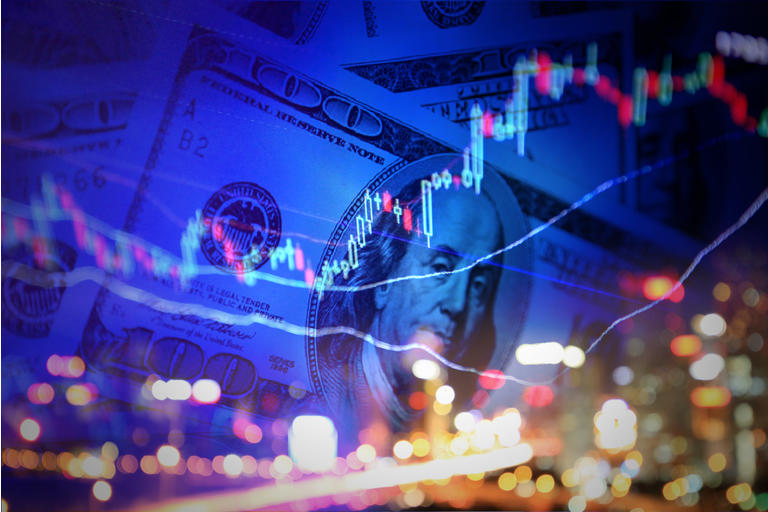 Written by Nick Ackerman, co-produced by Stanford Chemist
Several months ago we took an in-depth look at closed-end funds that invest in senior loans. We went over the pros and cons, and some unique risks that are present in CEFs. Of course, CEFs have to contend with the premium/discount mechanics in their structure - and they can also include leverage to make them more volatile as well. Several funds have now released their year-end data - so we will get an update of distribution coverage figures.
That being said, the main draw for senior loan funds at this time is the idea of increasing interest rates. Most of these investments are tied to floating interest rates tied to LIBOR plus a spread. Therefore, when rates do rise again in the future, these funds should see some of the first benefits. This is in contrast to other fixed-income investments such as U.S. Treasuries, municipal bonds and other investment-grade corporate bonds.
Though as a friendly reminder, they will still have to break through the "floor" rate before seeing an impact. This means that it might not be as immediate until rates rise sufficiently enough. Stanford Chemist went more in-depth on this subject previously. Additionally, Jerome Powell is indicating that rates should be set to 0% for a considerable amount of time. In fact, they don't anticipate raising rates for at least a couple of years. That being said, you never can say it will never happen.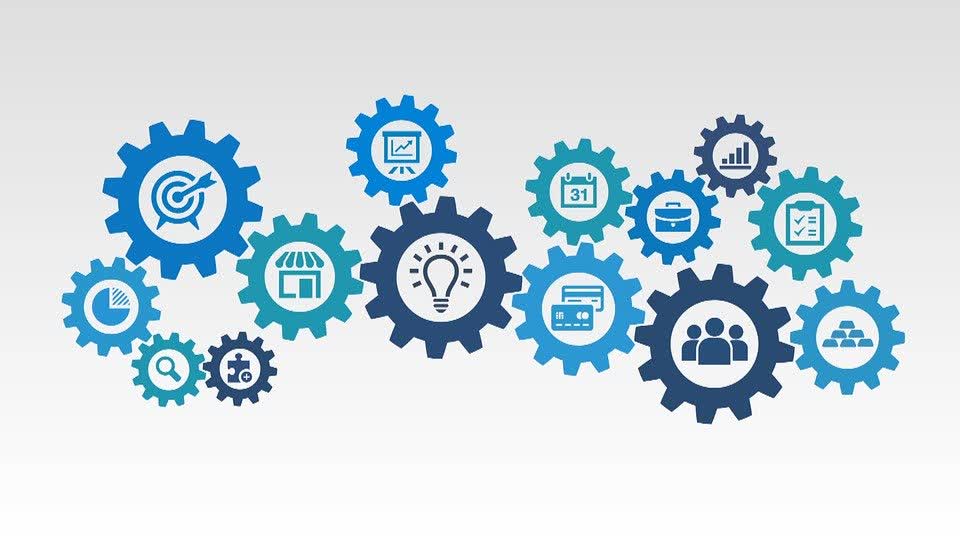 (Source)
CEF Senior Loan Screen
We will be using the same metrics to screen senior loans this time as we did previously. We want to be able to find the best "value" in the space by having the deepest discount. The last time we ran this screen, we had a sufficient number with a 10% or greater discount. This time, however, we would have only been left with 1 fund. Looks like investors have taken notice of a potential opportunity in the market. So we lowered this metric to anything with a 7% or greater discount.
We also want only actual senior loan funds. The CLO funds are labeled as senior loan funds. While not completely unrelated - they aren't exactly what we are looking for. So funds like Oxford Lane Capital (OXLC) and Eagle Point Credit Company (ECC) are out.
Another metric we used were funds that have a minimum 5 years' worth of history. We want to be able to have a bit of a track record to gauge how the fund operated through some different market environments.
Previously this 5-year minimum removed Highland Floating Rate Opportunities Fund (HFRO). However, it is now appearing on the list. I hadn't dug into the fund too much in-depth previously. Now that it has popped up, I notice that the fund has been around a lot longer than 5 years. It has only been a CEF since the end of 2017. Which means I will still keep it off this list.
HFRO might have the biggest discount and invests in senior loans. However, it has some significant risks. Primarily that its top 2 holdings are 34.2% of the portfolio's allocation. Overall, it seems like more of a speculative choice rather than a serious candidate for our purposes.
The table includes the name, ticker, premium, 5-year annualized total NAV return, 10-year annualized total NAV returns (if available,) distribution rate and distribution coverage. A high distribution is nothing if they aren't supporting it from net investment income. Though the caveat here is that I am taking whatever the last report available is and calculating it against that. Since they don't all line up in the same fiscal year-end, we will have different periods being reported.
The data is from the closing on 03/12/2021. We will also be sorting the list from deepest discount to lowest discount. After the screening metrics we used above, we are left with 15 funds.
| | | | | | | |
| --- | --- | --- | --- | --- | --- | --- |
| Name | Ticker | Premium/Discount | Distribution Rate | Distribution Coverage | 5-Year NAV | 10-Year NAV |
| Apollo Senior Floating Rate Fund | (AFT) | -10.37% | 6.01% | 96.06% | 6.87 | 5.29 |
| First Eagle Senior Loan Fund | (FSLF) | -9.72% | 5.85% | 91.29% | 5.89 | |
| Nuveen Short Duration Credit Opps Fund | (JSD) | -9.02% | 7.35% | 89.11% | 6.14 | |
| Blackstone Long-Short Credit Income | (BGX) | -8.79% | 7.03% | 98.49% | 10.43 | 5.73 |
| Nuveen Senior Income | (NSL) | -8.54% | 7.32% | 89.12% | 6.23 | 4.93 |
| Blackstone Strategic Credit | (BGB) | -8.52% | 6.58% | 98.37% | 9.09 | |
| Invesco Senior Income | (VVR) | -8.50% | 6.00% | 77.30% | 7.24 | 5.31 |
| Nuveen Credit Strategies Income Fund | (JQC) | -8.47% | 12.61% | 34.36% | 5.84 | 4.64 |
| BlackRock Floating Rate Income | (BGT) | -8.15% | 6.21% | 74.52% | 6.01 | 5.41 |
| Invesco Dynamic Credit Opp | (VTA) | -7.67% | 8.04% | 68.56% | 8.17 | 6.13 |
| Nuveen Floating Rate Income Opportunity | (JRO) | -7.50% | 7.27% | 85.33% | 6.71 | 5.31 |
| Nuveen Floating Rate Income | (JFR) | -7.43% | 7.26% | 85.85% | 6.63 | 5.05 |
| BlackRock Debt Strategies | (DSU) | -7.17% | 6.68% | 76.18% | 7.58 | 6.32 |
| Blackstone Senior Floating Rate Term | (BSL) | -7.16% | 5.85% | 100.2% | 9.23 | 5.17 |
| BlackRock Floating Rate Inc Strategies | (FRA) | -7.13% | 6.14% | 74.73% | 6.02 | 5.2 |
(Source - CEFConnect/SEC Reports, compiled by Author)
The first thing I noticed when putting this together was the lack of distribution coverage through net investment income (NII). For these types of investments, NII coverage would ideally be 100%+. BSL is the only fund that looks like they have covered their distribution from NII over the last reporting period.
Author's Note: Interestingly enough - since the original publication the Blackstone funds were the funds that cut their distributions. All else being equal, we should continue to see their distribution coverage come out the highest after trimming again.
That being said, going forward coverage could improve as leverage expenses come down for the funds. Additionally, many have adjusted their distributions now to reflect this lower interest rate environment. Meaning that total distributions paid out will likely decline as well.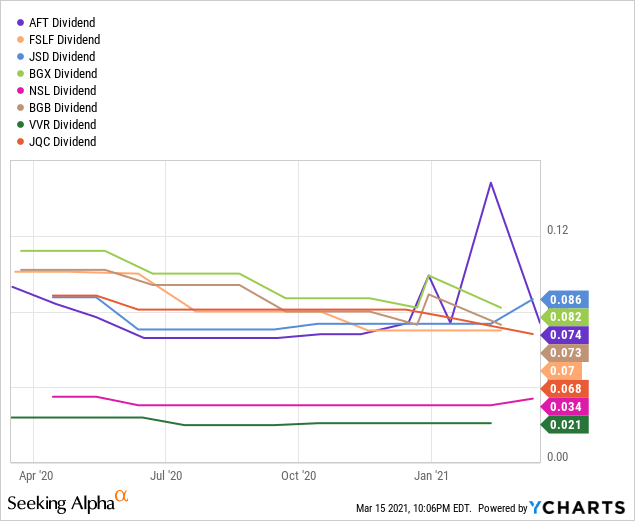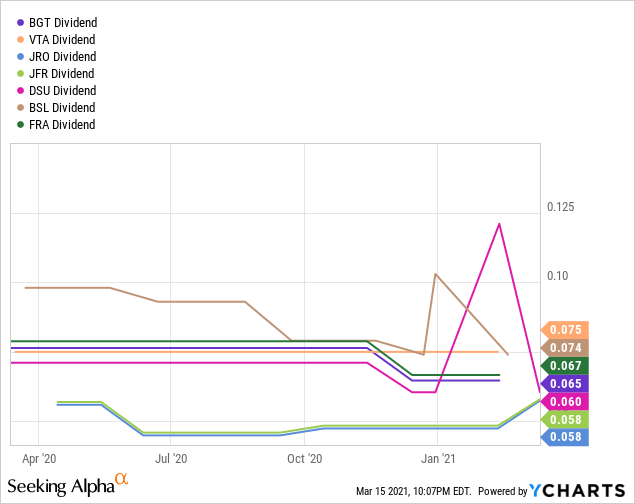 VTA And VVR
For most of these funds, it is a full fiscal year-end. The Invesco funds VTA and VVR are from semi-annual reporting periods. This means their coverage is only showing the last months ended August 31st, 2020. This is an important distinction because all these funds are reporting for periods that had not been impacted by rates going to 0%. Since the fiscal year-end for these Invesco funds are February 29th, 2020. It would mean a substantial portion of the reporting period is reflected in these slashed interest rates. Whereas, several of these other funds are reporting for periods that had several months of higher interest rates.
That being said, it would be really difficult to quantify the exact impact it had. VTA and VVR still lacked coverage quite significantly. Had they included a longer period of time with higher interest rates, I'm not sure it would make a huge difference.
Besides JQC, which we will touch on below, VTA is showing the highest distribution rate. The average distribution coverage from the 15 funds above is 82.63%. Meaning it might not be too appealing considering there seems to be a significant lack of coverage anyway - even relative to its peers.
It could be argued that at least VTA hadn't cut its distribution as its peers have throughout 2020.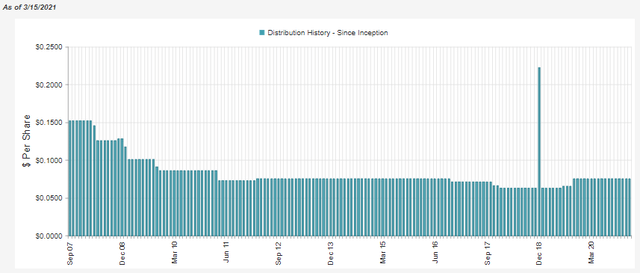 (Source - CEFConnect)
JQC
JQC is reporting the lowest distribution coverage based on NII coverage. However, that fund has its own unique situation going on. They are in their last year of what is a "capital return program." They had set out to return a certain amount of assets back to shareholders in a bid to reduce their discount. However, 2020 disrupted these initial plans and I imagine it hasn't gone quite how they had originally envisioned.
The fund might be attractively valued; the distribution yield might even be tempting here. However, they plan to reduce the distribution every month throughout this year until the "supplemental" portion of the distribution is gone. Consequently meaning that the highest yielding fund will have a downward trending yield (barring a collapse in price.) On the bright side, coverage should move up significantly too.
JSD, NSL, JRO And JFR
All four of these funds have recently increased their distributions. Though it isn't based on anything like an increase in interest rates - that would eventually make its way to increased earnings for the fund. No, instead they have set new managed distribution amounts. Several of the funds made changes every quarter or even more frequently - from month to month in some cases.
Managed distributions are what most CEFs set and pay. It is simply a level amount that can be expected for some amount of time. It is always subject to change - though once it is set it is anticipated to be at that amount for a while. Stanford Chemist went more into details of these changes in a recent Weekly Roundup.
AFT
AFT comes to the top of the screen. The fund with the widest discount. The fund's NII coverage also isn't terrible at all. They have an inception date going back to early 2011 and so we are given a glimpse into various market environments that the fund has operated in. Though most of this period was at near 0% interest rates. We only just started to see rates start to rise in 2015 through 2018.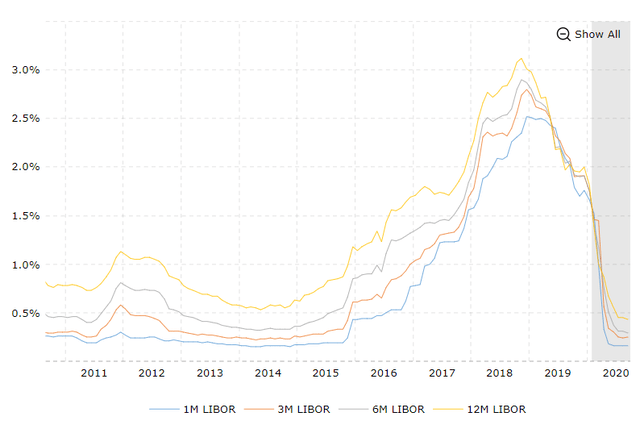 (Source - Macro Trends)
During 2017/2018 we just started to see the benefit through some higher distribution rates. It looks like they tried raising it in 2015 as well - before reducing it back down. As rates were slashed to a targeted 0% last year, the distribution took a significant dive. Though perhaps they realized that they over-cut and have begun to raise it again.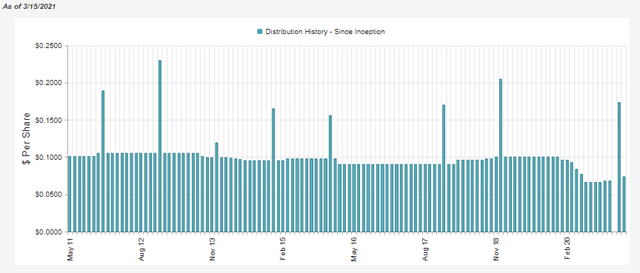 (Source - CEFConnect)
At a 6.01% distribution rate, this fund is on the lower side of the average for the above peer funds. The average distribution rate comes to 7.08%. Helped significantly by JQC's "enhanced" distribution at the moment. Taking JQC out of the equation and we arrive at an average yield of 6.69%. Still, lower and we also have to factor in that the coverage is still lacking from this group overall anyway.
Conclusion
Senior loans could be set to take advantage of increasing interest rates when they arrive. Everyone has been watching the 10-year Treasury increase quite rapidly as 2021 has kicked off. However, it hasn't translated into LIBOR moving hardly at all. That is what these underlying investments of these funds are typically tied to. Thus, we won't see an improvement in earnings until LIBOR starts to rise. Additionally, we also have to break through the "floor" before seeing the impact. All of this could take several years potentially.
Discounts have tightened across this group of funds. Though this has been more broadly across CEFs in general as well since the beginning of the year. The average discount of all CEFs on 12/11/2020 when we last ran this screen came to 6.35%. For the senior loan funds that populated our previous list, the average discount came to 11.53%. 3/12/2021's data shows the average discount has tightened to 4.47%. The group of screened senior funds above comes to an average discount of 8.28% now. The absolute number differential might seem sharper - though in percentage changes - it has been a similar tightening. 29.6% tightening across the whole CEF group versus 28.18% tightening from this senior fund group to the previous.
Despite what could take years to pay off, keeping a close eye on senior loan funds now might prove beneficial later if we can get in before the herds. AFT certainly does seem like an appealing place to start if we are looking for the best discount at this time. The yield relative to its peers is still intriguing at current levels. I would also anticipate that they probably over-cut relative to peers. Thus, we have been seeing an increase over the last couple of quarters from the fund.