Galaxy Digital: Diversified Crypto Exposure Through Financial Services
Summary
Galaxy Digital is a financial services firm focusing on the crypto and blockchain technologies segment with a diversified operation.
The company reported its 2020 financials highlighted by record growth and profitability amid the surge in its crypto investments portfolio.
We are bullish on the stock which benefits from several positive tailwinds and overall solid fundamentals with exposure to climbing bitcoin prices.
Looking for a portfolio of ideas like this one? Members of Conviction Dossier get exclusive access to our model portfolio. Learn More »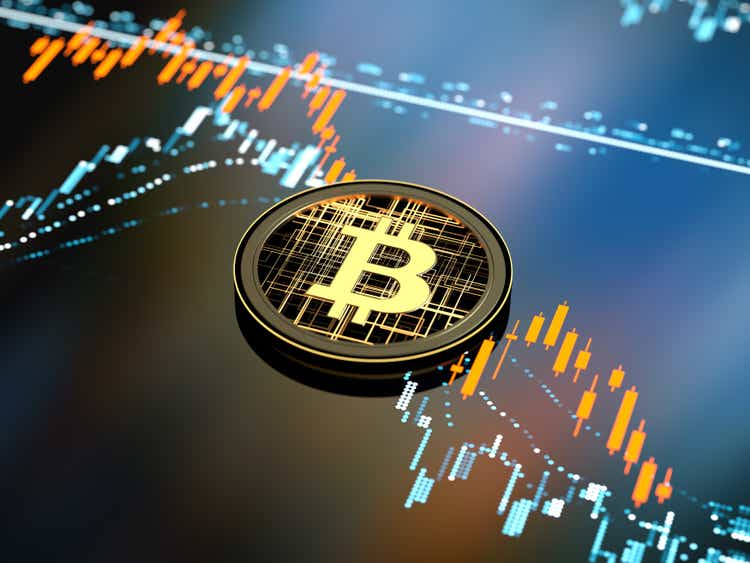 Galaxy Digital Holdings Ltd. (OTCPK:OTCPK:BRPHF) has emerged as a leading financial services player in the digital assets and crypto space across a core asset management, banking, and trading business. The company also invests directly in cryptocurrency and blockchain technology-related companies with a portfolio of over 80 investments. Indeed, Galaxy Digital has benefited from the ongoing bull market in crypto with climbing earnings and profitability. We view Galaxy Digital as a high-quality company led by a credible management team, well-positioned to capture significant growth opportunities in the crypto ecosystem. We are bullish on the stock that can climb higher with an upside to the price of bitcoin.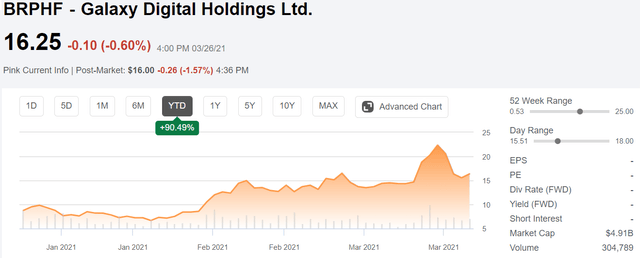 (Seeking Alpha)
Galaxy Digital Holdings Background
With corporate headquarters in New York, shares of Galaxy Digital have a primary listing in Canada and began trading in 2018 through a reverse merger. Over the past three years, this has evolved into a major company with a market cap approaching $2 billion. Founder and CEO, Michael Novogratz, is a respected former hedge fund manager and now recognized as a pioneer in the cryptocurrency and blockchain-tech industry.
The best way to think of Galaxy Digital is that it operates as a quasi-merchant bank, meaning it has a balance sheet to make its own investments while also providing trading, consultancy services, and fund investment products for institutional investors.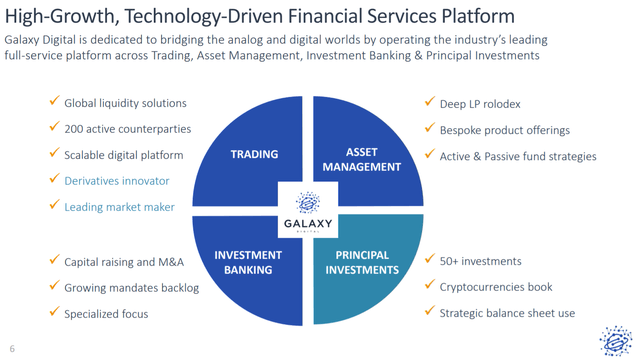 (source: Company IR)
While direct exposure to bitcoin and other cryptocurrencies is a major theme for the company, the focus here is blockchain technologies and the broader "digital assets" space. The investment portfolio valued at $260 million is comprised of positions across 50 early- and late-stage ventures with minority investments in some recognized leading blockchain companies like "Ripple" (XRP-USD), "Bakkt," "BlockFi," and "BitFury" in the blockchain enterprise and infrastructure segments.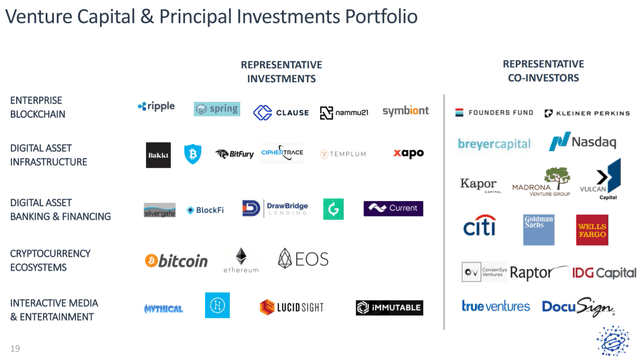 (Source: Company IR)
Galaxy Digital has also worked alongside other major co-investors and institutions on M&A deals, including the IPO of Cannan Inc. (CAN) and Silvergate Capital Corp. (SI) in 2019, which themselves are now market leaders in the crypto space. On the investment banking side, the strength is the company's flexibility and expertise to work on emerging areas like "Tokenized financing" traditional banks may not be set up for.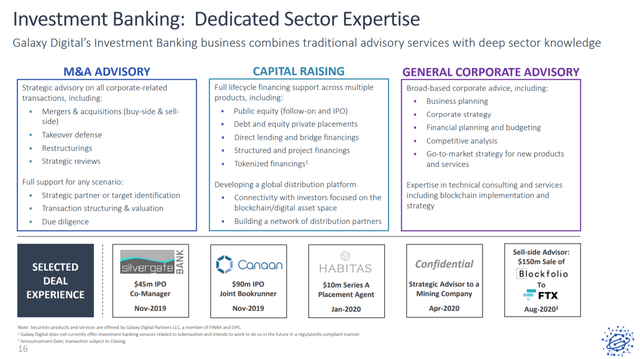 (source: Company IR)
Asset management is an important theme for the company. It's worth noting that Galaxy Digital manages a series of bitcoin funds like the "Galaxy Bitcoin Fund, LP" and " Galaxy Ethereum Fund" for institutional investors along with closed-end mutual funds listed on the Toronto stock exchange. In March, the "CI Galaxy Bitcoin ETF" began trading on the Toronto Stock Exchange. The company also intends to launch an ETF in Canada that tracks the Ethereum cryptocurrencies.
Galaxy Digital Earnings Recap
The company reported its Q4 results on March 30th highlighted by a net comprehensive income of $335.7 million, driven primarily by the appreciation of the crypto assets in its portfolio through realized and unrealized gains, along with an increase in contribution from the trading business. In the principal investment portfolios, the company now holds over 80 investments in approximately 60 portfolio companies. The company ended the fiscal year with $136 million in cash against zero long-term financial debt.

(Source: Company IR)
Based on the corporate structure, approximately 71% of the company's net assets and equity is controlled by partners' capital in the "Galaxy Holding Limited Partnership" Class B Units. The actual net income attributed to shareholders of Galaxy Digital common stock is approximately $103 million for 2020. The reported diluted EPS for the fiscal year at $1.28 recovered from a loss of (-$2.00) in 2019.

(Source: Company IR)
Keep in mind that these results are for the period ending December 31st, 2020, when the price of bitcoin (BTC-USD) "BTC" was trading at about $28,000. For context, BTC has since climbed by over 100% to a current level near $60,000, suggesting continued gains to its investment portfolio through Q1. In the company's trading segment, counterparty volumes increased 80% in Q4 sequentially just from Q3 of 2020. The group gross loan originations increased by 90% quarter-over-quarter to approximately $110 million. An update with data through March 22nd shows that the counterparty loan originations have climbed to $560 million.
The asset management business total AUM has reached a combined $1.2 billion as of the last update for March, up from $807 million at the end of 2020. Notably, the Galaxy Bitcoin Fund, L.P. and Galaxy Institutional Bitcoin Fund L.P. are now products being distributed by Morgan Stanley (MS) for wealth management clients, representing a new growth opportunity. Other updates this quarter include the launch of a new Galaxy Digital Mining "GDM," proprietary bitcoin mining operation hosting machines at a third-party data center in the United States.
Overall, the setup is for strong operating and financial momentum, reflecting the company's ability to benefit from both the positive market sentiment in the crypto space and its market leadership position. While not offering any financial targets or earnings guidance for the year ahead, management took a positive tone during the conference call. CEO Michael Novogratz believes there are several major tailwinds for crypto long term. Galaxy Digital is expanding its employee headcount to support a higher capacity of growth going forward. Finally, the company also announced it is planning a U.S. listing for the company stock in the second half of this year.
Analysis and Forward-Looking Commentary
In what is a quickly evolving market segment among crypto stocks, Galaxy Digital stands out as unique given the breadth of its business model and current level of profitability. The attraction here is that beyond the daily price movements of bitcoin, the underlying business across asset management, banking, and trading generates real cash flow and operating income, highlighting a level of diversification.
Whether the price of bitcoin is at $60,000 or $30,000, there is an expectation for ongoing adoption of related digital asset applications, which makes Galaxy Digital well-positioned to benefit from continued growth opportunities. Clearly, while a rising price environment for crypto is positive as it supports sentiment towards the sector and a higher valuation for the portfolio investments, the bullish case for the stock is that the company can capture broader growth in the segment, as blockchain technologies play a greater role across the economy.
We are encouraged by the recent news that Morgan Stanley is carrying Galaxy Digital investment funds in its wealth management business, which will likely add to incrementally higher AUM going forward. The move is consistent with a growing recognition among institutional investors that cryptocurrencies represent an attractive alternative asset class.
Looking ahead, several catalysts could boost growth over the coming years, including the U.S. share listing, which would likely help to improve the firm's visibility to a new group of investors. While Galaxy has not yet applied for a U.S. ETF product, the potential that the SEC approves a bitcoin ETF from a different fund sponsor for listing on a major U.S. exchange could represent a catalyst for higher bitcoin prices with a surge of inflows into the industry and be bullish for the overall Galaxy Digital business.
In terms of valuation, the metrics we're looking at are otherwise very reasonable in the context of what is understood to be a high-growth market segment. Galaxy Digital with a current market value of around $6.6 billion including both the common shares and Class-B units against the 2020 net comprehensive income of $386 million implies a P/E ratio of 17x. Recognizing that much of that profitability was based on the appreciation of the investment portfolio during an exceptionally strong period for crypto valuations, its likely earnings growth may moderate going forward in 2021 unless the value of cryptocurrencies continues to climb at the same pace it has over the past 6 months.
Investors in Galaxy Digital today have to be looking at this as a long-term growth story that may still be in the early stages. Even in the current principal investment's portfolio, there is the potential that one of the smaller deals breakthrough with some type of innovative technology representing some optionality to Galaxy Digital which has some aspects as a venture capital exposure.
Final Thoughts
We are bullish on the stock and believe it can outperform bitcoin in percentage terms going forward with some downside protection based on the diversified operation. That said, the volatility associated with crypto and bitcoin remains a near-term risk, which could lead to wide swings in the company's stock based on market sentiment.
Investors should also be aware of potential regulatory challenges to bitcoin and other cryptocurrencies, which could limit the adoption of the investment profile of the segment. Last month, it was reported that the country of India is considering an outright ban on holding or trading cryptocurrencies citing concerns related to financial system stability. While not confirmed and still up for debate, a finalized measure in India could set the tone for other countries to follow. As it relates to Galaxy Digital, the main risk is that lower prices of bitcoin long term would pressure valuations in the segment and force a reassessment of the company's earnings potential.
Add some conviction to your trading! We sort through +4,000 ETFs/CEFs along with +16,000 U.S. stocks/ADRs to find the best trade ideas. Click here for a two-week free trial and explore our content at the Conviction Dossier.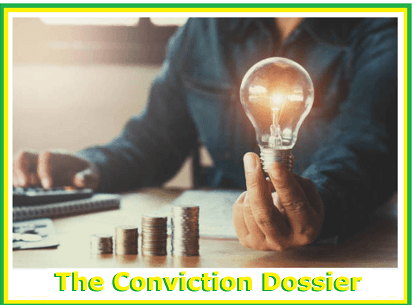 This article was written by
15 years of professional experience in capital markets and investment management at major financial institutions. 

Check out our private marketplace newsletter service *Conviction Dossier* for curated trade ideas.
Analyst's Disclosure: I/we have no positions in any stocks mentioned, and no plans to initiate any positions within the next 72 hours. I wrote this article myself, and it expresses my own opinions. I am not receiving compensation for it (other than from Seeking Alpha). I have no business relationship with any company whose stock is mentioned in this article.
Seeking Alpha's Disclosure: Past performance is no guarantee of future results. No recommendation or advice is being given as to whether any investment is suitable for a particular investor. Any views or opinions expressed above may not reflect those of Seeking Alpha as a whole. Seeking Alpha is not a licensed securities dealer, broker or US investment adviser or investment bank. Our analysts are third party authors that include both professional investors and individual investors who may not be licensed or certified by any institute or regulatory body.