One Stop Systems Has A New Identity
Summary
Management is steering the company into establishing a commanding position in the A.I. Transportables niche of the edge computing industry.
OSS is building on a solid footing as a provider of custom computing solutions.
The pandemic has masked the improvements that have been made.
The company is well-funded to make acquisitions.
The current stock price discounts the probability of revenue and profitability improvements.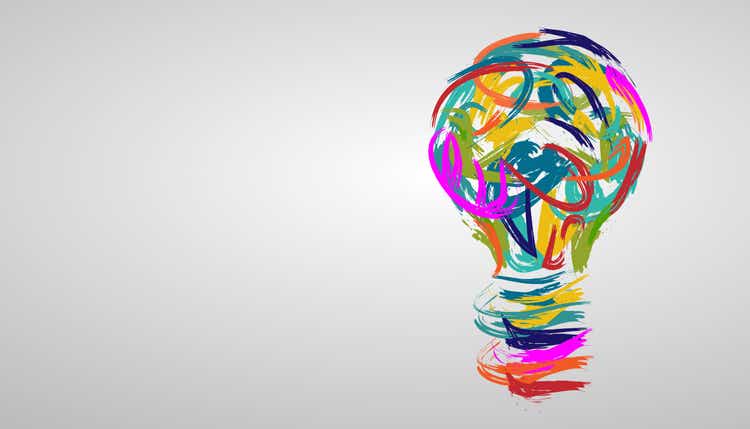 One Stop Systems (NASDAQ:OSS) is a provider of customized high-speed edge computing solutions. Edge computers need to be rugged to withstand extreme environments and are housed where a vast amount of data must be processed immediately for applications such as military, 5G, smartphones, and automation. Edge computing revenues totaled over a billion dollars in 2019 and are expected to grow exponentially as a shift from processing data in the cloud to processing data on the edge occurs. OSS is just getting started in implementing a new strategy to carve out a niche inside a vast market opportunity in edge computing.
Company strategy
OSS collaborates with its customers to develop customized products. The sales cycle can take as long as a year to go from proposal to finished product, but the process results in sticky clients. Tackling the most difficult problems in edge computing allows OSS to avoid competing with industry giants such as Microsoft (MSFT), Intel (INTC), and Amazon (AMZN).
David Raun was brought on as CEO in early 2020 as the company's stock price had been on a steady decline due to what was perceived by investors as a lack of consistent direction, as I described in previous articles (1,2,3).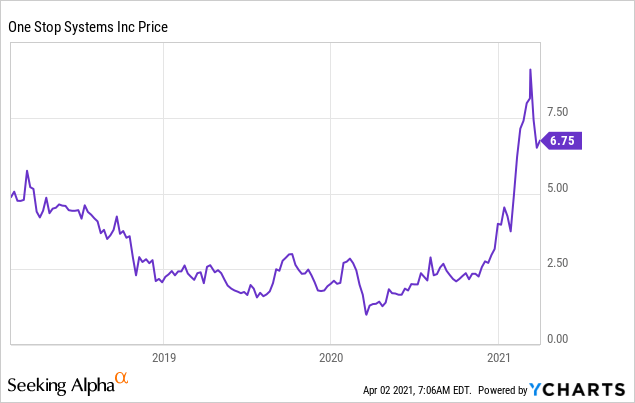 Mr. Raun has established key elements to engineer a stock price turnaround.
Identify a market niche where OSS could be the leader in.
Acquire companies that are immediately accretive.
Eliminate work projects that are too small to be meaningful or that offer low-profit margins.
Identify and contact companies that should be OSS customers but are not.
Expand on initial sales to existing customers by proposing new product ideas.
Measuring progress
Management claims that $14 million in revenue for fiscal 2020 was lost or delayed due to the pandemic, with half of that total coming from major customer Disguise's canceled events and about the other half coming from delayed shipments to Raytheon due to COVID gathering restrictions. Disguise is involved in high attendance entertainment venues such as the Superbowl.
Despite the pandemic, the company had 16 wins in 2020, the same number recorded in the prior year. Ten of those wins were from new customers, but the company also expanded sales to existing customers. From an initial deal to supply an A.I. threat detection system announced in June, the company earned three more major program wins with Raytheon involving different products. Wins are defined as worth at least $1 million for a four-year term.
The most important element in the new company strategy has been to identify the niche within edge computing where OSS can become the dominant presence. In the recent fourth-quarter call, Mr. Raun said,
Our strategic focus is on a quickly developing third segment of edge computing. We call it AI transportables. This includes anything that is not in a fixed location but requires the very latest and high-performance computing for AI, where responsive action needs to be taken immediately at the very edge. This trend will become more widespread with applications including mobile containers, equipment, drones, aircraft, watercraft, submersibles, and land vehicles. The challenge associated with these AI transportable is where OSS's core capabilities and expertise is strongest. And we believe we'll offer the greatest growth opportunities throughout this decade.
The company's new A.I. Submersible identity is being the provider of the latest and greatest technology available in the cloud to the edge. AI submersibles represent about 20% of the company's current total revenue and could very quickly scale to over half of the total revenue. Shortly after announcing the new company strategy of focusing on A.I. transportables at the fourth-quarter earnings call, the company announced a new win for a system for a self-driving truck company. Great start!
OSS has not made an acquisition since Mr. Raun became CEO. The company recently completed an almost $10 million cap raise, which could be used to fund acquisitions when a target is identified. It is too early to review other portions of the company's turnaround initiatives.
Valuation
I set my price target at $5.40 in November when the stock was trading at $2.70. The stock price ran up to a high of $9.50 as it became a Robin Hood favorite. Robin Hoods are often described as "the herd" as they buy and sell in unison, often without any news or fundamental reasons.
My price target was based on an EV/S ratio of 2 x. The stock price has come off the highs and is currently trading in the lower $6 area, which appears to discount forward revenue growth. The CEO has been a buyer and recently added shares.

Source: RobinHood.com
There are about 19 million shares outstanding, fully diluted. At the current market price of $6.42 per share, the market cap is $122 million. The company reported almost $19 million in cash and about $5 million in debt resulting in an EV of $108 million. Revenue for 2020 was about $52 million resulting in an EV/S ratio of 2 x, which is a fair price but does not reflect the probability that revenues will be higher this year.
The pandemic masks the improvements that have been made. Most live events were canceled. OSS developed new products for virtual events, which saw a pickup in number in the second half of 2020. Live events are expected to be resumed in the second half of this year. Disguise is now equipped to provide hybrid services and should resume being an important revenue source for OSS.
Guidance for this quarter is for $13 million in revenue. No further guidance has been provided. Resumption of lost business due to the pandemic along with continued success in A.I. submersibles should lead to record revenues for 2021. Profitability should improve as well since AI submersibles command higher profit margins than the company's other products.
Risks
This is a technology company and is dependent on being able to continuously provide the most up-to-date solutions. There is virtually no competition in the niche that the company is exploiting. Continuing success will likely result in increased competition.
Conclusion
The company has set up a foundation to scale revenue dramatically while improving profitability with increased sales of higher-margin products. Revenues should climb higher this year as the effects of the pandemic dwindle and the company continues to focus on the turnaround plan.
This article was written by
I write about and invest in mostly early commercial stage companies that have a large TAM and zero to little direct competition. I will provide updates on companies that I introduce as long as the goalposts set by management are met. Of course, there are always unforeseen developments more often in the microcap world than otherwise and there are macro conditions that are beyond the control of company management. I'm also not always right but I like the risk/reward characteristics of investing in micro-caps.My articles are reflective of my investment interests and hopefully provide readers with ideas that they can further explore. I tend to be on the long side and generally abstain from writing negative or short themes. Besides my articles on SA, readers can find my work at MicroCapClub.com and StockPick.app
Analyst's Disclosure: I am/we are long OSS. I wrote this article myself, and it expresses my own opinions. I am not receiving compensation for it (other than from Seeking Alpha). I have no business relationship with any company whose stock is mentioned in this article.
Seeking Alpha's Disclosure: Past performance is no guarantee of future results. No recommendation or advice is being given as to whether any investment is suitable for a particular investor. Any views or opinions expressed above may not reflect those of Seeking Alpha as a whole. Seeking Alpha is not a licensed securities dealer, broker or US investment adviser or investment bank. Our analysts are third party authors that include both professional investors and individual investors who may not be licensed or certified by any institute or regulatory body.