Cruising Is Back - And Is Here To Stay
Summary
Investors who have never cruised may not understand how enjoyable cruising is for millions of people.
This enjoyment translates into profitability for cruise companies large and small, public and not-yet-publicly traded.
The publicly-traded firms have had to resort to incurring more debt and sustaining greater losses; it has been the same for most privately-held cruise lines.
Understanding the deep loyalty and intense desire of the cruising public to spend time at sea roaming the globe offers us a unique opportunity.
Looking for more investing ideas like this one? Get them exclusively at The Investor's Edge®. Learn More »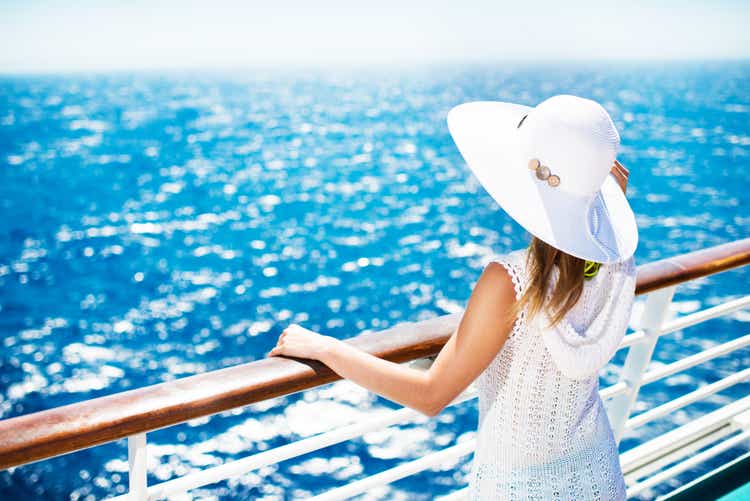 When I talk about "the cruise industry" as investment possibilities, I do not mean merely the publicly traded giants available on US markets, but those public and private firms elsewhere in the world, the independent travel companies that profit from booking cruises, the provisioners that keep them well-supplied, the shipbuilders hard at work even today to bring more than 100 new cruise ships to completion in the next couple years, and so much else.
"The cruise industry" encompasses even more. Think about it… each of the 216 current ocean cruise ships, the more than 100 being built, and all the river cruise ships built and being built must first employ shipbuilders building ships with complex plumbing, heating, cooling and ventilation systems. They must have the latest in maritime propulsion systems, navigation equipment, waste-water purification plants, waste recycling facilities, and desalination. Yes, right on board, your fresh-water shower was likely sea water yesterday. and so much more.
Now that a barebones ship is delivered, it takes plumbers, cabinet makers, carpet layers and scores of other specialty trades to decorate and furnish more than 400,000 staterooms, set up the myriad kitchens and restaurants, card rooms, libraries, theaters and other entertainment venues.
Once built and fitted out, the ongoing expenses of locomotion, of provisioning, and of regular maintenance, not to mention the travel agencies, tour operators, bus and rail companies, and the some 800-plus ports visited around the world, make the cruise industry a massive, outsized contributor to the national and global economy.
Vast numbers of jobs exist because of this need. According to Statista, in 2020 just over 100 million jobs were lost globally in the travel and tourism sub-sector of the consumer discretionary sector. If even 10% of those jobs return in the next few months, and just 50% in the coming full year, that would mean 10 million to 50 million jobs regained globally. The cruise industry alone, benefitting rehired ship employees, fitters, ports, and all the jobs described above will be a large chunk of those re-employed.
An Overview of Some of the Major Players
[NB: Research in this area is today not only strenuous, but tenuous. I don't mind the former, following up on all the bankruptcies, changes in ownership and private buyouts of the last 18 months. But the "tenuous" part is that it may change any time from my latest research results as of March 23, 2021.]
Since this is an investment article, I will primarily discuss the public companies. However, I believe all lines' cash flow will grow by leaps and bounds. A cruise-hungry public has already booked deep into 2023. As that cash flow rights many ships, I imagine we will see more consolidation, as well as some private companies that decide it would be better to have the large cash cushion that public ownership provides.
The biggest of the big is Carnival Corporation & Plc (NYSE CCL and London [LSE]. There are also separate shares of essentially the same company traded on the LSE and available in the US via an ADS, symbol CUK. [Disclosure: I recently held CCL in our public portfolio, then sold at a nice profit. I just bought a strong position in CUK during the recent slight market correction.] Carnival is the only company in the world to be included in both the S&P 500 index in the US and the FTSE 250 index in the UK. Carnival has acquired the following lines under its corporate umbrella:
Carnival Cruise Line
Aida Cruises
Costa Cruises Asia/China
Costa Crociere
Cunard Line (home of the Queens: Queen Elizabeth, Queen Mary 2, and Queen Victoria)
Holland America Line
Iberocruceros (a joint venture between Carnival Corporation & plc and Orizonia Corporación)
P&O Cruises
P&O Cruises Australia
Princess Cruises
Seabourn Cruises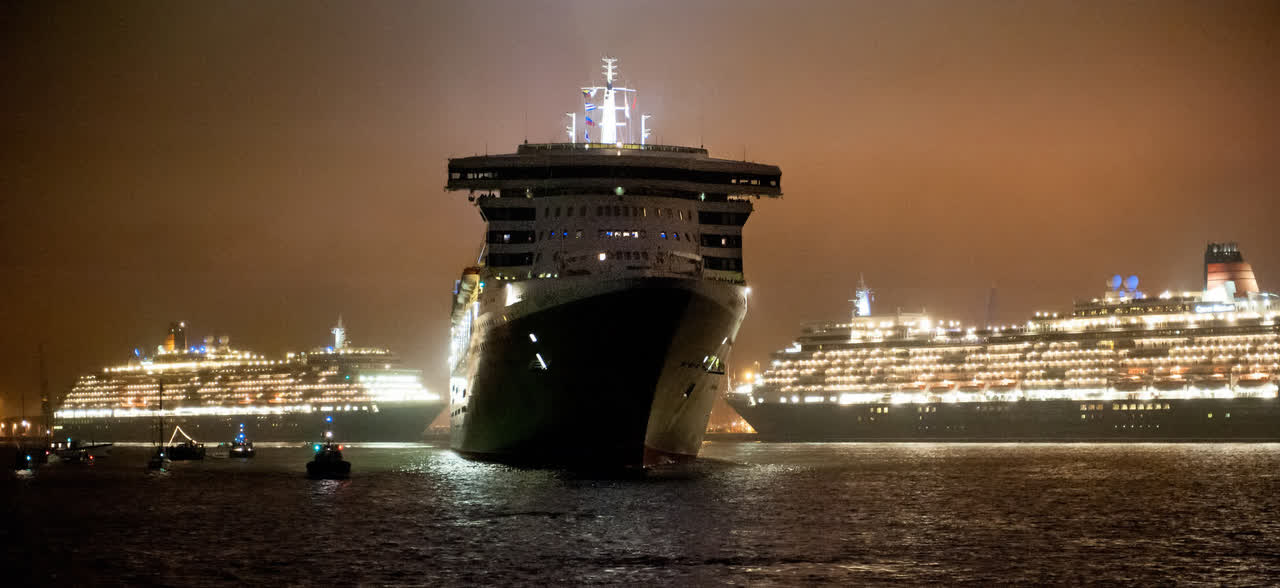 Source: Cunard Line. The Queen Elizabeth, Queen Victoria and Queen Mary 2 united for Queen Elizabeth II's Diamond Jubilee celebration in 2012.
Next in size is Royal Caribbean Group (RCL). Among its cruise lines, you may be familiar with are the following:
Celebrity Cruises
Celebrity Xpedition
Royal Caribbean International
Pullmantur Cruceros (Spain) - filed for insolvency early 2021, but RCL and Pullmantur have come to a financing deal to continue operations with two Celebrity ships.
SkySea Cruise Line (A joint venture between RCL and two Chinese companies)
Silversea Cruises
Silversea Expeditions
*Azamara was begun by RCL and therefore closely associated with it. However, in January, Azamara was sold to Sycamore Partners, a private equity firm. I would not be surprised to see it as an IPO or SPAC down the road…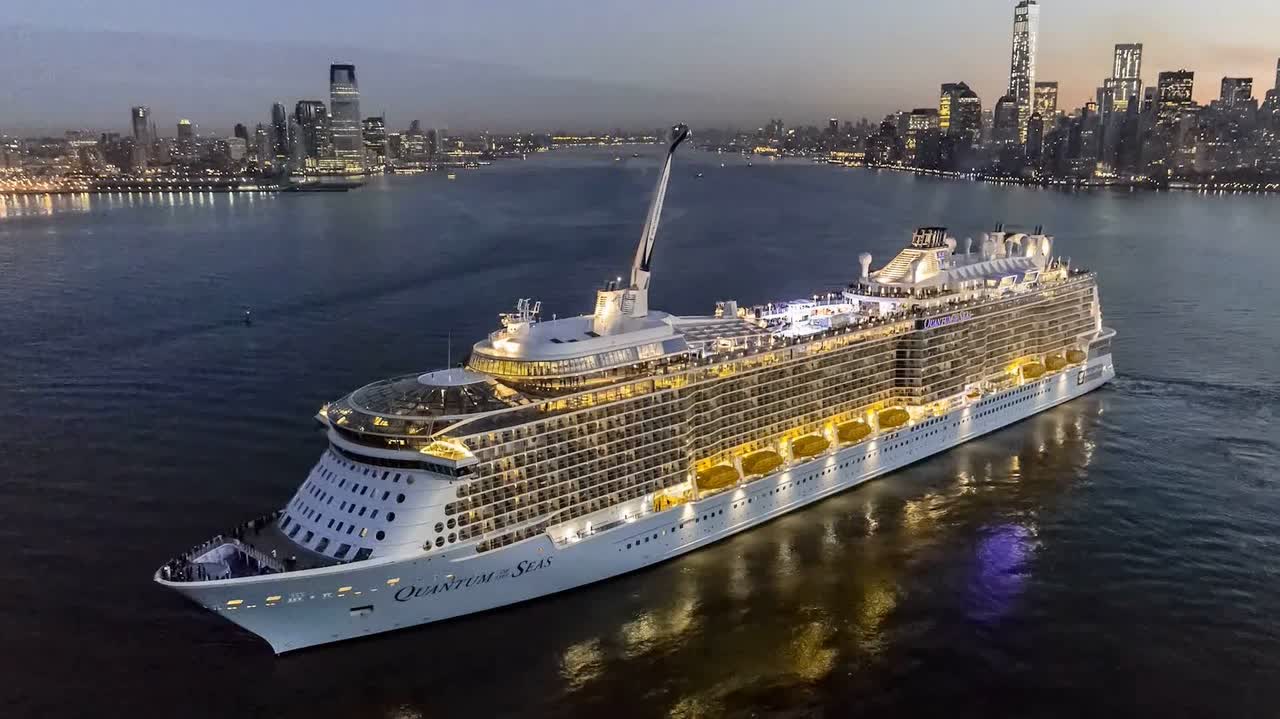 Source: royalcaribbeanblog.com
Next up is Norwegian Cruise Line Holdings Ltd. (NCLH). Its most familiar lines include:
Norwegian Cruise Line
Oceania Cruises
Regent Seven Seas Cruises

Source: annualreports.com
At the right price, I would buy any of these, the right price for me being somewhere south of their current prices and north of their pandemic panic lows. Having previously owned CCL and NCLH and sold at a profit, I am playing with the house's money - but adding more as the opportunities present themselves.
Before I continue with the other two publicly-traded lines, I must interject the immensely popular and hence very fast-growing Viking River Cruises and Viking Ocean Cruises. Managed by a team that saw and capitalized on European river cruising early and reinvested its profits wisely, the name Viking became synonymous with river cruising around the world. With 72 "Longships" and other river vessels, the company has now expanded its riverboat operations to Egypt, Asia and Russia (since their operations are west of the Ural Mountains, these are still technically in Europe, but a world apart).
Viking also expanded into Viking Ocean, where their fleet is growing just as fast. Since these are newer-build ships, one could argue Viking Ocean has one of the most up-to-date fleets that will be among the easiest to retrofit for Covid and other health issues. The company's ocean-going vessels have proven every bit as popular as their river Longboats.
My guess is that their cross-marketing will attract river cruisers, who thought they would never enjoy ocean sailing, just because of their stellar experience with Viking river cruises. This familiarity might create a whole new subset of cruisers, some completely loyal to the brand, others loyal to Viking but now interested in trying other lines - benefitting the entire industry.
Why include Viking in a discussion for investors? My logic above, that it never hurts to have public investors in tough times, may one day apply. I of course have no information that this might occur, but as a financial and global affairs writer, I know that many companies choose some level of public ownership while still maintaining voting control. Indeed, happy shareholders themselves often opt to cruise the ships of the shares they own.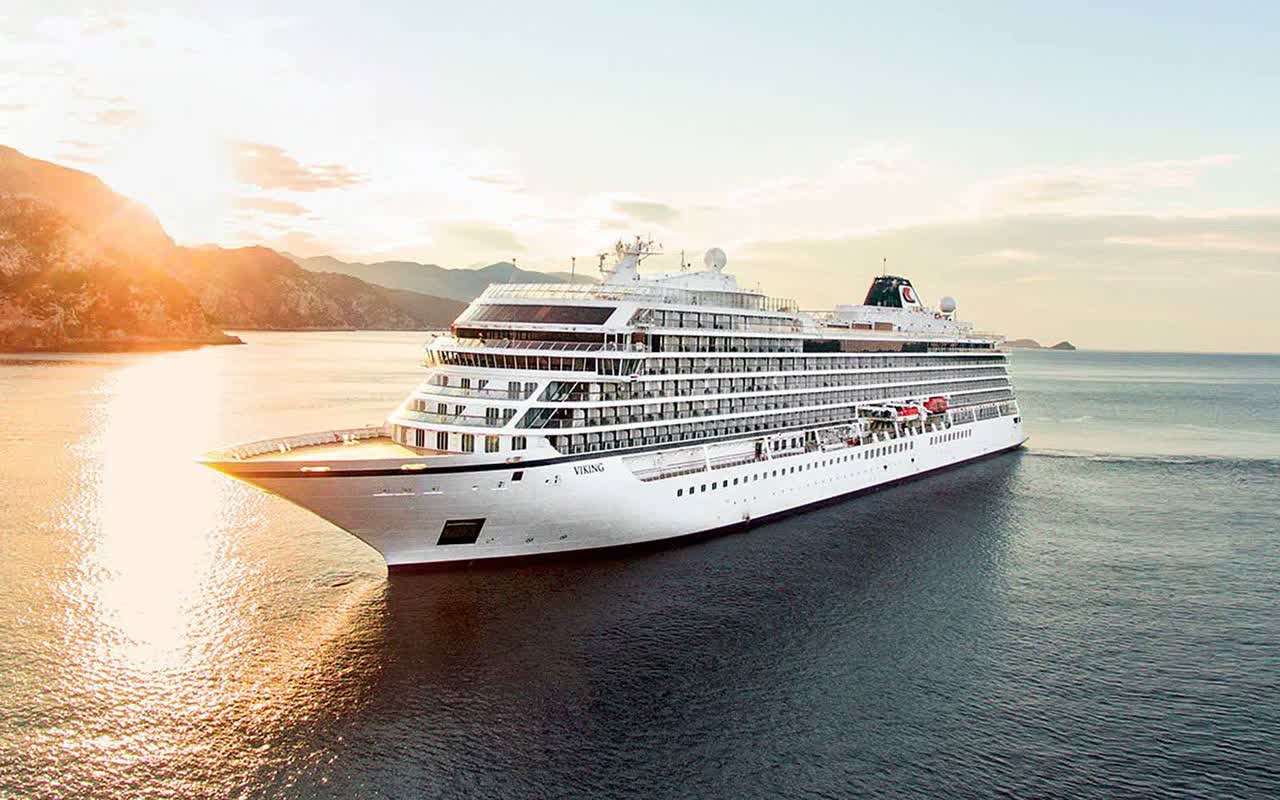 Source: travelandleisure.com
Now let us discuss the two "different" public cruise companies:
Lindblad Expeditions Holdings, Inc. (LIND) are those wonderful folks who bring adventure-minded cruisers the National Geographic tours. Lindblad's raison d'etre is to take you places where docks or ports may not exist but thrills and natural wonders abound.
With seasoned guides, sometimes National Geographic photographers, and science, geography and environment lecturers onboard, Lindblad is for people who do not want to just hear about what is out there, they want to experience it - up close and personal.
Lindblad announced just yesterday that they plan to resume operations for the 2021 season in Alaska and Galápagos in June.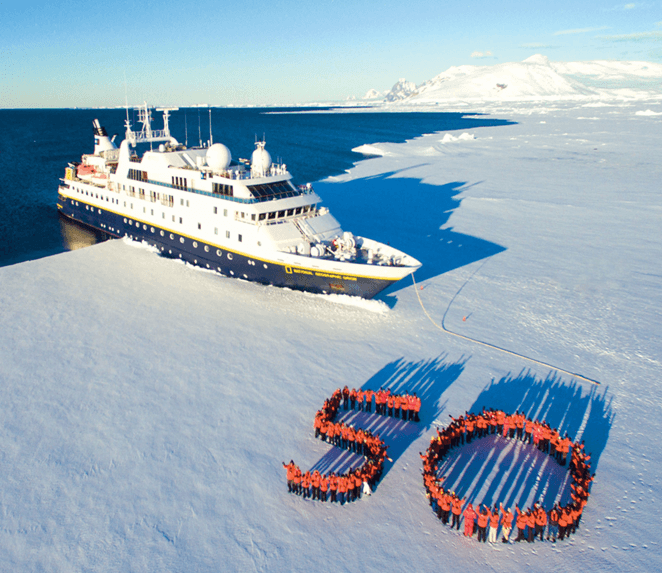 Source: wavejourney.com. Celebrating 50 years of Antarctica expeditions.
Finally, Genting Group is a massive conglomerate in Malaysia. One of the largest companies in Malaysia, the company has subsidiaries spread pretty much around the world. One of these subsidiaries, Genting Hong Kong Limited (OTC:GTHKF), owns, among other properties:
Star Cruises and Dream Cruises, both designed for the Asian, primarily Chinese, market;
Resorts World Manila;
MV Werften, a large German shipbuilder; and,
well-known to many American and European cruisers, whether they know the parent company or not, the especially highly-regarded Crystal Cruises.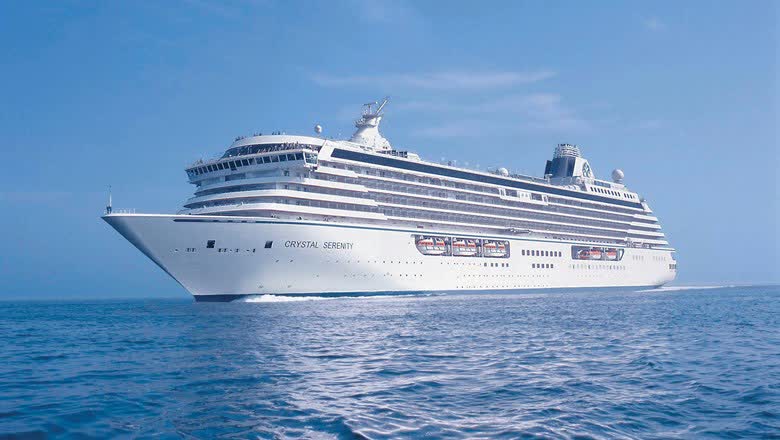 Source: travelweekly.com
Crystal is one of the lines considered "six star" by many travel agencies, cruise journalists and individual bloggers. It has a particularly faithful following among many high-end cruisers, with some having taken more than 300 cruises on Crystal's two vessels, the Crystal Serenity and the Crystal Symphony! (Soon to be joined by a third, this time an expedition ship, and then two more.) Such loyalty is the Holy Grail of cruise line marketing departments.
So what could short-circuit such fierce loyalty? The stock of the parent of Crystal Cruises' stock, Genting Hong Kong, sells today for 8 cents US. GTHKF is in bankruptcy proceedings.
In August 2020, Genting Hong Kong submitted a filing to the Hong Kong Stock Exchange advising that it had suspended all payments to all creditors. Citing COVID-19, it also requested creditors not to enforce payment and is currently seeking a plan for debt restructuring. As of that time, it owed US $3.37 billion of debt. In addition, the company simultaneously announced a 2020 first-half loss of US$742.6 million, more than ten times its 2019 first-half loss of US$56.5 million.
Regardless of the current parent company's problems, Crystal Cruises will continue sailing. In fact, they are slated to begin July 3rd. It may in the future be under a reorganized corporate parent, or it may be that Genting Hong Kong's crown jewels will be sold piecemeal and Crystal could be bought by a competing cruise line, a large consumer discretionary company, or a private equity firm.
Crystal, like almost every other line, is swamped with bookings already and has announced cruises in the next couple months. More on that below.
If you want to take a wild swing at Genting Hong Kong escaping bankruptcy with some assets remaining, the stock sells for 8 cents. Tell this to the Robinhood and Reddit crowd and GTHKF, like GME and AMC, might be driven so high that Genting HK can float a new stock offering and pay off all its debts.
Let me leave you with these facts, fleshing out what I said above that the cruise lines are sailing again. Here is my take as an investor and long-time student of the markets:
Around 30,000,000 people cruised during 2019, the year before Covid restrictions. That is the population of the entire state of Texas and half again as large as the entire state of Florida. Cruising is a very big business.
Many of these people are chomping at the bit to get cruising again. I have the honor of having served aboard a number of different ships as a world affairs speaker. I have made many friends among the crew and passengers with whom I stay in touch. Many are retired and they plan to spend a good portion of each year enjoying the fruits of their working lifetime cruising. It is entirely possible that cruise lines will go from their worst two years in 2020-2021 to their best two from 2022-2023.
While the share prices have increased a good deal, they are still down 50-70% from their previous highs. I believe these firms represent good entry prices as long as you have a long-term outlook.
As you will see below, now is the time that cruise lines are returning to the seas and rivers. Now might be a very good time to do your own due diligence. There are many websites from which you might learn more about the industry. Cybercruises.com is a particularly extensive one for the nuts and bolts of the business.
The following is from some independent Internet research I conducted, but mostly courtesy of the extensive research of a good friend. William Miller is the dean of cruise line journalism, a marvelous storyteller and guest speaker on scores of cruises, and the author of many books on the subject over a long and successful career. Cruising is not coming back; it is back.
Crystal will resume cruising July 3rd. Since the CDC has not yet allowed cruise departures from US ports, a short hop from Ft. Lauderdale to Nassau will get you a cruise through the 700 islands of the Bahamas. As a private pilot living in South Florida, I have flown to and dived dozens of beautiful places in that nation. These will be stunning cruises. Crystal reports that it had its biggest booking day in company history in the first 24 hours of announcing its Bahamas cruises on the Crystal Serenity. Some guests requested back-to-back weeks for numerous sailings.
Royal Caribbean also reported that it will resume cruising in North America from the Bahamas, starting June 12th with seven-day sailings from Nassau that will include spending two days at its private Bahamian island, Perfect Day at CocoCay, and will also call at Grand Bahama Island and Cozumel, Mexico.
In the UK, Cunard, ever the innovator, is offering three separate cruises between July and October. The cruises will take place round-trip from Southampton and include British Isles scenic cruising and solar voyages, sailing to wherever the sun shines the brightest! Cunard will also offer four voyages that include ports of call in the cities of Liverpool, Greenock, Invergordon, Belfast, Newcastle, and a maiden call for Cunard to the Welsh port of Holyhead. For now, I believe these cruises are limited to vaccinated UK citizens.
Cunard is joined by P&O which begins sailings in June aboard the Britannia and the Iona with similar British Isles excursions.
Not to be outdone, Viking announced that Viking Venus would be operating an eight-day ocean itinerary called England's Scenic Shores. The vessel will sail roundtrip from Portsmouth, with departures on May 22, May 29, and June 5, 2021. The cruise line has limited operations to three voyages so far, available to UK residents only.
And from Bill Miller…
"Costa Cruises announced that it will start cruising again in May…the Costa Smeralda's departure from Italy is planned for May 1, with three- and four-day mini-cruises or alternatively a seven-day cruise, calling at Savona, La Spezia, Civitavecchia, Naples, Messina and Cagliari. From June 12, the Costa Smeralda will return to sailing one-week cruises in the Western Mediterranean, with visits to Italy (Savona, Civitavecchia and Palermo), France (Marseille) and Spain (Barcelona and Palma de Mallorca).

"The departure date of Costa Luminosa, the second Costa ship scheduled to resume service, is now postponed to May 16 from Trieste, and the following day from Bari, confirming its program of one-week cruises in Greece and Croatia."

"Add Bermuda to the list of places where Royal Caribbean is restarting cruises. The world's largest cruise line on Tuesday said it would begin seven-night sailings to the Bahamas out of Bermuda's Royal Naval Dockyard as soon as June 26. The unusual routing, which the line will offer through August, will be Royal Caribbean's first foray into out-of-Bermuda cruises in its 52-year history.

"The trips will take place on one of Royal Caribbean's smallest vessels, the 2,514-passenger Vision of the Seas. Like new voyages out of the Bahamas starting on June 12 that Royal Caribbean announced a few days ago, the Bermuda sailings will not originate in or involve any stops at U.S. ports. This means they will not require the approval of the U.S. Centers for Disease Control and Prevention (CDC). They only require the approval of officials in Bermuda and the Bahamas, which the line now has."

"Disney Cruise Line has become the latest cruise operator to confirm UK home sailings in summer 2021. According to a press release, United Kingdom residents will be able to sail on the new Disney Magic at Sea "staycation" sailings from UK ports this summer for a limited time. Featuring enchanted entertainment and with multiple layers of health and safety measures, the Disney Magic plans to sail mostly two- and three-night voyages, as well as limited four-night sailings round-trip from London Tilbury, Newcastle, Liverpool and Southampton."

"Silversea: Silversea says it's sold every spot on a five-month cruise around the world, set to sail around the Southern Hemisphere in 2023."
Bill cites many more in the Mediterranean, Asia and elsewhere. The trend is clear: once the CDC finally opens the US to cruising, it will accelerate hugely.
What I Am Buying
I am buying just one stock for now. I sold 400 CCL from our Investors Edge® subscribers' portfolio for a $2300 profit in January. As noted above, there is no difference in voting rights, debt carried, dividends paid, or revenue reported between CCL and its UK shares - which trade as an ADS in the US under the ticker CUK.
Based upon investor sentiment, however, these two often carry different prices. CUK might be above CCL one month and below it the next. Right now it is below CCL. (There are "special voting rights' attached to CCL but it just means that when Carnival PLC (CUK) has a meeting, the interests of CCL shareholders get equal weight. A more likely explanation for these frequent mismatches in price is that CCL is a member of the S&P 500 and therefore more closely indexed to any rise or fall in US vs. UK shares. Go figure.)
I am now buying CUK.
Most writers seem to focus only on CCL/CUK's cash burn of $600 million per month in 2021 thus far, and the company's taking on of more debt to weather this storm, which they say will doom the company's shares to its current or a lesser price.
I disagree. No, the company will not be profitable this year. But with each passing month I believe their cash burn will decline. Much of their debt can be refinanced at lesser rates once lenders realize the company is losing less each month with profitability on the horizon. (Also, they do not have significant debt to pay off until 2023.)
Finally, while none of these firms have a sparkling balance sheet right now, I see CUK/CCL as most likely to turn the corner earlier than the others.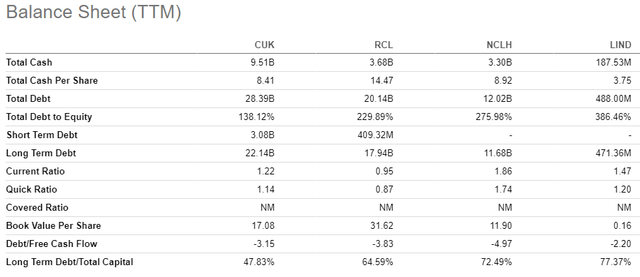 Source: Seeking Alpha
My reason for taking this renewed position right now?
People want to cruise.
People are ready to cruise.
As soon as restrictions are lifted, people are going to cruise.
If you plan to profit from that fact, now is the time to do your research.
Cruising is back - and is here to stay.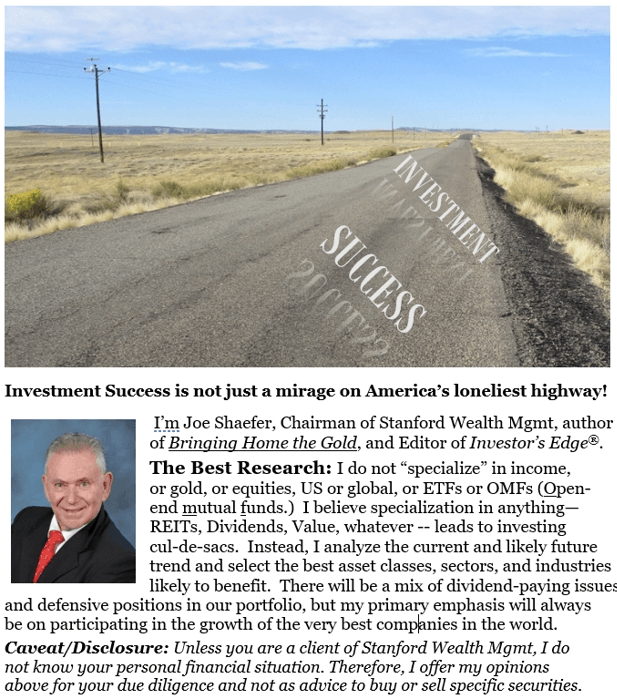 This article was written by
Profit from our 23-year history of sector-industry-company success
Geopolitical analyst, speaker, writer. Former professor, retired Brigadier General, Special Ops and Intelligence. I invest for myself and the world's best clients. You are welcome to join us.
Published or reviewed Wall Street Journal, Strategic Review, American Thinker, Forbes, others. I write for my own pleasure and your feedback on SA, my SA blog and on SA Marketplace site, The Investor's Edge. Author of the investment book "Bringing Home the Gold." I also write geopolitical commentary at "On Point -- National and Global Issues and Intrigues." You can see these essays gratis at https://josephlshaefer.substack.com/.
Analyst's Disclosure: I am/we are long CUK. I wrote this article myself, and it expresses my own opinions. I am not receiving compensation for it (other than from Seeking Alpha). I have no business relationship with any company whose stock is mentioned in this article.

Unless you are a client of Stanford Wealth Management, I do not know your personal financial situation. Therefore, I offer my opinions above for your due diligence and not as advice to buy or sell specific securities.
Seeking Alpha's Disclosure: Past performance is no guarantee of future results. No recommendation or advice is being given as to whether any investment is suitable for a particular investor. Any views or opinions expressed above may not reflect those of Seeking Alpha as a whole. Seeking Alpha is not a licensed securities dealer, broker or US investment adviser or investment bank. Our analysts are third party authors that include both professional investors and individual investors who may not be licensed or certified by any institute or regulatory body.