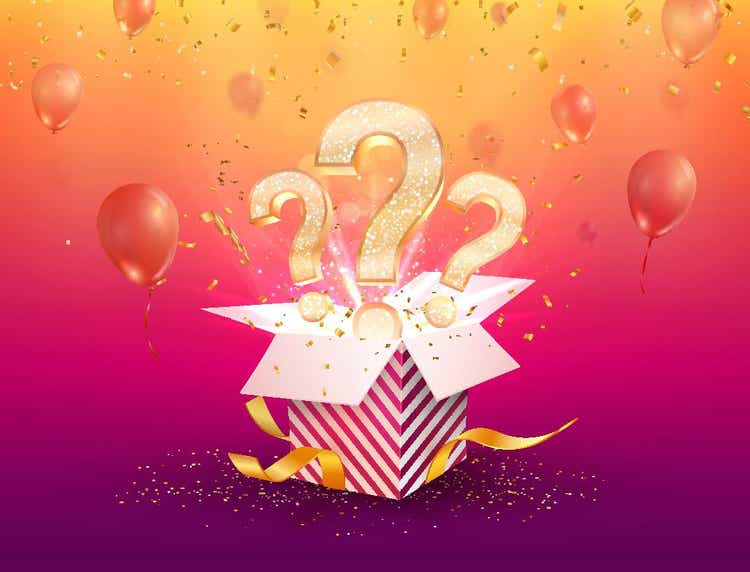 The Q4 2020 earnings season is coming to an end and Gran Colombia Gold (OTCQX:TPRFF) is one of the last gold miners that reported their Q4 financial results. Although the numbers also include some negative surprises (the production costs grew to uncomfortable levels), the overall results are not bad and Gran Colombia remains significantly undervalued.

In Q4 2020, Gran Colombia produced 57,265 toz gold. It is 2% less than in Q3 and 12% less than in Q4 2019. The overall 2020 production equaled 220,194 toz gold, which is 8% less than in 2019. The decline is attributable to lower gold grades at Segovia (14.5 g/t vs. 16.4 g/t) and to production disruptions caused by the COVID-19 pandemics. It is also important to note that this was the last quarter when Gran Colombia includes results of the Marmato mine (now owned by Aris Gold (ALLXF)) in its financial reports. Starting in Q1, the reports will focus only on the Segovia mine, which produced 50,084 toz gold in Q4 and 196,632 toz gold in FY 2020. However, according to the guidance, 200,000-220,000 toz gold should be produced at Segovia in 2021, as the El Silencio, Providencia, and Sandra K mines will also be supplemented by Carla that started production only in Q4.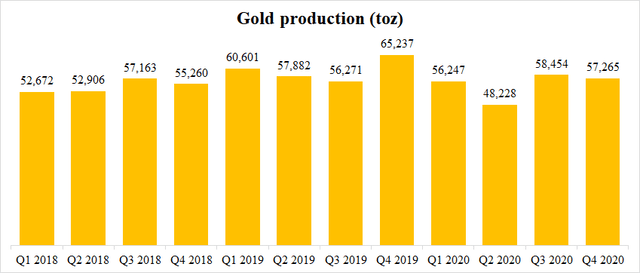 Source: Own processing, using data of Gran Colombia Gold
Although the gold production declined by 2% quarter over quarter, the gold sales declined by 12% to 52,478 toz. This helped to push the unit production costs higher. The total cash costs increased to $904/toz, which is 13.6% higher than in Q3 and 32% higher than in Q4 2019. The AISC climbed up to $1,382/toz, which is 23% higher compared to Q3 and 38% higher compared to Q4 2019. Besides lower sales volumes, the costs also increased due to higher labor costs, higher taxes related to the higher gold prices, and higher sustaining CAPEX, as part of the expenses were delayed from H1 2020 due to COVID-19. As the gold sales should increase in Q1 and probably also the sustaining CAPEX will be lower, and the higher-cost Marmato mine will be excluded from the reports, the cash costs and AISC should go back down. However, the AISC will probably not return below $1,000/toz.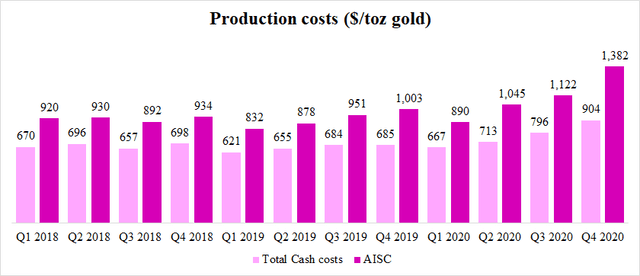 Source: Own processing, using data of Gran Colombia Gold
As the gold sales volume declined significantly, while the average realized gold price remained flat at $1,875/toz, the revenues declined by 12% to $99.7 million. Also the operating cash flow declined considerably to $30.4 million. It is 55% less than in Q2; however, it is in line with the quarters preceding Q2 2020. In Q4, Gran Colombia recorded a net loss of $51.3 million and EPS of -$0.59. However, this negative result was attributable to various non-cash items. The adjusted net income equaled $7.7 million.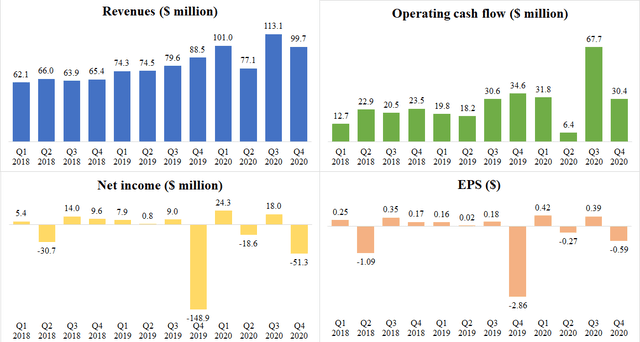 Source: Own processing, using data of Seeking Alpha and Gran Colombia Gold
Gran Colombia's cash position worsened slightly to $122.5 million. The debt increased as it also includes the debt of Aris Gold. More than a half of the debt is attributable to Aris, and it will disappear from Gran Colombia's books as soon as Q1 2021.

Source: Own processing, using data of Seeking Alpha and Gran Colombia Gold
As shown in the chart below, Gran Colombia remains significantly undervalued. The price-to-revenues ratio is only 0.72, and the price-to-operating cash flow ratio is only 2.08, which is an extremely low value. Although Gran Colombia has relatively small reserves (however the resources are quite big) and it has to face Colombia-related jurisdiction risks, its shares are very cheap compared to its peers. It is important to note that Gran Colombia's equity interest in Aris Gold alone is worth nearly $109 million. Gran Colombia's market capitalization is only $267 million.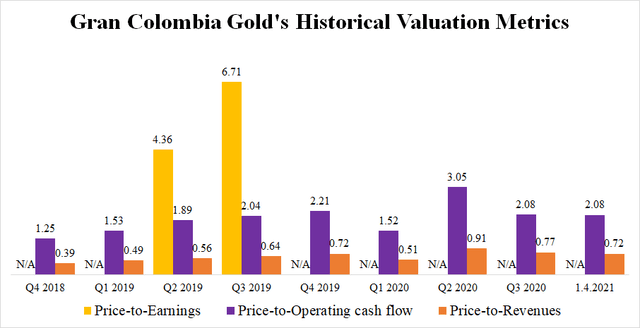 Source: Own processing
Several important events occurred in Q4. First of all, the spin-out of Caldas Gold (later renamed Aris Gold) entered its final stage (the process was completed in February). Aris Gold acquired a new world-class management team and Gran Colombia maintained a 44% equity interest. Gran Colombia also tripled dividends and reported some very good exploration results, when it discovered a new at Segovia's El Silencio. A more detailed article about recent developments at Gran Colombia can be found here.
Gran Colombia released an updated resources and reserves estimate. The measured and indicated resources increased by 5% to 1.425 million toz gold, while the inferred resources declined by 4%, to 1.209 million toz gold. The reserves declined by 6% to 633,000 toz gold. What is worse, the gold grades declined by 14% to 9 g/t.
Only two weeks ago, which means long after the end of Q4, another important event occurred. Gran Colombia announced the acquisition of Gold X Mining (OTCQX:GLDXF). The deal values Gold X at C$315 million ($250 million), but Gran Colombia will pay less, as it already owns approximately 20% of Gold X. The whole payment will be made in Gran Colombia's shares. It is possible to argue that an all-cash offer would be better for Gran Colombia's shareholders. On the other hand, Gold X's Toroparu project is fully permitted, and it contains measured, indicated, and inferred resources of 10.5 million toz gold. It means that Gran Colombia is paying only $24/toz of resources. Moreover, Toroparu is located in Guyana, a better jurisdiction than Colombia, which should provide some much-needed risk diversification and it may also help to unlock the value of the Segovia properties.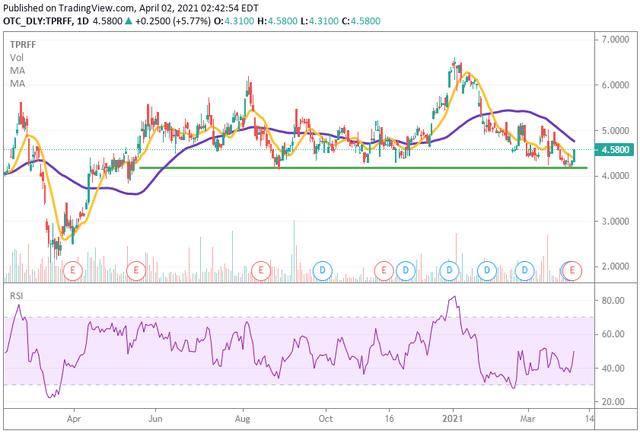 The chart shows that Gran Colombia's shares still remain in a side-trend with strong support in the $4.2 area. Over the last several months, it was possible to make some decent money by buying the shares around $4.2 and selling them after they approached the $5 level. How long this pattern can last is only to be seen. Only this week, the share price bounced from the support and it is going back up again. It has already crossed the 10-day moving average and it will probably cross also the 50-day one early next week. It should subsequently approach the $5 level, but the further direction will depend on the gold price heavily.
What I like about Gran Colombia Gold's Q4
Aris Gold acquired a world-class management team and Gran Colombia remains the main shareholder, with a 44% equity interest.
I also see significant potential in the Gold X acquisition (although it occurred well after the end of Q4).
Some nice exploration results were reported.
Fitch upgraded Gran Colombia's rating to B+.
Gran Colombia was able to grow the resources slightly.
What I don't like about Gran Colombia Gold's Q4
The costs increased significantly. Although they should go back down, Gran Colombia should pay more attention to some cost-cutting measures.
The volume of reserves declined slightly. Although Gran Colombia was able to replenish almost all the ounces it mined last year, given the extensive drill campaign, I would expect the reserves not only to be replenished but also actually to increase.
The gold grade of the reserves declined from 10.5 g/t to 9 g/t.
Editor's Note: This article discusses one or more securities that do not trade on a major U.S. exchange. Please be aware of the risks associated with these stocks.