Blackberry Can't Compete With Google
Summary
Blackberry's KPIs mostly increased modestly in Q4. However, its software ARR fell sequentially again despite the improvement in US auto sales.
Management claims IVY won't compete with the big tech firms, but Google shows its solution will provide end-to-end security of mission critical data.
The company is separating its software & services business. It's going back to the way it used to report which makes me question why it changed in the first place.
Earnings estimates are in free fall. For some reason, John Chen's response to this is putting ads in the NY Times.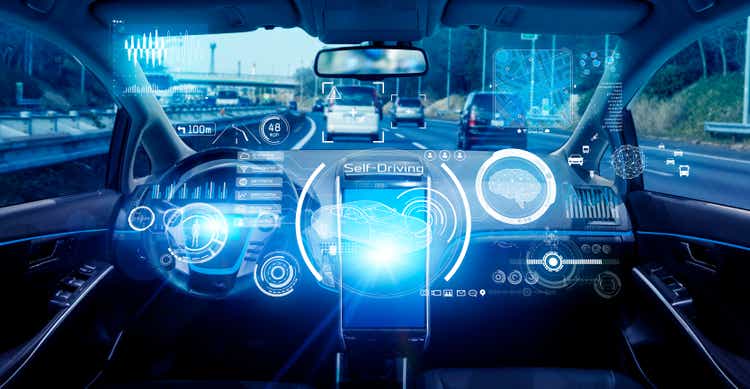 Blackberry Is Still A Sell
Since my first article on Blackberry (NYSE:BB), the stock is down 33.07%, but I would still avoid the name. The firm's Q4 earnings report had a few slight improvements to key performance indicators, but recurring sales fell. For context, fiscal year 2020 ended a 9-year decline in sales. However, fiscal year 2021 restarted that decline. Fiscal year 2022 software & services sales guidance is only for it to get back to where it was in 2020.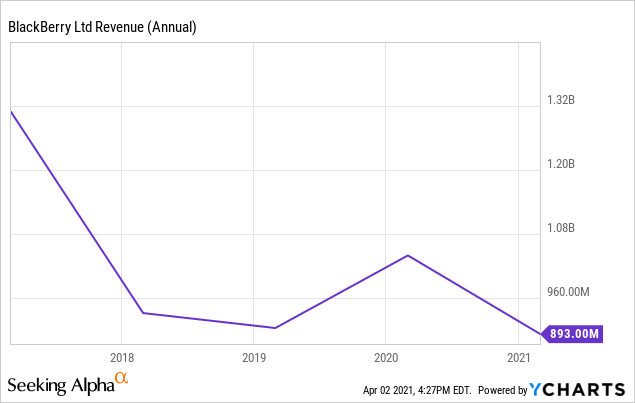 The company has struggled with organic sales growth despite its growing end markets. There is risk of it indefinitely being a company that can only grow inorganically. That's a problem when the company can't make a GAAP profit. They don't have an unlimited capacity to make acquisitions. Nothing in this earnings report will turn the bears bullish on this stock. I've never seen a company with so many new projects, partnerships, and wins announced while simultaneously seeing sales fall. It makes it look like these announcements are a distraction.
Key Performance Indicators Reviewed
Non-GAAP gross margins increased from 70% to 73% sequentially. However, they are still below the company's 'timeless model' range of 80% to 85%. Blackberry Cylance's dollar-based net retention rate rose 1 point to 91%. The percentage of non-GAAP software sales that were recurring rose from 83% to 90%. However, the annualized recurring revenue fell from $475 million to $468 million. That's down from $500 million in Q1. It's disappointing that Blackberry QNX catalyzed this sequential sales declines because US lightweight vehicle sales in Q4 were up from 15.348 million to 16.105 million.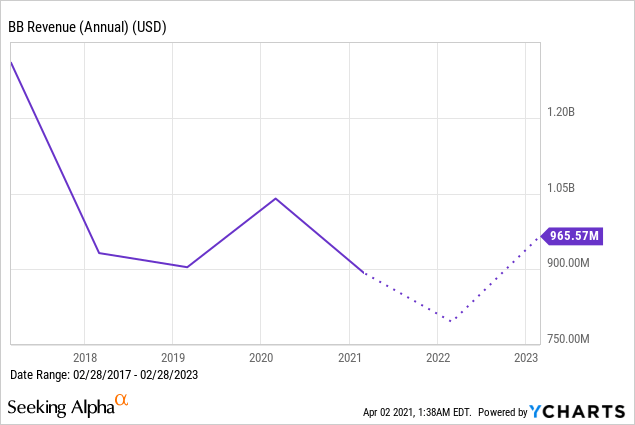 Guidance wasn't great. The company expects between $675 million and $715 million in software and services sales in 2022. That mid-point is very slightly above 2020's total of $691 million. This business is stuck in the mud. Investors aren't fooled by the growth on top of the low level in 2021 which was hurt by the pandemic. As you can see from the chart above, analysts are estimating overall company fiscal year 2023 sales to be below the 2020 peak. This is grim. Investors are just hoping IVY can reach some of the goals the company has set.
Blackberry Has No Moat
Investors reading the earnings press releases probably think Blackberry is doing well before they look at the numbers. After all, the company brought 59 new products to market which was up from 30 in the prior year. It always highlights its product wins and its partnerships with companies such as Amazon (AMZN). The problem for Blackberry is the fact that it needs to win customers in the first place. It doesn't have sticky services in the BTS segment.
The connected car is a competitive business. Blackberry QNX needs to compete for every design win within the connected car even if it sold to the prior year model. Blackberry QNX faces an uphill battle because manufacturers might decide to use a free Linux-based system with Apple (AAPL) or Android on top of it. Infotainment isn't mission-critical. That's why Blackberry is investing so heavily into IVY. It has the hope of securing end-to-end mission-critical vehicle information.
Management Contradicts Itself On Competition
It's tough to trust that a company with a history of failing to deliver organic sales growth is going to dominate the future of the connected car when Google (GOOG) (GOOGL) has its tentacles heavily involved. Blackberry seemed to contradict itself on the conference call by claiming IVY has no competition and then saying it expects the industry to be highly competitive.
On the latest connected car announcements, management stated,
"Following our IVY announcement, major players such as Ford and Google, as well as Bosch and Microsoft, have announced commitments to the vehicle data market. Because IVY is hardware, operating system, and cloud agnostic, we do not see these announcements as competition but rather opportunities for IVY to partner and add value."
Google made a 6-year deal with Ford (F) that's effective in 2023. Google will be Ford's cloud provider. Plus, it will utilize AI and machine learning to revolutionize every aspect of vehicle development and production. Blackberry is fooling themselves if they don't think Google will directly compete with them. Google will help developers create apps that personalize the vehicle experience.
The key point Blackberry bulls believe is that IVY will be the only trusted end-to-end security platform that receives mission-critical vehicle information. However, Google claims its cloud platform will use an end-to-end security model that collects data such as vehicle location, drivetrain metrics, vehicle environmental status, and custom sensors.
If anything, I'd expect Google to expand upon its control of the connected car, not limit itself to current announcements. Its Android operating system and cloud platform already work with manufacturers. Plus, Google owns the self-driving car company Waymo. It's easier for Google to expand its presence in the vehicle than it is for Blackberry which has the market share losing infotainment business.
After Blackberry said it doesn't compete with Google and Microsoft (MSFT), it said
"We recognize that this market is going to be competitive, but we feel very well positioned. While we're already working with OEMs, in October we expect to release the Early Access version of IVY. We also expect to start shipping the product in February of next year."
It's confusing how Blackberry and bullish investors always say there is nothing like IVY, yet they think this business will be very competitive. If Microsoft and Google aren't competitors, then who are the competitors management is referring to? My point is management doesn't want to admit it's competing with the mega-cap tech companies because investors won't think they will win that battle.
IVY Fund Won't Help Blackberry Beat Google
Blackberry announced the creation of the IVY Innovation Fund. The company invested $50 million in this fund which it will use to drive developer adoption of the IVY platform. Blackberry wants to incentivize the development of third-party apps. That's ironic because one of the reasons Blackberry lost to Apple and Google in the smartphone battle was its lack of 3rd party developer support.
An analyst on the quarterly call compared this fund to Apple's initial support of iOS app developers. I think that's overly optimistic. Surely, Google has a big advantage in connecting with developers for its auto platform given that it already controls Android.
Confusing Need For Advertisements
I'm not entirely sure why John Chen mentioned on the call that the company needs to be louder about its strategy by advertising through print and digital radio of all places. He mentioned the company is advertising in the New York Times.
I see no need for Blackberry to increase the general public's awareness of Blackberry as a security/automotive software company. To me, this seems like a waste of money for a company that is borderline profitable. I feel like this advertisement campaign is meant to make Blackberry look more innovative than it is. The company should focus more on improving its services to grow organic sales.
Blackberry Tries to Attach Itself To EVs
Blackberry mentioned it has design wins in 23 of the world's top 25 electric vehicle OEMs which was up from 19 in the prior quarter. The problem is the company doesn't break down what this means for sales. Some of the electric vehicle OEMs also produce gas-powered cars.
The company mentioned the 29% per year expected growth in the EV market. However, since QNX is in gas-powered cars too, this is just switching vehicle types. Unless QNX captures more market share in EVs, there is no net benefit to Blackberry. The overall vehicle market won't have 29% compound annual growth.
New (OLD) Reporting Categories
Blackberry is switching its reporting categories starting next quarter. It will report software and services in two separate revenue lines which are Cyber Security and BTS (which includes QNX). The Cyber Security business will have 2022 sales of $495 million to $515 million. BTS will have sales from $180 million to $200 million. This is critical because the licensing business will take somewhat of a perpetual hit after the one-time benefit of its patent sale that it is now negotiating.
The problem here is the company used to have a separate BTS division 4 years ago. Essentially, the company is admitting it never should have rolled the business lines together in the first place. This makes it seem like the company is shuffling the deck chairs on a sinking ship.
Earnings Estimates Fall Again
Earnings estimates are in a tailspin which is why I mentioned that Blackberry investors' last hope is IVY turning around the company in the next few years. As you can see from the chart below, there have been 7 downward revisions for the upcoming quarter in the past 3 months. The consensus for 2023 EPS has fallen from 24 cents at the end of September to 9 cents now.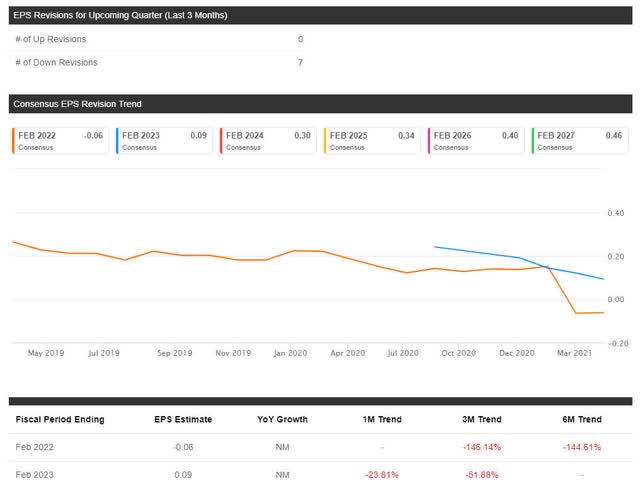 Analysts keep modeling in quick growth and profitability, but Blackberry keeps failing to deliver. That's how the average analyst price target gets to $7.63. There wouldn't be much value (outside of the patents) if Blackberry continued to lose money like it's expected to in 2022.
Morningstar has a price target of $6.4 (3 times EV/sales ratio & 5% free cash flow yield). Within this target, the firm projects 7% compound annual sales growth through 2030, GAAP profitability by 2024, and 14% operating margins in 2030. It should scare shareholders that such optimism in a company that has historically failed to deliver organic sales growth still leads to a lower stock price. I don't like investing in stocks where if the business turns around, I still lose money.
Risks To The Upside
There are plenty of ways Blackberry can succeed. Proper execution is possible if you believe in management which I don't. Blackberry Spark can provide sticky endpoint security solutions which leads to the formation of an economic moat. That's especially true if Blackberry acquires more cybersecurity businesses to round out its portfolio. It should do so with any money it gets from patent sales. This is a very fast-growing industry that will only get more important in the expanding digital age we live in.
Blackberry IVY can have a stake in the connected autonomous car in which mission-critical data security is extremely important. The good news for Blackberry investors is the company is shipping early access to Blackberry IVY next February. It won't take long to see the initial results of the platform the company is betting its future on.
This article was written by
I'm currently looking for an analyst position. If you like my posts, please shoot me a DM on here or email me at interviewsalexpitti@gmail.com.
Analyst's Disclosure: I/we have no positions in any stocks mentioned, and no plans to initiate any positions within the next 72 hours. I wrote this article myself, and it expresses my own opinions. I am not receiving compensation for it (other than from Seeking Alpha). I have no business relationship with any company whose stock is mentioned in this article.
Seeking Alpha's Disclosure: Past performance is no guarantee of future results. No recommendation or advice is being given as to whether any investment is suitable for a particular investor. Any views or opinions expressed above may not reflect those of Seeking Alpha as a whole. Seeking Alpha is not a licensed securities dealer, broker or US investment adviser or investment bank. Our analysts are third party authors that include both professional investors and individual investors who may not be licensed or certified by any institute or regulatory body.