AT&T's Recent Dividend Highlights Its Strength, But Options Trading Offers More Potential
Summary
AT&T had a spectacular 2020, despite the lack of reaction from the market. That's despite almost $45 billion in net investments into the business.
The company's dividend is strongly secure at nearly 7% annualized, and the company plans to redirect additional cash into debt repayments.
The company has the potential to drive consistent and reliable double-digit shareholder rewards despite market conditions, making the company a reliable investment.
I do much more than just articles at The Energy Forum: Members get access to model portfolios, regular updates, a chat room, and more. Learn More »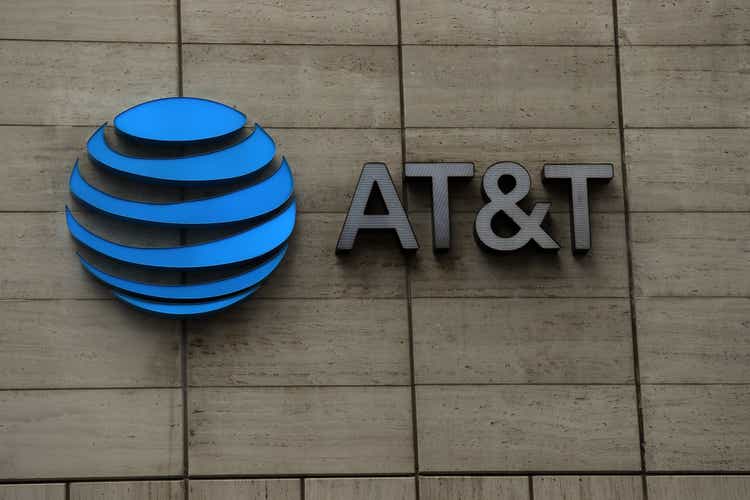 AT&T (NYSE: NYSE:T) is a company we've consistently discussed, especially its record-breaking spectrum auction recently. Followers might wonder why we continue to discuss the company, despite its stagnant price movement. However, our answer is simple:
The market can remain irrational longer than you can remain solvent.
As we'll see throughout this article, AT&T's continued business execution, such as its recent dividend declaration, will enable the company to continue driving long-term shareholder returns.
AT&T Growing Industry
AT&T operates in growing industries, where it can gain more customers, despite the prevailing views of the company.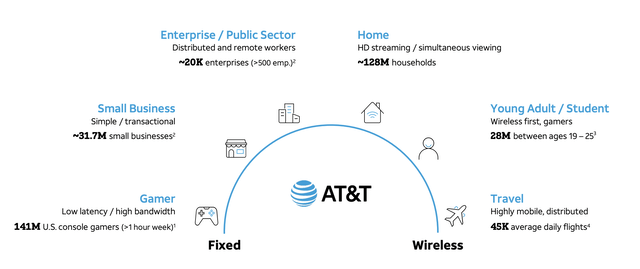 AT&T Positioning - AT&T Investor Presentation
AT&T has a variety of customers across its business spectrum. This includes numerous large enterprise/public sector companies, ~128 million households that watch TV, numerous young adult/students, travel, and gamers. AT&T faces strong potential competition for these customers, however, it has the ability to dramatically increase its business size and capture these businesses.
It's also worth noting that these businesses/customers are growing rapidly.
AT&T HBO Max
One of AT&T's most impressive growth regions is its HBO Max business which has already surpassed all expectations.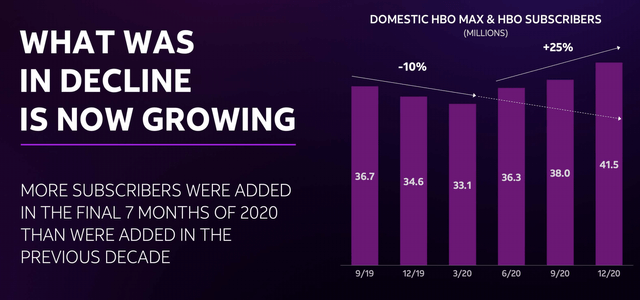 AT&T HBO Max - AT&T Investor Presentation
AT&T saw more customers added in the final 7 months of 2020 than the previous decade, showing the strength of HBO Max. The company grew from a pre-launch bottom of just over 33 million subscribers, by 25%, to almost 42 million subscribers by year-end 2020. That massive growth represents a new trend for the company.
The company originally forecasted 75-90 million subscribers by 2025. Since then, that forecast has changed to 120 million subscribers + 30 million (potential) from alternative markets. That's a near doubling of the company's forecast. Additionally, ARPU is expected to be growing steadily, meaning, by 2025, when breakeven is reached, this could be >$20 billion annual revenue.
AT&T 2021 Guidance
Putting this together, AT&T's 2021 guidance highlights the company's strength.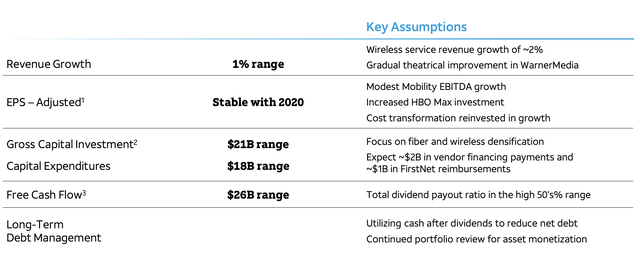 AT&T Guidance - AT&T Investor Presentation
AT&T has ~$215 billion in market capitalization and finished 2020 with ~$150 billion in debt, for a total enterprise value of ~$365 billion. The company, in 2021, expects ~1% revenue growth and stable EPS, impacted by increased HBO Max investment. The company's capital expenditures are expected to be $18 billion with $21 billion in gross capital.
However, it's worth noting the company's higher capital spending will partially come with First Net reimbursements. Past this massive spending, the company expects to have $26 billion in FCF, enabling it to continue a near 7% dividend, while reducing debt. That FCF is a ~12% yield on market cap and more than 7% on EV showing the company's strength.
AT&T Financial Plan
The company's core financial plan, past this near 7% of dividend, is debt pay-down. Impacting this is the company's massive, but necessary, $27 billion in spectrum spending.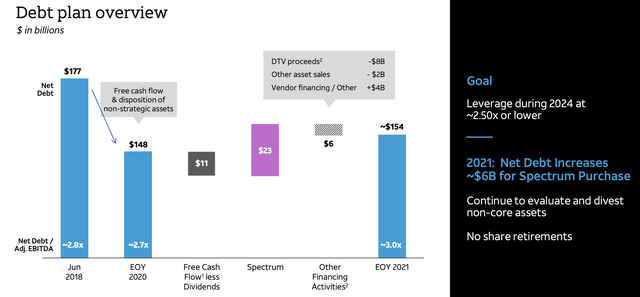 AT&T Debt - AT&T Investor Presentation
AT&T, post its TimeWarner acquisition had $177 billion in net debt. By end of year 2020 that was expected to be ~$148 billion. Going into 2021 the company's post dividend FCF ($11 billion) along with other financing activities (~$6 billion) and $23 billion in spectrum due will make net debt ~$154 billion. The company would have ~$4 billion in spectrum for future spending.
However, the takeaway here is that the company, after massive and necessary spending will end 2021 with ~$154 billion in net debt. It'll have the financial ability to pay down ~$11 billion annually and each year it does so it'll decrease its interest expenditures by ~$500 million permanently. That doesn't count the overall growth in the company's value.
AT&T Shareholder Return Potential
AT&T's shareholder return potential here is significant. The company can, for example, pay its debt down to $20 billion in a decade. That'll permanently increase its FCF by ~$5 billion as a result of its lower interest expenditures, not counting the overall market recovery in FCF.
That paints a picture of a company, in 2031, if the company continues focusing on share repurchases, of a cash flow giant. The company can continue to pay 7% in annualized dividend for the entire time. Then, in 2031, it'll be positioned with $20 billion of net debt and annual FCF (assuming no further COVID-19 recovery) of $31 billion. That points to a market cap well above $215 billion.
The company needs minimal share appreciation to generate double digit rewards post a 7% dividend. More so, it's worth noting that $31 billion assumes no further growth, despite the company's expectation of much faster growth from HBO Max as it reaches profitability from heavy investment in 2025. The company's other businesses will also keep growing.
Based on the company's pre-COVID forecast of 2023-2025 FCF ~$31-32 billion, the company's 2031, post debt pay-down FCF, could be $35-40 billion. That could help the company, with its lower debt, drive much stronger long-term shareholder returns.
Options Trading
For those interested in investing in AT&T we recommend using an options-based investment strategy for immediate yield.
A January 2022 $30 cash secured PUT is currently trading at ~$2.9/share. That means you can earn a 10% yield by investing for ~9 months (~13% annualized). If prices go up, you keep that 13% yield, if they go down you get a chance to invest at a breakeven of ~$27/share, a much better deal than the $30.5 current price.
AT&T Risk
AT&T's risk is that it operates in a competitive environment. The company is seeing a growing competitor with T-Mobile (TMUS) and could see competition from numerous other major players. Some larger companies are getting into streaming or potentially the cellular business. Well capitalized competitors is a risk AT&T will continuously face.
Conclusion
AT&T has an impressive portfolio of assets and despite the massive overhang of COVID-19 through 2020, has continued to execute well in its core businesses. The company has massively expanded its HBO Max forecasts, and has numerous other growth opportunities, such as its fiber line home internet businesses.
The company operates in a competitive industry. Despite this, the company is in an incredibly strong financial position with significant FCF. The company is currently focused on paying down debt and will be able to continue paying its dividend while focusing on driving significant long-term shareholder returns.
The Energy Forum helps you generate high-yield income from a portfolio of quality energy companies. Direct recommendations from an author ranked #64 out of 7,943 on TipRanks.
Worldwide energy demand is growing and you can be a part of this profitable trend. 
Also read about our new "Income Portfolio", a high-yield non sector-specific income portfolio.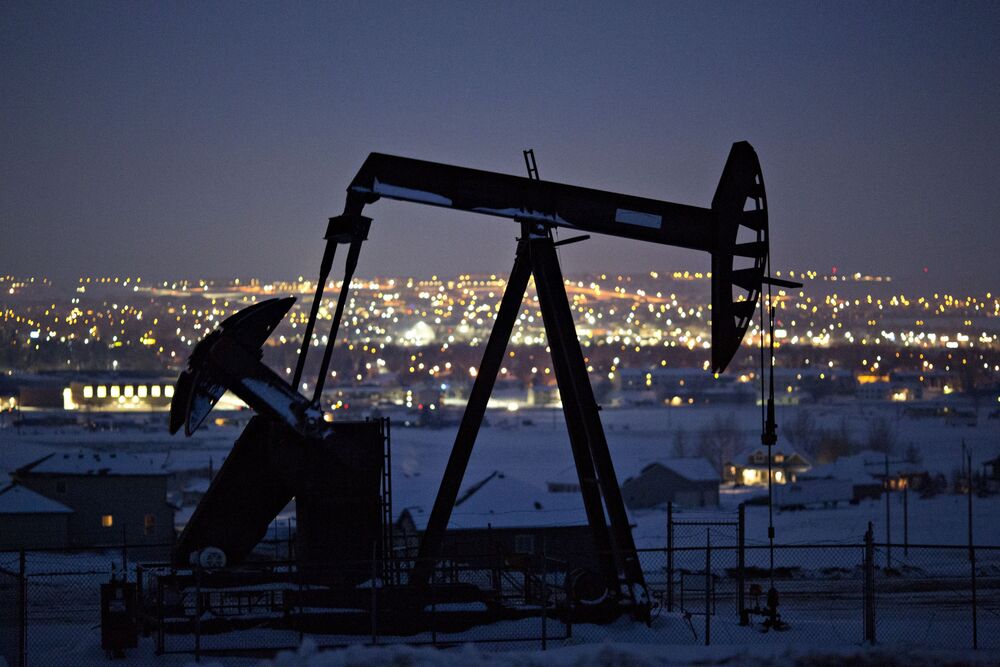 The Energy Forum provides:
Model portfolios to generate high-yield returns.
Deep-dive research reports.

Macroeconomic overviews.
Click for a 2-week trial, with a money back guarantee, and 47% off of our annual plan! Nothing to lose and everything to gain!
This article was written by
The Value Portfolio specializes in building retirement portfolios and utilizes a fact-based research strategy to identify investments. This includes extensive readings of 10Ks, analyst commentary, market reports, and investor presentations. He invests real money in the stocks he recommends.
He is the leader of the investing group
The Retirement Forum
with features including: model portfolios, macro overviews, in-depth company analysis and retirement planning information.
Learn more
.
Analyst's Disclosure: I am/we are long T. I wrote this article myself, and it expresses my own opinions. I am not receiving compensation for it (other than from Seeking Alpha). I have no business relationship with any company whose stock is mentioned in this article.
Seeking Alpha's Disclosure: Past performance is no guarantee of future results. No recommendation or advice is being given as to whether any investment is suitable for a particular investor. Any views or opinions expressed above may not reflect those of Seeking Alpha as a whole. Seeking Alpha is not a licensed securities dealer, broker or US investment adviser or investment bank. Our analysts are third party authors that include both professional investors and individual investors who may not be licensed or certified by any institute or regulatory body.