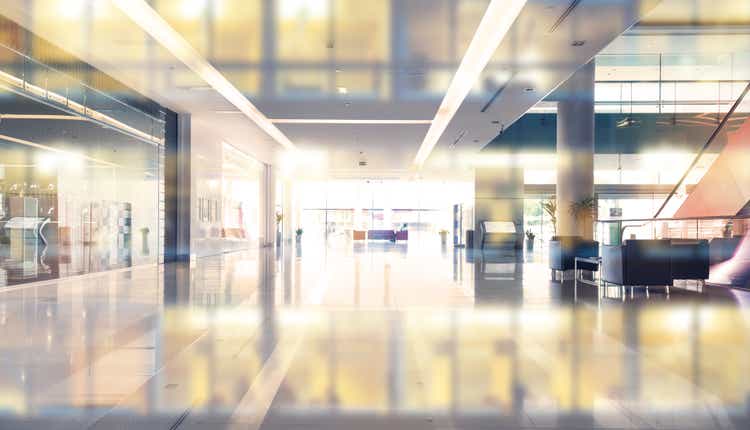 REIT mall owner CBL & Associates Properties (OTCPK:CBLAQ) filed another revised Restructuring Support Agreement last week (docket 980) after weeks of mediation. The negotiations for a restructuring have been going on since early last year. While the specific revised terms of recoveries for different claim classes are important for CBL investors, the changes in the terms also need to be analyzed by all REIT investors because the changes give some insight into the outlook for the industry by sophisticated institutional investors who negotiated the new RSA.
Mediation
The original order (docket 749) to establish a mediation with various parties and mediator Judge Marvin Isgur was signed way back on January 5. It was originally a mediation regarding CBL's Ch.11 reorganization plan and the Wells Fargo Adversary Proceedings. Eventually it became a mediation "to attempt to agree upon the terms of a revised chapter 11 plan". The word was "revised"-not amend. I thought that the stronger term "revised" clearly indicated there were going to be major changes for recoveries for the various claim classes.
The fact the mediation was between the Ad Hoc Group of Bond Holders and the Official Unsecured Creditor Committee on the surface does not seem to be anything unusual. If you look, however, below the surface it raises some eyebrows. The Official Unsecured Creditor Committee was appointed by the US Trustee (dockets 325 and 975) and has only three members: ERMC LLC, which has just a $58,865.40 unsecured claim; SecurAmerica LLC, which has just a $37,158.38 unsecured claim; and Delaware Trust Company, who is the indenture trustee for all the notes. The real powerhouse member of the UCC is Delaware Trust. So the fight was actually between the institutional holders who own a majority of the notes and the indenture trustee for the same notes.
I am only guessing, but I think the indenture trustee was trying to protect noteholders who are not members of the Ad Hoc Group, especially CBL retail noteholders, from the creation of a new RSA that effectively favored the Ad Hoc Group over the other noteholders. There are ways to get around not violating section
1123(a)(4)
- providing "the same treatment for each claim or interest of a particular class"-and that is via new financing.
Many federal bankruptcy districts do not consider potential benefits/gains from new financing as part of the recovery for claim holders within the same claim class. (Many SA readers will remember the huge effective recovery differences for holders of Peabody Energy (BTU) notes under their Ch.11 reorganization plan four years ago because of the terms of a rights offer.) The new RSA does contain some new financing via the right to participate in a new convertible note issue, which could be challenged by some unsecured noteholders.
Common and preferred shareholders were not included in the mediation process. They did not have a place at the table.
This new RSA is not actually a "done deal" because as stated in footnote #2 (always read footnotes in docket filings) on page 4: "The ad hoc group of Consenting Noteholders (the "Ad Hoc Noteholder Group") reserves the right to modify the treatment of the Notes Claims after review of general unsecured claims and review/approval by Required Consenting Creditors". (See below.)
CBL Properties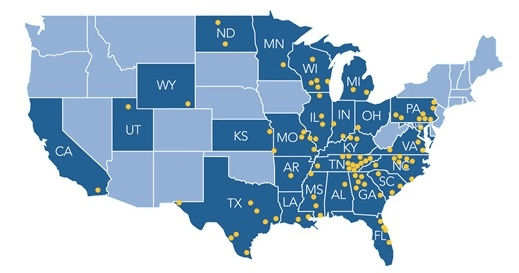 Source: 8-K July 2020 Presentation
Prior Agreements and Reorganization Plan
Original RSA
Before the August 18 RSA, there was a July 20 company proposed term sheet and counterproposal by bank lenders, which was followed by an updated proposal from the company on August 5.
The original RSA was completely irrational. First, it was supported by only 57% of unsecured noteholders. So it did not even have the support of the 2/3 dollar amount requirement for that class to approve the Ch.11 reorganization plan. (You also need a majority of holders within the class.)
Second, the RSA did not specifically state the recovery for holders of bank claims. The RSA only stated: "shall receive either: (a) treatment as is acceptable to the Company and the Required Consenting Noteholders in a manner consistent with the Bankruptcy Code, including, but not limited to, section 1129(b) of the Bankruptcy Code; or (b) such treatment as determined by the Bankruptcy Court."
Often recoveries for low priority classes, such as holders of trade claims, are not included in original RSAs, but not to include a negotiated agreement with bank lenders makes the RSA almost a meaningless document, in my opinion.
Ad Hoc Group October 27 Proposal
Just prior to CBL filing for Ch.11 bankruptcy on November 1, the Ad Hoc Group made a proposal on October 27 as an alternative to the September 3 proposal from the company. This time the term sheet did include specific recoveries for bank lenders, but since the banks did not agree to these terms, the Ad Hoc Group was going to attempt to do a "cram-up" to get the court to confirm a Ch.11 reorganization plan based on their term sheet.
As I covered in a prior article, I expected the Ad Hoc Group would assert at the confirmation hearing that the bank lenders were "unimpaired" because the bank lender's recovery was "indubitable equivalent" to their claim, which meets the section
1129(b)(2)((A))(iii)
standard, and the bank lenders would, therefore, be considered "accepting" the plan under section
1126(f)
. Given the actual proposed recovery package for bank lenders, I think the Ad Hoc Group would have had an extremely difficult task convincing Judge Jones to agree with their proposed cram up scheme.
The December 29 Plan and Disclosure Statement
Prior to filing their Ch.11 reorganization plan (docket 370) and disclosure statement (docket 371), the Ad Hoc Group proposed a new term sheet on December 8, which was followed by a proposal by Wells Fargo representing the bank lenders.
Under the Ch.11 reorganization plan, bank lenders were classified as impaired. The Ad Hoc Group gave up on their irrational attempt to do a "cram up". The plan, however, was still unacceptable for most bank lenders. It was interesting to note that there was no boasting in a press release that x% of this group and y% of another group supported the filed plan. Investors figured that there were going to be changes to the plan eventually.
March 21 Revised RSA
After months of mediation a revised RSA was filed. This new RSA has the support from 88% of bank lenders and 64% of unsecured noteholders according to a press release. There are various releases contained in the agreement that indicate the Wells Adversarial Proceedings is also effectively settled under the terms of the new RSA.
The new plan eliminates $1.375 billion of unsecured notes, but also includes new $474 million 10% secured notes (assuming no substitution for convertible notes), which results in a $901 million reduction in debt and about $27.2 million reduction in annual interest. Factoring in all the debt items, including the 0.50% increase in interest rate for the term loan facility, the total annual interest reduction is about $20-$25 million. The new plan also eliminates the preferred stock and preferred dividends.
They are also raising up to $50 million in a 7% secured convertible note issue, but the various details for the convertible note is beyond the coverage of this particular article.
Comparing Recoveries Under The Different Proposals
Common Stock CBLAQ
*Original RSA Term Sheet
Share 10%, subject to the management incentive package dilution, of the new stock and warrants. "Company to determine equity splits in consultation with the Required Consenting Noteholders." Included in their class is an approximately 3% interests in CBL Limited Partnership. If the class votes against the plan, the class gets no recovery.
*October 27 Ah Hoc Group Term Sheet
Basically the same as the original RSA, except there is additional information about A, B, and C warrants.
*December 29 Plan
The recoveries are the same as the prior term sheets and continue to be unspecified as to percentage. The common stock have their own class and the interests in the CBL Limited Partnership are placed in a different class. The voting requirement is to changed to requiring all equity classes, common, LP interests, and preferred, voting to accept. If any of the three classes vote not to accept the plan, none of the equity classes will get a recovery.
*March 21 Revised RSA
Common CBL holders and interests in CBL LP are back in the same class sharing 5.5% of the new stock, subject to dilution. Warrants are no longer part of the recovery. (The value of the new equity, in my opinion, is lower than under the October 27 Ah Hoc Term sheet because of the change in the entire capital structure.) Voting requirement is back to getting no recovery if the class votes against. It did not state that all the equity classes had to vote to accept.
Preferred Stock CBLDQ and CBLEQ
Prior Term Sheets
The terms and changes for the preferred stock pretty much follow the common, except there is also some $5 million opt-out provision for preferred holders.
March 21 Revised RSA
The preferred shareholders get a 50-50 split with common shareholders and the approximately 3% interests in CBL LP. (The voting issue is covered further below.)
Unsecured Notes

*Original RSA Term Sheet
$49.6 million cash, $500 million 10% secured notes, and 90% of the new equity, subject to dilution.
*October 27 Ad Hoc Term Sheet
Major changes were made. No cash, estimated $577 new PIK preferred stock, and 90% of new stock.
*December 29 Plan
Preferred stock and 90% of the new stock
*March 21 Revised RSA
The unsecured notes and general unsecured claims (the amount of allowed general unsecured claims has not been determined yet) are put into the same class. $80 million cash, $474 million 10% secured notes (Consenting Noteholders can elect to receive new convertible notes based on a complicated formula with Crossholder Claim Holders.), and 78.42857% of the new equity, subject to dilution.
First Lien Credit Facility
*Original RSA Term Sheet
There are no specific recoveries for the $1.115 billion 1lien credit facility holders.
*October 27 Ad Hoc Group Term Sheet
$950 million debt with L + 350 (50 floor) interest rate and an estimated $173 million PIK preferred stock. Since the actual market value for the PIK preferred is expected to be less than $173 million, the 1lien holders are going to get less than full recovery.
*Dec 29 Plan
The 1lien lenders split into two groups. A separate group was created called Consenting Crossholders (Aegon Investments, Canyon Capital, Cetus Capital, and Oaktree Capital). Both groups are to share a $950 million exit facility. Their deficiency claims are put into a different class, which can be paid in new equity if the court decided they are entitled to "additional recovery to confirm the Plan".
*March 29 Revised RSA
$983.7 million allowed claim with a recovery of $100 million cash and $883.7 million 4-year credit facility L + 275 (100 floor) for the non-Consenting Crossholders.
Consenting Crossholders allowed claim of $133 million with a recovery of $15 million cash, $81 10% secured notes, which can they can partially elect to receive convertible notes instead of the 10% notes, and 10.57143% of the new stock, subject to dilution.
A Closer Look At Common and Preferred Stock
I think a major reason equity holders were originally being "gifted" new CBL common stock is because the other new stock recipients want an already existing CBL shareholder base to enable them to sell their new shares in a more liquid market. Too often trading in the new stock issued under a bankruptcy plan is choppy with wide bid/ask spreads even if listed on the NYSE or NASDAQ, which they stated they plan to do.
I also think the unsecured noteholders wanted to show to the bankruptcy judge during the plan confirmation hearing that classes containing preferred shareholders and common shareholders voted to accept the plan, which might make it easier for the court to confirm the plan, even though you actually only need one impaired class to vote to accept the plan under section 1129(a)(10).
Oddly enough, it seems there are some preferred shareholders objecting to the new RSA because they are asserting that they are entitled to a higher percentage of new CBL stock instead of the 50-50 split of 11% of the new stock with common CBL shareholders. I doubt, however, there is an actual risk that these preferred shareholders as a class vote to reject the plan and would, therefore, get nothing. The reality is that they are not entitled to any new shares and are only being "gifted" their recovery from priority claim classes who are not getting full recoveries for their own claims.
I would not be surprised if some unsecured noteholders file objections to the plan because lower priority classes are getting a recovery while the higher priority class of unsecured noteholders are getting less than full recovery. Under most Ch.11 reorganization plans, the low priority classes, such as equity holders, get absolutely no recovery when a higher priority class, such as unsecured noteholders, get less than full recovery.
Under some other Ch.11 reorganization plans, if a specific equity holder votes against the plan then that specific equity holder gets no recovery. (In theory, they could then litigate to get a better deal.) Under CBL's new RSA, it depends on the voting results of the entire class and not just on a specific equity holder's vote.
Because of the large daily price volatilities in preferred and common stock, it is hard to do reasonable price comparisons to valuations implied by other classes getting new stock. Using the March 31 capitalization figures from FINRA/Morningstar of $26.5 million for common and a total of $20.6 million for two preferred issues, it seems there is a difference in market valuation of the 5.5% of the new stock (prior to dilution), especially after an approximately 3% adjustment to the amount to be paid to common shareholders to reflect the the recovery of CBL Limited Partnership interests.
Looking at a different comparison, the total current market capitalization of $47.1 million for 11% (prior to dilution) is high relative to the new stock recovery for the Consenting Crossholders. The Consenting Crossholders have a $133 million claim, which they are getting $15 million cash, $81 million new debt (potentially secured 10% notes or secured 7% convertible notes), and 10.57143% of the new stock. Assuming that the new debt trades at par, the maximum value for their 10.57143% new equity is $37 million because, in theory, you can't get a recovery that is greater than your allowed claim amount. The $37 million for 10.57143% equals $38.5 million for 11%.
This could get interesting during the plan confirmation hearing because the Consenting Crossholders may have to convince Judge Jones that the current new equity values implied by current trading prices for common and preferred stock are irrational and/or that the new debt will sell at significant discount to par. If they can't convince the judge, then it would appear the Consenting Crossholder recovery package is too high compared to their allowed claims.
To most current CBL common shareholders, their brokerage statements will be similar to a massive reverse stock split after the plan effective date. They will just have a very small number of new CBL shares trading at a much higher stock price.
Significance Of RSA Changes For All REIT Investors
The changes in the proposed recovery packages that had included new PIK preferred stock to the current proposed recoveries which have substituted PIK preferred stock with new secured debt, I think is a strong indication that various institutions now have a more negative outlook for CBL and REIT malls in general. It now seems that they want more secure paper with contractual interest payments instead of PIK payments, which may never result in actual cash payments. In addition, if CBL finds itself back in bankruptcy court at some point in the future, holders of the secured debt would be near the top of the priority order for a recovery, but if they received any preferred stock they would be near the very bottom.
Under the latest proposals, CBL will have to make cash interest payments on the new debt instead of no immediate cash payments on PIK preferred shares. This change results in less cash available to be paid to new common shareholders and would also leave much less cash to make much needed mall structural changes. Prior to bankruptcy they were in the process of changing traditional malls to town centers, but these changes take cash- a lot of cash.
Does the latest RSA indicate that they are now changing their future business model? Are they adopting what I call the "slum landlord" approach of doing only modest cosmetic changes while trying to get out as much cash from their deteriorating assets? Management's first conference call after they exit bankruptcy could be very informative about their future plans. Do they think the outlook for the REIT mall industry has significantly changed?
An important issue is what has not changed with any of the proposed plans and that is there are no changes at the specific property level. During the bankruptcy process one would expect that there would be a thorough analysis of each specific property to see if CBL should do what Brookfield Properties is reported to be doing with their Glenbrook Square mall in Fort Wayne-"give the keys" to the property debt holders. They seem to be willing to keep their current properties with only very modest asset sales. No major asset sales to raise cash are included in the Ch.11 reorganization plan. They also could be waiting until after they exit bankruptcy, because sometimes section 365 sales in bankruptcy result in getting much less than full market value for the sold asset.
Time Line
Judge Jones recently signed an order (docket 976) that extended the exclusive period to file a reorganization plan to May 31 and to solicit acceptance of the plan to July 29.
April 15 is the date set for a formal review by the NYSE of their decision to delist CBL common and preferred stock. Given the continued low trading prices, I would be surprised if the NYSE reverses their delisting decision.
The new RSA has milestones that should be easy to meet:
*25 days -file an amended reorganization plan and disclosure statement
*65 days-court approves disclosure statement
*180 days-reorganization plan is confirmed by the court
*Nov. 1-plan effective date
I am not sure why there is such a long time period between the 65 days to approve the disclosure statement and the 180 days for the plan to be confirmed. I wonder if the various parties are allowing for a potential fight over the plan.
Latest Financial Results
CBL still has not filed a 10-K or results for 2020. On April 1 they filed a notice with the SEC indicating that they plan to file an annual report before April 15. The only recent financial figures available are monthly operating reports filed with the bankruptcy court. These MORs do not follow GAAP and are unaudited. For example, one should not expect to make an accurate estimate for funds from operations available for common shareholders based on the reported MORs.
MORs are used by the US Trustee mostly to monitor cash. During bankruptcy, CBL is also not paying interest on pre-petition debt, except at the property level, so the monthly increases in total cash + marketable securities are misleading. At the beginning of November they had $103 million cash and $150 million in marketable securities. The total amount increased by about $74.2 million over the four months or an average of about $18.55 million per month.
For comparison purposes, their pre-bankruptcy 3Q interest expense was $61.1 million or an average of $20.4 million per month. Interest expenses, therefore, would not have been covered by cash received during the last four months (using accrual accounting for interest) if they were required to pay the interest during the Ch.11 bankruptcy process.
Summary Monthly Operating Reports

Source: Dockets 865, 866, 915, and 1010
At this point, we also do not know how much total debt payments at the property level are being deferred. The MORs only cover debtor entities and not the property level figures.
The latest MOR filed on March 31 still shows a $23.7 million in total trade accounts receivables that are over 91 days old and this figure does not even include "straight-line rent receivables, write-off of tenant accounts or accrued tenant receivables". I am hoping that their annual report will give more detailed information on this current asset they are carrying on their books and more information about write-offs of tenant accounts.
There were some financial projections released last October, but they most likely are outdated. It will be interesting to see the financial projections that will be included in their disclosure statement.
Conclusion
CBL is sort of a unique bankruptcy case because investors could see the changes in the terms of recoveries evolve during the very lengthy negotiating process to a final RSA. Investors should consider CBL a learning experience and realize that an announced RSA without any class of creditors 2/3 support, especially without bank lenders support, is not a legitimate RSA. Speculators need to be very careful about trading on shaky RSAs. The changes in the term sheets over the last 8 months are also possible indicators of changes in institutional investor's REIT mall outlook.
I am neutral on both CBL common and CBL preferred stock because of the lack of current financial data. I was originally expecting to be able to include some detailed financial analysis in this article, but because of the lack of filing a 10-K and annual report, it is difficult to do any accurate current valuations.
I strongly urge CBL traders to be cautious because the Consenting Crossholders could "bad mouth" the outlook for the new equity at the plan confirmation hearing so that any objections to them receiving a recovery package that is worth more than their allowed claims are rejected. Their comments could have a negative near-term impact on new CBL share price after they exit bankruptcy.