A New Hertz Chapter 11 Bankruptcy Plan Still Gives Shareholders Nothing
Summary
Hertz filed a second amended Chapter 11 reorganization plan on April 3.
Current Hertz shareholders still get no recovery under the amended plan.
Unsecured noteholders get 48.2% of the new Hertz stock and can participate in a rights offer to buy 38.4% of the new stock.
Dunlan, Centerbridge, and Warburg Pincus are the new plan sponsors replacing Certares and Knighthead.
Disclosure hearing is currently set for April 16.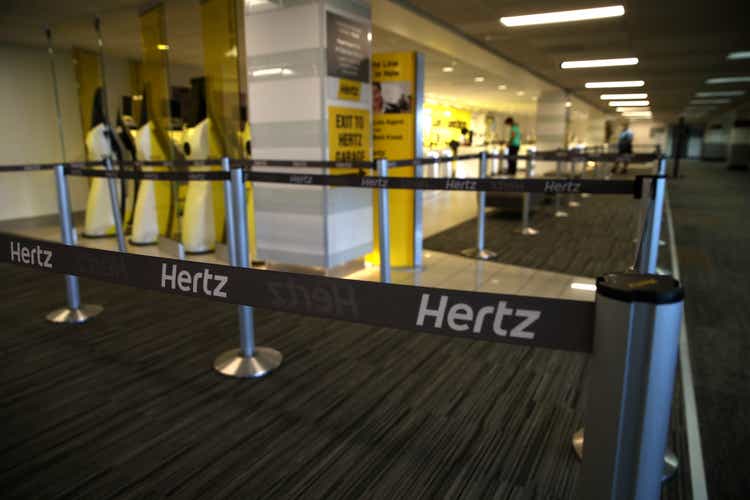 A second amended Ch.11 reorganization plan was filed by Hertz Global Holdings (OTCPK:HTZGQ) on April 3 (docket 3598) that has major changes for some claim holders, such as unsecured noteholders, but current shareholders still get no recovery and their shares will be cancelled on the plan effective date. The changes seem to be driven by extremely "hot" equity markets and not because of some major improvements in Hertz operations. Actually the latest monthly operating report indicates that they continue to have terrible operating results.
What Is Happening?
The best way to explain the latest developments is to read the details in an often mundane motion to shorten the objection period to file an objection to the disclosure statement (docket 3499) before the April 16 disclosure statement hearing. In Hertz's argument to justify shorting the objection period they state:
the equity and debt financing markets are currently extremely "hot." It is critical that the Debtors be able to capitalize on these market conditions to raise the billions of dollars of contemplated financing that will be needed under either restructuring proposal on the best possible terms...
In reality, I think it goes much further than that statement. Under the original Certares and Knighthead sponsored Ch.11 reorganization plan (docket 2912) that I covered in a prior article, it appeared that that new Hertz would not be a publicly traded company, but would become a privately owned company immediately after the plan effective date. Under the new amended plan sponsored by Centerbridge, Warburg Pincus, and Dundon, the shares will be publicly traded on the NYSE or NASDAQ. I am wondering if the various parties behind the new reorganization plan are planning to keep their new Hertz shares as a long-term investment in Hertz or are they expecting to just sell their new shares in the current "hot" (their word-not mine) market at prices much higher than the plan equity value would imply, which would mean their recoveries would be greater than their allowed claims? (I hope this question comes up at the confirmation hearing because I would love to hear the responses.) Trading in HTZGQ shares already has had some wild swings over the last year and Hertz even sold soon to be worthless shares in a stock offering that was approved by the bankruptcy judge last summer.
Second Amended Reorganization Plan
The easiest way to see the changes in the plan is to read the redlined filing (docket 3601) because it shows all the deletions and additions. According to a press release the plan is supported by over 85% of unsecured noteholders.
Current Hertz Shareholders
Current HTZGQ shareholders (Class 12) are considered impaired, but can't vote. They are presumed to have rejected the the plan. As stated in the disclosure statement:
Under the Plan, the existing equity of Hertz Parent, which is currently trading over-the counter (OTC) under the symbol HTZGQ, will be extinguished and cancelled and will entitle Holders of such interests to no rights whatsoever.
New Hertz Equity Ownership Under The Amended Plan
*48.2% by unsecured noteholders for their $2.75 billion claim
*9.5% Sold to Donlon for $400 million
*2% Sold to Centerbridge for $82.5 million
*2% Sold to Warburg Pincus for $82.5 million
*38.4% pursuant to a rights offer open to unsecured noteholders
(Note: subject to potential dilution from a management incentive plan and conversion of a new preferred stock.)
The plan equity value is $4.223 billion. This figure seems to me to be just an asserted value by the Plan Sponsors and not some value based on an independent financial analysis using projected income and balance sheet figures. They state the Debtor' (Hertz) advisor, Moelis & Co., has estimated an enterprise value and is included in Exhibit E, but Exhibit E has not been filed yet. In another part of the disclosure statement it states the enterprise value is $5.363 billion. Sorry, but I am always very cynical about the plan equity valuation process.
The rights offer is open to accredited investors and qualified institutional buyers who hold the unsecured notes. There does not seem to be any specific discount for the purchase of the new stock via the rights offer. Often there is a 25-40% discount from plan equity value. Interesting. One has to wonder if expected market value for the new shares by the Plan Sponsors is much higher than the 100% purchase price, which effectively would result in a significant (but unspecified discount) purchase price discount.
Raise $3.873 Billion Cash
*$565 purchase of new stock by Plan Sponsors
*$1.625 billion purchase of new stock via a rights offer
*$385 million purchase of 4% PIK Conv. preferred stock by Centerbridge and Warburg Pincus
*$1.300 billion exit term loan facility
Ad Hoc Committee of Shareholders
There is no Hertz official equity committee with members appointed by the US Trustee, but two law firms representing "Ad Hoc Committee of Shareholders" filed a "notice of appearance and request for service of papers" on April 1 (docket 3569). While there are no specific HTZGQ shareholding disclosures. the members include Glenview Capital, Discovery Capital, Two Seas Capital, and Alta Fundamental Advisers.
A note of caution regarding ad hoc committees: they do NOT always represent the interests of all HTZGQ shareholders-only themselves. At least it seems there will now be lawyers at the confirmation hearing and disclosure hearing. Most of the time, shareholders or their lawyer never even attend these hearings. They often just write letters that have little or no impact on the hearings. Just because shareholders are presumed to have rejected the plan, they do have standing and their lawyers can represent them individually or collectively at hearings.
I assume the Ad Hoc Committee of Shareholders will try to assert at the confirmation hearing that under the terms of of the plan, recoveries of unsecured noteholders are greater than their allowed claims. This may not be easy and could lead to a very nasty long confirmation fight. The estimates for plan equity values are most likely very different using a rational market approach compared to the current irrational pricing models used by some traders who are ignoring the latest monthly operating reports.
Another issue is potential profits from the rights offer. Some federal bankruptcy courts, such as the judge presiding over the Peabody Energy (BTU) bankruptcy a few years ago, do not consider potential profits from rights offers to be part of a recovery. They just consider them as potential profits/losses from new financing. (I am uncertain about Judge Mary Walrath on this issue.) It is critical to note that the recovery projections in the disclosure statements shows: "75% (plus the value of the Subscription Rights) (based on a common equity valuation of approximately as of the Effective Date of $4.223 billion)". Not all disclosure statements include "plus the value of Subscription Rights". This inclusion might become a critical issue at the confirmation hearing because it appears the Plan Sponsors are not disputing the issue that the value of the subscription rights should be factored into estimating unsecured noteholders' recoveries. If the Ad Hoc Committee of Shareholders can show that the actual equity value is much higher than Plan Sponsor's figures plus there is a very large potential profit from the rights offer, they might-repeat might-be able to make their case that the unsecured noteholders are getting a recovery greater than their allowed claims.
Latest Financial Results
Hertz filed their latest monthly operating report on March 31 (docket 3555). As I have stated in other articles, MORs do not follow GAAP and are unaudited, but they give some indication of current operations. These reports clearly show continued very weak operating results, despite much fewer current travel restrictions and widespread vaccinations.
Hertz Corp Monthly Operating Report

In the latest MOR, the reported February income before income taxes and earnings/losses from subsidiaries, but after adjusting for reorganization charges, was a staggering $177 million. That loss is just for one month. Hertz Corp also burned thru about $41 million cash for the month of February.
(There are still no financial projections or valuation analysis exhibits in their amended disclosure statements. These should be filed before the April 16 disclosure hearing.)
Conclusion
The Hertz bankruptcy case sure has been interesting. I already closed all my short trades months ago and I am just watching. The new Ch.11 reorganization plan does not seem to be based on current or even future operations, but it is based solely on a "hot" financial market. Traders need to be careful-you play with fire, you can get burned-badly.
I would normally would consider HTZGQ a strong sell based on the Ch.11 reorganization plan. Because of the very, very irrational market and because I do not have a good handle on how Judge Mary Walrath views rights offers and equity valuations, I have no opinion on Hertz securities. Neutral Rating.
Editor's Note: This article discusses one or more securities that do not trade on a major U.S. exchange. Please be aware of the risks associated with these stocks.
This article was written by
B.A. in Economics; M.S. in Finance. I usually write about distressed companies and companies in Ch.11 bankruptcy. I am semi-retired after spending decades in investments.
Analyst's Disclosure: I am/we are short BTU. I wrote this article myself, and it expresses my own opinions. I am not receiving compensation for it (other than from Seeking Alpha). I have no business relationship with any company whose stock is mentioned in this article.
Seeking Alpha's Disclosure: Past performance is no guarantee of future results. No recommendation or advice is being given as to whether any investment is suitable for a particular investor. Any views or opinions expressed above may not reflect those of Seeking Alpha as a whole. Seeking Alpha is not a licensed securities dealer, broker or US investment adviser or investment bank. Our analysts are third party authors that include both professional investors and individual investors who may not be licensed or certified by any institute or regulatory body.