Nevro: Harvesting An Epic Growth Opportunity
Summary
Painful diabetic neuropathy [PDN] is a condition that affects ~30% of diabetics; there are various treatments but no cure.
Nevro is advancing its application to the FDA for its spinal cord stimulation treatment of PDN with a potential launch later this year.
Nevro is guiding for a strong recovery in 2021, which is highly sensitive to COVID-19, with the bulk of PDN growth expected in 2022.
There are interesting undercurrents to consider before investing in Nevro.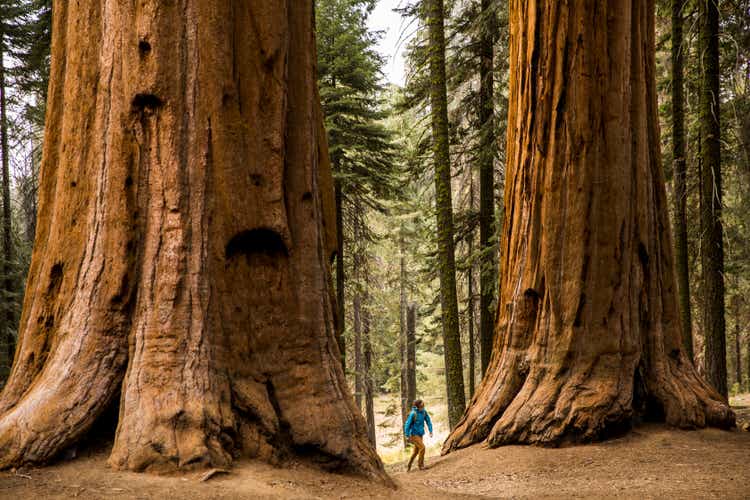 Nevro (NYSE:NVRO) is one of the major participants in the spinal cord stimulation [SCS] market competing with Abbott Laboratories (ABT), Medtronic (MDT), and Boston Scientific (BSX). This article reviews its current prospects with particular attention to significant market opportunities for its painful diabetic neuropathy [PDN] treatment which is currently under review by the FDA.
PDN is a serious chronic condition that afflicts millions of diabetics
PDN is a condition estimated to affect from 30%-50% of diabetics according to one study. It is an under-reported and under-treated condition that typically progresses in severity.
It is characterized by serious pain, morbidity and a decrease in quality of life. It also commonly leads to secondary complications including sores and infections, potentially giving rise to amputation.
The treatment paradigm for this serious condition is unsatisfactory as reflected by the following rundown of options from the American Academy of Neurology [AAN] on the pharmacologic and nonpharmacologic treatment of PDN.
: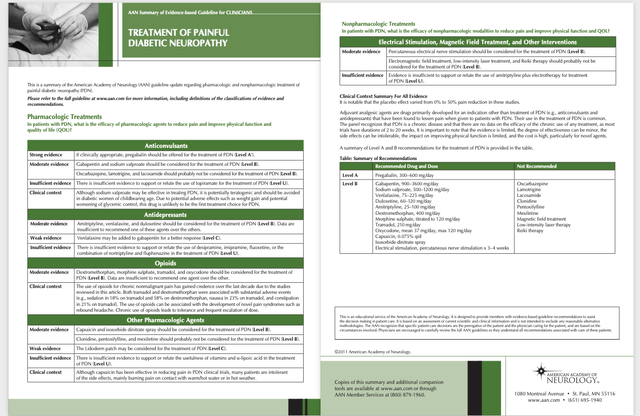 The following excerpt from the above AAN summary bears special attention:
Clinical Context Summary For All Evidence

...

Adjuvant analgesic agents are drugs primarily developed for an indication other than treatment of PDN (e.g., anticonvulsants and antidepressants) that have been found to lessen pain when given to patients with PDN. ... It is important to note that the evidence is limited, ... effectiveness can be minor, ... side effects ... intolerable, the impact on improving physical function is limited, and the cost is high, particularly for novel agents.
There is clearly a significant need for treatments that are shown to be effective for PDN.
Nevro's application to treat PDN was recently accepted by the FDA, paving the way for its potential launch in H2 2021
Nevro is readying itself for a launch in PDN later this year
As 2020 ran to a close, on 12/28/20 Nevro announced its PDN filing with the FDA, based on its clinical study of 216 patients at 18 medical centers in the United States. The study, the largest randomized clinical trial [RCT] of SCS to date, compares Nevro's HF10 therapy plus conventional medical management [CMM] in the treatment of PDN to CMM alone.
Its primary endpoint was:
... the difference in proportion of treatment responders at 3-month follow-up with all study participants continuing to be followed out to 24 months. This RCT is designed to provide safety and efficacy data, which will be used to support customer adoption and efforts to ensure adequate payor coverage of this procedure.
I discussed the study in detail at "Nevro: More Opioid-Free Pain Relief"; rather than repeat such discussion, I will simply set out the following study conclusions slide from Nevro's 2020 NANS presentation: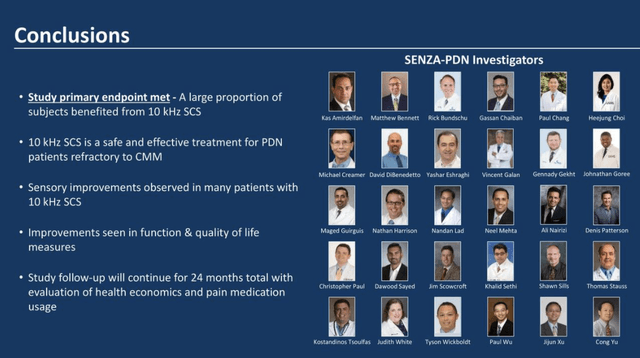 During Nevro's Q4 2020 earnings conference call it explored its expectations for PDN in detail given that the FDA accepted its PDN filing in early January:
FDA approval of its PDN treatment within six months of its acceptance;
Nevro's initiation of its launch in H2 2021;
mid-single-digit million PDN revenue primarily in Q4 2021;
significant PDN revenue contributions in 2022 and beyond.
Recognizing a potential for significant revenues, Nevro anticipates launch hurdles
The exciting news for Nevro bulls in connection with its PDN launch is exciting indeed. CEO Grossman makes this case during Q4, 2020 earnings call as follows:
....there are over 5 million patients in the U.S. diagnosed with PDN, and approximately 2 million of these patients are refractory to or failing conventional medical management and in need of a new solution to treat their chronic pain.

That represents a roughly $47 billion prevalence pool in the U.S. and an estimated annual incidence rate of approximately 5 billion.
Despite this huge market, harvesting PDN for Nervo will not be like shooting fish in a barrel even though it is setting itself up to be the first to market with an SCS approach to this indication. In order to succeed with its new approach to PDN, it has to prepare the market.
SCS is not like just popping a pill. It requires a procedure and it also takes confidence on the patient's part that this gizmo being implanted during the procedure is safe and reliable. In this regard, being first to market cuts out the word-of-mouth potential. Until Nevro's SCS in treatment of PDN gets established with patients, early adopters are going to be taking a leap of faith.
There will be some cohort of patients whose pain will compel them to try SCS. I expect that the majority of Nevro's initial PDN customers will be relying heavily on their doctors' advice. If so, we should expect a deliberate rollout over a period of years as Nevro works to prepare the market for this new advance.
Nevro's guidance for 2021 assumes a continuing pullback of COVID-19 restrictions
Moving on from PDN, this section addresses Nevro's 2021 guidance as revealed in its Q4 2020 earnings call. In discussing its 2021 guidance, CFO MacLeod started by noting that it was based on non-GAAP financial measures excluding certain expenses such as litigation expenses, interest and taxes and non-cash items.
During the pandemic, Nevro focused on cash preservation; it ended 2020 with cash, cash equivalents and short-term investments totaling $588 million. The impact of the pandemic going forward is uncertain. Nevro's guidance is highly dependent on its course which includes the assumption that conditions impacting Nevro will show a steady improvement quarter over quarter as 2021 unfolds.
In this regard:
... if the vaccine rollout takes longer, recovery is delayed, or patient willingness to seek treatment is slower than anticipated, or alternatively, if recovery is faster or there is a larger recapture of pent-up demand than anticipated, then any or all of these factors could quickly and easily impact our guidance range.
Given these caveats, Nevro guided for:
... worldwide revenue for full year 2021 of approximately $430 million to $450 million. This range assumes FDA approval of PDN at the beginning of the third quarter of 2021 and a mid-single-digit million-dollar revenue contribution from PDN in 2021 with the majority generated in the fourth quarter. For full year 2021, gross margin is expected to be approximately 69% as we will be incurring about 100 basis point impact to margins as we build out operations in the Costa Rica plant this year.
With considerable short interest, Nevro generates strong opinions as to its appropriate valuation
Nevro has strong, but opposing, evaluations from Wall Street and its quant screen
Nevro's (4/5/21) ratings summary panel shows a full range of opinions on the value of the stock: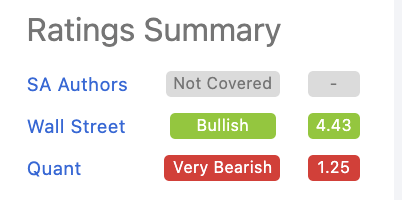 SA Authors have given it no recent coverage; Wall Street ranks it bullishly; its 4/5/21 quant ranking registers an abysmal "Very Bearish." Further pursuit of the Wall Street rating reveals the breadth of analyst support for the stock as quite broad with 16 analysts covering it; 10 are Very Bullish, the six who are less so are evenly split between Bullish and Neutral; none are Bearish:

As for the dismal quant rating of "Very Bearish," its support is less fortified. Consider the 4/5/21 quant rating summary below:

The rating breakdown shows it as graded "D" for Value, Momentum and Revisions. I consider these as indictments of its current price more than of its worth as an investment. I note also that these are scored as "D's", with nary an "F" to be seen. The important grades for Growth and Profitability at "C" and B+ are not bearish at all.
Keep in mind that I make no quibbles with the quant ranking system. It quite properly warns that Nevro sports a hefty valuation with a market cap of ~$5 billion. Further, its ratings must always be compared, not to the overall market, but to its defined universe of healthcare stocks.
Nevro is something of a battleground stock with strong supporters and growing short interest
The new year broke with Nevro under a strong short assault. On 1/7/21 Scorpion Capital issued the following: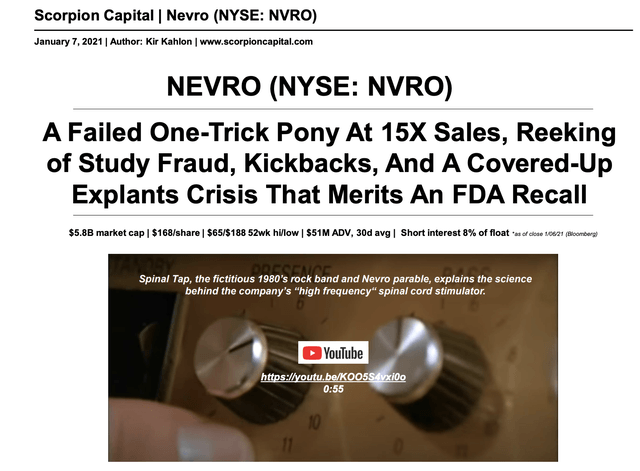 Despite this article's overweening and horrific claims, its impact on Nevro's share price was limited as shown by the chart below: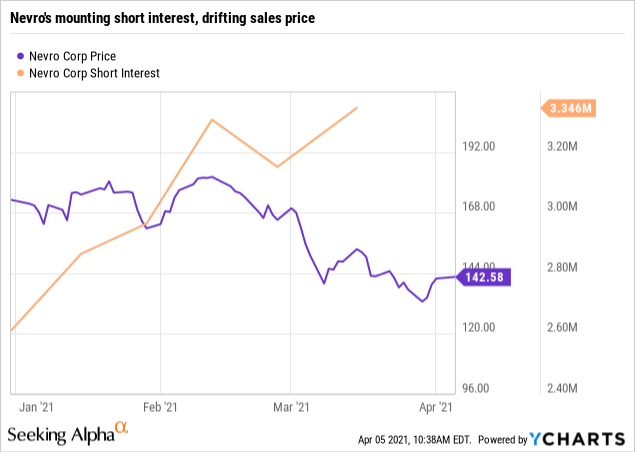 While the shares show little apparent impact on the long side, there has been a considerable build in short interest.
Conclusion
Nevro has had a challenging pandemic. Its revenues which have previously trended upwards took a nasty setback in 2020 as shown by the chart below from its latest 10-K (p. 1):

Guiding for a midpoint of $440 million for 2021, with prospects for a strong revenue boost in 2022 if the FDA approves its PDN as expected, Nevro is set for a solid recovery.
In order to support a bullish thesis for the stock I want to see it realizing its potential in PDN. For the time being, I am an interested observer. Its epic PDN growth opportunity is enticing; however, it is highly conditional, particularly in terms of timing. As an interested bystander, I will watch for more attractive entry points.
This article was written by
Writing under the pseudonym "out of ignorance", I very much regard investing as a learning process. Investing failures are tuition paid. Investing successes enter the trove of lessons learned. In my Seeking Alpha articles I share my experience from decades of investing and from ~5 years of focused research on a variety of stocks, in recent years with a primary emphasis on healthcare stocks. I greatly appreciate those who take the time to share their reactions to articles, particularly those who share relevant anecdotes and experiences.
Analyst's Disclosure: I am/we are long ABT. I wrote this article myself, and it expresses my own opinions. I am not receiving compensation for it (other than from Seeking Alpha). I have no business relationship with any company whose stock is mentioned in this article.

I may buy or sell shares in any stock mentioned over the next 72 hours.
Seeking Alpha's Disclosure: Past performance is no guarantee of future results. No recommendation or advice is being given as to whether any investment is suitable for a particular investor. Any views or opinions expressed above may not reflect those of Seeking Alpha as a whole. Seeking Alpha is not a licensed securities dealer, broker or US investment adviser or investment bank. Our analysts are third party authors that include both professional investors and individual investors who may not be licensed or certified by any institute or regulatory body.