Lockheed Martin Wins Development Contract Against Threats From Iran And North Korea
Summary
Lockheed Martin won nearly $10 billion worth of contracts.
Notable contracts are a competitive contract for the Next Generation Interceptor and Guided Multiple Launch Rocket Systems.
Several contracts demonstrate the forward-looking nature of defense developments and innovational drive of Lockheed Martin.
I do much more than just articles at The Aerospace Forum: Members get access to model portfolios, regular updates, a chat room, and more. Learn More »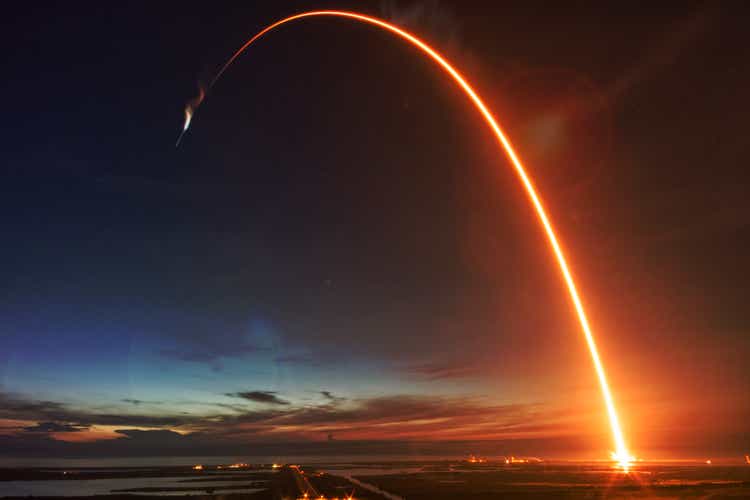 Lockheed Martin (NYSE:LMT) started the year with strong year-over-year increases in value following a trend that's visible in the past couple of years. The defense giant gathered nearly $8 billion worth of contracts including a multi-billion dollar contract to provide satellites for what will eventually be replacing the Space-Based Infrared System, as well as contracts valued hundreds of millions for air-to-surface missiles, anti-ship missiles and the VH-92 Presidential Helicopter Replacement Program.
So Lockheed Martin had a strong start of the year, and in this report I will have a look at the contracts that the contractor received in March 2021 to see which platforms drove the contract awards during the month and how it compares to the previous months but also how this year's order inflows compare to the same month in previous years.
Generally, I do believe that Lockheed Martin is positioned extremely well with its engineering capabilities and its product portfolio to provide and develop solutions to meet the need of the US and its allies.
Missiles boost Lockheed Martin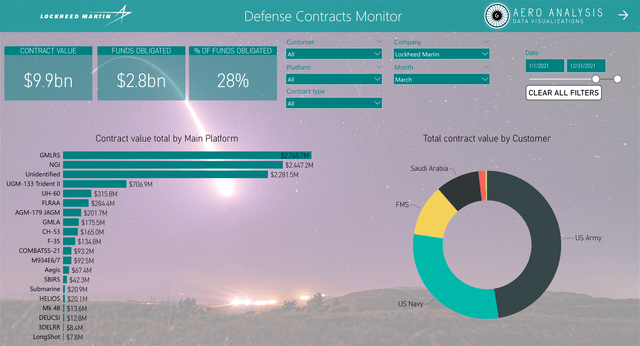 Figure 1: Lockheed Martin contracts in March 2021 (Source: TAF Defense Contracts Monitor)
In March 2021, Lockheed Martin received 37 contract awards valued $9.9B with $2.8B or 28% of the contract value being obligated at the time of the award. Month over month, the contract value increased from $1.5B to $9.9B, while the fund obligated at the time of award increased from $1.5B to $2.8B. So, there was an increase in month-over-month contract value as well as funds obligated but as a percentage of the contract value the funds obligated reduced from 97% to 28% which for clarity should not be considered worrisome. What mainly drove the month-over-month increase in contract awards are 2 $2B+ contracts and contracts for unidentified platforms. Together those contracts account for $7.5B in value in March.
The two identified platforms, the GMLRS and NGI, raked in $5.2B in value or over half of the contract value. The US Army ordered Guided Multiple Launch Rocket Systems (GMLRS) Alternative Warhead rocket pods, GMLRS Unitary Warhead rocket pods, Low-Cost Reduced Range Practice rocket pods, cybersecurity services, integrated product support and other services in a deal value $2.8B. However, important to note is that there were no funds obligated at time of award as funds would be obliged on individual task orders. It does seem that a first task order has been placed by the end of March for the production of more than 9,000 GMLRS Unitary and Alternative-Warhead rockets, more than 2,000 Low-Cost Reduced-Range Practice Rockets and integrated logistics support. The GMLRs is a surface-to-surface high-precision missile that can be launched from the High Mobility Artillery Rocket System (HIMARS) or from the Multiple Launch Rocket System 270 (MLRS 270) and comes in three variants, a Unitary variant with a 200 pound warhead and 70 km range, an Alternative Warhead variant with a 200 pound warhead, 70+ km range and mitigated side effects of unexploded ordnance and ER variant currently in development providing a 150+ km range.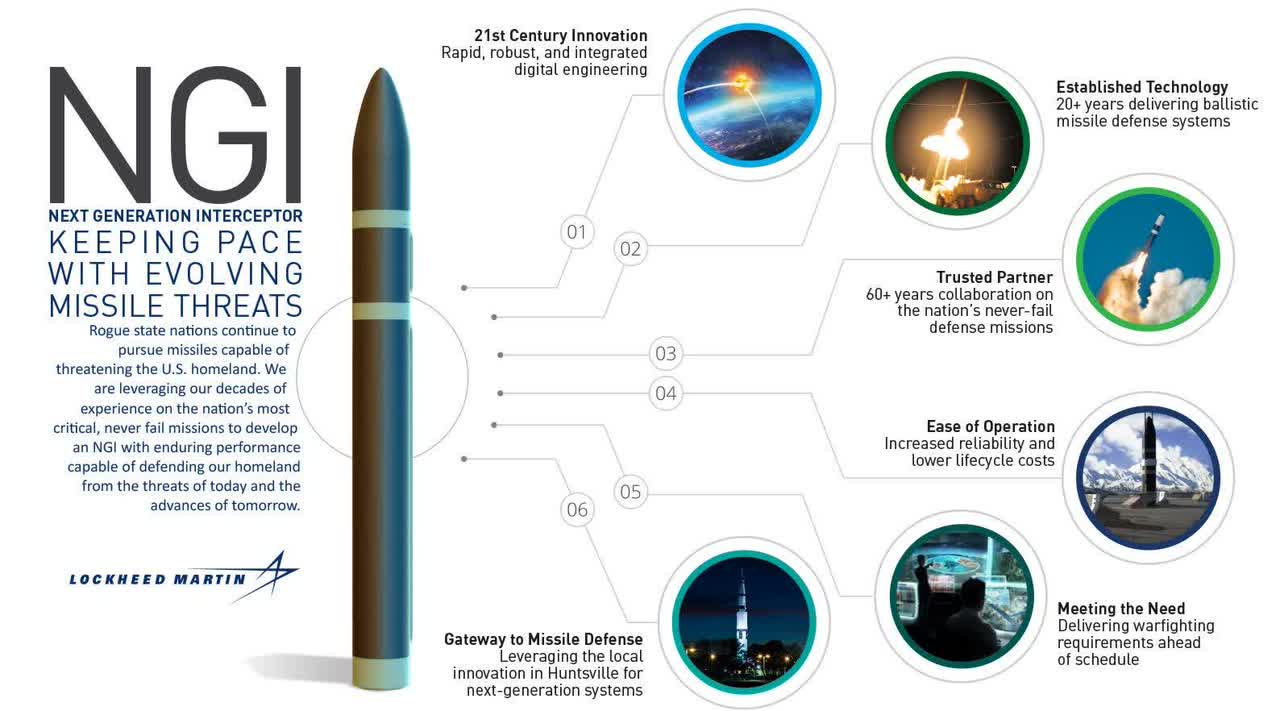 Source: Lockheed Martin
The contract I'm more excited about is the Next Generation Interceptor - NGI - contract that Lockheed Martin received. Lockheed Martin presents it as a $3.7 billion contract though it should be noted that the contract consists of a $2.45 billion base contract and $1.25 billion in options if funded through the full base period. The Next Generation Interceptor program aims to replace the Ground Based Interceptors (GBIs) as part of the Ground-Based Midcourse Defense for which Boeing (BA) is the primary contractor. The contract is competitively procured and Northrop Grumman (NOC) also is in the race, so this is a initial development phase contract and later on a final selection will be made but Lockheed Martin will be thrilled with the selection for sure. At this point it's unclear what the downselection means for Boeing's role as the primary contractor in the future, but it's likely a transition period between the current GBI and the NGI is needed. The Next Generation Interceptor program aims to replace the GBI meeting evolving requirements as long-range ballistic threats are mounting as North Korean and Iranian nuclear programs are believed to be potentially under development while China and Russia continue enhancing their nuclear deterrent capabilities. It's not to say that these offensive weapon systems will be deployed but next to evolving deterrent capabilities by various countries including the US, it is also needed to improve the missile defense capabilities if only to generate geopolitical leverage in some way. It simply is a lot easier to negotiate and negotiate from a position of power knowing that fire power and defense are strong.
Lockheed Martin also received around $2.3 billion worth of support services contracts for platforms that were not identified. So, there's nothing I can really add to that but there were some smaller contracts for the Trident D5 for engineering and technological support and materials as well as production and deployed system support. The Black Hawk platform received $315.8 million in contracts for support services and procurement of nine Army UH-60M, 15 Army HH-60M aircraft, 25 modified UH-60M Black Hawk aircraft in support of the Saudi Arabian National Guard and the exercise of six HH-60M aircraft. Also interesting was the $284.4 million contract for the Future Long Range Assault Aircraft for Competitive Demonstration and Risk Reduction Phase 2. The FLRAA program aims to develop a successor of the Black Hawk as part of a wider Future Vertical Lift effort.
In March, Lockheed Martin received $9.9 billion in contract awards which were almost fully funded with $2.8 billion obligated at time of award. Compared to the same month last year, the contract value increased by $1 billion, and the funds obligated at time of award declined from $8.3 billion to $2.8 billion. So, there's an increase in contract value for March but a decrease in fund obligated driven by the contracts for the FLRAA, NGI and GMLRS not being fully funded at time of award. Is it worrisome? Not at all. If the three aforementioned contracts would be funded at time of award that would have resulted in funds obligated at time of award being flat.
I also looked at the year-to-date numbers and those show an upward trend in the contract awards for the first three months of the year. With $17.8 billion in contract value, the year-over-year growth was $2.7 billion and generally we have been seeing increasing contract awards for the first three months of the year since 2018 when contract awards were valued $10.1 billion.
Obligated funds for the first three months of the year declined from $11.3 billion to $5 billion marking $6.3 billion decline, which again can partially be explained by future program contracts such as the NGI and the FLRAA as well as the GMLRS contracts. Those contracts are incrementally funded. The year-to-date numbers are comparable to 2018 ($5.6B) and 2019 ($4.5B) with $5 billion in obligated funds for the first three months in 2021.
Conclusion
Month-over-month and compared to the same month last year, the contract value increased. That was driven by two platforms having a combined value of 5.2 billion and $2.3 billion in services contracts. What I liked about the contract awards in March 2021 is the fact that there were contracts for future programs such as the Next Generation Interceptor and the Future Long Range Assault Aircraft focusing on enhancing capabilities in the future and deriving value from that as well as contracts such as for the existing Black Hawk and guided rocket systems. That is a blend of contract awards I like because it demonstrates the strength of the current product portfolio while also keeping an eye on the future.
I believe that going forward, Lockheed Martin is a nice name to have in your portfolio as the company continues booking wins in a challenging geopolitical playing field.
While monthly contract analyses are unlikely to change my sentiment, I do believe monthly contract tracking and visualization does provide a solid base to detect trends and show where the backlog is coming from providing detailed insights on where Lockheed Martin is winning (or not), and we can detect trends or trend reversals in appetite for weapon system orders earlier, which, ultimately, the informed investor can benefit from.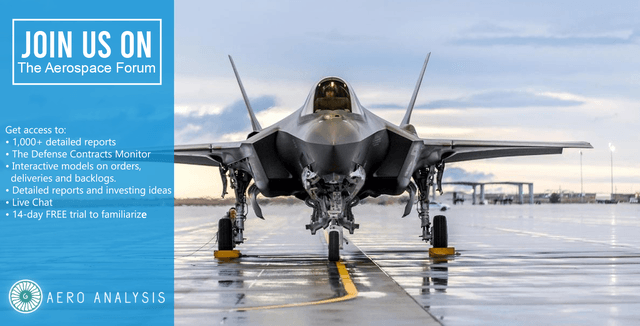 Join The Aerospace Forum today and start your flight to growth!
This article was written by
In-depth insights from an expert on the aerospace and airline industries
Dhierin is a leading contributor covering the aerospace industry on Seeking Alpha and the founder of
The Aerospace Forum
. With his Aerospace Engineering background he has a more indepth knowledge about aerospace products enabling him to cover a complex niche. Most of his reports will be about companies in the aerospace industry or airlines industry, comparing products and looking at market forecasts providing investors with unique and thorough insights. Dhierin has accumulated
nearly 20 million views
never failing to spark healthy and thoughtful discussions for investors and aerospace professionals.
His reports have been cited by CNBC, the Puget Sound Business Journal, the Wichita Business Journal and National Public Radio. His expertise is also leveraged in Luchtvaartnieuws Magazine, the biggest aviation magazine in the Benelux.

AeroAnalysis offers wide variety of services, ranging from providing data and cost models to consultancy possibilities. Check out
our website
for more information. Though we believe in the strong nature of our analysis, we are in no way giving buy or sell recommendations and advise everyone to do their own due diligence before making investment decisions.
Analyst's Disclosure: I am/we are long BA, EADSF. I wrote this article myself, and it expresses my own opinions. I am not receiving compensation for it (other than from Seeking Alpha). I have no business relationship with any company whose stock is mentioned in this article.

Due to local restrictions, I am unfortunately not able to buy shares of several Defense companies via my broker. That is the reason why I have no position in Lockheed Martin.
Seeking Alpha's Disclosure: Past performance is no guarantee of future results. No recommendation or advice is being given as to whether any investment is suitable for a particular investor. Any views or opinions expressed above may not reflect those of Seeking Alpha as a whole. Seeking Alpha is not a licensed securities dealer, broker or US investment adviser or investment bank. Our analysts are third party authors that include both professional investors and individual investors who may not be licensed or certified by any institute or regulatory body.