AST SpaceMobile: 20-100x Return Or 100% Loss, It's A Binary Bet
Summary
Using patented and patent pending phased array antennas in space, AST SpaceMobile has found a way to connect your cell phone to satellites.
This tech works with any cell phone. No special equipment. Not even an app. You can be stationary or moving, such as in a car or on a plane.
$1 trillion TAM for wireless services, 5 billion cell phones currently move in and out of coverage, 51% of global population lacks mobile broadband.
Lucrative 50/50 revenue sharing agreements with AT&T, Vodafone, American Tower, Liberty Latin America and Telefonica, among others.
The opportunity is massive, but so is the graveyard of failed satellite telecom companies.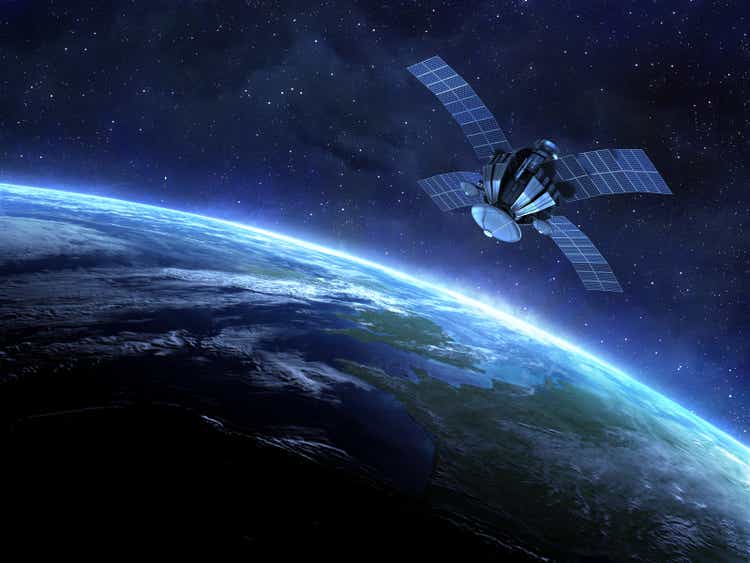 On April 6th, New Providence Acquisition Corp. (NPA, NPAUU, NPAWW) is slated to de-SPAC and become AST SpaceMobile (NASDAQ:ASTS).
It's said that as a dog returns to his vomit, so a fool repeats his folly. Could the same be said about me and my enthusiasm for this deal?
Perhaps.
However, there are stark differences between this company and the similar one I bought over twenty years ago, Globalstar (GSAT). Back then, the ticker was GSTRF. In case you're not familiar, Globalstar operates a network of low earth orbit satellites for phone and data services.
It was one of the very first stocks I bought. The year was 2000 or 2001 and I was 14 or 15 years old. Cell phones had just started to go mainstream. It was obvious that everyone would soon have them, however it was also obvious - upon studying the technology - that there would forever be gaping holes of coverage in rural and remote areas, as well as among mountains and similar obstructions.
Satellite phone service appeared to be the only viable solution and hence, it should occupy a decent niche of mobile telecommunications. Well, it ended up being too niche.
Why have sat phones failed?
I was right about those aforementioned areas never getting coverage. I was wrong about satellite being used to fill that void. Not that they couldn't fill the void but rather, there was no economical or user-friendly way to do so.
Separate satellite phones were and are needed. Back then, they cost a few thousand dollars. In addition to buying this bulky device, you needed to subscribe to another monthly phone plan through Globalstar, Iridium, or Inmarsat. A few dollars per minute for your talk time. Is it any wonder that these never went mainstream?
It's not that we - as average consumers - aren't willing to pay more to get coverage when we're say, on a hike, camping, or driving in the middle of nowhere. The problem is the hassle of getting that coverage. You're not going to go buy a bulky sat phone and usage plan just for some sporadic lack of coverage.
On the other hand, what if you could get satellite coverage (1) with the same phone you own right now, (2) without having to subscribe to a satellite phone plan, and (3) for a really cheap price?
That is exactly what AST SpaceMobile will offer you. Or at least, it is if their technology works as claimed.
Sounds impossible, but it's not.
The first phase of their system will involve 20 low Earth orbit (LEO) satellites, placed into orbit during the second half of 2022. These will be at an altitude of 720 km/447 miles.
Now you may be thinking "I only get two bars of coverage and there's a big ugly cell tower a quarter-mile away. How the heck am I going to get a signal from 447 miles?!"
Actually it will be from further than 447 miles, because that distance would assume the satellite is directly overhead your location. Before you say this is all nonsense, consider this...
Using just a 3.7-meter (12 ft) antenna, right now Voyager 1 - which is the deep space probe launched over 43 years ago - is communicating with us from over 14,000,000,000 miles away. It's in interstellar space, outside our solar system.
Not to get too technical here, but in short, the further away an object is, the larger the antenna you need. In other words, you can compensate for great distance with great size, if you know exactly where to look.
SpaceMobile isn't changing the size of the antenna in your phone but they are changing the size on the other end, in space.
SpaceMobile is somewhat secretive on exactly how they are accomplishing this, however you can deduce an answer from a cursory look over their 1,000+ patent pending and patented claims (to be clear that's the number claims, not number of patents). In a nutshell, they are using really big antennas!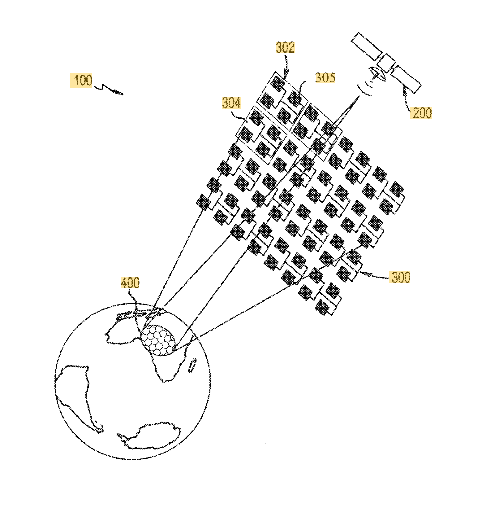 Image source: company patent application
Each satellite will have up to 900 square meters of phased-array antennas. That's up to 10x bigger than other communication satellites. Furthermore, it sounds like they will be operating in a phased array. That means there will be multiple satellites acting as one.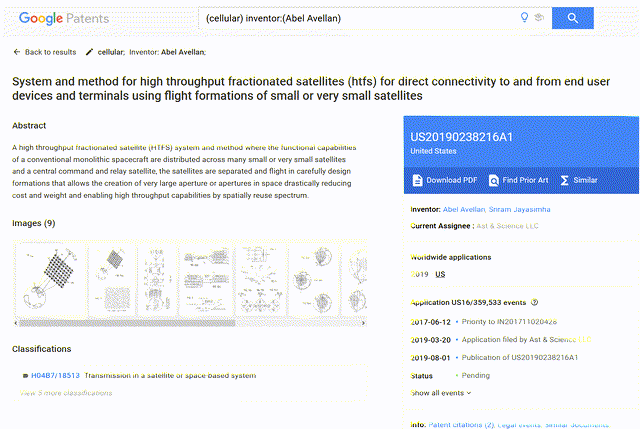 This is the same approach used for Very Large Array (VLA) radio telescopes, which work together as one. One dish, in itself, may not detect faint cosmic radio waves. When they work in sync, they can.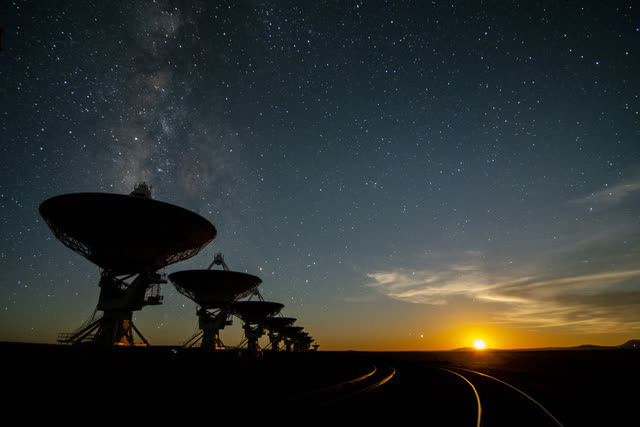 Image source: NRAO/AUI/NSF; J. Hellerman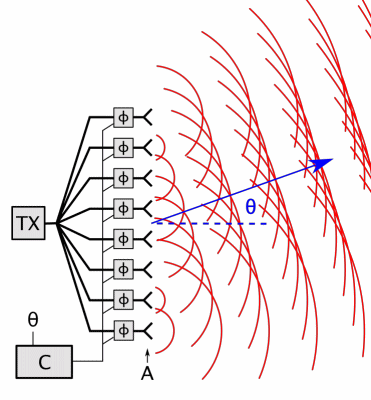 Image source: Wikipedia
When you consider this approach, it makes sense how your iPhone might be able to connect to something 500 miles away. The ratio of your phone's antenna to the satellite's antenna size is probably not much different than here on land, with your phone relative to a traditional cell tower a few miles away.
Of course, what works in theory rarely seems to turn out that way in real life. Fortunately, we can cross the worry off the list, at least in the most basic sense. In 2019, AST SpaceMobile launched a prototype satellite called BlueWalker 1. With that, they were able to demonstrate that indeed, a normal cell phone could communicate with it.
Obviously a brief test is a far cry from launching and managing a network of satellites, which not only need to juggle millions of connections, but also navigate and sustain their orbits safely. Per NASA:
"For the completed constellation of 243 satellites, one can expect 1,500 mitigation actions per year and perhaps 15,000 planning activities. This would equate to four maneuvers and 40 active planning activities on any given day."
Sounds like a lot of things can go wrong. However, if this feat was truly unrealistic, then I don't think we would see the investors and partners this company currently has.
The business model
What I like best about their strategy is that they are complementary - not competitive - with traditional cell phone providers. Rather than try and offer a stand-alone cell phone network, AST SpaceMobile will be offered as an upgrade to customers on existing networks from major providers including AT&T (T), Vodafone (VOD), Telefonica (TEF), Liberty Latin America (LILA), and many others. This offers several advantages:
Built-in customer base - Across their partnerships, they will have access to 1.3 billion existing customers.
Minimizes OpEx - Marketing, billing customers, and providing customer service will be the burden of the partner mobile providers, not AST SpaceMobile.
Attractive revenue split - According to the investor presentation from December of last year, it's a 50/50 revenue split with partner providers.
Furthermore, many of their partners have a vested interest in seeing AST SpaceMobile succeed. In addition to the $232 million coming from the SPAC, there is $230 million from Rakuten, American Tower, and Vodafone, and others. They too bought stock at $10/share. Some partners, particularly Rakuten, have a lot more on the line - it has previously invested in the company. If the technology was a scam or pipe dream, I don't think we would see these names in it.
In terms of market opportunity, the examples I cited at the start are first world problems. I mentioned them only because they are likely relevant to readers on this website. However, getting cell reception on a hike or a rural highway isn't what excites me about this company. Those are small potatoes.
What intrigues me about this technology is its potential for bringing cell service to the billions of people worldwide who don't have it, or only have very limited access to it. If we just keep using terrestrial cell towers, that won't change. It simply isn't economical or practical to build out that infrastructure in much of the world. If AST SpaceMobile succeeds, we're talking about the potential for billions of people to be affordably and constantly connected via voice, text, and mobile internet. The opportunities that could offer them are endless.
The leadership
In December I wrote about another space SPAC, Momentus (SRAC). If you would have bought then, you would have had the opportunity to offload for almost a double a few weeks later. Although I didn't do so anywhere near that top, I did offload enough later on to cover my cost basis.
In that article, I made clear my reservations about the CEO and whether he has what it takes, or whether he can legally even work for the company due to him being a Russian and the national security laws relating to that. The valuation and very early stage was and is also concerning.
Now with AST SpaceMobile, Rocket Lab (VACQ), and Astra (HOL), I feel there are better risk/reward opportunities for space in the public markets.
The way I feel about the CEO of AST SpaceMobile is the opposite of how I felt about Momentus' former CEO.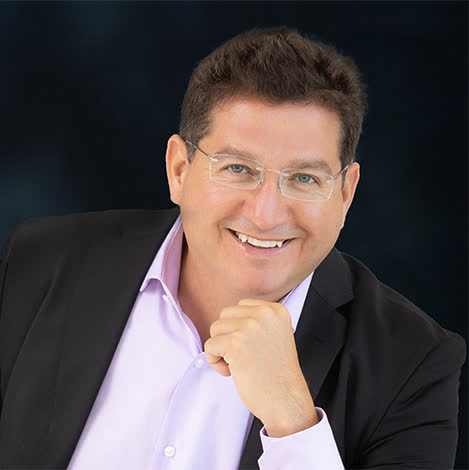 Image source: company
Abel Avellan is the founder, Chairman, and CEO of the company. He's had a long successful career in the satellite industry. In 2016 he sold EMC for $550 million (not to be confused with the EMC acquired by Dell). The EMC he sold was Emerging Markets Communications. It was a leading satellite provider for maritime. Prior to that, he started and sold several businesses. Since he founded AST SpaceMobile with his own money and will own a large chunk after de-SPACing, you can bet he will do everything he can to make it succeed.
It would be remiss of me to not mention Nanoavionics. With 90 aerospace engineers and over 85 nano-satellite missions under their belt, AST is also the controlling investor of this satellite company and Avellan is the chairman.
AST SpaceMobile vs. SpaceX Starlink vs. Amazon's Project Kuiper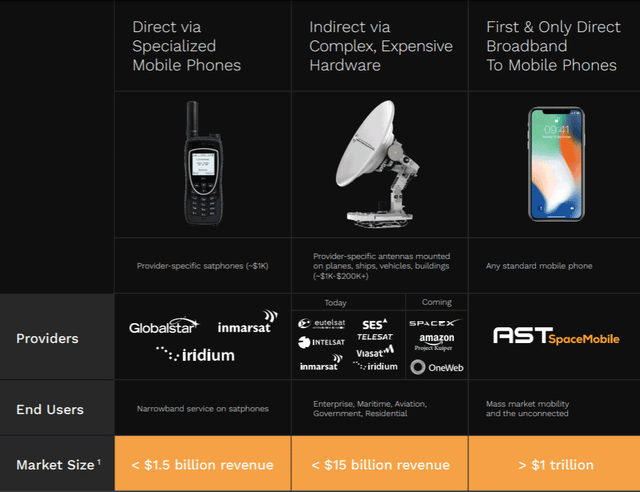 Source: Investor Presentation dated 12-15-2020
They're not a direct competitor to Starlink or Project Kuiper. Those offer broadband internet service which requires bulky specialized hardware. AST SpaceMobile is offering cellular broadband on regular mobile phones.
Naturally, there will be areas where all three companies overlap and may potentially compete. Perhaps a person uses their cell phone over WiFi, which has an internet connection via a stationary Starlink unit. However with the differentiator being no specialized equipment needed, AST SpaceMobile is truly in a league of its own.
That being said, there are other potential competitors lurking under the radar:
Lynk Global is a small private company aiming to connect to cell phones via more traditional technology; low orbit satellites using more traditional antennas. Interested in hearing more and possibly investing, I have contacted two different people at the company over a month ago and neither have responded to me.
The valuation
New Providence Acquisition Corp. has $232 million in trust. There are $230 million in PIPE commitments, which includes some of the aforementioned strategic partners. Assuming it de-SPACs, this is what the ownership will look like:
43% of shares will be held by Founder and CEO Abel Avellan
28% by other existing shareholders
13% by the PIPE investors
16% by the SPAC shares
The company would have no debt. At the $10 per share valuation, this means a pro forma enterprise value of about $1.4 billion. AST SpaceMobile would have $423 million in proceeds which they claim is enough to fully fund their commercial launch for Phase 1 (equatorial constellation). According to their investor presentations, this is 1.4x 2024 estimated EBITDA of about $1 billion. If they're successful, that would just be the tip of the iceberg…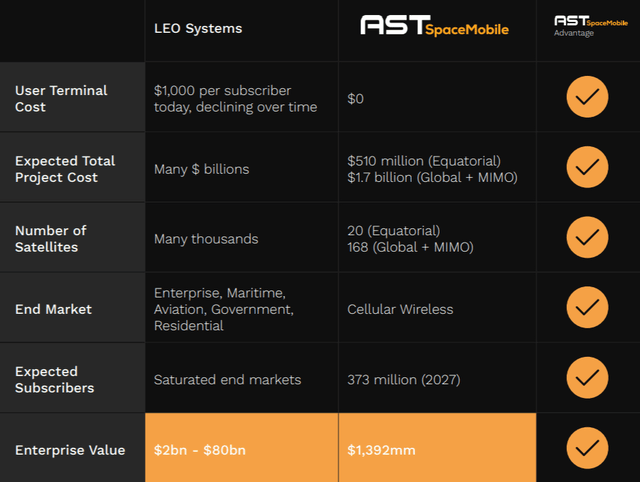 Source: Investor Presentation dated 12-15-2020
By the end of this decade, they project $16 billion in unlevered free cash flow: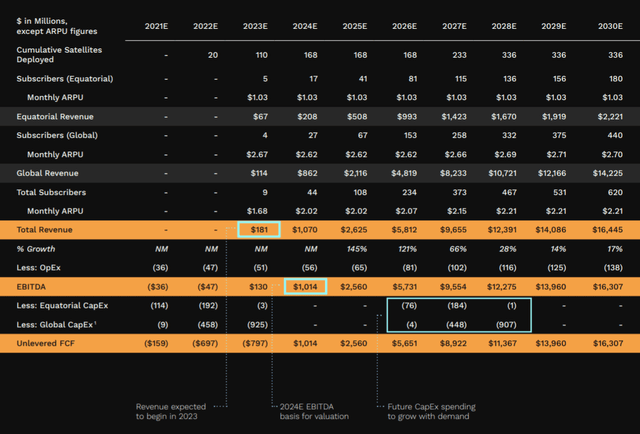 Source: Investor Presentation dated 12-15-2020
Slap a reasonably conservative 17x multiple on the 2030E and you have a market cap of $272 billion. In other words, a potential for up to a 100x return, even when factoring in future dilution.
The risks
The technology doesn't work as expected. This is the biggest risk and frankly, a very real possibility. For that reason, I see this stock either going to zero or paying off big. It offers a binary outcome, not much of a middle ground.
Competitors. Even if AST SpaceMobile gets a lock on using phased array configurations for connecting to cell phones on earth, there is probably more than one way to skin a cat. Even if Lynk Global has tech which succeeds, there should be room for both. Albeit, it will decrease the potential returns dramatically. If a third or fourth player comes about, the field becomes crowded.
In short, make no mistake about it, AST SpaceMobile is extremely speculative and has a reasonable chance of failing and going to zero. In fact, based on the decades of failures in the satellite communication graveyard, statistically speaking, there is actually a high probability that AST SpaceMobile will fail. On the flip side, if they are right, the payoff will likely be better than a roulette wheel landing on your number.
Going back to the potential for competitors, another thing I like about SpaceMobile is that many of their cell service partners have invested a decent chunk into the company. So even if a competitor comes along who is on par, they still have a vested interest in sticking with SpaceMobile and seeing them succeed.
Lastly, in our bubblicious markets, the question isn't what's cheap but rather, what's less expensive. To be blunt, given the immense risk and likelihood of failure, I would say a fairly generous enterprise value for AST SpaceMobile at its current stage of development would be $250 to 700mm. However, they still look less expensive - on a risk/reward basis - when you compare to Momentus, Virgin Galactic (SPCE) and others in the sector.
What I'm doing
I made my first purchase the day the deal was announced, on December 17th. Upon studying the technology, the competitive landscape, and the management these past few months, I have continued adding on an almost weekly basis, with a current weighting that is about 100-fold higher than my initial purchase. I hold a combination of the stock (NPA), the warrants (NPAWW), and the units (NPAUU).
This may very well end up being a redux of my Globalstar, albeit with a lot more money lost. This is the risk you need to accept if you buy at this stage.
This article was written by
I prefer to buy long term winners when they have short term problems. You may call them falling knives, I call them being on sale. Most of what I buy is with the mindset of never selling, or at the very least, holding several years. With a long to very long term horizon, volatility doesn't bother me too much. I've been investing for over 20 years now, through 3 major bubbles (dot com, GFC, and the present). I saved up $500, the minimum deposit required to open an UTMA brokerage account, in middle school. I convinced my grandpa to co-sign the account, despite the fact that he nor anyone else in my family owned stocks or any other investments (aside from CDs). Investing has been my foremost interest for as long as I can remember. While classmates may be reading Harry Potter, I was into Security Analysis and the like. Although I grew up trying to emulate the Buffett style, I morphed into more of a Munger mindset. Today, probably Mohnish Pabrai would best reflect my philosophy of favoring undervalued, while not outright ignoring generational growth opportunities. I have been self-employed my entire life and for the last several years, have been investing full time. Prior to that, for 6 years I ran an online business in the credit card space. I started it the same month Bear Stearns went under and despite my poor timing and the fact that all my customers (banks) were in trouble, I maintained profitability every quarter and never took any outside investments or loans. Eventually I sold it to a publicly traded internet company.  While running that business, the cash flow coming from it afforded me the opportunity to make high risk, high reward investments in private biotech companies. Two went public. Life sciences is a great interest/hobby of mine but because it evolves so rapidly and requires immense amounts of continuous due diligence, it is something I now only do on the peripheral of my portfolio. While the vast majority of what I buy may be considered boring, I do make investments in some highly speculative stocks.  Lastly, while I mostly agree that you generally lose more money preparing for a crash than you do in an actual crash, I like to keep a healthy cash allocation on hand for those opportunities when everyone else is panicking. For those funds I prefer munis and in fact, have been betting on long duration for nearly a decade now. Contrary to the prevailing mindset this last decade, there's far too much debt to sustain higher rates for any meaningful amount of time. I have been on Seeking Alpha for at least a decade but did not start writing on here until 2020, due to boredom during covid. Even more than parking, I despise paying for investment research. As such, I will only write about one article on here every 30 days, which is the minimum required to maintain SA Premium access. I would rather slit my wrists than charge you for my content, so you won't see a marketplace service from me. Raised in Michigan, live in Manhattan Beach, CA.
Analyst's Disclosure: I am/we are long ASTS, NPA, NPAUU, NPAWW, VACQ, HOL, LMT, T. I wrote this article myself, and it expresses my own opinions. I am not receiving compensation for it (other than from Seeking Alpha). I have no business relationship with any company whose stock is mentioned in this article.
Seeking Alpha's Disclosure: Past performance is no guarantee of future results. No recommendation or advice is being given as to whether any investment is suitable for a particular investor. Any views or opinions expressed above may not reflect those of Seeking Alpha as a whole. Seeking Alpha is not a licensed securities dealer, broker or US investment adviser or investment bank. Our analysts are third party authors that include both professional investors and individual investors who may not be licensed or certified by any institute or regulatory body.