180 Life Sciences Continues Uptrend With Cannabinoid And Anti-Inflammatory Research
Summary
180 Life Sciences, a clinical stage research company, went public last November.
The company brings together six scientists famous for their work in anti-inflammatory research.
They have several projects underway, one of which uses cannabinoids to treat arthritis and chronic pain.
The company has proceeds from Direct Offerings and Private Placement.
The company's stock price has increased 182% in 3 months and should be watched for a potential 43% profit.

180 Life Sciences (NASDAQ:ATNF) merged with KBL Merger Corp. IV and went public last November. The company brings together six famous medical researchers/doctors who have proven track records in anti-inflammatory treatments, running clinical studies, and bringing drugs to market. The co-founders of the company paved the way for ant-inflammatory drugs like Remicade and Humira, which are used to treat Crohn's Disease and other chronic illnesses.
The company has potential for both value and growth. Their research shows promise and the market for anti-inflammatory drugs are growing. Their business strategy is twofold: to find new applications for existing anti-inflammatory drugs and to find new anti-inflammatory drug candidates like cannabinoids. The company has low operating costs because most of their research is paid for by grants. Their stock price has been on an uptrend at 182% in three months. There is no revenue or future revenue, so the investor must consider their research and business potential.
The company specializes in the application of anti-TNF (tumor necrosis factor) antibodies, which treat autoimmune inflammatory diseases like rheumatoid arthritis, ulcerative colitis, and Crohn's disease. These are all conditions where the body's immune system causes harm to the body. The company believes that other diseases may be treated with anti-inflammatory antibodies. The drug market for anti-TNF drugs makes up about $40 billion per year and the co-founders of the company pioneered this market through their research and business dealings.
The company goes public with four pre-clinical studies and three clinical stage studies. They have a grant-funded Phase 2b/3 clinical trial that applies anti-ATNF drugs to early stages of Dupuytrens' contracture, a fibrotic disease of the hand. They expect results from the study by the end of Q4-2021. Currently, there is no known early treatment for the condition. The company is presenting the first treatment using an already existing anti-ATNF drug. Their study has administered all doses and is now awaiting results of efficacy. This treatment may be the first to-market event for the company.
The company's research pipeline shows many different studies at different stages. There is grant-funded study, set to begin Q3-2021, which looks at the early intervention of Frozen Shoulder with anti-ANTF drugs. And another study is set to begin in Q2-2022, which uses anti-ANTF antibodies to treat post-operative cognitive delirium disorder.
Other Preclinical studies from the company include the treatment of NASH (nonalcoholic steatohepatitis), sometimes called fatty-liver disease, and the treatment of ulcerative colitis in ex-smokers using anti-inflammatory agonists. The company has gained patents for each of these applications, both pre-clinical and clinical.
The company's research is unique because it offers the first known early treatments for these conditions and is using already established drugs. According to a recent company presentation, the combined American and European markets for the treatment of Dupuytren's Disease is $4.5B. The company is also discovering new anti-inflammatory drugs with innovative treatments.
Professor Raphael Mechoulam, the man credited with discovering the human endo-cannabinoid system, is one of the company's co-founders. His pre-clinical research aims for an FDA-approved synthetic cannabidiol analog for treating chronic pain and arthritis. His studies are set for Q3-2022 and Q1-2024. His research is unique because it looks for a novel treatment using cannabinoids which are 99.5% pure, consistent from batch to batch, increased potency, and increased bioavailability. If successful, Mechoulam will have discovered the next version of aspirin, but with more effectiveness. The market potential for a novel treatment of arthritis and chronic pain using CBD derivatives is robust to say the least.
Financials are fine for clinical research
| | |
| --- | --- |
| Amount in $US | Q3 Sept 30 2020 (updated Feb 5 2021)* |
| CAP | 125M (as of 4/6/21) |
| Share Price | $7.10 |
| EV | 130M |
| | |
| Cash | 473K |
| Assets | 11.024M |
| Debt | 316K |
| Accounts Payable | 2.399M |
| Liabilities | 6.276M |
| Net Loss | 3.349M |
*Financials taken from 180 Life Sciences and reflects their amended 10Q filing.
Because the company is classified as Emerging Growth, their financial statements do not yet have full disclosure. The company has filed amended Q3 reports to reflect their financials post-merger. In February 2021, the company made Direct Offerings and Private Placements and brought in $11M in proceeds. Most of these proceeds were put in a trust consisting of US Government securities. The remaining proceeds will be used to expedite clinical studies and to run operations.
The company brought down their convertible debt to $473K and their research is mostly funded through grants. Although there were large operating costs associated with the merger, the company looks forward to lower ones in the future. Currently, their assets outweigh their liabilities. Because the co-founders and lead scientists work in large research universities, they do not have large overhead costs for conducting research. Grants cover most of the work. Other costs associated with gaining patents and gaining approval for clinical research can increase operating costs.
A research company is evaluated by the outcome of their clinical studies and the potential applications of their research. Because of the long nature of studies and bringing treatments to market, there is no expected revenue or earnings surprise. The company's Q4 reports were supposed to be announced after-market on March 30, 2021, but the company filed for an extension. As the company becomes known for their current clinical studies, their stock price will increase and so will their total evaluation.
Stock price is on an uptrend with periodic rallies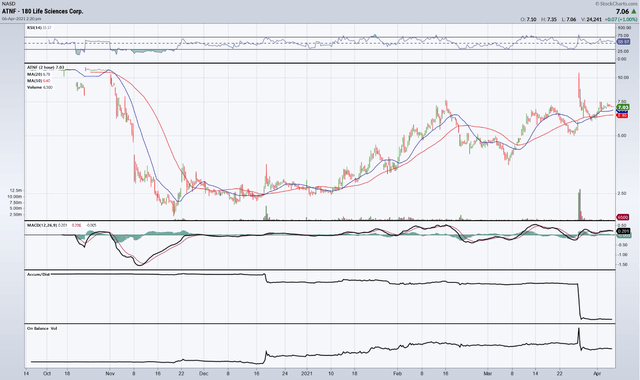 1-yr price chart from www.StockCharts.com
The stock price began at $10 per share back in November. Since then, the price destabilized and began a slow five-month uptrend. The price has increased 178% in three months and 74% in one month. Its year-to-date performance is 157.50%. On Balance Volume and overall trading volume have been steadily increasing since the public listing. The stock is on a long-term uptrend, moving towards its original listing price. It has traded above its 20 (14.5%) and 50-day (32.5%) moving averages. It is currently experiencing daily movements and break-out conditions.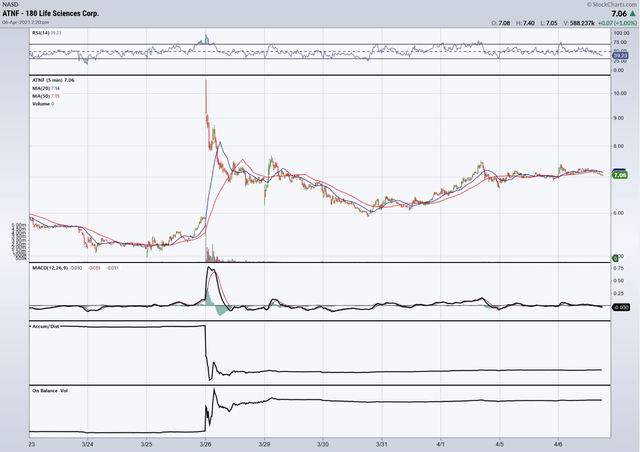 10-day price chart from www.StockCharts.com
Within the last ten days, the stock price experienced a large rally based on a press release of their research. The price is up 14% in the last seven days. Investor sentiment heavily increased from the news, but it seems that traders took advantage of the rally to recover loss or take profits. The price destabilized after the rally and is currently tempting a new price channel between $7 and $7.50. As news of their research continues to become known to investors, their stock price should continue its uptrend.
A long-hold strategy
A long-hold strategy should be used to gain profit from 180 Life Sciences' research agenda. The entry price is impressive, since it is trading at a bargain from its original list price. If we assume the stock will be back to $10 per share within a year or more, consider the profit potential. If the stock price moves to $10, an investment now would gain 43% profit. Drugs like Humira have revenues of around $7B per year. There is potential for long-term growth. News of the results of the company's current clinical study on Dupuytren's Disease will, if positive, cause a new rally in the stock price. The timing is set for Q4-2021.
Risk: Moderate to low
The long-hold strategy comes at a moderate to low risk. There are no apparent financial issues with the newly formed company and the co-founders have a proven track record of success. The investment strategy must come with patience and stop-loss. It may take some time for the news to spread about their innovations and applications.
There are inherent risks in an investment with a pre-clinical and clinical stage biotech company. Clinical stage research results may be positive or negative. Pre-clinical stage research can be delayed due to scientific finds during the process. If the market for anti-inflammatory medicine changes, then revenue potential goes down. Research funding may also be lost if the academic climate undergoes change. None of these items are currently at play with the company, but should be considered.
Conclusion
180 Life Sciences is a newly listed clinical stage biotech company which you ought to watch. The company was formed by six expert scientists who have already revolutionized the field of anti-inflammatory treatments. Their current pre-clinical and clinical research is available for investors to consider. The company's financials are in good shape for their business strategy. Their research and patents are already in advanced stages. The company's stock price has been up-trending with rallies from news of their research. I recommend a long-hold strategy for a possible 43% profit over the next year.
This article was written by
Welcome to the home of The Cannabis Report: a monthly report on the cannabis industry. I am an analyst and consultant in the cannabis industry. I have contributed to High Times Magazine. I currently have a book out, Cannabis in the Ancient Greek and Roman World. I am most interested in technical stock analysis, option strategies, small cap strategies, and emerging markets. Feel free to contact me with any questions about the cannabis industry or publicly traded stocks in the cannabis industry.
Analyst's Disclosure: I am/we are long ATNF. I wrote this article myself, and it expresses my own opinions. I am not receiving compensation for it (other than from Seeking Alpha). I have no business relationship with any company whose stock is mentioned in this article.
Seeking Alpha's Disclosure: Past performance is no guarantee of future results. No recommendation or advice is being given as to whether any investment is suitable for a particular investor. Any views or opinions expressed above may not reflect those of Seeking Alpha as a whole. Seeking Alpha is not a licensed securities dealer, broker or US investment adviser or investment bank. Our analysts are third party authors that include both professional investors and individual investors who may not be licensed or certified by any institute or regulatory body.