Don't Miss The Altria Bull Market
Summary
Two months ago, I suggested that Altria would rise to $50 this year.
This has happened, and Altria has become a trending stock.
It is still considerably undervalued, and sentiment seems to be turning.
Looking for a portfolio of ideas like this one? Members of The Dividend Freedom Tribe get exclusive access to our model portfolio. Learn More »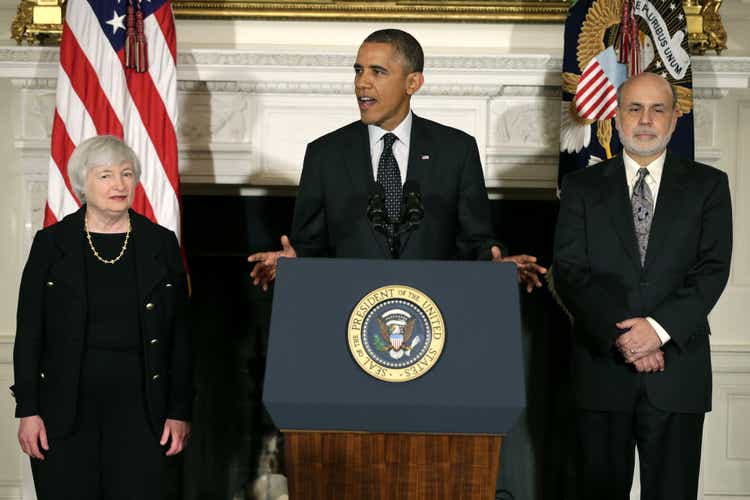 Written by Robert Kovacs
Introduction
I remember an interesting tidbit of information from when Ben Bernanke, the chair of the Fed from 2006 to 2013, was nominated to the position over 15 years ago.
It was revealed, that in his retirement accounts, along with a couple mutual funds, the only equity he owned was Altria (NYSE:MO).
Now, this is a man who dedicated himself to studying the economic and political causes of the Great Depression, a topic on which he published many academic journal articles.
The link between his background and his choice to own MO seems evident: it is a robust defensive stock, which has inelastic demand.
In other words, through thick and thin, Altria makes money.
The sort of stock you'd expect to hold up well in a down market, especially if it was already trading at depressed values before said downturn.
Common sense right?
Alas, to express the idea of French philosopher Voltaire, albeit in a more elegant way thanks to the richness of Shakespeare's language over the "langue de Moliere":
Common sense isn't so common.
In 2020, Altria dropped from $50 at the beginning of the year, to $31 by the end of March.
This marked the end of Altria's multi-year bear market which started in 2017, as you can see on the MAD Chart below.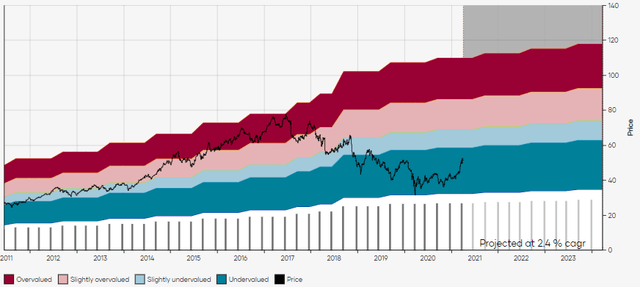 Source: Dividend Freedom Tribe (Click here to learn more about MAD Charts)
It then spent the rest of the year range bound between $36 and $43.
During that time, I wrote 4 articles on Altria which I tagged as "bullish".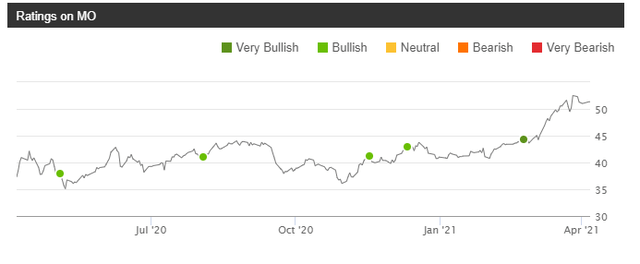 Source: Seeking Alpha
Here's a quick summary of the evolution of my commentary throughout the year:
May: The market has it in for tobacco stocks. This might last for a while, but it has never been a bad idea to buy MO above 8%.
August: It would seem that living with the responsibility of being a shareholder of big bad tobacco companies requires some form of compensation. This compensation translates into higher dividend yields.
November: Altria's extreme undervaluation at these levels, however, is nonsensical. Get woke or get paid 8.7%, you choose.
December: Cash doesn't lie, and it's only a question of time before the market wakes up.
This then leads to my latest article, which I published in February this year. This time, I changed the rating from "bullish" to "very bullish", for what that's worth.
I suggested that:
Altria has most likely bottomed out. The yield differential between MO and PM should reduce in the upcoming year, which will bring it up to $50ish.
And here we are at $52.
Big old dirty MO has gone from being in constant limbo to a trending stock.
The rest of this article reviews the bull case for MO.
IQOS: Nearly all roadblocks are gone.
A large part of my thesis on Altria is that the company will be as successful as Philip Morris (PM) has been in marketing its IQOS reduced risk devices.
As a reminder, in 2020, IQOS represented a significant 10% of PM's sales, and the numbers are still climbing.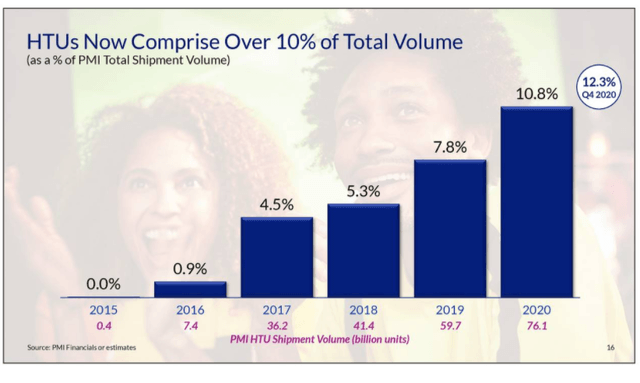 Source: PM Earnings presentation
IQOS sales are set to grow another 27% for Altria's sister company in 2021.
The US launch of IQOS was hindered by the pandemic which impacted the company's retail strategy big time. Then came the British American Tobacco (BTI) lawsuit, claiming that IQOS infringed its patents.
We expect a judge to release his findings in May, according to Bloomberg.
In the meantime, similar cases were held in the UK and in other countries, and none of them ended well for British American Tobacco, and all ended well for PM.
The most notable was in the UK, where the UK High Court revoked BTI's patents for obviousness, saying that they lacked an "inventive step".
Since BTI no longer has a patent there, PM is no longer infringing the patent.
While the findings won't come out for another month in the US, but given the UK results and PM's past success in defending its patents and designs throughout other countries, including Japan, it seems very likely that the results will be favorable for Altria and PM.
I didn't have a clear opinion on the matter until a few weeks ago, but I now can only side with PM's representative who said:
BAT's attempt to secure an importation ban against IQOS in the U.S. is part of a broader global strategy meant to undermine the heated-tobacco segment, where they lag far behind, and protect their core cigarette business.
By May, it is very likely that the major roadblocks on MO's best chance for growth will be removed.
With the economy recovering, the company's ability to market and help people transition to IQOS will accelerate. For instance, California has set June 15th as the date for the full reopening of the economy.
Strong performance across the company's products.
Let's not forget, that despite the perspective of a smokeless future, the company still sells cigarettes today.
Altria's smokable products operating income has been growing at 5.5% per annum in the past 5 years, despite volumes falling.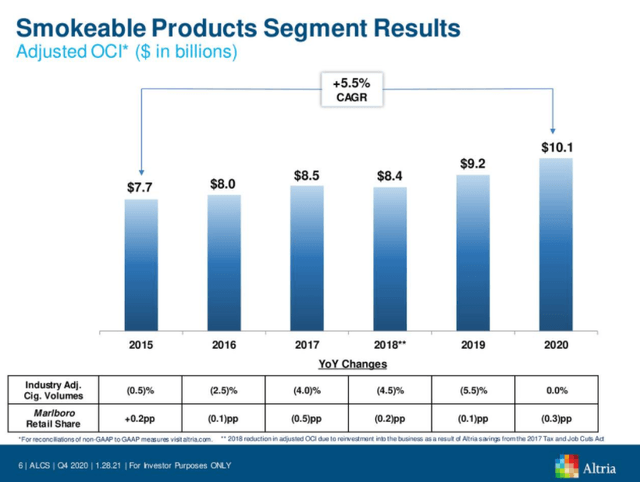 Source: Altria Earnings presentation
In 2020, volumes were also flat, as I suggested they would be in my past articles. During times of stress, habits, good or bad, are reinforced, not abandoned.
It is an insignificant part of revenue, but the company is also growing market share in the oral tobacco segment, where its on! nicotine pouches are rapidly growing.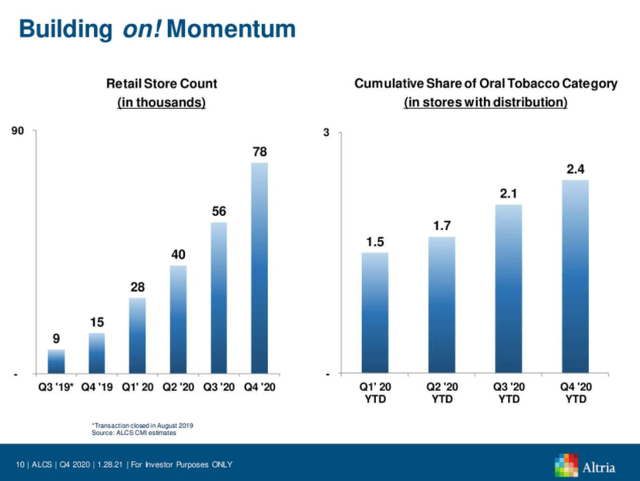 Source: Altria earnings presentation
I won't address the company's alcohol, cannabis, and other holdings, yet they are nice wildcards which could pay off at some point.
All in all, EPS is likely to grow 3-6% in 2021.
I say this every time I write about Altria: it is a financially sound company, valued like junk.
Preparing for liftoff?
In just two months, Altria has left its range and broken through significant levels of resistance.
As you can see on the chart below, no matter which trend lines you look at since MO entered a bear market, it has breached them and gone on to breach the psychologically relevant $50 level.

Source: Dividend Freedom Tribe
Sentiment is changing, and MO is trending.

Source: Dividend Freedom Tribe
The price is above the 20-day SMA, which is above the 50-day SMA, which is above the 200-day SMA. A bullish setup, which suggests further upside and the $50 level to act as resistance in upcoming months.
Still a great income opportunity.
I feel like last year's 8.5% yields and up were a typo, but they weren't. Despite the 25% increase from those levels, MO remains really good value.
It yields 6.75%, which is still way above my maximum reasonable yield for MO, which I set at 6%.
At the current level, even if the company were only to increase its dividend by 1% per year, the income opportunity is phenomenal.
We measure the attractiveness of a stream of dividends with a back of the napkin calculation.
If based on our prospects of growth, a stock can return 10% on the initial amount in 10 years, by reinvesting dividends, then it is an attractive income opportunity.
This means that low-yielding like high-yielding stocks can be attractive, depending on the expected rate of growth.
It also gives a tangible way to answer the question: should I prefer 2% yield with 10% growth or 6% yield with 1% growth?
While the ramifications are deep, and the needs of individual investors vary greatly, the key point is to always think about yield in conjunction with growth.
The higher the yield, the less growth required.
So how does MO fare?
If we invested $10,000 dollars at the current price, then reinvested dividends once a year at the current yield of 6.7% while the dividend grew 1% per annum, then in 10 years, we could expect to receive $1,323 annually in dividends or 13.23% of the original investment.

Source: Dividend Freedom Tribe
This is very attractive, and part of the reasoning behind 6% being the maximum reasonable yield for a stock like Altria.
Conclusion
From an income perspective, Altria is a no-brainer.
It now just happens that you'll likely see strong capital gains in Altria in upcoming months.
My position has been full for a while now, as I topped up my position throughout 2020.
If you don't own, or don't yet have a full position in MO, now would definitely be a good time to get in. Otherwise, you might just miss the MO bull market.
Want our list of 31 more undervalued "Buys"?
Members of the Dividend Freedom Tribe get our daily updated Buy/Watch/Sell lists.
The S&P 500 has breached 4,000. It is getting harder and harder for investors to find undervalued high quality dividend stocks. But we believe we can find value in every market.
There are currently 32 stocks on our Buy list, enough to build a portfolio.
Plus we're offering 35% discounts this month. Click here to get yours.
PS: There is so much more to the Dividend Freedom Tribe, please check it out.

This article was written by
Hi there! We're Robert & Sam, a dad & son team of dividend investors.
If you're looking for regular analysis of some of the best dividend opportunities, you're in the right place!
We regularly publish articles highlighting high quality companies, with superior management and dividend policies, which are trading at great prices.
Whether you're retired or still accumulating, we offer a path towards reducing risk while achieving strong returns.
We eat, breathe and sleeep dividend investing. We've poured thousands of hours of our lives into researching, creating original strategies, and developing tech solutions which make investing a breeze.
If you want to benefit from all of this, you should seriously consider trying "The Dividend Freedom Tribe", which includes a training course, three model portfolios, weekly in depth analysis, our buy/watch/sell lists, access to MAD Dividends Plus for free, as well as a community of lively dividend investors.

Contributing authors for The Dividend Freedom Tribe include Tomas Andrade Campanini and Mike Zaccardi, CFA, CMT
Analyst's Disclosure: I am/we are long MO, PM. I wrote this article myself, and it expresses my own opinions. I am not receiving compensation for it (other than from Seeking Alpha). I have no business relationship with any company whose stock is mentioned in this article.
Seeking Alpha's Disclosure: Past performance is no guarantee of future results. No recommendation or advice is being given as to whether any investment is suitable for a particular investor. Any views or opinions expressed above may not reflect those of Seeking Alpha as a whole. Seeking Alpha is not a licensed securities dealer, broker or US investment adviser or investment bank. Our analysts are third party authors that include both professional investors and individual investors who may not be licensed or certified by any institute or regulatory body.