Virgin Galactic Holdings: Crashing Back To Earth
Summary
Virgin Galactic Holdings is one of the first publicly traded investment opportunities for investors to participate in the space industry.
However, the company has a long list of red flags including no fundamentals, cash burn, insider selling, and stiff competition.
Even as a speculative investment, Virgin Galactic is a long shot to be a long-term winner.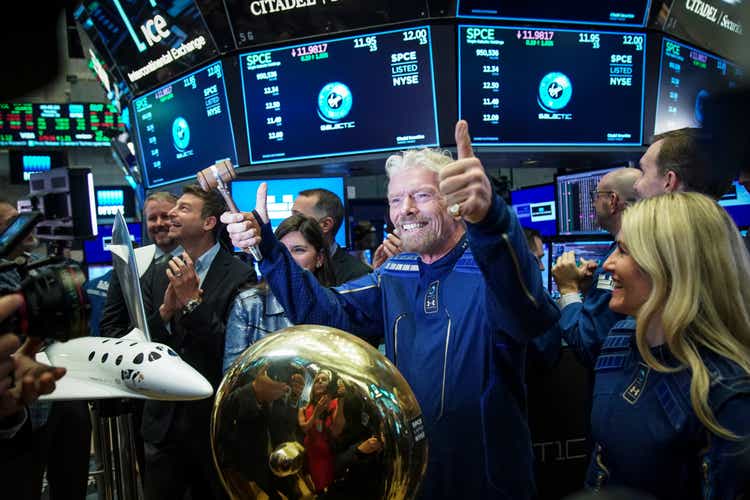 It usually pays to be in early on the "next big thing." A lot of folks might tell you that space just might be that next big thing. UBS estimates that space-based high-speed travel will be worth more than $20 billion a decade from now. The issue for investors right now is that we are just in the very beginning stages of this new industry, and there aren't a ton of publicly traded companies for investors to jump into (looking at you SpaceX).
One of the first space related companies to go public was Virgin Galactic Holdings (NYSE:SPCE) via a SPAC (Social Capital Hedosophia) headed by Chamath Palihapitiya. The stock has been hot, rising as high as $62 per share before the recent pullback in growth names brought shares down to $30. Despite this pullback, the evidence for an investment thesis is mediocre at best. There are a number of red flags that lead me to believe that Virgin Galactic is a poor investment, and is unlikely to succeed over the long term. We will outline these risks below.
No Fundamentals To Support Shares
We will start by touching on the most obvious red flag of all, diving a bit deeper in our topics to follow. Obviously, Virgin Galactic is in a research and development phase as it continues to test and refine its spacecrafts. The company generates no revenues, and therefore no earnings.
How do you value a company that trades at a $7 billion market cap, but has no financial data to justify or disprove it? The answer is simply that you cannot. Virgin Galactic is, and will be for the foreseeable future, a stock that derives its value from hype and news headlines. This is particularly dangerous because as soon as sentiment turns negative, there is no fundamental anchor point for the share price. Investors could lose faith in Virgin Galactic's ability to execute (say they repeatedly fail during test flights), and theoretically the stock could go to zero.
I'm not saying that this will happen, but when there is no fundamental value to a stock, the risk is magnified. Investors need to be conscious of this and manage their risk accordingly. The stock came down from $62 per share. Will it go back up? We don't know because there is no fundamental driver of Virgin Galactic's value.
The Dilution Is Only Just Beginning
As is the case with any young company, the business will need to raise funds from time to time to continue fueling its growth. This is common practice, and most growth investors are understanding of this.
In the case of Virgin Galactic, however, I am a bit more concerned. The company doesn't generate any cash flow from operations, so every dollar spent by the business is straight cash burn.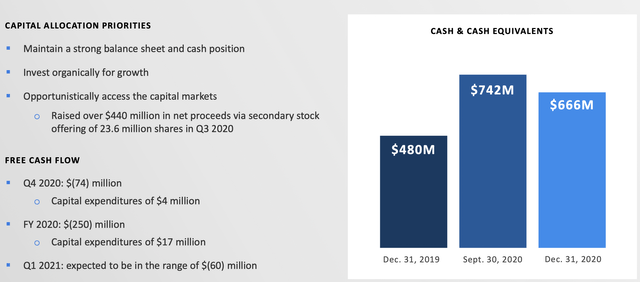 source: Virgin Galactic Holdings, Inc.
The business burned a quarter of a billion dollars over the course of 2020, prompting a large capital raise in August that raised $440 million for the business. In the near term, this shores up the company's cash position.
But when one thinks about where Virgin Galactic is in this process, the current $666 million cash position won't last as long as one would hope. Virgin Galactic is still in the "R&D" phase. In other words, they don't have a finished product yet. Not only will the company continue to burn cash while development and test flights continue, but also as the company enters commercialization which includes manufacturing facilities, processes, etc.
The company as a result will see capital expenditures increase far beyond the $17 million that Virgin Galactic attributed to CAPEX in all of 2020. For a company that currently has no revenues, debt is not an option because Virgin Galactic has no way to service it. All funds for the foreseeable future will require equity to be issued, which will dilute shareholders.
Virgin Galactic Is Poorly Positioned Beside Competitors
If we give benefit of the doubt to Virgin Galactic among all execution risks (meaning we successfully reach the commercialization phase) and flights commence, Virgin Galactic could face stiff competition. While Virgin Galactic is one of the few publicly traded companies in the sector, private competition lurks.
The most obvious two competitors to Virgin Galactic are SpaceX founded and led by Elon Musk, and Blue Origin founded and led by Jeff Bezos. To be clear, there are some differences among them. SpaceX is not technically targeting the same market segment as Blue Origin and Virgin Galactic. SpaceX is shooting for orbital tourism, in which a rocket launches high into space. Blue Origin and Virgin Galactic are targeting sub-orbital tourism where a different type of spacecraft goes to the edge of space, before falling back to earth and landing.
Both SpaceX and Blue Origin are founder-led, and each happen to be led by arguably the greatest entrepreneurs of our lifetime. In addition, each founder is among the richest folks in the world (capital), space is a passion project for each, and have both accomplished more testing to date than Virgin Galactic. This isn't to say that there isn't room for all three to thrive in a successful space tourism industry, but Virgin Galactic poses the least impressive "eye test" among the three. The more these companies intersect over time, the more I would be worried for Virgin Galactic's prospects.
Actions Speak Loudest Of All
It's important to remember that Virgin Galactic depends on sentiment to drive the value of its stock. There isn't anything necessarily wrong with that, but it's important that investors know this. When doing one's own due diligence, you need to understand the motivations behind statements or actions. I'm not going to say that Virgin Galactic is intentionally misleading anyone, but when your value is derived from investor sentiment, it's in your best interest to be as rosy as possible.
Therefore, the actions of the company and those involved speak the loudest volumes of all. With that said, there are some areas of concern. First and foremost, is the company's continual delays of its test flight programs.
It's reasonable to expect hiccups along the way, as space flight is a new frontier for science. Virgin Galactic has certainly experienced some hiccups. While the company understandably counters these setbacks with silver linings, the ultimate result is that the estimated beginning of Virgin Galactic's commercialization phase continues to slide back. The company had originally targeted summer of 2020 to begin commercial spaceflights, but that is currently estimated for 2022. It's certainly possible that more setbacks could occur, only prolonging the company's cash burn and raising the probability of further dilution. The company's next test flight is scheduled for May which will be a key event for investors.
The other area of concern is the insider selling that has taken place so early in the company's lifespan. Chamath Palihapitiya, who headed the SPAC that merged with Virgin Galactic, recently sold his entire personal stake in the company. He sold roughly 3.8 million shares in December, and then the other 6.2 million in early March. Chamath still owns roughly 15.8 million shares indirectly (through the SPAC that merged with Virgin Galactic), but this is a significant unloading of stock in a company that is supposed to pioneer spaceflight.
Chamath defended his actions by restating his belief in Virgin Galactic Holdings, and declaring that the proceeds from the sale were to go towards a project to fight climate change. He is well within his rights to do as he pleases, but as I said: actions always speak louder than words.
Wrapping Up
So what do investors have in Virgin Galactic? At the end of the day, Virgin Galactic is a company vying to become a player in a brand new industry. There is certainly upside in that, and I am not here to say that Virgin Galactic cannot succeed. What I look for are companies that are positioned well to generate revenues at attractive operating metrics, creating value for shareholders.
Virgin Galactic has a number of red flags that cause me to question whether it can get to that point in a reasonable amount of time. There are no revenues and/or earnings to justify its current $7 billion market cap. Investors are vulnerable to dilution that could expand valuation without raising the share price. The business is potentially multiple years away from reaching commercialization, which it needs to actually execute and succeed at once it gets there. When you consider all of this, Virgin Galactic is at best a gamble in my view. I will be avoiding this stock indefinitely.
This article was written by
Using fundamental analysis and common sense, I provide straightforward insights on stocks and markets. https://www.threads.net/@wealth__insight- Bachelor's degree in Business Administration with a concentration in Financial Analysis. Been investing and following the markets for more than a decade.- Wealth Insights is an investor and investment author. His content is not geared to anyone's investment goals, time horizons, or risk tolerance. Content is for illustrative purposes only and is not intended to displace advice from a fee-based financial adviser. It is not to be taken as investment advice or influence investor decision-making. The accuracy of data is not guaranteed.
Analyst's Disclosure: I/we have no positions in any stocks mentioned, and no plans to initiate any positions within the next 72 hours. I wrote this article myself, and it expresses my own opinions. I am not receiving compensation for it (other than from Seeking Alpha). I have no business relationship with any company whose stock is mentioned in this article.
Seeking Alpha's Disclosure: Past performance is no guarantee of future results. No recommendation or advice is being given as to whether any investment is suitable for a particular investor. Any views or opinions expressed above may not reflect those of Seeking Alpha as a whole. Seeking Alpha is not a licensed securities dealer, broker or US investment adviser or investment bank. Our analysts are third party authors that include both professional investors and individual investors who may not be licensed or certified by any institute or regulatory body.