iQIYI: The Shareholder Value Deterioration Story Continues
Summary
iQIYI's subscriber decline is hard to justify in the current streaming environment. Revenues are about to start declining, according to guidance.
Management's guidance was terrible, with the company failing to reaccelerate growth. No tangible plan towards profitability exists.
The recent cash raise will further burden current investors, while the company is likely to continue deteriorating shareholder value to stay afloat.
Looking for a helping hand in the market? Members of Wheel of Fortune get exclusive ideas and guidance to navigate any climate. Learn More »
For those of you that read my articles regularly, you know that I hardly ever publish bearish ones. Speculating on a company's potential failure is just not something I fancy writing about. It upsets more than it helps investors out, so focusing on companies that offer market-beating potential returns ahead makes more sense to me.
That being said, sometimes a stock's deterioration is so eventual, it is hard to ignore and not talk about it. The stock I want to talk about today is iQIYI (NASDAQ:IQ), for which I have written three bearish articles since last April. In the latest one, I discussed the company's unacceptable subscriber decline and inevitable financial decay amid a never-ending cash burn that is set to dilute investors to oblivion.
Over the past year, investors have traded shares relatively flat, with the stock taking a massive hit a few weeks ago amid getting caught up in a big-block sell-off. While some may view this as a "buy the dip" opportunity, I am writing this article to remind you of the company's unfortunate steady deterioration, which has been materializing over the past year, in line with my past prognostications.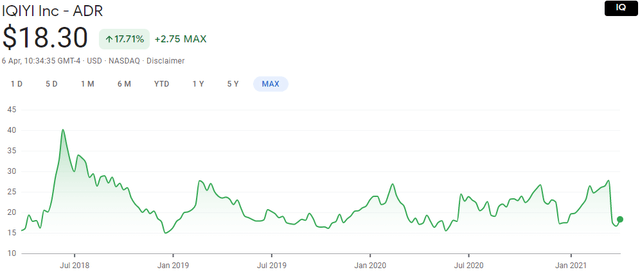 Source: Google Finance
Terrible

Performance...
As I have mentioned before, I was really excited when IQ completed its IPO back in 2018. Getting exposure to the "Netflix of China" sounded very exciting. China's economies of scale should be able to lead to sky-high margins that would surely be higher than those of its American peers, much like how we see Alibaba (BABA) and Tencent (OTCPK:TCEHY) be able to achieve. This has not been the case.
IQ's subscriber "growth" has been underwhelming, to say the least. In fact, the subscriber base has been declining. In its latest quarterly report, IQ recorded 101.7 million subscribers, suggesting a 4.86% (from 106.9 million) decline YoY. Subscribers declined for another consecutive quarter, with the base being 104.8 million in Q3. IQ is bleeding subscribers, and it's bleeding fast.
When I initially read the report, I quickly scrolled to the company's guidance. I was expecting that management would have found a way to convince investors of a potential reacceleration in growth one way or the other. To my "surprise", management had guided for a revenue decline of -8% to -2% YoY for Q1, suggesting further decay ahead.
Now here's where I get confused and ponder how worrisome this guidance is.
The streaming industry is booming big time. In its latest report, Netflix (NFLX) reported subscriber growth of 21.9%, despite having double the subscribers of IQ. Disney reached 100 million subscribers within 16 months. Even the ultra-niche streaming service of Gaia (GAIA) managed to grow its subscribers by 21.5% YoY. There is no doubt that the streaming industry is flourishing.
So to sustain subscriber decline for consecutive quarters while guiding for what seems to be another quarter of subscriber decline is a red flag for potential investors, especially considering the scale of China and the growth seen in the rest of its tech industry. IQ should be able to grow its subscribers without even attempting too much, benefiting from the organic growth that streaming services enjoy at the expense of traditional mediums. iQIYI's actual poor performance is therefore very expected.
What should be even more alarming to investors is Dr. Yu Gong's quarterly commentary, stating: "Our fourth quarter result was in line with our overall expectation." Now keep in mind that IQ's CFO, in an interview back in 2018 on CNBC, said that the company had a "...clear strategy towards subscriber growth..."
Considering that exactly the opposite has happened since, and combined with Dr. Yu Gong's comments, it seems that management is struggling heavily to keep up with its promises.
...leading to deteriorating financials...
In that same interview, Mr. Xiaodong Wang said that the company's path to profitability is "quite simple" since "the cost of producing original content in China is much cheaper than in the U.S." Yet, once again, reality has shown the opposite. IQ's margins are deep in the red, with no clear path to profitability. IQ is not only bleeding subscribers; it's bleeding cash as well.
As you can see in the graph below, IQ's cash-burn up until Q3 could only sustain a few quarters before an eventual cash raise. I had warned investors of this prior to the cash raise, whose terms, as expected, were terrible.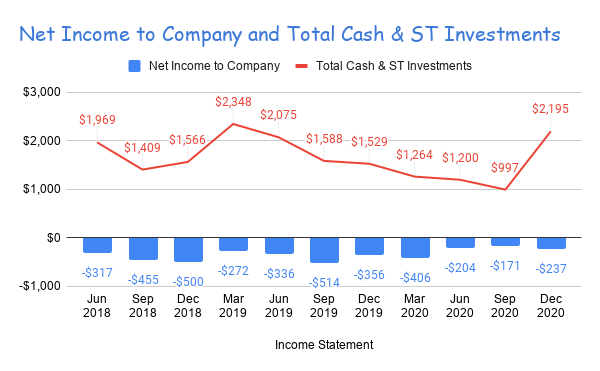 Source: Data from Seeking Alpha, Author
...leading to an uninvestable stock
To begin with, the $800M notes with 4% semi-annual interest payments translate into $32M in annual interest expenses (because they were issued in December). This has yet to appear on the income statement, but from this year, interest payments should increase by around 20% YoY. This should further stall the company from ever achieving a profitable quarter.
Further, the notes have an initial conversion price of approximately US$22.31 per ADS, which equates to a conversion premium of approximately 23.5% over the stock's current price. The 40M ADRs offered at $17.5 denote an equity value of $700M, suggesting a dilution of around 4.8% based on IQ's current market cap.
Amid lack of profits, I see no way IQ will choose to repay the $800M to repay the notes. Hence, current investors are looking into a potential dilution which will further damage their respective profits if the company ever scores a positive net line.
Now I have to ask, what happens next? This cash will not last for more than a year before IQ has to raise money again to stay afloat. How flexible will the creditors be this time? What if this time they require a 6% interest and an even bigger conversion stake to price in the increased risk?
Analysts do not expect the stock to deliver any profits not even until 2023. Yet, for some reason, consensus estimates point towards YoY revenue growth despite management's negative, pessimistic guidance. But even we were to assume that this miraculous turnaround was to happen and IQ actually delivers $6.64B in revenues by then, as projected, there is still no reason to hold the stock.

Source: Seeking Alpha
Assuming a 5% net profit margin on these revenues (which are too optimistic, to begin with), we are looking at a bottom line of $332M. In other words, at its current market cap, excluding any potential additional dilutions to happen by 2023 (which is most likely the case), IQ is trading at 43 times its best-case scenario FY2023 net income. And that's under a very optimistic scenario. In my book, the stock is uninvestable at these price levels.
Conclusion
Unfortunately, IQ has failed to grow its subscriber base and revenues despite the industry snowballing in its favor. With terrible guidance and subscribers heading for the exit door, the path towards profitability seems even harder now, assuming there is even one. If the company has not yet figured out how to turn a positive bottom line with more than 100M subscribers (massive economies of scale), it will not find one anytime soon with subscribers leaving and its interest payments increasing in the meantime.
I believe that the company will continue to dilute itself continuously to stay afloat. However, even if we were to assume an optimistic scenario in which IQ's financials somehow started to accelerate and profits appeared, the current valuation is still absurd offer no incentive for investors to buy the stock.
For those reasons, I view IQ as a dumpster fire that will continue deteriorating shareholder value as it literally burns cash. I will continue avoiding IQ and remain strongly bearish in the stock's future.
Wheel of FORTUNE is a one-stop-shop, covering all asset-classes (common stocks, preferred shares, bonds, options, commodities, ETFs, and CEFs), across all sectors/industries, through single trading-ideas and model-managed portfolios.

The extremely wide scope of the service allows us to cater all types (of investors) and (investment) needs/goals, making WoF a true one-service-fits-all.
Join Wheel of FORTUNE to Increase Your Portion!
This article was written by
One-Stop Shop For Ideas & Portfolios, Covering All Asset-Classes & Sectors
Hi there!
I hold a BSc in Banking and Finance. Here, on Seeking Alpha, I cover a variety of growth stocks and income stocks, including identifying those with the highest expected return potential, and a solid margin of safety.
Currently contributing as Promoting Author to the "Wheel of Fortune" marketplace.
Feel free to contact me at any time, and follow me here on S.A. for regular content and updates!
Happy investing!
Nick
Analyst's Disclosure: I am/we are long BABA. I wrote this article myself, and it expresses my own opinions. I am not receiving compensation for it (other than from Seeking Alpha). I have no business relationship with any company whose stock is mentioned in this article.
Seeking Alpha's Disclosure: Past performance is no guarantee of future results. No recommendation or advice is being given as to whether any investment is suitable for a particular investor. Any views or opinions expressed above may not reflect those of Seeking Alpha as a whole. Seeking Alpha is not a licensed securities dealer, broker or US investment adviser or investment bank. Our analysts are third party authors that include both professional investors and individual investors who may not be licensed or certified by any institute or regulatory body.