Global Employment Growth Near 2-Year High In March
Apr. 08, 2021 11:50 AM ET
VWO, EEM, VT, VEA, IEMG, EFA, GAB, SCHE, IEFA, EDC, ACWI, GLQ, EDZ, XSOE, SPEM, EMF, DTEC, URTH, ADRE, ESGE, EUM, EEV, MSF, ESGD, EET, DBEF, FRDM, IDEV, GSIE, AIIQ, DGT, HEFA, AVEM, EFZ, FEM, LDEM, HEEM, MFEM, RODM, DBEM, KLDW, EFU, FDT, HFXI, IDHQ, VWID, GLOF, EFO, IQIN, EEMX, DIEM, RFEM, DEFA, DWMF, FIHD, ROAM, EFAX, ISAPF, USPX, DIVI, HDMV, ISEM, RFDI, WBIL, EJUL, PQIN, DMRE, IJUL, JEMA
Summary
Global PMI employment index at second-highest since May 2019 as firms seek to boost capacity.
Job gains fueled by rising backlogs of work and brighter outlook.
Broad-based developed word job market strength contrasts with stalling emerging market employment.
Global employment growth accelerated in March, according to the worldwide PMI surveys compiled by IHS Markit, as companies increasingly sought to boost capacity in line with rising demand. The rate of increase hit the second-highest since May 2019, falling just shy of November's recent peak, with hiring picking up at similar rates across the manufacturing and service sectors. Service sector jobs growth was the strongest since last November while factory job creation hit the highest for 28 months.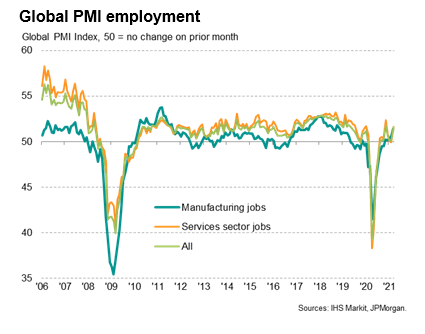 Firms boost capacity
The jobs gain was driven by the largest rise in companies' backlogs of uncompleted orders since June 2018, reflecting in part the recent rise in new order inflows, which hit the highest for nearly three years in March as demand continued to rebound from coronavirus disease 2019 (COVID-19) lockdowns. Demand also increased as customers prepared for vaccine roll-outs to boost economic growth in coming months. Future business expectations rose globally to the highest for seven years, the heightened optimism further spurring the return to the jobs market for many companies.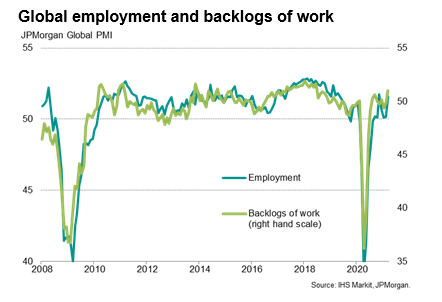 Job gains led by financial services
The steepest rate of global job creation was seen in the financial services sector, where the increase was the joint-largest since mid-2018. In manufacturing, the largest payroll gain was recorded by producers of intermediate goods, which are products supplied to other firms as inputs. Input buying has risen sharply in recent months, in part due to worries about future supply shortages.
Only in consumer services was a net cut to headcounts reported, though even here the rate of job losses eased.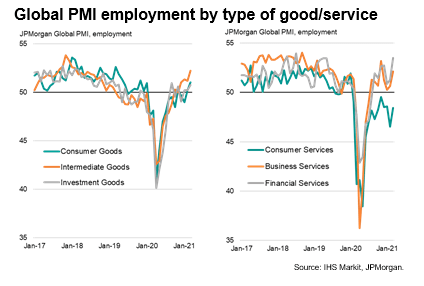 Broad-based developed world job market improvements
Among the largest economies, jobs growth was led by the UK, which reported the first net increase in employment since the start of the pandemic and the steepest monthly increase for just over three years. Robust job gains were also seen in the US, where payroll numbers rose for a ninth straight month, and the eurozone - the latter notably seeing the strongest net job gain since June 2019 as employment rose for a second consecutive month. Employment growth also accelerated in Japan, reaching the highest since January 2020.
Measured across all developed markets, employment growth was the strongest since May 2019.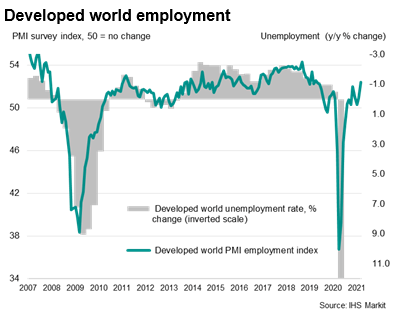 Emerging market employment steadies
In contrast, employment in the emerging markets remained unchanged, albeit stabilising from contractions in the first two months of the year.
Although China eked out a modest employment gain after net job losses were reported in February, and Russia reported the fastest increase in payroll numbers for just over two years, job losses accelerated in both Brazil and India to the highest for seven and five months respectively.
While Brazil is seeing a double-dip downturn in its labour market after hiring briefly rebounded between November and December, the Indian PMI survey has not recorded any jobs growth since the start of the pandemic in February of last year.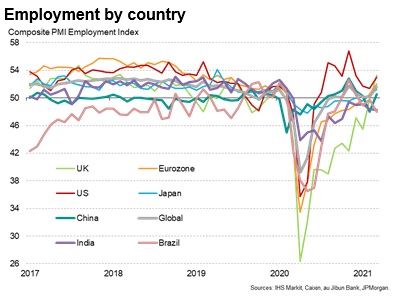 This article was written by
IHS Markit (Nasdaq: INFO) is a world leader in critical information, analytics and solutions for the major industries and markets that drive economies worldwide. The company delivers next-generation information, analytics and solutions to customers in business, finance and government, improving their operational efficiency and providing deep insights that lead to well-informed, confident decisions. IHS Markit has more than 50,000 key business and government customers, including 80 percent of the Fortune Global 500 and the world's leading financial institutions. Headquartered in London, IHS Markit is committed to sustainable, profitable growth.