Dividend Income Summary: Lanny's March 2021 Summary
Summary
Dividend Income is the fruit from the labor of investing your money in the stock market.
Despite the pandemic from COVID-19, dividend income continues to grow, due primarily to additional investment and reinvestment.
Dividend investing, once you learn the right way, becomes easier and starts to immensely make sense!
March 2021. Here we are. One year from the global pandemic of COVID-19. Millions of Americans are being vaccinated and almost $2 trillion has entered the economy, from the new stimulus program Biden released. There is one thing to note for dividend income investors…
Dividends are back baby! My March 2021 results set the bar high for me and records were set. I know many March 2021 Dividend Income results from the dividend investing/blogging community will have records broken as well! Time to dive in!
Dividend Income
Dividend Income is the fruit from the labor of investing your money in the stock market. Further, Dividend Income is my primary vehicle on the road to Financial Freedom, which you can see through my Dividend Portfolio.
How do I research & screen for dividend stocks prior to making a purchase? I use our Dividend Diplomat Stock Screener and trade on Ally's investment platform (one of our Financial Freedom Products) - commission-free.
I also automatically invest and max out, pre-tax, my 401k through work and my Health Savings Account. This allows me to save a ton of money on taxes (aka thousands), which allows me to invest even more. In addition, all dividends I receive are automatically being reinvested back into the company that paid the dividend. This takes the emotion out of timing the market.
Growing your dividend income takes time and consistency. Investing as often and early as you can allow compound interest (aka dividends) to work its magic. I have gone from making $2.70 in a single month in dividend income to well over $4,000+ in a single month. That dividend income record was set in 2020. Was it broken this month?! The power of compounding and dividend reinvestment is a wonderful component to the portfolio. Each and every month, whether big or small, I continue to report the passive income that dividend investing provides me. Why?

*Not pictured is my wife's dividend income above*
I want to show you that dividend investing makes it possible to achieve financial freedom and/or financial independence. We all start somewhere, but consistently investing, compounding (reinvesting) dividends and keeping it simple allows you to be in a significantly better position than most. Further, if I can grow this portfolio and income stream, you can too.
Dividend Income - March 2021
Now, on to the numbers… In March, we (my wife and I) received a total of $5,793.84 of dividend income. I am speechless. Cannot believe our income total crushed the $5,000 mark! Being a dividend investor in 2021 has been a blessing, to say the least. Dividend increases have roared back and the consistency of buying Vanguard's High Dividend Yield ETF (VYM), has truly paid off in… dividends of course!
Despite the pandemic from COVID-19, dividend income continues to grow, due primarily to additional investment and reinvestment. In the dividend stock purchases article released earlier in March (for February), my wife and I invested $4,000+ in dividend stock investments!
Further, though the dividend cuts hurt very bad, I know we did not take the worst of it. Dividend increases have also helped fuel the income growth. Dividend increases are discussed below and that's one of the best feelings of being a dividend investor.
Here is the breakdown of dividend income for the month of March, between taxable and retirement (far right column, under "Retirement") accounts: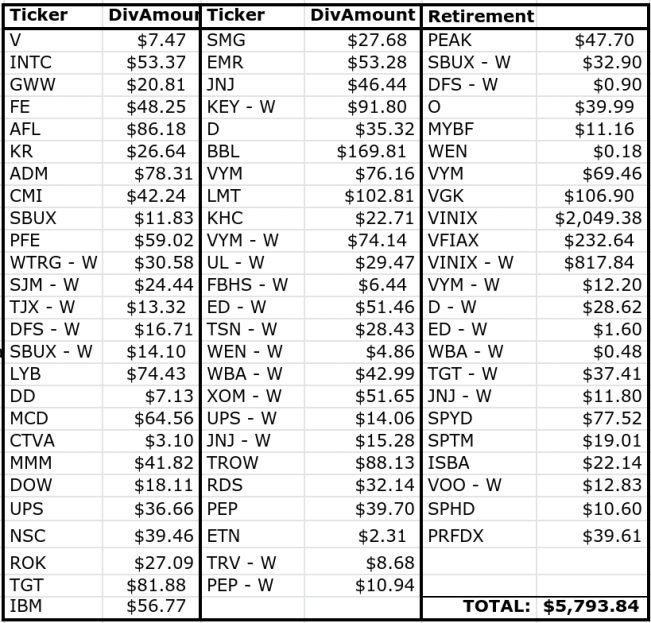 I received a massive dividend from BHP Billiton (BBL), completely shocking my dividend portfolio. My wife's KeyCorp (KEY) stock is absolutely on fire right now, both from a dividend and growth standpoint. Have to love a nice big bank in your backyard!
You can see all of the dividend stocks I was buying during the pandemic really pay off. Stocks such as Aflac (AFL), Kroger (KR), 3M (MMM), and UPS (UPS), are paying off with nice dividends. In addition, just look at those VYM dividends! Have to love it!
Lastly, as for our retirement accounts, we received a total of $3,682.87, or 64%. The other 36% was from the individual taxable portfolio that can be used for everyday expenses. I need to keep bolstering the taxable account, as that passive income stream can be accessed today/right now. However, I continue and will always maximize the 401k and IRA, as that continues to pay off in dividends, literally.
Dividend Income Year Over Year Comparison
2020: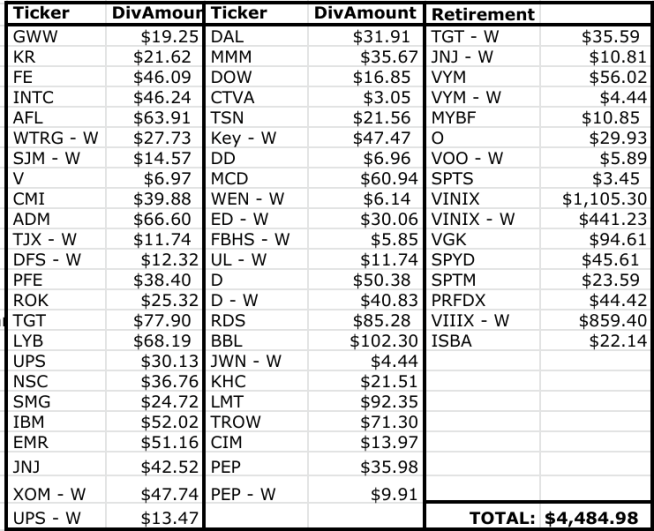 2021: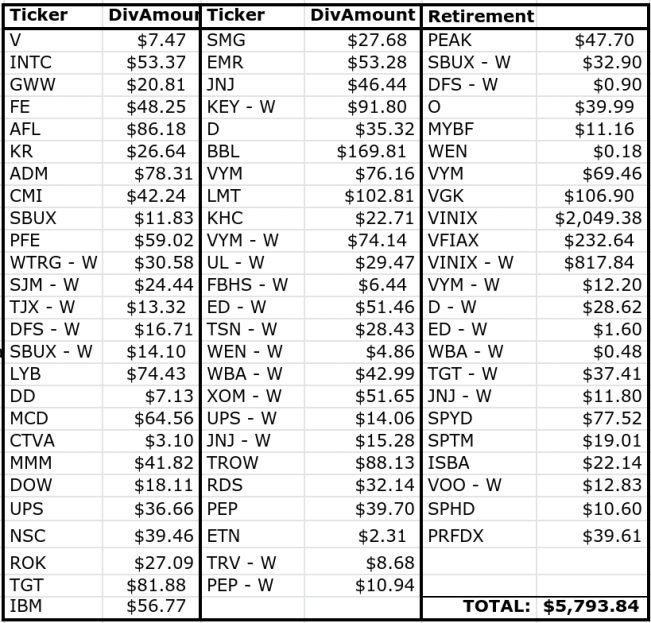 Dividend income, year over year is higher by $1,308.86. This is a massive dividend increase of 29% from prior year's March results. Purely stunning. Part has to do with consistently investing, taking the emotion out of it, but also a true case that dividends have roared back in 2021, as the pandemic (potentially?) winds down.
Aflac (AFL) is higher by $23 due to dividend increases and more purchases. T. Rowe (TROW), Pepsi (PEP), Unilever (UL), the list goes on for the massive increases from last year. However, there are a few sore spots.
Shell (RDS.A) cut their dividend in the 2nd quarter. They did raise their dividend slightly at the end of the year. In addition, Dominion (D) also reduced their dividend, which was heavily publicized with Warren Buffett's move on Dominion's natural gas business.
I cannot complain at all. We know Shell will be bringing that dividend back in force, as the price per barrel of oil continues to climb over $60+ per barrel of oil. In addition, Dominion reduced their dividend due to the loss of a revenue stream.
The plan is to continue to invest where it makes sense and beef up current positions, increase the # of shares I own and set records for the rest of 2021.
Dividend Increases
I received 3 dividend increases in March. A nice wide variety on the dividend income spectrum, from barely over 0%, all the way up to 29%!
Armanino Foods (OTCPK:AMNF) actually cut their dividend in 2020 during the global pandemic. AMNF cut the dividend from $0.0275 to $0.0175. Then, AMNF just raised it back by 29% to $0.0225 per share, per quarter! The dividend is coming back baby!

General Dynamics (GD), on the other hand, stayed strong and consistent as a dividend aristocrat. Such a solid 8% dividend increase, cannot complain about that.
I cannot wait for April (The best month as a dividend growth investor). I want to see the dividend increase engine continue to fire on all cylinders. Dividend growth investing is back, baby!
In total, dividend increases created a total of $28.10 in additional passive dividend income. I would need to invest $803 at a 3.50% dividend yield in order to add that income. Thank you for the increases, as I didn't have to come up with the capital to create that form of income!
Dividend Income Conclusion & Summary
The name of the game is to apply what you learn through financial education. The next steps are to maximize every dollar for investment opportunities and live life on your own terms. My plan is to demonstrate that dividend income can be a revenue engine. A revenue engine that allows you to take back control of your life. A revenue engine to help you reach financial freedom. Dividend investing, once you learn the right way, becomes easier and starts to immensely make sense!
Excited for the future, no doubt. Further, all of the investing from last year and moves this year, show that my aim to save 60% of my income, and making every dollar count, has provided the dividend growth.
Editor's Note: The summary bullets for this article were chosen by Seeking Alpha editors.
This article was written by
Two guys who love Investing, Dividends, Frugality, Passive Income & attempting to Reinvest Our Dividends to one day achieve Financial Freedom! Follow us on your journey towards a work-free life! We share EVERY ASPECT of our journey on our blog, social media, and YouTube Channel. Make sure to follow us so you don't miss an update. Updates include the stocks we are watching, buying, selling, and our overall thoughts about the the marketBlog: http://www.dividenddiplomats.comYouTube Channel: www.youtube.com/dividenddiplomatsTwitter: https://twitter.com/DvdndDiplomats