Pinterest: A Number Of Levers For Growth
Summary
Online catalogue and visual discovery platform is underappreciated by Wall Street today.
Critics worry about MAU saturation, lower average ARPU than peers, and a recent market rotation away from growth has hit the stock hard.
Our thesis stands on continued MAU growth from international, ARPU growth levers in LatAm and globally, and a unique front-runner position in social commerce.
My proprietary weighted average price target model points to more upside from here (~33%).
Pinterest is one of my top positions.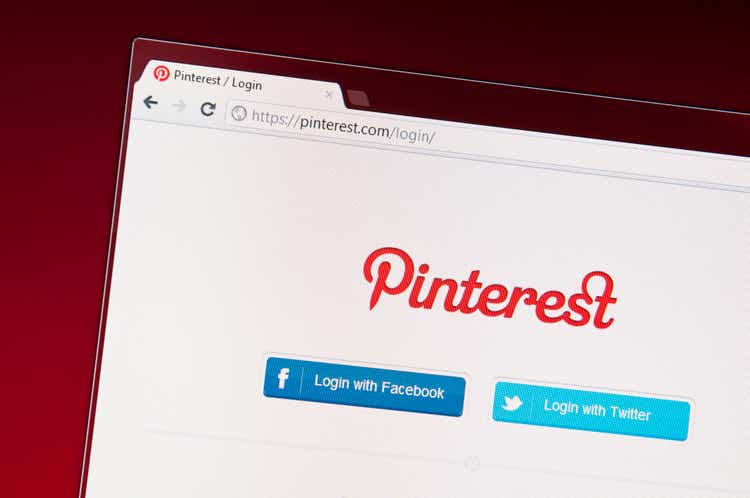 Thesis
Pinterest (NYSE:PINS) represents one of the best secular growth stories in adtech because of its user growth internationally, its ability to scale ARPU significantly versus peers, and its position as a front-runner in social commerce.
My weighted average price target is $105 for the stock, implying 33% upside from today's prices. Even though the stock has run since initially writing this article, I believe there is further upside and I will explain why.
We will walk through four investment points: MAU growth, ARPU growth, social commerce positioning, and valuation to validate our thesis. We will also give light to some of the critics responses and the reason the stock was weighed down for most of last year. These deserve mention and some have merit, so we will address the bear case as we go through our investment thesis.
Finally, it is worth noting that Pinterest is one of my top positions at this time.
MAU growth and runway
Pinterest is not really growing in the United States, which has been a big reason for the bears to keep the stock down for most of 2019 and in general on big draws. Compared to other peers like Facebook (FB) and Snap (SNAP), critics point to the fact that Pinterest is earlier in its growth story and should be showing greater growth.
In the US, Pinterest showed 11% YoY growth in the United States but 46% international. As a bull, I would point to the increasing mix that international MAU makes up of the total. Today, it stands at 79% of the user mix and is growing. Pinterest is an international user growth case. At 459 million MAUs, Pinterest has also barely touched the possible surface.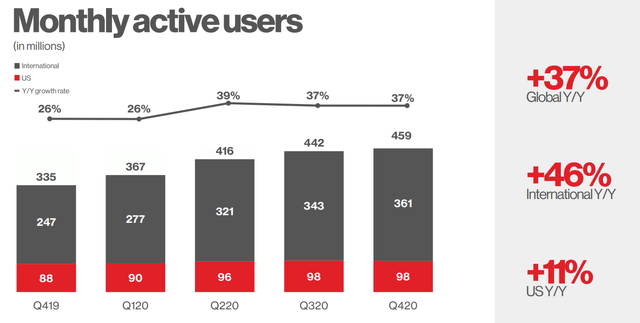 Source: Investor Presentation
I point to Facebook, which has 2.8 billion MAUs. Of those, only 258 million are from the US and Canada (or roughly 10%). On that basis, I could see Pinterest also trend to 10% US while International continues to grow at 30%+ YoY.
Is this possible? Yes - Facebook has shown the potential is nearly 10x of the MAUs Pinterest has today internationally. Let's say that Pinterest has only 30% of that addressable as MAUs. That still leaves significant upside from today's MAU count and room for growth.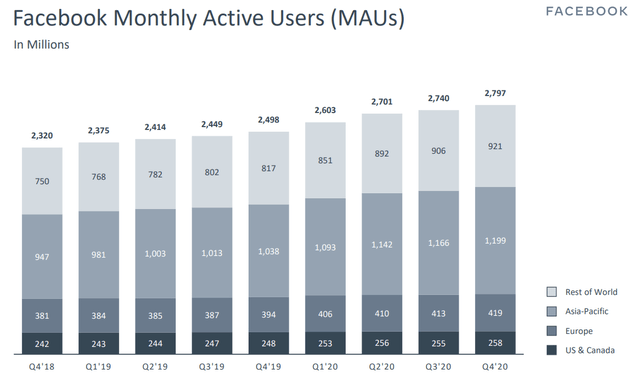 Source: Investor Presentation
ARPU growth
Perhaps an even bigger driver of Pinterest's current and future growth will be ARPU acceleration and growth. US is growing at 49% YoY and International at 67%, which is a torrid pace. ARPU is growing faster than MAU and I suspect it will continue to be based on the small base that Pinterest is starting on, especially on International monetization.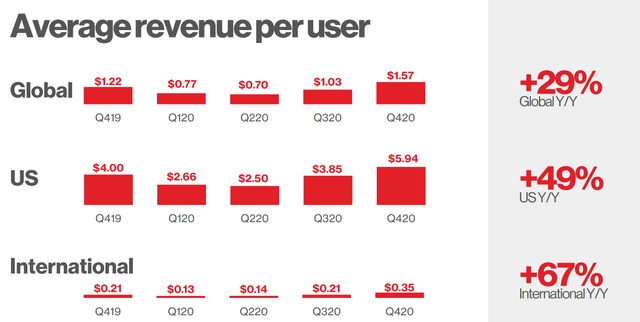 Source: Investor Presentation
I compared the ARPUs of Facebook and Snap to Pinterest to see the relative potential, growth, and runway. I included other peers like Yalla (YALA) and Twitter (TWTR) because ad models do not vary significantly across mediums, and it good to get a mix of higher growers that are more similar to Pinterest.

Source: Company filings and own analysis
Taking a 30% discount to the peer group average on the latest filings available, I found 2.7x upside from today's Pinterest ARPU figures. That suggests significant runway on an ARPU basis and the discount can be arguably too large for such a special media property.
Next, I looked at ARPU growth. When I standardized the ARPU growth rates to IPO for Facebook, Snap, and Pinterest, I found some left to be desired for Pinterest. Critics have argued that Pinterest has under monetized its user base in efforts to maintain a great user experience and this analysis suggests some of that is indeed true. However, I believe Ben and the Pinterest team are some of the sharpest product thinkers. Their recent moves around Creator Code, shopping, and ad loads suggest that they are really thinking long term, but also have come to realize the importance of turning this into a profitable company. I will delve more into this in the product thesis point.
Looking at the ARPU ramps, I found that Pinterest is growing ARPU at ~50% of what peers are on a normalized basis. That suggests to me that there is upside not only on total dollar ARPUs, but also potential for acceleration in ARPU growth rates (the second derivative). This acceleration is a hidden catalyst and lever that could either maintain current valuation levels (20x forward EV/S) or accelerate it further.

Source: Company filings and own analysis
Specifically looking at International ARPU, I found over 300% upside. Today at Pinterest 79% of users are international but only 17% of the revenue is from international users. I believe this is a big opportunity. When I compared Snap and Facebook North America / Rest of World ARPUs, I found a big gap between Pinterest. Snap and Facebook are monetizing these international users at almost 4x what Pinterest is, suggesting further upside for Pinterest here too.

Source: Company filings and own analysis
Social Commerce
Pinterest product enhancements give me further confidence in sustained 30%+ YoY MAU growth combined with 30%+ YoY ARPU growth. Combined, this should suggest sustainable 40%+ YoY growth for a long time even if we see deceleration in the MAU figure or management taking their time on ARPU growth for the sake of retention. As a shareholder, having a clear path to 40%+ YoY growth is critical for a growth stock like this.
Management has made several product enhancements that give me confidence that they can attract new users and retain the 450+ million MAUs today. Making great product choices results in ARPU growth, which sometimes investors can forget. I believe this qualitative analysis is as important as the backward looking analysis above.
Video and Story Pins are two steps towards making Pinterest into a social commerce platform. Story Pins offers a game changing opportunity for influencer-based marketing that is not appreciated.
Recent App Annie data suggests double digit app growth well in March and April 2021 which also gives me confidence in near term guide of 70%+ YoY growth for the most recent quarter.
Most importantly, management discussed a 6x increase in shopping advertisers on the platform and 60% sequential increase in catalogs which are underappreciated from a shopping perspective. Pinterest will become a blend of ecommerce and social media, and it will ride both mega trends.
Ad Base
One final note on the advertiser base. Pinterest's user demographic is primarily female and the nature of photo-based platforms is that purchase intent is high. Instagram has shown this and Pinterest can too. That demographic and intent is very valuable to advertisers.
Further, lots of engagement on Pinterest is around weddings, events, and parties. These advertisers will come back to Pinterest with reopening, and so although Pinterest trades as if it is a tech stock, it also may benefit from reopening.
Mild surprises in the last quarter in stock based compensation and sales and marketing spend point to a consistent ability of management to lower their operating costs. I believe this speaks well to long term profitability which the Street will come to appreciate, and other ad based models like Google (GOOGL) have shown how profitable this business can be.
Valuation
Looking at valuation, Pinterest is not cheap today, although I did take the March 2021 dip to buy a lot. I still believe in the long term prospects of the business and see 33% upside from today's prices, likely realized by further product improvement announcements, earnings, and upside on Shopping.
This weighted average price model is based on a MAU/DAU and ARPU growth model as described above. Most importantly, I look at changing multiples, which we have seen recently, in each of the three cases. At a blended rate, I still see upside from here.

Considerations
I have layered in considerations throughout this writeup, but I wanted to aggregate them here.
First party signals on Pinterest are less mature and some adjustments will be needed to changing IDFA rules. Adtech may be range bound from a multiple perspective because of this for a while.
There is an overhang of concern around MAU growth and if international slows overall MAU growth will slow. This comes down to management product execution, which they have shown with their recent expansion in Brazil and LatAm.
There is not much room for multiple appreciation from here, it is a matter of upside ARPU surprises, which I believe are real and possible.
Finally, black swan events include a Clubhouse 2.0 targeted at Pinterest's user base or Instagram taking over this space.
Catalysts
There are several catalysts to realize our price target.
First, automated bidding is only 50% of total bidding on the platform today. Management noted that automated bidding results in more volume and higher prices, and higher spend per advertiser. This number could trend up, as it did with Snap.
Second, shopping catalog growth could foreshadow greater than expected ecommerce activity on the platform which is not in most analyst models today.
Third, reopening could drive up engagement with advertisers and users and both price and volume of ads.
Conclusion
Pinterest has a trifecta of growth opportunities today - MAU growth, ARPU growth, and perfect positioning between ecommerce and social media. I believe recent management execution combined with tailwinds from Shops and international monetization will drive significant upside in the next few years, combined with my price model which shows medium term upside as well.
This article was written by
Focused on fundamentals, pricing power, and competitive moats. I like founder-led teams. Looking for the next generation of great businesses, and always open to debating ideas with others.
Analyst's Disclosure: I am/we are long PINS. I wrote this article myself, and it expresses my own opinions. I am not receiving compensation for it (other than from Seeking Alpha). I have no business relationship with any company whose stock is mentioned in this article.
Seeking Alpha's Disclosure: Past performance is no guarantee of future results. No recommendation or advice is being given as to whether any investment is suitable for a particular investor. Any views or opinions expressed above may not reflect those of Seeking Alpha as a whole. Seeking Alpha is not a licensed securities dealer, broker or US investment adviser or investment bank. Our analysts are third party authors that include both professional investors and individual investors who may not be licensed or certified by any institute or regulatory body.