China May Be The Future, But Tesla's Future There Is Uncertain
Summary
Having broken ground in Jan. 2019, Tesla's Shanghai factory began deliveries before the end of that year; the Model 3 enjoyed immediate success, quickly becoming China's top- selling EV.
Domestic and international competitors have begun to flood the Chinese EV market, threatening to erode Tesla's market share or even overtake it, as has already occurred in Europe.
Tesla's factory contract with the Chinese government further complicates matters since, in exchange for subsidies and privileges, Tesla has essentially put itself at the mercy of the Chinese state.
Should Beijing seek to pressure Tesla, it may struggle to resist, as evidenced by (among other things) Elon Musk's remarkable obsequiousness toward Chinese officials.
As a small-scale manufacturer with an outsized valuation and public image, Tesla may be especially vulnerable to threats created by escalating tension in the Sino-American relationship.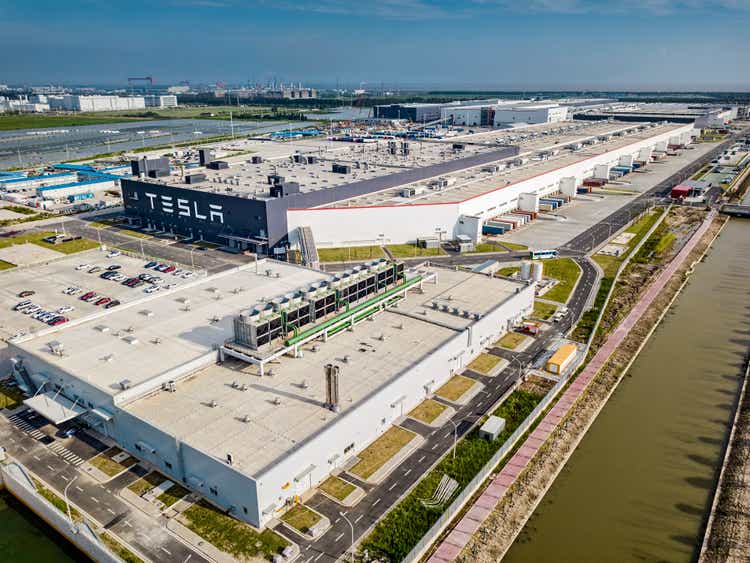 Tesla Inc. (NASDAQ:TSLA) made its first big move into China in July 2018, when it announced that it had signed a deal to build a new "Gigafactory" in Shanghai and that it intended to build it in record time. Construction efforts began almost immediately and proceeded in earnest, with a widely publicized groundbreaking event held in January 2019. Before the end of the year, the first 'Made in China' ("MIC") Model 3 electric vehicles ("EVs") were being delivered.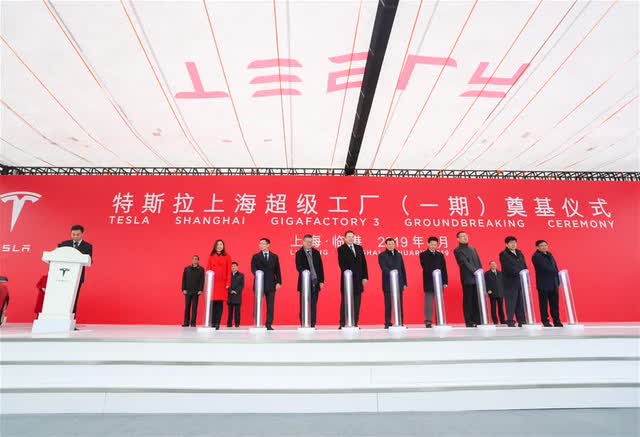 Source: China Daily
The sheer speed of the Shanghai factory's construction took many observers aback, including seasoned industry watchers and, I must admit, yours truly. Even CEO Elon Musk was impressed by the rapid buildout, and said as much in a September 2019 interview:
I've never seen anything built so fast in my life before, to be totally frank. And I've seen some crazy things...I really think China is the future.
At the start of 2020, Tesla seemed to be taking the Chinese market by storm. However, as the year progressed, a growing number of red flags began to emerge, some of which may even threaten Tesla's prospects in China altogether, if left unchecked. Two issues stand out in particular:
Intensifying competition and uncertainty over the viability of long-term Chinese consumer demand.

Mounting government pressure from within the Chinese government, combined with rising political risk due to increased tension between China and the United States.
If Tesla fails to address these serious issues effectively, it may end up suffering significant consequences, or even losing out on one of the world's most important EV markets entirely. Such a turn of events would undoubtedly threaten Tesla's engorged valuation.
Let's tackle each of these issues in turn.
EV Competition Intensifies As Consumers Mature
For many years, Tesla enjoyed a privileged position in the global EV market. As the only automaker building high-end consumer EVs at scale, Tesla held a commanding position in virtually every significant market worldwide, including China. This state of affairs persisted for so long, in fact, that a fair number of analysts, investors, and commentators came to the conclusion that Tesla's dominance would never end. That view was put to the test in 2020 as the first wave of serious EV competitors entered the market.
In China, Tesla faces a host of homegrown rivals that have been ramping up in earnest in order to compete head-to-head with the incumbent leader. NIO Ltd. (NYSE:NIO) and XPeng Inc. (NYSE:XPEV) have both sought to claim the role of domestic champion against the American intruder, and they are not alone. Huawei, for example, has partnered with Beijing-based EV maker BAIC Blue Valley with an eye toward taking the lead in Chinese EVs and technology. In November, Huawei Chairman Xu Zhijun threw down the gauntlet in no uncertain terms:
Anything that Tesla can do, we can do.
Homegrown competitors are not the only thing Tesla has to worry about either. A host of international automakers with growing portfolios of EV offerings are working to establish beachheads in the Chinese market. General Motors (NYSE:GM), for example, worked with a Chinese partner to launch the Wuling Hongguang Mini EV in July 2020. The compact budget EV has been selling so well that it has begun to threaten the Model 3 for the title of most popular EV model.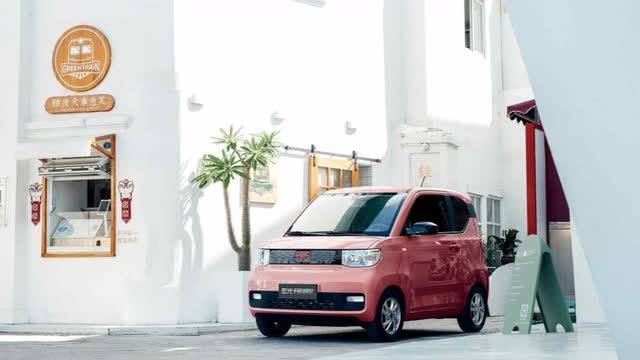 Source: General Motors, Nikkei Asia
For a glimpse of what the future may hold for Tesla in China, one need only look to Europe, where the company has already lost its position as the top EV seller. Volkswagen AG (OTCPK:VLKAF) took the EV gold in Europe in 2020, while Tesla was forced to content itself with bronze. The VW Group continued to outpace Tesla in Q1 2021, with no sign of slowing down: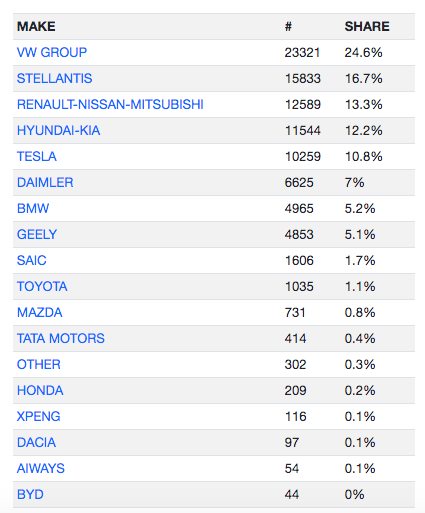 Source: eu-evs.com
Europe currently boasts the world's most mature and developed EV market thanks to a combination of high average income, rich government incentives, and heavy market penetration. As the EV market has matured, it has come to look ever more like the broader automotive market – more competitive, more stratified, and more differentiated as product types, models, and brands proliferate. In other words, the dream that Tesla will take and hold a larger piece of the automotive market than any other company has ever achieved has not come to pass. Instead, it is simply a large player that is seeing its market share come under threat from emerging rivals.
Europe's EV story is relevant to China because China has committed vast material resources and political capital to the goal of becoming the world's top EV market. Chinese consumers have already proven that they are willing to look beyond Tesla when shopping for cars. Reports of build quality issues, glitchy software leading to crashes, and explosions caused by faulty batteries have taken a toll on Tesla's reputation. The recall of thousands of Tesla vehicles in February has not helped matters either.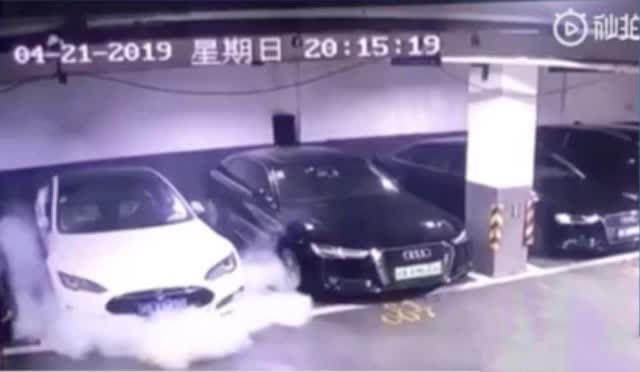 Source: Forbes, Weibo
With its public image recently tarnished by recalls and consumer complaints over the past year, Tesla may find it increasingly difficult to maintain its market position in China. The relentless pace of competition will make things harder still and, with nearly $150 billion of investment capital expected to pour into the Chinese EV sector over the next five years, many more rivals are likely to make their appearance on the stage ere long.
Government Pressure Mounts As Geopolitical Risk Looms
Tesla's issues in China extend beyond its competitors and customers. Indeed, they go to the very heart of the Chinese government apparatus.
Tesla received remarkable – one might even say unprecedented – levels of support from the upper echelons of the Chinese state. The company was the first automaker ever to be allowed to maintain sole ownership of its Chinese manufacturing operations. Elon Musk has even been feted by Li Keqiang, China's Premier and second only to Xi Jinping in Beijing's halls of power.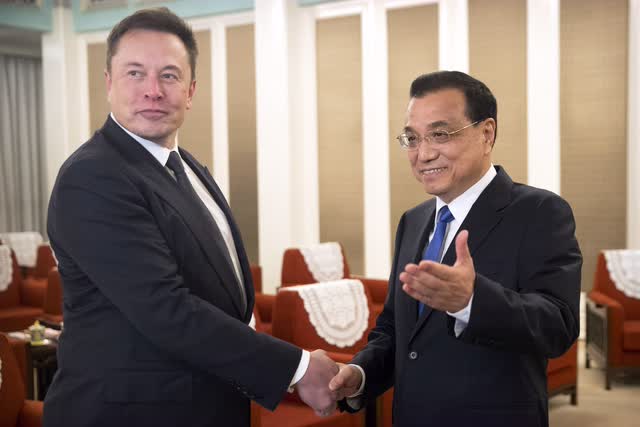 Source: South China Morning Post
While many foreign observers took Tesla's warm welcome as a sign of the company's value to China as an innovator and disruptor, others were not so sure. After all, the Chinese government does not grant special privileges or give favors for free.
So what was the price of Tesla's "uniquely privileged" status? Seeking Alpha's Montana Skeptic and MaxedOutMama laid it out quite clearly in an April 2020 article. They explained that, in exchange for the generous government subsidies and support for the Shanghai factory, Tesla agreed to be bound by a mesh of contractual obligations designed to leave it virtually at the mercy of the Chinese state. As Montana Skeptic put it:
In short, Tesla Shanghai's fate is now in the hands of the Chinese PTB. Tesla Shanghai will fail or succeed as those Chinese officials choose, and therefore Tesla Shanghai will be under irresistible pressure to adhere closely to what those officials want.
Tesla is clearly aware of the nature of this power dynamic, as evidenced by its frequent kowtowing when criticized by Chinese officials and agencies. While Musk has become famous for thumbing his nose at regulators and officials within the United States, his demeanor has proven to be completely different when speaking to or about their Chinese counterparts. For example, in 2018, Musk was forced to pay $20 million to settle a securities fraud suit with the Securities and Exchange Commission ("SEC") after he had lied publicly about plans to take Tesla private. The ink was barely dry on the settlement documents when Musk took to Twitter to snub the SEC yet again.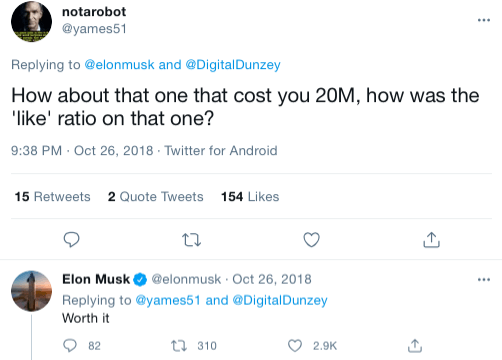 Source: Elon Musk, Twitter
Tesla and Musk were on far better behavior in February this year when they came under fire from a number of Chinese government agencies, including the State Administration for Market Regulation ("SAMR"), as a result of the growing cacophony of consumer complaints and safety concerns. Rather than ignore or mock the Chinese agencies when they complained, as they have been wont to do in other markets, Tesla instead issued an obsequious apology.
Musk has also appeared at times to go out of his way to praise the Chinese government and economic system, even comparing them favorably to those of the United States. Twice in January alone, he opined that, compared to the American government, China's was "more responsible" with regard to improving their citizens' happiness. While Musk's American citizenship renders him safe from the more heavy-handed tactics Beijing has lately deployed against domestic tech giants, he is clearly aware that the nature of power is very different in China than it is in the United States – and has acted accordingly.
Musk's China charm offensive may keep him, and thus Tesla, in Beijing's good graces, but it may have unintended consequences elsewhere. The American media has been looking increasingly askance at Tesla's Chinese dealings, especially Musk's "cozying up" to the government, as the New York Post put it last month. For the many people, investors and disinterested citizens alike, who have come to see Tesla's rise against all odds to take on the global auto industry as a kind of 21st century David vs. Goliath, such pro-China rhetoric may prove jarring.
Tesla's success has been built in large part by powerful narratives and a public image as an ethical agent for good. Buddying up to a regime currently being accused of committing genocide against an ethnoreligious minority group – as well as being engaged in an increasingly tense geopolitical struggle with its home country and largest market – may not be a sound long-term strategy.
Tesla risks being caught in the middle of a geopolitical crossfire from which it might prove challenging to extricate itself. Indeed, its high public profile in both China and the United States could make it a tempting target for retaliation, should the two powers seek to pressure one another economically or politically. Such a situation is hardly unimaginable in light of the erstwhile Trump administration's bellicose attitude and instigation of a minor trade war with China.
Moreover, the Biden administration has thus far taken a firm stance in its negotiations with China, raising the potential for further conflicts and disputes. Tesla could find itself made a political pawn in their larger game, thanks to a number of terms buried in its Shanghai factory contract, which Montana Skeptic has already detailed in his previously linked article:
If 'special circumstances' arising from 'public interest' require the grant to be revoked early, then (per Article 22) the Shanghai Bureau may do so, reimbursing Tesla Shanghai only for the 'residual value' of the land and improvements. And, if something called the Shanghai Lingang Area Development and Construction Management Committee determines that 'the industry product within the granted land fails to meet relevant standards,' then (per Article 48) the PRC can take possession of the factory site. The Grant Contract does not offer any definition of 'special circumstances,' 'public interest,' or 'relevant standards,' nor does it indicate who the Committee members are or how they are selected.
In essence, China has the power to seize Tesla's Shanghai factory virtually at will. Thus, even Musk's kowtowing might not be enough to save Tesla from Beijing should international tensions escalate. This is no mere hypothetical or fanciful "what if" scenario. Indeed, some of Wall Street's leading analysts have woken up to the danger. Morgan Stanley's Adam Jonas, for example, cautioned investors about Tesla's potentially perilous Chinese position in his March research update on the name:
We urge Tesla investors to consider, among a range of scenarios, the valuation of Tesla with little or potentially no material contribution from its Chinese operations. How dependent is your bull thesis on Tesla China? We are not suggesting that Tesla China has a zero NPV, but encourage investors to flex their terminal value assumptions and see where valuation stacks up...We forecast Tesla China volume peaking in the year 2027 at just under 900k units and declining from there. Beyond 2030, our implied growth rate and terminal valuation of Tesla China business includes significantly diminished contribution from China.
What Jonas, a Tesla bull of longstanding, is saying here is that, while Tesla will likely grow its presence in China over the relative short run, there is reason to believe that it will eventually diminish severely, likely in the face of a darkening geopolitical climate. That is hardly a welcome prognosis for a company already priced for vast growth and decades of global EV market leadership.
Investor's Eye View
Tesla has long maintained that China – and its rapidly growing EV market – will be critical to its own long-term success. That belief is what drove the lightning-fast buildout of the Shanghai factory. Tesla needs the Chinese market desperately in order to maintain its growth narrative. With competition hot on its heels, Tesla faces an uphill battle in China to establish the necessary long-term market share already baked into its $644 billion market capitalization.
Unless Tesla can eventually establish – and maintain – global auto market share several times greater than any automaker currently in operation, its equity will have nowhere to go but down. While the jury is technically still out, the fact that Tesla has already been displaced as Europe's top EV seller would seem to bode rather ill for its prospects of achieving unprecedented automotive market domination.
If that was not bad enough, Tesla's extreme vulnerability to Chinese government interference, as well as its potential to be used as a political weapon in an escalating Sino-American confrontation, leave it exposed to a multitude of exogenous pressures – some of them potentially lethal for the still relatively small automaker which, lest we forget, holds barely 1% of global auto market share at present.
My advice to investors interested in Tesla is to look very closely at its setup in China before taking any action. There is a lot going on, and a lot that could happen, that is not currently on most investors' radars. The Chinese market may yet prove to be the source of endless demand that Tesla has long claimed it to be. But it could also prove to be the bed of thorns on which Tesla's bubbly valuation will finally pop.
Trade carefully!
This article was written by
Investment professional specializing in deep value opportunities, growth plays, special situations (long + short) across a range of asset classes and industries.Current Role(s): President, Almington Capital Merchant Bankers; Chief Investment Officer, The Cannabis Capital Group.Asset Classes: publicly traded securities (stocks + fixed income), private equity, real estate, venture capital, cannabis, fintech.https://subscriptions.seekingalpha.com/lp_premium_beat_the_market_4/?source=affiliate:42612986Education: MA, Trinity College Dublin (economics + philosophy); Diploma (finance), London School of Economics & Political Science; MBA, University of Oxford.
Analyst's Disclosure: I am/we are short TSLA. I wrote this article myself, and it expresses my own opinions. I am not receiving compensation for it (other than from Seeking Alpha). I have no business relationship with any company whose stock is mentioned in this article.
Seeking Alpha's Disclosure: Past performance is no guarantee of future results. No recommendation or advice is being given as to whether any investment is suitable for a particular investor. Any views or opinions expressed above may not reflect those of Seeking Alpha as a whole. Seeking Alpha is not a licensed securities dealer, broker or US investment adviser or investment bank. Our analysts are third party authors that include both professional investors and individual investors who may not be licensed or certified by any institute or regulatory body.