DermTech Inc: A Compelling Growth Story With Upside
Summary
DermTech is bringing products to market that detect skin cancers in a cheaper, less invasive, and more accurate manner than biopsies.
The company is set to see rapid revenue growth as new products launch, and commercial coverage expands.
The stock is expensive, but will burn off its lofty valuation over time. Investors can DCA and buy on opportunistic dips.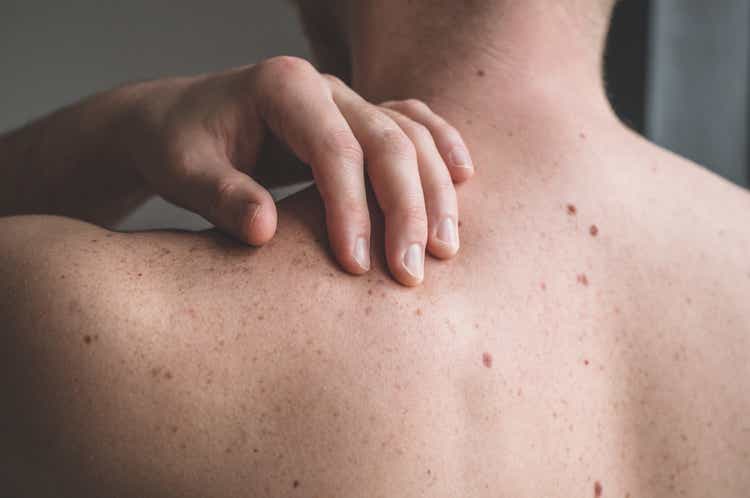 Skin cancer is the most common form of cancer in the United States. There are more cases of skin cancer diagnosed each year than all other cancers combined. But like many aspects of the healthcare system, the way we go about diagnosing skin cancer is very dated. When you have a stagnant and dated solution to a large problem, opportunity for innovation exists.
This is where DermTech Inc. (NASDAQ:DMTK) has found its footing. The company is modernizing the diagnosis of skin cancer. With an innovative product and a large addressable market, DermTech is poised for a multi-year stretch of growth. When you consider the company's expensive valuation, investors need to decide whether or not to wait for the promising business to grow into its valuation.
Traditional Biopsies Vs. DermTech
A traditional skin biopsy is a dated medical procedure. Biopsies go as far back as the 1800s. For a traditional skin biopsy, skin tissue is removed from the patient and then analyzed (often via a microscope) to look for abnormalities.
There are some problems with traditional skin biopsies. Traditional biopsies are subjective, typically relying on a visual inspection by a health professional. This means potential inaccuracies (missed cases, or conflicting opinions).
I found an interesting article detailing all of the confusion that can come from the "gray areas" of a skin biopsy. In addition to this, biopsies are invasive. This makes them painful for patients and often require a scheduled procedure. This makes it more likely that patients avoid testing because they don't want to deal with the pain/hassle of a biopsy.
DermTech solved this by developing a much less invasive, more precise way to diagnose skin irregularities. DermTech's product is an adhesive patch that collects a DNA sample that is then analyzed using genomics. There is no subjectivity, the results are binary.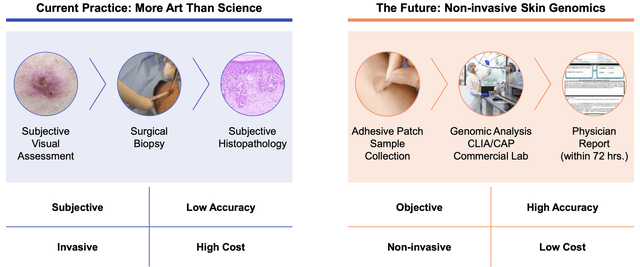 Source: DermTech Inc.
The sample collection process is quick and painless, and the results are far more accurate. When testing for melanoma (the most deadly type of skin cancer), traditional biopsies have an estimated success rate of 83%, while DermTech is 99% accurate.
Skin Care Is A Large Market
The company's core product deals in detecting melanoma skin cancers, but the company's pipeline expands outside of that niche. DermTech currently has products in development for non-melanoma skin cancers (Carcinome), UV damage related cancer risks (Luminate), and cutaneous lymphoma (CTCL).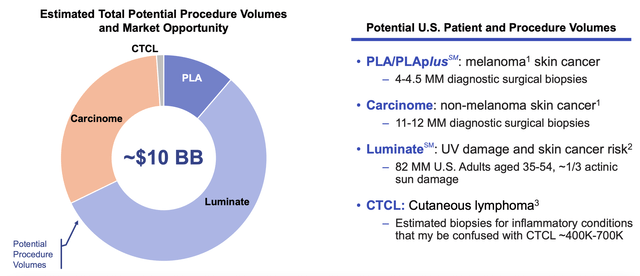 Source: DermTech Inc.
The combined size of the addressable market for these skin conditions is estimated at $10 billion. Considering the company's 2020 revenues totaled $5.9 million, we are clearly in very early innings here.
The company has included a focus beyond skin cancer in its mission statement, but this is likely well into the future as the company's operations are strictly skin cancer focused at this point.
Pipeline and Catalysts
Next, let's look at the progress of some of DermTech's developments and growth prospects. The company's current commercialized product to detect melanoma is actually a small slice of the overall TAM. The company is in the validation stage for Luminate, which would open up more than $5 billion of TAM to DermTech, a huge growth catalyst. The company's other significant developing product is Carcinome, used to detect non-melanoma cancers. However, this is in the discovery stage so it's a little bit further behind. DermTech is anticipating the launch of these products within the next couple of years.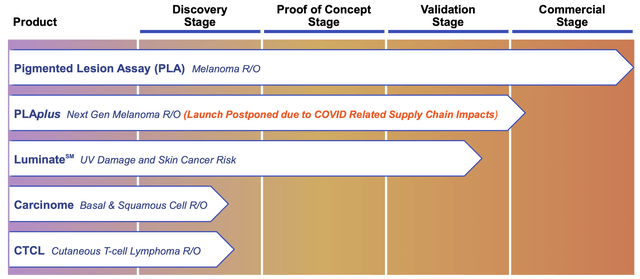 Source: DermTech Inc.
If we look at the actual commercialization efforts of what is available to market (Pigmented Lesion Assay), there are some good developments that have taken place to accelerate acceptance of DermTech in the field. In January of 2020, Medicaid began covering PLA tests. Medicare was a huge domino to fall because it covers roughly half of biopsies performed in the US.
The company has also gained traction in the private sector, inking deals with Blue Cross Blue Shield of Illinois in November, and Texas in February. There is no reason to suspect momentum to reverse here, large dominos have already fallen and the technology provides a cost saving compared to traditional biopsies (money is always the most important motivator).
These coverage deals combined with new products entering the market over the next couple of years will produce rapid revenue growth. In FY2020 the company's $5.9 million of revenue represented YoY growth of 75%.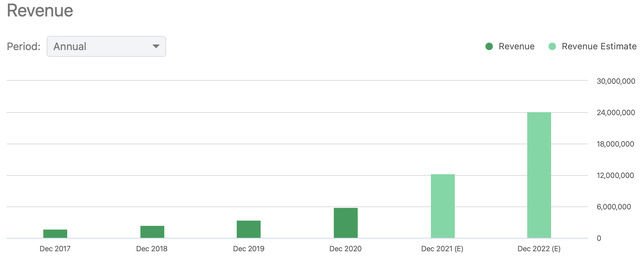 Source: Seeking Alpha
Revenues are projected by analysts to accelerate, doubling to $12 million this year and to $24 million in 2022.
Valuation Represents A Dilemma
The stock has been a sensation over the past year, spending significant time in the $11-$15 range before going as high as $80 over the past few months. The stock currently trades at $49 per share.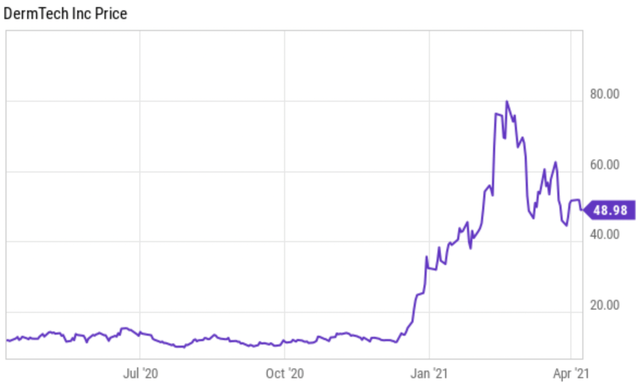 Source: YCharts
As a rapidly growing company, valuation can be tricky to gauge. The company's enterprise value of $1.3 billion appears quite steep considering its $5.9 million in revenue.
Going by EV to sales, the stock's multiple is an eye-watering 220X. But because the company is going to see revenues accelerate so rapidly, it's not as bad as it looks.
Against this year's revenue estimates of $12.2 million, the EV to sales multiple drops down to 106X (still quite expensive). Against 2022 estimates, the multiple drops again to 54X. This is not cheap by any means, but we can see that the market is pricing in a few years of growth into the current price.
As investors, you need to decide if you would be willing to wait for the company to grow into this multiple. Moving out further beyond next year, the stock is likely going to continue growing revenues at a rapid rate, so the valuation will burn off in 2-3 years. Could we see shares correct further than they have from highs? Of course. But quality growth stocks can also remain expensive for long periods.
This dilemma ties into the risk of owning DermTech. The stock is asking you to assume successful product development and future commercialization. Should something happen to DermTech's products (say a product fails to reach the market for example), it could cause a sharp rerating of the stock.
I don't personally hold a position because of valuation, but I could certainly see the case for a dollar cast average entry, with larger adds coming at future pullbacks.
Wrapping Up
DermTech is an interesting company that is bringing a viable solution to the skin cancer field. With commercialization gaining momentum and new products soon to launch, DermTech will see rapid revenue growth over the coming years. A bit of this is priced into shares currently, but patient investors can still realize upside over the long term by allowing shares to grow into the valuation and adding opportunistically.
This article was written by
Using fundamental analysis and common sense, I provide straightforward insights on stocks and markets. https://www.threads.net/@wealth__insight- Bachelor's degree in Business Administration with a concentration in Financial Analysis. Been investing and following the markets for more than a decade.- Wealth Insights is an investor and investment author. His content is not geared to anyone's investment goals, time horizons, or risk tolerance. Content is for illustrative purposes only and is not intended to displace advice from a fee-based financial adviser. It is not to be taken as investment advice or influence investor decision-making. The accuracy of data is not guaranteed.
Analyst's Disclosure: I/we have no positions in any stocks mentioned, and no plans to initiate any positions within the next 72 hours. I wrote this article myself, and it expresses my own opinions. I am not receiving compensation for it (other than from Seeking Alpha). I have no business relationship with any company whose stock is mentioned in this article.
Seeking Alpha's Disclosure: Past performance is no guarantee of future results. No recommendation or advice is being given as to whether any investment is suitable for a particular investor. Any views or opinions expressed above may not reflect those of Seeking Alpha as a whole. Seeking Alpha is not a licensed securities dealer, broker or US investment adviser or investment bank. Our analysts are third party authors that include both professional investors and individual investors who may not be licensed or certified by any institute or regulatory body.