Editor's note: Seeking Alpha is proud to welcome Alexander Ebbinghouse as a new contributor. It's easy to become a Seeking Alpha contributor and earn money for your best investment ideas. Active contributors also get free access to SA Premium. Click here to find out more »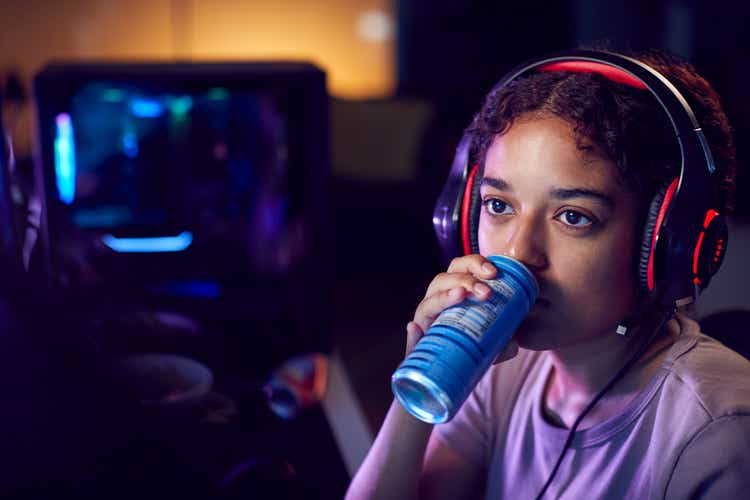 Celsius Holdings (NASDAQ:CELH) has garnered a lot of attention from investors over the past year, and for good reason. I first started researching Celsius Holdings in January of 2020, and saw great long-term potential in the company. I thought that one day they might be able to take on Red Bull and eventually Monster Energy (MNST), which was one of the fastest hundred baggers in the history of the stock market. Others have recently been making the comparison with Monster, and see many similarities with the company's growth story.
Celsius first reached profitability towards the tail end of 2019, and their revenues have grown quite substantially over the last two years. As an already profitable company, Celsius can self-fund their growth and continue rapid expansion for years to come. The company has a strong foothold in Finland, Sweden, and Norway due to Celsius's acquisition of Func Food Group Oyj in 2019, which introduced the product on the international level and quickly became a leading fitness beverage.
Recently, the numbers show that they are one of the fastest growing brands in the category and are starting to take substantial market share away from the competition. Celsius Holdings remains one of the best growth stocks in the market, even after the drop from last quarter's earnings report, which created a buying opportunity for long-term investors.
Growing Distribution Channels, Including Gas Stations
During the first quarter of 2020, I struggled to find Celsius in any of the stores I would frequent. This has changed dramatically over the course of the last year, as Celsius expanded their distribution widely and increased their SKUs in a number of retail locations to include many different flavors. The drink is now is found in over 82,000 stores nationally, and has plans to expand even further into other channels.
Since the fourth quarter of 2020, Celsius Holdings has expanded into thousands of Speedway gas stations, a brand new market for their products. Approximately 82% of stores carrying Celsius products have now been converted to Direct Store Distribution (DSD), and additionally, Celsius has begun to roll out branded coolers in many of these locations. This has led to a 200% increase in velocity rates in early 2021, and an increase in sales by nearly 98%.
Lots of energy drink sales come from c-store locations - people traveling on the go, or needing a pick-me-up before work in the morning. The data seems to support this, as energy drinks have been recognized as a top performer in c-stores for years. The company first expanded into 7-11 locations, Sunoco, and Casey's General Stores, and now with over 2,400 Speedway stores included, it appears many more gas stations will adopt the drinks in the near future. Along with the widespread reopening of gyms in 2021, Celsius's distribution channels are now ready to serve the masses of people that will be returning to somewhat of a normal life. This will contribute substantially to the company's revenues in the second and third quarters of this year.
Why Celsius Is Positioned For Long-term Success, Despite Risks
With the explosion of the COVID-19 pandemic across the entire world, staying healthy and exercising regularly is now on the front of most peoples' minds. The forces that were set to destroy all that Celsius had worked for actually became a tailwind that pushed Celsius's products forward as a healthier, better option than the competition.
During the COVID-19 pandemic, Celsius was able to grow revenues at around 74% and vastly expand distribution and marketing. In early 2020, with gyms forced to close across the country, it was looking like Celsius's main revenue source was gone. While everyone was stuck at home due to COVID-19 lockdowns, the company quickly changed from conducting in-person events to doing Instagram Live workout videos with professional fitness trainers. This marketing campaign and rapid growth of online sales on Amazon helped boost their revenues to new heights in 2020. Celsius's market share on Amazon went from around 2% to over 14.5% of the total category, putting them just behind Red Bull. This now makes Celsius the third largest energy drink brand on Amazon.
Amazon sales grew from 12% of total sales in 2019 to approximately 15% of total sales in 2020. While the boost in online sales helped the company recover from lost revenue due to gym closures, it is clear that Amazon is not the main source of revenue for Celsius. Physical locations such as grocery stores, gyms, and most recently, gas stations, will continue to be the main driver of Celsius's revenues going forward.
Gross margins have also been improving over time, and are now at 48.9%. Compare this with the previous year at 41.7%, and it shows a 700 basis point increase. But, there are some risks which could affect their margins going forward, and other risks associated with the beverage category as a whole. Celsius is not immune to these risks.
Management warned during the most recent earnings call that margins may come under pressure due to increased costs, mainly relating to sourcing of aluminum cans during an industry-wide shortage that has been going on for many months.
Celsius has addressed this by wrapping previously unused aluminum cans with plastic packaging, reusing the cans they have leftover from discontinued flavors. While this is only a temporary fix, it buys the company some time until the can shortage can be sorted out. Other risks which could hurt Celsius's margins further are the strengthening U.S. Dollar and an increase in fuel costs, which would impact their freight costs related to shipping.
Another risk that is specific to the company is spending too much on operational expenditures, such as marketing. While increasing marketing expenses is standard for a high-growth company, Celsius has increased these expenses by 59.5% compared with the same quarter in 2019. Spending exorbitantly on marketing with no increase in underlying sales would be detrimental for the company's future and remains a substantial risk.
However, Celsius's marketing seems to be paying off, as the company has nearly doubled their social media following in the last nine months. Most recently, they have teamed up with world famous mixed-martial arts fighter Dustin Poirier, who recently defeated Conor McGregor in UFC 257. This partnership shows just how far the Celsius brand has come in the last year, and marks the beginning of a new era for the company.
2021 And Beyond - Why I Am Still Long Celsius
There is still a very strong investment case for Celsius, even at these seemingly high share prices. While past business performance is no indication of future business performance, there are many reasons to believe that the growth story is just getting started.
On January 6th, it was announced that Celsius Holdings was to be added to the S&P SmallCap 600 Index. The most recent quarterly earnings report showed that Celsius missed on earnings per share by one penny, and beat on revenues, but the international growth was not nearly as high as the market had hoped. Many disappointed investors feared the growth story had come to a swift end, and that Celsius was useful for a quick gain in 2020, but nothing they wanted to stay involved with any longer.
However, if we take a step back and look from a longer-term perspective, this exact same thing happened the previous year. The fourth quarter is historically the seasonally weak period for beverage sales, as the cold winter months keep people inside more often, while the spring and summer is the seasonally strong period for beverage sales. With COVID-19 lockdowns being eased as the vaccine rollout goes into full force, the next nine months are likely to be some of Celsius's best quarters ever.
On the latest earnings call, CEO John Fieldly made a statement that shows the potential of Celsius over the long term:
Being the third largest brand with this share on Amazon demonstrates and reinforces our market opportunity in the energy category in traditional retail. And with a level distribution playing field, a 14.5% share equates to approximately over $2 billion in reported retail sales according to recent total Nielsen category data. This is why we're so excited with our national distribution network, which will provide us with the opportunity to gain those placements and, again, verify Celsius warrants better placements and greater distribution.
With well built-out distribution channels combined with strong branding and increased market awareness, Celsius is uniquely positioned to take even more market share away from competitors such as Bang Energy, Monster, Rockstar, and Red Bull.
With the rollout of branded coolers starting this quarter, Celsius's adoption within the energy drink market is poised to grow even more, transferring their rapid market share growth from online to c-stores and brick-and-mortar locations. Celsius Holdings did approximately $131 million in revenues for 2020, so the growth in trending towards a $2 billion revenue opportunity over the long-term is extraordinary.
If we are conservative, and assume a 30% annual revenue growth rate (less than half of the company's current revenue growth rate), Celsius could achieve over $1.8 billion in annual revenues within the next ten years. This estimation could actually be too conservative, as it assumes a 14% market share without further growth. Celsius is currently taking market share at an unprecedented level, judging by rapidly growing online sales. Going from a 2% market share to over 14% on Amazon in such a short amount of time is a big deal for Celsius, and shows the massive potential for their products in physical locations going forward.
Celsius Holdings has everything a long-term investor looks for in a rapidly growing company - profitability, a great management team, and a long growth runway for years to come. If you are a patient investor with a long-term mindset, it is important to consider what this company will look like in two, five, and ten years from now. Celsius proved in 2020 that it can compete on the same level with the big players in the energy drink space, and now is ready to prove itself once more in the year 2021 and beyond.