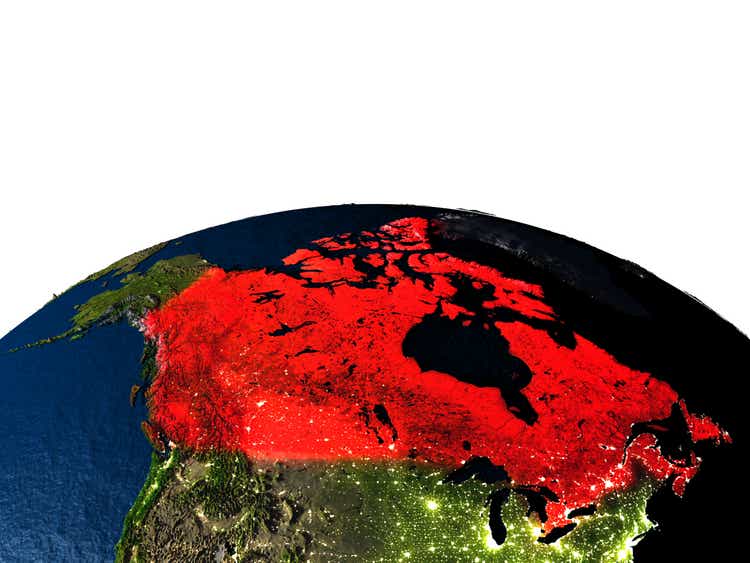 The Deal
Canada's Shaw Communications (SJR) agreed to be taken over by Rogers Communications (NYSE:RCI) on March 15. The offer price is 40.50 (CAD) all in cash, except for members of the Shaw family who will receive 60% of the deal consideration in Rogers shares. Rogers is a nationwide wireless phone provider that also offers cable TV and internet in Ontario, New Brunswick, and Newfoundland and Labrador. Shaw is a major cable provider in Western Canada and also owns Canada's fourth largest mobile provider, Freedom Mobile.
Freedom operates its own 4G network in populated areas of British Columbia, Alberta, and southern Ontario and provides nationwide connectivity through partners' networks. With less than 2 million customers, Freedom ranks far behind Rogers, Telus (TU), and Bell (BCE) which have over 10 million customers each.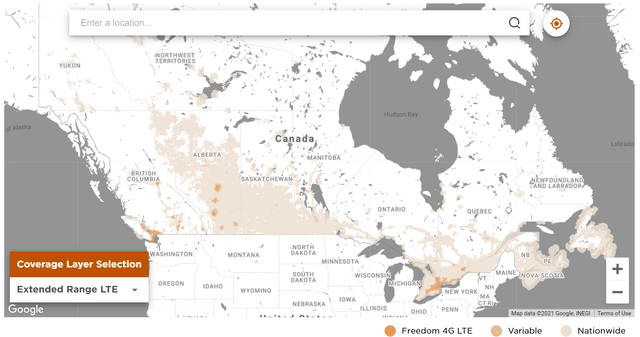 Source: Freedom Mobile
Shaw's stock gained over 41% on the day of the announcement but still has another 20% gain remaining to reach the deal price of 40.50 CAD or around 32.23 USD. An arb of this level suggests there is still significant market skepticism that the deal will close by the Q1 2022 target date. Canada's parliament held hearings on the merger this week in which analysts and academics objected to the elimination of Freedom Mobile as a viable fourth competitor in the mobile phone business.
While this is a concern, Shaw's main business is its cable and internet services, which earn 80% of Shaw's revenues and 97% of free cash flow. It is still possible that Rogers and Shaw can find a creative solution for Freedom Mobile without scuttling the whole deal. As we saw in the US with Sprint and T-Mobile (TMUS), a much larger nationwide fourth place competitor was consolidated after agreeing to set up an alternative competitor in the form of DISH Network (DISH). The cable networks remain the largest driver for the merger, and with Shaw and Rogers operating in different areas of the country, there should be far less anti-competitive concern.
Given the lack of anti-competitive concern in the wireline businesses, I believe the two companies can address any concerns around Freedom Mobile and sill complete the merger. Even if the deal were renegotiated in the event Freedom Mobile had to be spun off or sold, Shaw is trading far enough below the original deal price that it is still a buy at current levels. Merger arbitrage is generally more risky than buy-and-hold investing, but with much of the market trading at historically high valuations, there are risks to both strategies. Shaw's 20% return potential from here can be a worthwhile trade for the speculative portion of a portfolio.
The Benefits
With a coast-to-coast fiber network, Rogers would benefit by creating an attractive offering for nationwide businesses and the government which now need to work with more than one provider to meet their data transmission needs. It also offers the opportunity for Rogers to offer bundles of wireless and cable service across the country, increasing convenience and reducing churn. It also allows Rogers to use Shaw's fiber network in Western Canada for 5G backhaul.
On the cost side, Rogers mentioned on the conference call that it expects 1 billion CAD of synergies from the deal. While it did not go into great detail at this stage, we can expect cost savings in corporate functions like customer service, marketing, IT, and procurement.
Rogers also offered several societal benefits to make the deal more palatable to the regulators. These include a commitment to spend $2.5 billion on 5G build-out in Western Canada and $1 billion to connect rural, remote, and indigenous communities. The combined company would also maintain its Western office in Calgary and add 3,000 net new jobs. Finally, Rogers committed to leaving prices for Freedom Mobile customers frozen for three years after the deal closes.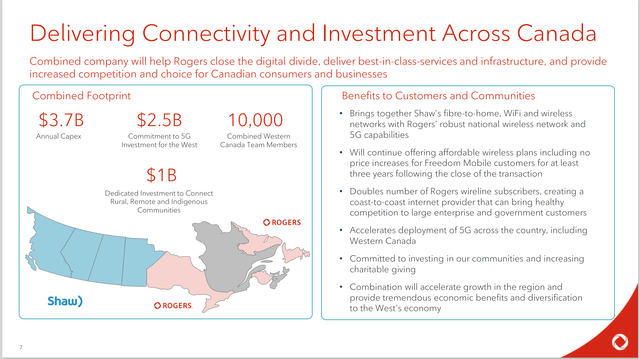 Source: Rogers Communications
The Obstacles
The chief objection to the merger is the elimination of a nationwide fourth mobile competitor when Canada is known for having some of the highest costs for mobile phone service in the world. A recent study found that Canada ranked the most expensive for a 20 GB data plan, for example 7 times the cost for a similar plan in France.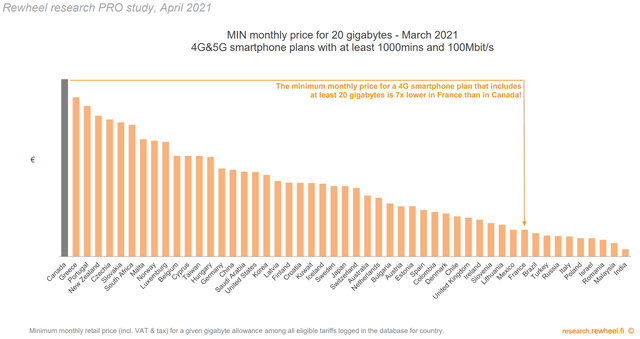 Source: Rewheel Research
At parliamentary hearings this week, a law professor from the University of Ottawa suggested that regulators require a spinoff of the wireless assets before approving the deal. There was also skepticism about the three-year price lock commitment.
"If this merger is approved, the situation is likely to get worse. Indeed, when Rogers promises that it will not raise prices for Shaw Freedom Mobile customers for three years, it effectively signals that it will be raising them as soon as the clock runs out on that time."

University of Ottawa Law Professor Michael Geist (Source: Yahoo Finance Canada)
Mergers in Canada are reviewed by the Competitions Bureau, but analysts commented that the Efficiency Defense could be cited to justify the merger due to the 1 billion CAD of cost synergies indicated. However a telecom merger would also be subject to review by the Canadian Radio-television and Telecommunications Commission, or CRTC, which has committed to hold public hearings on the merger.
While a required spinoff of Freedom Mobile is not the preferred outcome, it should not be enough to kill the deal. Rogers would still benefit from a nationwide fiber network which can benefit its own mobile network through 5G backhaul capex efficiencies and the opportunity to offer bundled service across the country. As we see from Shaw's 2020 Annual Report, the wireless business while growing still only comprises 14% of Shaw's EBITDA.

Source: Shaw Communications
Valuation And Risks
At the 40.50 CAD deal price, Rogers values Shaw at 10.7 EV/EBITDA based on 2021 estimates for Shaw as an independent company. This is above the other three Canadian telco majors which all fall in the 8-9 range. However, adjusting for the 1 billion CAD of merger synergies, this multiple drops to 7.6 times. (Data source is the Valuation section of the Seeking Alpha Peer Comparison tool).
If the deal were completely scuttled, Shaw would have a long way to fall, back to the pre-announcement price of 19.17 USD, or 28% below the 4/8/2021 closing price of 26.69 USD. I believe this is unlikely based on the possibility of the companies working out an alternative disposition for Freedom Mobile with the regulators. If Freedom Mobile is kept out of the deal, the low 14% contribution to Shaw's EBITDA should not result in an adjustment of the deal price below current levels. While I like the chances of the deal closing, all merger arbitrage should be considered speculative and not a large portion of anyone's portfolio.
Shaw will continue to pay its monthly dividend of 0.09875 CAD until the deal closes. US shareholders would be subject to a variable dividend as the exchange rate fluctuates as well as a 15% withholding tax if held in a taxable account. US shareholders are also subject to exchange rate risk in the final deal price as it is denominated in Canadian dollars.
Conclusion
Shaw Communications stock provides an attractive merger arb opportunity at 20% below the stated deal price. Since it is all cash for those outside the Shaw family, there is no risk associated with Rogers' stock performance or its debt levels following the merger.
Regulators are concerned about the elimination of a fourth nationwide mobile competitor, but Freedom Mobile is small compared to the size of Shaw's wireline business. Rogers and Shaw should be able to work out a deal with regulators that addresses their concerns or complete the deal without Freedom Mobile as a part of the combined company.
Merger arbitrage is risky and should be limited to the speculative part of one's portfolio. I bought Shaw at 26.36 USD and it currently represents 2.23% of my account.