XPeng Inc.: A Reawakening
Summary
Valuation is middling but not overvalued like in the past.
Recent announcement of capacity expansion in Wuhan lends better operational and sales visibility.
Company could breakeven and finally reach positive profits soon; major improvements seen in operating margins.
Feared chip shortage (i.e. supply disruption) was not a disaster, deliveries are still strong.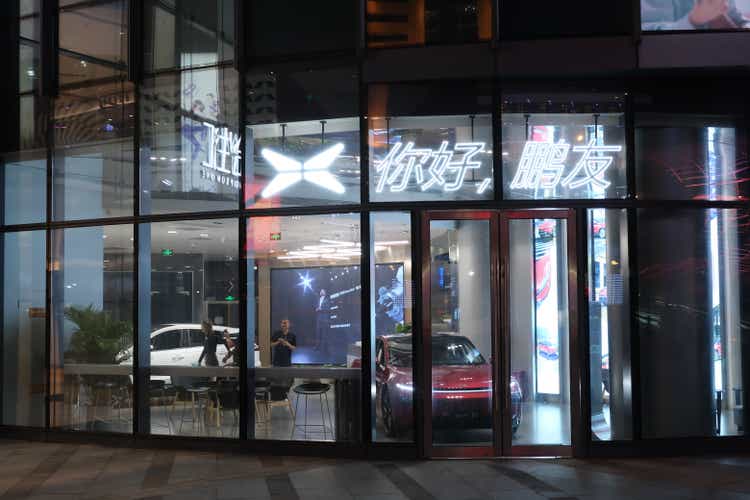 Introduction
The stock price of NYSE:XPEV has been converging with the performance of the S&P 500 since March 2021, as compared to its massive outperformance in 4Q2020. This could be view positively or negatively. On the bright side, this suggests that price performance would become more predictable with lower volatility, indicative of a broadening consensus on the fundamental prospects of the company. On the other hand, traders may be disappointed its lack of momentum. Therefore, this is probably a good time to stop viewing XPEV as purely a trade, but re-analyze its merits as a fundamentally-driven investment.
The frenetic performance of XPEV has calmed down in recent weeks, allowing its one year performance to track the S&P 500 more closely

Source: SeekingAlpha
XPEV's G3 Super Long Range Smart SUV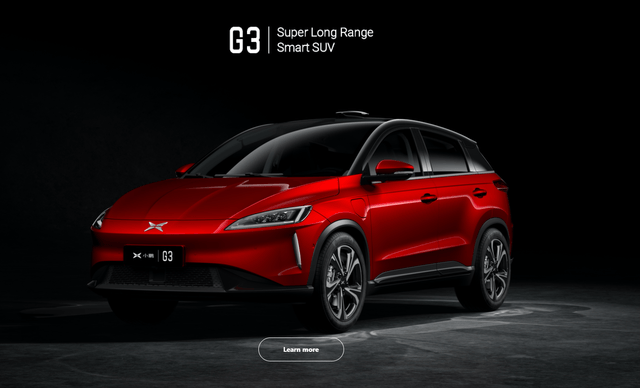 Source: XPeng Motors (G3、P7) Intelligent electric car with Internet DNA
Industry

and commercial positives
Optimism on EVs and strong industry growth rates are common knowledge by now. The following points suggest specific positives for XPEV that remain intact despite relatively ebbing momentum on the stock's price (as compared to 4Q2020):
Deliveries met despite fears on chip shortage. While the stock's price momentum appears to have ebbed, recent news continues to remain positive. At an industry level, Chinese vehicle manufacturers XPEV and NIO managed to manufacture the expected numbers of vehicle deliveries, despite much feared chip shortages. XPEV chalked in record quarterly deliveries of 13,340 EVs in Q1 2021, +487% over the year and +130% over the month in March. NIO delivered 20,060 +423% over the year while Q1 deliveries rose 15.6% to 20,060. The challenge these EV manufacturers face now is not so much the ability to deliver on its numbers, but on being able to meet high expectations for the stock price to gain further traction.
Government support, China's creation of an EV ecosystem. XPEV's strong deliveries describe not only excellent support from the private sector, but also the Chinese government's push to develop this part of its industry. XPEV has entered into an agreement with the city of Wuhan to build a factory with a capacity of 100,000 EV units. This is a very significant piece of news, considering its deliveries of just 5,102 in March 2021. Annualizing this number, the new capacity will be more than the whole of XPEV's total historical annual production. This news is interesting and significant since it was just released this week, suggesting it may have yet to be factored into analysts' forecast numbers. This is made more important as XPEV has always been considered a laggard in production capabilities to its larger cousin NIO. General Chinese government support for the EV ecosystem is strong, and the new facility in Wuhan echoes earlier provincial government financial support ($77m) in Guangdong. The reality is, for EVs to gain traction, government willingness to support infrastructure initiatives are highly important (e.g. permits for charging stations, creating incentives to convert from old polluting vehicles to green vehicles, etc.). With China's tradition of central planning, the EV ecosystem is placed on the right footing.
Expected listing in Hong Kong adds to investor base and liquidity. Going forward, XPEV, NIO, and LI intend to list in Hong Kong this year. This is a strategic move, and makes the valuation of these companies less susceptible to US political bashing (e.g. the threat of being de-listed) should it occur, since it reflects a wider geographical base. The valuations of these companies may even get a boost given greater global liquidity due to added trading in the Asian time zone.
Of note, in late March, XPEV held an autonomous driving expedition covering eight cities in China and 3,675 kilometers. The exercise was successful, as minimal human intervention was needed during the expedition and adds another brownie point to XPEV's research and development efforts, placing XPEV on the competitive landscape against rivals such as TSLA and NIO on autonomous driving. Apparently, XPEV's autonomous driving results performed better than TSLA's with fewer human interventions per 100km and better navigation in complex situations.
XPEV's improving financials
Now that we have several quarters of financial data on XPEV, it is worth reviewing how its metrics have been performing. Firstly, market expectations aside, deliveries have been very good as abovementioned, and this is flowing through to revenue numbers. As shown in the below table, growth has been very strong, and revenues are expected to more than double in 2021 and continue to double in 2022. Such growth rates place XPEV at the top end of manufacturing firms, as expected of the fast-growing EV market.
Another point to note is the improvement in operating margins. As with any "new tech" company, initial investments would cause hugely negative operating margins in the beginning. What's important is the company's ability to improve margins and reduce costs over time. In this respect, XPEV has done a good job, with operating margins improving sequentially each quarter. Of note, operating margins started to see major improvements between the Jun-2020 (-142%) and Dec-2020 (-39%) quarters as shown in the table below. Given this trend, the company is likely to breakeven and register positive profits soon, which could be a catalytic re-rating for XPEV. When we pair this analysis with the stock price, it appears that XPEV's recently soft stock price performance is not justified.
Meanwhile, the balance sheet is expected to remain strong. Equity to total liabilities & equity is 23% as at Dec-2020. As abovementioned, further capital raises with a forthcoming Hong Kong listing will add to XPEV's cash buffer.
XPEV's performance improvement in both revenue and operating margin trends appear to have been ignored by the market due to recent the broad market capitulation
| | | | | | | |
| --- | --- | --- | --- | --- | --- | --- |
| Quarterly | Sep-19 | Dec-19 | Mar-20 | Jun-20 | Sep-20 | Dec-20 |
| Revenue | 62.9 | 91.9 | 70.8 | 71 | 293.1 | 436.8 |
| Growth % qoq | | 46% | -23% | 0% | 313% | 49% |
| | | | | | | |
| Annual | | | 2020 | 2021(EST*) | 2022(EST*) | |
| Revenue | | | 895 | 2130 | 4160 | |
| Growth % | | | | 138% | 95% | |
| | | | | | | |
| Quarterly | Sep-19 | Dec-19 | Mar-20 | Jun-20 | Sep-20 | Dec-20 |
| Op income | -106.6 | -156 | -100.8 | -101.1 | -256.9 | -171.8 |
| Op inc margin | -169.5% | -169.7% | -142.4% | -142.4% | -87.6% | -39.3% |
*EST = estimate by analysts' consensus from SeekingAlpha
XPEV's valuation: somewhere in the middle
XPEV's stock price has done well over the last 6 months versus peers. On a TTM P/S, XPEV is near the middle although its FWD P/S is trading at a premium. However, there could be a general re-rating of the P/S of the sector if the Chinese EV manufacturers reach breakeven in 2021 and record positive profits (our base case belief, given the prevailing trend in XPEV's improving operating margins). This will then allow better price discovery when the companies can then be valued on their P/E ratios.
| | | | | | | | |
| --- | --- | --- | --- | --- | --- | --- | --- |
| | 6M Performance | Market cap (B) | TTM P/S | FWD P/S (estimate) | 2021 sales (B) | 2022 sales (B) | Positive P/E? |
| | 69% | 28.4 | 14.4 | 12.3 | 2.13 | 4.16 | N |
| | 73% | 62.5 | 17.7 | 10.9 | 5.36 | 8.61 | N |
| | 25% | 23.1 | 6.7 | 7.0 | 2.87 | 5.13 | N |
| | 58% | 663.9 | 19.9 | 13.2 | 48.74 | 62.95 | Y |
| Average | 60% | 194.5 | 14.6 | 10.8 | 14.8 | 20.2 | N |
Conclusion and Risks
XPEV's stock price may benefit from two key catalysts: (1) expansion of manufacturing facility in Wuhan, which will concretely raise visibility of revenue growth which is expected to double; (2) a valuation regime change as it progresses from a loss making company to a profitable one, expected by this year. Furthermore, it is worth noting that the valuation is not lofty as compared to price levels in 4Q2020, having fallen over the last couple of months.
Competition may exist and remain intense, but given the large size of China's market and that there are only a couple of notable players (i.e. NIO, LI), the market remains largely an oligopoly which allows XPEV to retain pricing power.
Much feared risks of execution in the past appear to have materialized but not in a big way, i.e. the previously expected chip shortage. Given the progression to a post-COVID economy, supply chain links should improve and reduce similar risks in the future.
On a standalone basis, XPEV's prospects appear bright, and now the key hurdle is whether the NASDAQ will find momentum and exceed previous highs. The base case for this should lean towards the positive as the market is merely in the first year of the economic recovery after the pandemic. Recent price consolidation appears to have created a technical setup for a reawakening of price momentum as consumer activity revives post-pandemic.
This article was written by
Mercury Research has tracked the financial markets through several cycles, with prior experience in multi-asset funds' strategies. The core methods focus on extracting value through fundamental analysis, technical analysis and macro financial markets indicators. These skills are applied across multiple strategy styles and markets with absolute return targets. Formally trained PhD in economics and finance.
Analyst's Disclosure: I/we have no positions in any stocks mentioned, and no plans to initiate any positions within the next 72 hours. I wrote this article myself, and it expresses my own opinions. I am not receiving compensation for it (other than from Seeking Alpha). I have no business relationship with any company whose stock is mentioned in this article.
Seeking Alpha's Disclosure: Past performance is no guarantee of future results. No recommendation or advice is being given as to whether any investment is suitable for a particular investor. Any views or opinions expressed above may not reflect those of Seeking Alpha as a whole. Seeking Alpha is not a licensed securities dealer, broker or US investment adviser or investment bank. Our analysts are third party authors that include both professional investors and individual investors who may not be licensed or certified by any institute or regulatory body.