TransUnion: Entry Into U.S. Sports Betting Tech Is A Milestone
Summary
The company's extensive data capabilities play heavily into its potential to serve sports betting operators with everything from onboarding, to granular data sets, fraud detection, and marketing heft.
Its technology in credit reporting can be marketed as an insurance policy against firewall breaching that can add to overall security.
Its move raises the stakes for the entire subsector of pick-and-shovel tech providers to sports betting platforms.
Looking for a portfolio of ideas like this one? Members of The House Edge get exclusive access to our model portfolio. Learn More »
"Data is the new oil… " recent trope around Wall Street.
For perspective, remember this date: Jan. 10, 1901. It's when a Texas wildcatter watched stunned as his well at Spindletop Hill near Beaumont, Texas, blew a gusher, pouring out a then unimaginable 100,000 barrels a day. From that day forward, the world changed. The immense surge of black gold that spewed out from Spindletop quickly poured upstream as it were, into the pockets of Wall Street traders snapping up shares of stocks that became Gulf, Texaco and what is now Exxon Mobil (XOM). Now take a leap forward to July 5,1994, the first day an online bookseller dubbed Amazon.com (AMZN) quietly unleashed its technology on book buyers around the world. And again, the world changed and is still changing as data migrates from the box on one's desk to the cloud.
Tucked in between these watershed events was by comparison only a trickle event, but by any means a game changing gusher as well. On May 10, 2018, the US Supreme Court struck down the PASPA law which had been the principal barrier to the states legalizing sports betting. The data revolution already was surging and the marketers of betting platforms leaped on its back with a growth arc no less powerful in its way than that original oil gusher more than 120 years ago.
Carl Icahn is said to believe that Wall Street reportage tends to exaggerate news. If bullish it goes into paroxysms of joy over certain stocks, if bearish, it growls dire warnings. But either way, too much reporting tends to hide gut level truths. It's between these Netherworlds of bloviating that true values can be dug out. And it's where guys like Icahn have made their billions seeing what blurs the eyes of others.
So has the flood tide of opinion on sports betting stocks gushed over the investment world since the PASPA decision. There has been much puffery. But the enduring truth still emerges: Data is indeed the new oil and the sports betting sector stocks are creatures of the skill sets in creating and exploiting that data. The rapid transformation from a single state monopoly in Nevada since way back in the day, to a 20 state matrix of legal sports betting jurisdictions in just three years, is stunning.
In just those few years, the total handle of legal sports wagering has risen to a cumulative $47b, throwing off $3.3b in revenue to the 20 companies now in hot pursuit of every new state that goes legal. We expect legal states will number 38 when the inevitable brick wall is hit by 2025/2026.
Estimates of the size of the sports betting market run the gamut of $30b to $40b to over $119b by some of the heavy breathing analysts. Based on current revenue flow, we settle in around $30 to $40b. No small change for sure. This is an industry in a hurry and no wonder. It's continuing mastery of the arts black box and otherwise, of data, and gets better by the day. And that brings us to the latest uninvited guest to the sports betting gala: TransUnion (NYSE:TRU), yes, that company, one of three whose score pronouncements from on high determine if you'll get that mortgage, qualify to buy that Maserati, get that SBA loan, etc. And now, who you are and what you bet. And ID's deadbeats in seconds.
TransUnion: Data is indeed the new oil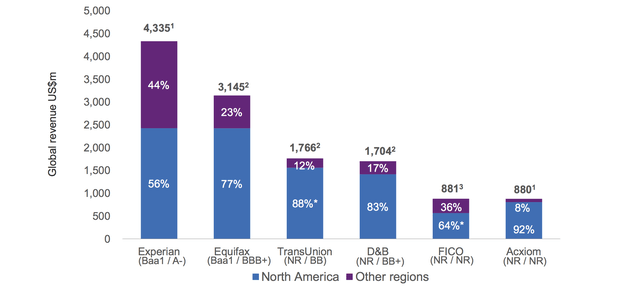 (Source: TRU archives)
This week TRU announced it was joining the US sports betting free for all through its operating subsidiary TransUnion Gaming Services LLC. The mission: To provide identity, fraud and marketing programs across many legal sports betting states. This is nothing new for TRU. They have been at the tech size of the sports betting game in the UK for over a decade. They will have no trouble getting licensed.
They put the market potential growth at US $119b, somewhat heady in our view, with data products to support online sports betting, DFS as operators and also casinos.
They see their role as a super-reliable data flow guide through the entire sports betting process beginning with onboarding, to verification, fraud detection and protection of player accounts with dramatically reduced login friction. The key is TRU's identify authentication data capabilities to validate a fortress identity program, which presumably offers the most steely of firewalls against fraud, underage or compulsive gambling and granularity of player data.

(Source: TRU archives)
AI will play a role and machine learning to convert to data-driven insights providing more connectivity for operators on insights as player bases expand, develop and activate from onboarding through the entire process. In the UK TRU says then have already serviced over 84m transactions for the top gaming brands in ID verification, responsible gaming and fraud.
The company drives its massive data machine through three subsidiaries: US data, International and Consumer, operating now in over 30 countries.
Its market cap sits at $17.9b, EV/EBITDA: 22.20. And its stock has traded at its low a year ago ~$76 a share.
The pick and shovel sports betting sector rises
What we see here that commands our notice in the entry of TRU to the US sports betting tech sector is the elevation of the data providers in general to the next potential gusher as it were. It rises for the simple reason that most pure-play sports betting stocks are the platform operators whose shares already have seen a meteoric rise and may be stagnating a while.
And it's in the command of data that will provide the fuel as it were, in the rate of speed with which the platform runners will begin to separate between gushers and expensive promotional dry holes. Those who can drill down deepest into the murky reaches of the bettor's brains and habit patterns, those who can dynamically follow and toss away potentials for fraud and/or problem gambling, will win.
It will only take one major scandal where either large numbers of underage gamblers broke fire walls, or horror stories of problem gamblers were click baited to death by the ever voracious media, to bring down the hammer on the pace of sports betting growth. The pick and shovel guys down in the depths of algorithms and data sets will provide the insurance polices the platform operators need to keep their gushers flowing as more and more states legalize.
So what does this mean? Will TRU hit a gusher as the tech sector rapidly scales? By general comparison to the many pick and shovel companies digging wells as it were, all over the place in signing deals with sports betting platform operations, TRU is now the big guy on the block. It's been at this for over a decade in the UK and without question its identity analytics are seen by many as part of the triumvirate of credit scoring internationally. It's a status shared by Experian (OTCQX:EXPGY) trading at writing at $36.45 a share and Equifax (EFX) at $183.74.
TransUnion at writing trades at $93.81, ~ $90 before the sports betting announcement hit the market.
By entering the sector that provides the tech backbone of sports betting platforms, the TRU market cap dwarfs most of the pick and shovel companies pushing hard into the sector.
Sportradar, a sports data company controlled by the LA Dodger owners, is about to do a SPAC conversion by Horizon that will value its stock at debut at $10b.
GAN (GAN) which already is in business trades at $20.01 at writing sporting a $737m market cap.
Kambi Group Ltd (KAMBI), a Swedish based sports betting pick and shovel operator, trades at US $61.46.
There are many others. But the entry of TRU could be a game changer in that space:
TRU's Market Cap: $17.9b
Cash on hand: $493m.
Net debt: $2.9b
EBITDA: $960M.
Y/Y growth: 13.50%
EPSE: $0.69
Its one- year analyst PT sits at $100.97, so it's clear, absent this move into the US sports betting space, the outlook was that it was a reliably, slow growth data warehouse with a good balance sheet and prospects that were a shrug. Yet its revenue base in 2017 of $2.7b generated primarily out of its credit reporting businesses, gives it a huge step up in scale against the existing sector plays. More critically, it tells us that TRU management has recognized that the US sports betting market has unleashed an opportunity that can bring exponential growth to its otherwise staid core business. It speaks volumes about the potential ahead.
TRU is scheduled to report earnings on April 27. The numbers of course won't yet reflect this potentially big pivot into US sports betting tech. But these guys are not starting at the batter's box here as it were. Given their 12 -year history in the UK sports betting gaming data business, we expect what could be a fast ramp going forward as they flex their data muscles in a growing gaming sector. So in a way they begin rounding second base digging it out for home.
Conclusion
We see stage one of the sports betting stock rocket ride beginning to level out. The immense rise in the sector to date has brought prices at or beyond realistic valuations. This has been the product of real growth in a robust new gaming sector for certain. But it also has benefited from the tendency of some analysts to forecast growth trajectories both for the stocks and the sector at a y/y level well beyond where we now stand. The growth will be there for certain. But the frenetic chase that has driven valuations to the skies may be a year or two ahead of where a burst of new legalization will provide the basis for further appreciation from here on in.
Not so the case with the pick and shovel gaming tech stocks. There's in our view a rationale for continuing bullishness based on where they trade now. And the entry of a formidable data marketer like TRU has a message all its own. Here's a major international entrant. It's not a SPAC, not an afterthought or a shot in the dark kind of stock. It brings scale and heft already in place into the game.
Within the next several months we will begin to see how and where its technology finds homes in the sector. Key among the offering will be how it can sell the capability that its technology will provide more sleep-tight confidence to operators ever militant against the breach of their firewalls over existing or new entrants to the field.
For in-depth and deep dive research on the casino and gaming sector, subscribe to The House Edge. New: Free excerpts from our book in progress "The Smartest ever Guide to Gaming Stocks" - free to existing members and new subscribers.
This article was written by
The single go-to source for gaming and sports betting stocks on SA
I am Howard Klein, Publisher and Publisher of THE HOUSE EDGE casino investment site on SA. Tip Ranks ranks me as 68 out of all 10,000 global gaming/leisure analysts, and my success rate is 77% with a 20% average return.

For 30 years I held senior vp and exec VP positions in major casino hotel operations among them Caesars, Ballys, Trump Taj Mahal and have done extensive consulting assignments for many others in the US, including the native American property Mohegan Sun, in Connecticut. I have also done special projects for Caesars Palace in Las Vegas. I was the founder and publisher of Gaming Business Magazine, first ever publication covering the gaming industry and have written extensively about the industry.
My two books are presently sold as Kindle ebooks on the Amazon site: MASTERING THE ART OF CASINO MANAGEMENT and THE GREAT AMERICAN CASINO BAZAAR. I have appeared on industry seminar panels and on national radio and television discussing various aspects of industry growth. I am a graduate of NYU's Stern School of Business and did work toward a Master's degree in economics at the Columbia School of General Studies.
MY INVESTMENT STRATEGY: Due to the necessities of my casino consulting business which encompasses many top gaming companies, I have placed my own gaming portfolio into a blind trust over ten years ago. At that time I instructed my money manager(who is a former industry colleague herself as well as a corporate lawyer and money manager) to follow my gaming investment strategy along these lines. 
1. I am a value investor first. Knowing the industry in depth I am able to plumb opportunities and problems others cannot see. Mostly I like to identify price ranges over given periods where I believe the market is asleep and I can buy in at the lowest possible risk. 2. I am a strong believer in management quality. Knowing so many top people in the industry allows me to evaluate which ones I believe have the "right stuff" to move a stock and which are populated by corporate drones. 3. I have instructed my manager never to trade on sugar high spikes in earnings or news per se but use the "string theory" I have developed which in brief, follows a skein of news and earnings releases over set periods of time for each stock and then move in or out. 4. I have instructed her to keep the portfolio diverse with holdings in four basic areas: Casino stocks in Las Vegas, Macau and the regionals, gaming tech stocks with real moats not just cute apps. 
I am pleased to announce that as of September 1, 2022 I am expanding my coverage to include entertainment stocks, a sector undergoing a massive revolution on many fronts. This has sprung loose many investment ideas in the space I expect to share with members. The coverage is added at no extra cost. 
I have been involved in the entertainment sector as well for decades involved in overseeing show and events in my properties as well as independent productions. I currently sit on the board of privately held Atlas Media Corporation, one of America;s premium non-fiction producers of tv and film programming.
Overall I have done immensely well and share my views with SA readers and more specifically with strong recommendations and gaming stock strategy analysis based on my network of industry contacts for subscribers to my SA Premium Site: THE HOUSE EDGE.
Analyst's Disclosure: I/we have no positions in any stocks mentioned, and no plans to initiate any positions within the next 72 hours. I wrote this article myself, and it expresses my own opinions. I am not receiving compensation for it (other than from Seeking Alpha). I have no business relationship with any company whose stock is mentioned in this article.
Seeking Alpha's Disclosure: Past performance is no guarantee of future results. No recommendation or advice is being given as to whether any investment is suitable for a particular investor. Any views or opinions expressed above may not reflect those of Seeking Alpha as a whole. Seeking Alpha is not a licensed securities dealer, broker or US investment adviser or investment bank. Our analysts are third party authors that include both professional investors and individual investors who may not be licensed or certified by any institute or regulatory body.