MGM Growth Properties: Resilient High Yield
Summary
MGP has a high level of stability and growth for a company with a nearly 6% dividend.
i think the high yield is due to mispricing (market price too low).
With 100% rent collection through the pandemic despite casinos being largely shut down, MGP demonstrated the strength of its business model.
Looking for a helping hand in the market? Members of Portfolio Income Solutions get exclusive ideas and guidance to navigate any climate. Learn More »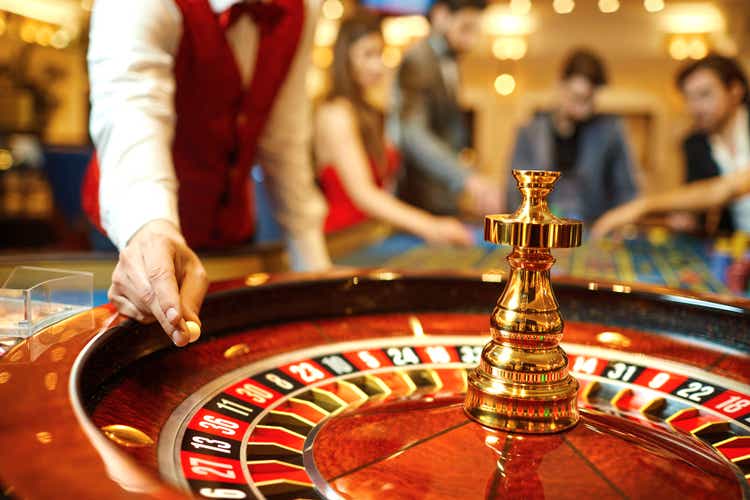 The Buy Thesis
MGM Growth Properties (NYSE:MGP) is my top pick among casino REITs as it offers the best mix of growth, value and stability. Management has shown strong alignment with shareholders and I particularly like MGP's property and tenant exposure. It is among the highest quality ways to get a 6% and growing dividend yield.
Let me begin with an overview of the sector and follow with company specific analysis.
Casino REITs – Structure and Drivers
The casino business is half real estate and half operations. These used to be under common ownership, but it became clear that the real estate portion of the business could be operated more tax efficiently as a REIT. Thus, the major casino operators turned their real estate into a REIT and signed very long triple net lease contracts so they could continue operating the casinos.
This was a net win for the sector as revenues were largely unaffected but the overall taxation was significantly reduced. So the basic business model of a casino REIT is to own billions of dollars of casinos and other gaming related real estate and collect the rental revenues of the triple net rental contracts.
The gaming REITs are even more contractual revenue based than the traditional triple net REITs like W.P. Carey (WPC) or Realty Income (O). While single tenant net lease companies usually sign 10-20 year leases and have remaining terms of approximately 10 years, the casino REITs go much longer. MGP, for example, has 30 and 50 year leases for the majority of its revenues.
Given the long term contractual structure of leases, the fundamental drivers of MGM Growth Properties are significantly different than the fundamental drivers of the casino operator, MGM Resorts (MGM).
The operator, MGM Resorts, is affected by anything that impacts gaming revenues.
Macro economy
Propensity of travel
Disposable personal income
Overall it tends to be somewhat cyclical with revenue growth during good times and revenue declines during recessions.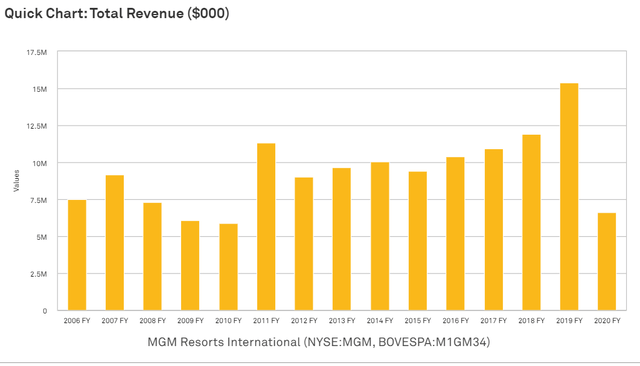 Source: SNL Financial
The pandemic was a particularly large hit to the operator as they had to partially or fully shut down operations for a significant length of time.
I want to contrast the operator's cyclicality with the straight line that is the REIT. Shown below you can see that MGP continued to grow FFO through the pandemic.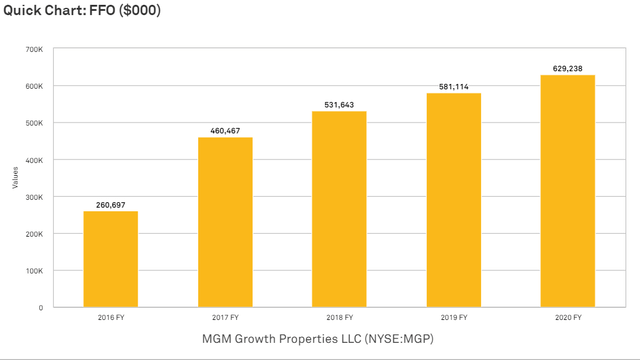 Source: SNL Financial
On a stabilized basis, the FFO would be closer to flat rather than the 45 degree angle but the pace of growth was related to asset acquisitions. If we were to isolate for just the current portfolio of assets it would be about 2% growth each year due to the rent escalators embedded in the contracts. In the slide below you can see that the escalators are expected to increase revenue run rate to $992mm in 2021 from $974mm prior to the escalator hitting.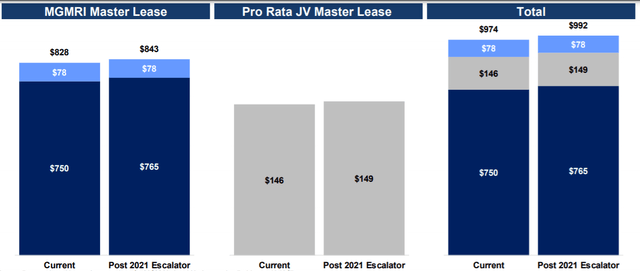 Source: MGP
This is the basic trajectory of a casino REIT; slow but consistent organic growth. With this baseline trajectory in mind the 2 factors that most impact its fair value are:
Ability to grow externally to supplement organic growth
Stability of the tenant
Growth Outlook
So far MGP has maintained a rapid pace of acquisitions at accretive cap rates.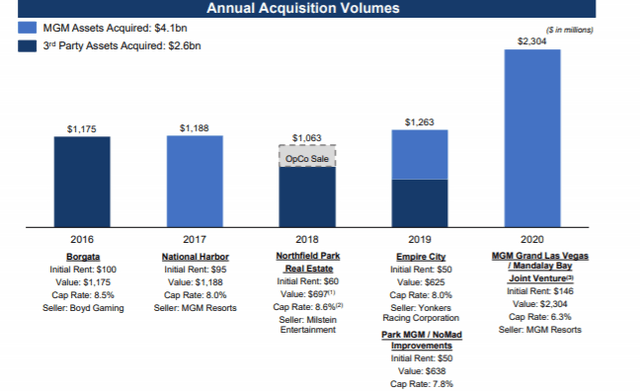 Source: MGP
Cap rates for casinos are significantly higher than most other property sectors and remain in the 7% to 8.5% range. In the bar graph above you may note that the 2020 acquisition was at a 6.3% cap rate but that was abnormally low for 2 reasons:
The acquired casinos are among the most trophy casinos in the country and just like in other asset classes the trophy assets trade at lower cap rates.
Initial lease term of 30 years
On more typical acquisitions I would anticipate cap rates to be closer to the 7.5%-8% range.
Going forward MGP has a large pipeline. In addition to a right of first offer on the MGM Springfield which is a freshly completed $960mm development it has a right of first offer on future Empire City developments.
Beyond the ROFOs, MGP has identified $4B of NOI as potential acquisitions.
There is a significant spread between MGP's cost of capital and the market cap rates of these assets so I anticipate the growth to be accretive to FFO/share as it has been in the past.
While MGP's growth outlook is strong, it is not really a point of differentiation because its casino REIT peers have equally robust pipelines. The big point of differentiation is stability of tenant.
Tenant Stability
Each of the casino REITs has a massive rent concentration with a single tenant.
MGM Growth Properties lease to MGM Resorts (MGM)
With such significant tenant concentration, it is of utmost importance that the tenant is stable.
All 3 tenants are reasonably stable. Each is a large cap company with market capitalizations ranging from $16B to $19B with MGM being slightly bigger than the others. The main aspects that set MGM apart are:
Ample liquidity with cash and other easily liquidated positions totaling $5.6B
Better credit rating. MGM has a Ba3 while Caesars and Penn sit at B2 and B, respectively.
At the REIT level I really like the way MGP structured their leases with MGM. Under the master lease the properties are cross collateralized with a corporate guarantee from the tenant. If an individual casino fails for whatever reason the tenant has to keep paying rent on it because it is all part of one agreement.
These are triple net leases where the tenant pays all maintenance expense and because the leases are so long term in nature (going up to 50 years), the tenant treats the property as if they own it. They are incentivized to properly take care of all aspects of the property and keep it maintained.
These differences make MGP stand out above their peer casino REITs. With the enhanced stability I would value them at a significantly higher multiple, yet MGP trades in the middle of the pack.
Valuation
| | |
| --- | --- |
| REIT | P/AFFO next 12 months* |
| VICI | 15.3 |
| GLPI | 13.0 |
| MGP | 13.2 |
*AFFO estimates are Capital IQ consensus
Overall, I find 13.2X to be an attractive valuation for MGP. This multiple is roughly where a stable REIT with minimal growth would trade. As a stable REIT with significant growth, I think MGP warrants a higher multiple. Between the 2% annual rent escalators and the robust acquisition pipeline I would anticipate MGP growing FFO/share somewhere around 6% to 10% annually.
This is slower than they have been growing historically, but the law of large numbers starts to take effect. At a $15B market cap the acquisitions still move the needle, just not by as much as they used to.
Fair Value
With 6% to 10% annual growth I think a more appropriate AFFO multiple would be about 17X which implies a fair value of just over $43 per share which is just over 25% upside from today's price.
Management
MGP's management seems to be well aligned with shareholders. REIT managers tend to get paid more the larger the REIT is, so they are implicitly incentivized to grow at all costs. Thus, I find it intriguing when management voluntarily shrinks the company to grow shareholder value.
In May of 2020, MGP redeemed 30.3mm operating partnership units (OP Units) at $23.10 and another 23.5mm OP units at $29.78 in December.
By buying back shares at these low prices, it increased the AFFO/share significantly for the remaining shareholders.
I also like MGP's dividend policy in which they keep a conservative payout ratio but pay out increasing amounts to shareholders as the bottom line grows.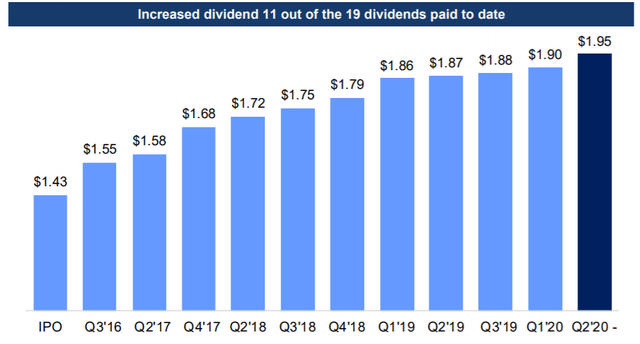 Source: MGP
I own shares in MGP as I believe it has a strongly favorable reward to risk ratio but like any other investment it does come with some risks.
Risks to Thesis
The risk to casinos is changing. It used to be that there was some risk that gambling would get banned either at a national or local level, but now, as there is increased acceptance of gambling in society the risk goes the other way. Sports gambling is already being allowed in more places and if this goes much further gambling could become ubiquitous. If gambling is everywhere, it would cripple the allure of destination casinos.
This risk is more of a far on the horizon type of risk as it can take a long time for cultural shifts of this kind to take hold. In the more near term, the risk is to tenant financials. With large tenant concentration, the casino REITs are vulnerable if their tenants are weak. This is a big reason that I chose MGP over their peers. It has a stronger tenant so the risk is somewhat mitigated. Regardless those invested in MGP should keep a close eye on MGM Resorts.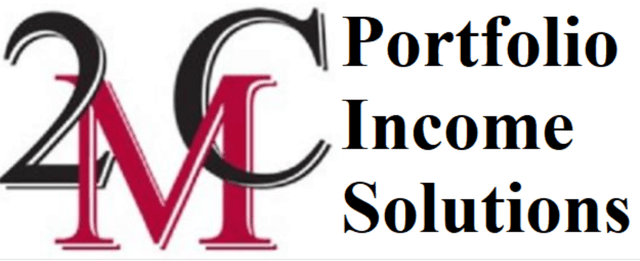 For a full toolkit on building a growing stream of dividend income, please consider joining Portfolio Income Solutions. As a member you will get:
Access to a curated Real Money REIT Portfolio
Continuous market commentary
Data sets on every REIT
You will benefit from our team's decades of collective experience in REIT investing. On Portfolio Income Solutions, we don't only share our ideas, we also discuss best trading practices and help you become a better investor.
We welcome you to test it out with a free 14-day trial. Lock in our founding member rate of $33.25/month (paid annually) before it expires!
This article was written by
Dane Bowler is the Chief Investment Officer and a registered investment adviser at the 2nd Market Capital Advisory Corporation. He has over a decade of experience running a proprietary portfolio with a specialization in REITs. On-site property tours and critical analysis of REIT management help inform his selection process.
Dane leads the investing group Portfolio Income Solutions along with Simon and Ross Bowler. Features of the service include: a diversified high-yield REIT portfolio, data tables on every REIT, tax guidance, macro analysis, fair value estimates, and quick updates via chat on breaking news. Learn More.
Analyst's Disclosure: I am/we are long MGP. I wrote this article myself, and it expresses my own opinions. I am not receiving compensation for it. I have no business relationship with any company whose stock is mentioned in this article.

Important Notes and Disclosure All articles are published and provided as an information source for investors capable of making their own investment decisions. None of the information offered should be construed to be advice or a recommendation that any particular security, portfolio of securities, transaction, or investment strategy is suitable for any specific person. The information offered is impersonal and not tailored to the investment needs of any specific person. Readers should verify all claims and do their own due diligence before investing in any securities, including those mentioned in the article. NEVER make an investment decision based solely on the information provided in our articles. It should not be assumed that any of the securities transactions or holdings discussed were profitable or will prove to be profitable. Past Performance does not guarantee future results. Investing in publicly held securities is speculative and involves risk, including the possible loss of principal. Historical returns should not be used as the primary basis for investment decisions. Commentary may contain forward looking statements which are by definition uncertain. Actual results may differ materially from our forecasts or estimations, and 2MCSC and its affiliates cannot be held liable for the use of and reliance upon the opinions, estimates, forecasts, and findings in this article. S&P Global Market Intelligence LLC. Contains copyrighted material distributed under license from S&P 2nd Market Capital Services Corporation(2MCSC) provides investment research and consulting services to the financial services industry and the financial media. 2MCSC does not provide investment advice. 2MCSC is a separate entity but related under common ownership to 2nd Market Capital Advisory Corporation (2MCAC), a Wisconsin registered investment advisor. Dane Bowler is an investment advisor representative of 2nd Market Capital Advisory Corporation.
Seeking Alpha's Disclosure: Past performance is no guarantee of future results. No recommendation or advice is being given as to whether any investment is suitable for a particular investor. Any views or opinions expressed above may not reflect those of Seeking Alpha as a whole. Seeking Alpha is not a licensed securities dealer, broker or US investment adviser or investment bank. Our analysts are third party authors that include both professional investors and individual investors who may not be licensed or certified by any institute or regulatory body.