XPeng Emerging As A Top Chinese EV Player Against NIO And Tesla
Summary
XPeng has pushed itself toward a more leading position within technological advancement compared to NIO and Tesla.
XPeng is working on building one of the best, if not the best, autonomous driving and lidar systems in-house.
The P7 also recently claimed the longest autonomous drive in China, with interventions and other benchmarks surpassing Tesla's Model 3.
Chip shortages and competition are two external risks to XPeng, while  R&D headcount growth, margins and profitability are internal risks.
Revenues remain poised to reach approximately RMB13.2 billion (US$2.05 billion) for FY21, rising to RMB30 billion (US$4.50 billion) in 2022.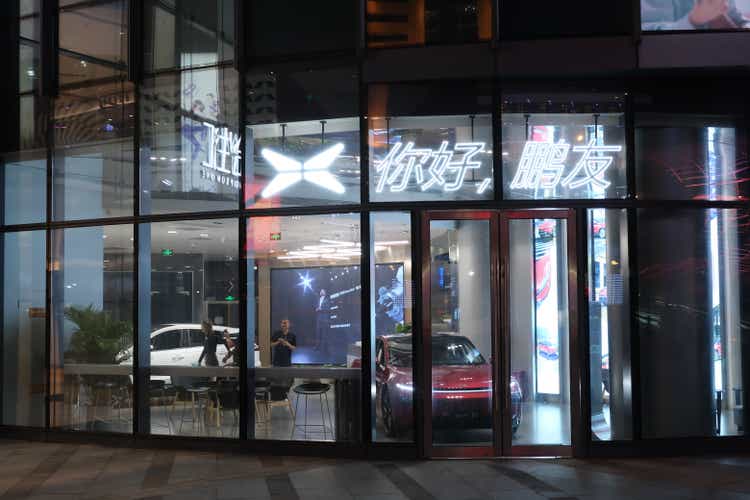 While NIO (NIO) has arguably led the charge within the domestic EV sector in China, XPeng (NYSE:XPEV) is quickly emerging as one of the top EV players in the country due to technological advancement and international expansion. Although deliveries still lag that of NIO, XPeng rose above Li (LI) during the first quarter even after a weak February. Superior tech, an upcoming third model, and overall market growth combine to provide a quite positive outlook for the EV manufacturer.
Recent Deliveries and 2021 Forecast
With the shortened month in February with the New Year, the Chinese EV manufacturers all witnessed some dampened sales, yet XPeng fared the worst, posting just 2,223 deliveries, down m/m. Late in March NIO warned that the chip shortage would impact production in a short shutdown, but the company still posted record monthly deliveries for March. XPeng followed suit, posting a record quarterly number on an unexpectedly strong March.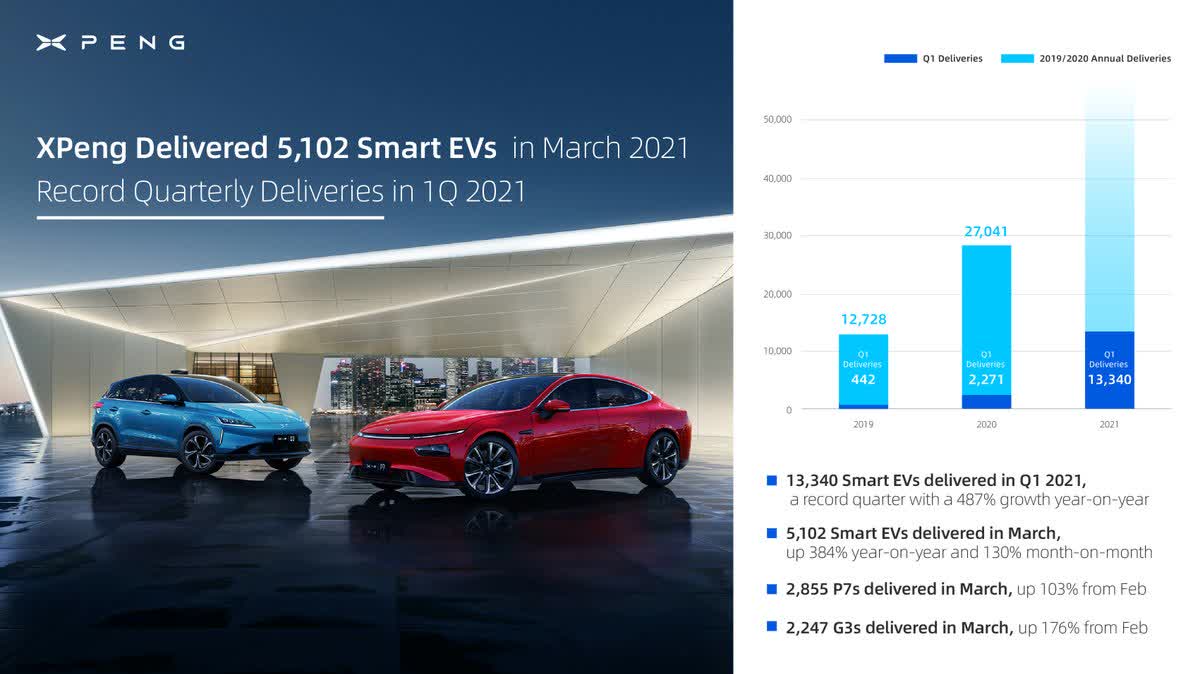 Graphic from XPeng
Q1 '21 deliveries have already exceeded 2019's total, and represent about 49.3% of 2020's total after witnessed +487% y/y growth. XPeng is on track to reach nearly an identical amount of deliveries in 1H than in FY20. The G3 witnessed exceptional growth, +176% m/m, and P7 remained strong.
For the full year, XPeng could see some weakness in April/Q2 with the chip shortage still in play, but that is likely to ease later in the year, or simply pose less of a threat to deliveries. With exhibited seasonality in 2H (October to year-end), XPeng could see deliveries up to 30,000 units in the latter part of the year, pushing annual deliveries to ~57,500 units. This delivery forecast is a reiteration of a projection made prior to the March numbers.
Separating From the Pack
As electric vehicle sales continue to grow in China and command more of a market share relative to ICE, differentiation between competitors' vehicles is a key factor to drive deliveries higher. XPeng is emerging as a key player and is pushing into a leading position within technological advancement compared to NIO and Tesla, and further capacity expansion should see deliveries rise rapidly in the upcoming years due to this superiority.
Aside from >700km range and high safety, XPeng is working on building one of the best, if not the best, autonomous driving and lidar systems - the company posted a snippet of the new lidar in its vehicles on Twitter, with the technology and 3D map quite high definition. Autonomous capabilities are already at level 3 with the most-powerful system, yet XPeng continues to advance XPILOT and NGP (Navigation Guided Pilot).
XPILOT 3.0, the current OTA upgrade, has served as a major factor in driving deliveries, with approximately one-fifth of P7s having the software even with its release late in January. XPILOT 3.5 and 4.0 are under development, allowing vehicles to "perform full-scenario highway autonomous driving." Such advancements should serve to extend the P7 and its capabilities past competitors' vehicles. XPeng also is developing the full autonomy software in-house, allowing for seamless updates and ease of advancing the technology, enhancing a push to becoming the leader in autonomy.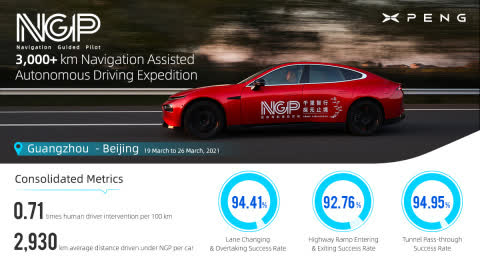 Graphic from XPeng
The P7 also recently claimed the longest autonomous drive in China, with interventions and other benchmarks surpassing the Model 3 (TSLA). Human interventions were 0.71 per 100km on the 3,600km test drive with nearly 3,000km highway driving. Tesla's intervention rate was ~1.03 per 100km, while lane change and tunnel driving were less successful at 81.3% and 41.8%. Another test drive saw the P7 have 19 interventions compared to 22 for the Model 3 on a 2,000 km route, while having more success in heavy rain and tunnels. Integration with Amap (BABA) likely is one of the factors allowing the P7 to outperform in adverse conditions and tunnels/roadways.
As XPeng steps up in the challenge against Tesla, autonomous superiority and competitive price can help command more of a market share in the future. Scaling of manufacturing should only aid to the market share growth picture, as XPeng continues to expand production capacity.
Current maximum capacity at Zhaoqing is about 100,000 units per year, with another factory under construction in Guangzhou, slated to complete by late 2022 with production/deliveries during 2023. The provincial government in Guangdong just invested $76.8 million USD in order to accelerate the business expansion, so the timelines could come earlier, up to early 2022 for completion and deliveries by mid/late 2022. In addition, XPeng is adding a third manufacturing plant in Wuhan, with projected capacity of 100,000 units; there has been no date mentioned yet for completion. Final capacity after completion of all three looks to be approximately 450,000 units annually, setting up a high trajectory for delivery growth from the projected 57,500 units in 2021.
Revenues remain poised to reach approximately RMB13.2 billion (US$2.05 billion) for FY21, rising to RMB30 billion (US$4.50 billion) in 2022, supported by capacity expansion at Zhaoqing to the max production run rate of 100,000 vehicles annually, European expansion with the G3 and potential US expansion for the P7, the third model unveiling with deliveries as early as Q4 '21, and strong Chinese EV demand to 1.8 million units in 2021 and 2.2-2.4 million in 2022. With valuation still much lower than in January, XPeng trades at 13.7x FY21 revenues and 6.2x FY22. While multiples look high compared to peers and relative to delivery levels between XPeng, NIO and Tesla, superior tech can command a premium.. Like NIO, XPeng has raised a substantial amount of cash (nearly RMB30 billion in Dec.-Jan.), supporting growth efforts.
Risks
Chip shortages and competition are the two most prominent external risks to XPeng, while dedication to high R&D spend and headcount growth, margins and profitability are prominent internal risks relative to peers.
With NIO, XPeng is likely to see slight adverse impacts to Q2 deliveries as a result of bottlenecking production with the chip shortage. This does seem to be a very transient risk, only impacting the company in the near-term, so production volumes should be able to rise in the back half of the year without such constraints. In addition, XPeng is working on developing its own chips in-house for autonomous capabilities, working in both the US and China. Should XPeng be able to quickly begin producing its own chips at similar/identical levels to those that it can buy on the market (by year-end/early 2022), other risks arising from chips could have little effect.
Competition is quite an obvious risk, as XPeng, NIO, Tesla, BYD (OTCPK:BYDDY), Geely (OTCPK:GELYF), Li and many more companies are all fighting for the pieces of the rapidly expanding EV market. XPeng can only do so much to drive interest toward its vehicles, namely through technology and price as mentioned previously, but with one of the smallest delivery amounts, it's facing some of the highest expectations for growth from the market that it needs to show it can hit to justify its valuation at the top-end of peers.
With superior technology and a vision for continual dominance in autonomy, XPeng is planning to significantly increase R&D headcount even with a major proportion of employees already in that department. Headcount expansion will increase wages and costs, and impact bottom line growth as operating expenses grow at similar pace to revenues, thus keeping XPeng with the lowest margin profile and one of the more challenging timelines to profitability between it, NIO and Li, who has already reached that milestone.
Overall
XPeng is rapidly working its way into a leading position in technological capabilities and autonomous advancement compared to NIO and Tesla, and should be able to achieve such a lead with full in-house development and extreme dedication to R&D. While chip shortages could impact some production and deliveries in Q2, XPeng remains on track to post 57,500 units for the year, pushing revenues up to RMB13.2 billion as the company continues with a strong triple-digit growth trajectory. Competitive risks from a highly fragmented market can weigh down on market share due to the relatively lower delivery volumes, and weaker margins from higher expenses put XPeng on a longer track to profitability as scale isn't yet equivalent to NIO. Overall Chinese market growth, positioning within Europe ahead of NIO, a third model slated for deliveries by year-end and more and more capacity expansion are all long-term positives that can set XPeng up for future success.
This article was written by
Your hub for everything mobility related. Coverage will primarily focus on the automotive industry, namely EV, and will touch upon charging, infrastructure, AV, eVTOL, and other mobility sectors.  Feel free to reach out with questions or comments!
Analyst's Disclosure: I am/we are long XPEV. I wrote this article myself, and it expresses my own opinions. I am not receiving compensation for it (other than from Seeking Alpha). I have no business relationship with any company whose stock is mentioned in this article.
Seeking Alpha's Disclosure: Past performance is no guarantee of future results. No recommendation or advice is being given as to whether any investment is suitable for a particular investor. Any views or opinions expressed above may not reflect those of Seeking Alpha as a whole. Seeking Alpha is not a licensed securities dealer, broker or US investment adviser or investment bank. Our analysts are third party authors that include both professional investors and individual investors who may not be licensed or certified by any institute or regulatory body.