Will The Biden/Yellen Multinational Tax Proposal Sink Apple, Amazon, Microsoft, Alphabet And Facebook?
Apr. 09, 2021 7:14 PM ET
AAPL, AMZN, META, GOOG, GOOGL, MSFT, SPY, QQQ, DIA, SH, IWM, TZA, SSO, TNA, VOO, SDS, IVV, SPXU, TQQQ, UPRO, PSQ, SPXL, UWM, RSP, SPXS, SQQQ, QID, DOG, QLD, DXD, UDOW, SDOW, VFINX, URTY, EPS, TWM, SCHX, VV, RWM, DDM, SRTY, VTWO, QQEW, QQQE, FEX, ILCB, SPLX, EEH, EQL, QQXT, SPUU, IWL, SYE, SPXE, UDPIX, JHML, OTPIX, RYARX, SPXN, HUSV, RYRSX, SPDN, SPXT, SPXV
90 Comments
Summary
The Biden Administration is seeking payback for the trillions spent to help the markets during the COVID-19 Pandemic.
With five stocks making up 24.1% of the S&P 500 Index it could have a serious negative impact on Wall Street and Main Street.
Only Ireland and The Netherlands are standing in the way of this tax proposal becoming a reality.
This idea was discussed in more depth with members of my private investing community, Friedrich Global Research. Learn More »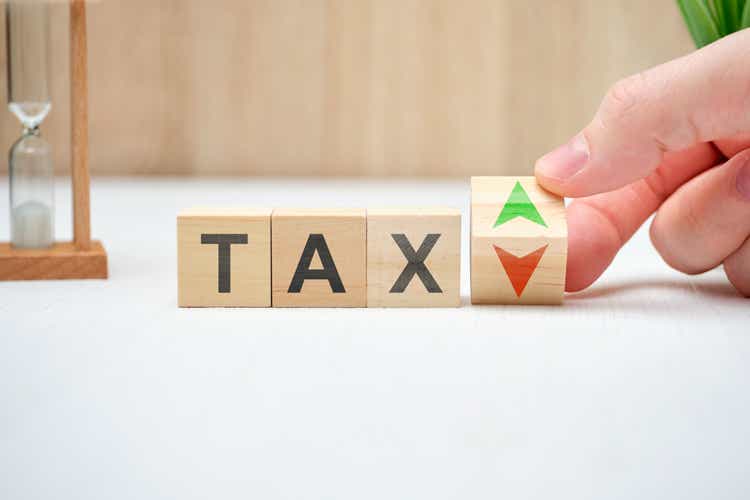 The current market capitalization of the S&P 500 Index is $33.62 trillion...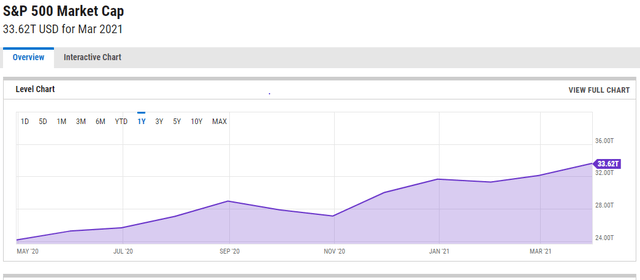 Y-Charts
... and one major reason as to why it is that large is because the top five largest stocks in that index (by market capitalization) account for 24.1% of it.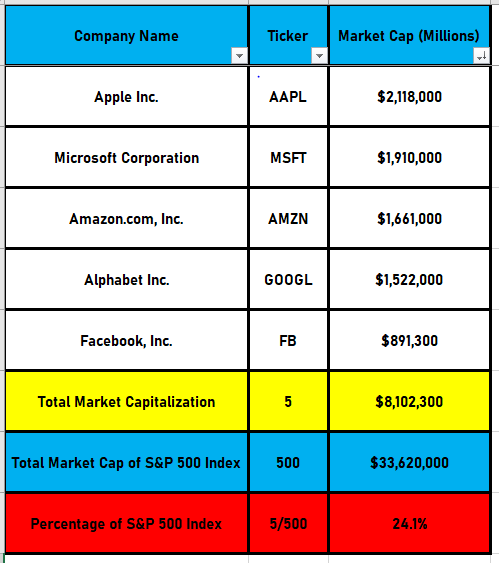 One of the reasons all five of these companies, as well as another 236 other components of the S&P 500 Index, have done so well over the last decade is because 241 of the 500 listings in the S&P 500 Index (SPY) are multinational. A company can be considered a multinational if 25% of its revenue comes from out-of-home country operations. By not having to repatriate most of the income each earned overseas, multinationals can save enormous amounts in taxes by sheltering it overseas. But when just the five major multinationals make up 24.1% of an index, it makes one quite nervous, because if governments choose to highlight those five companies as a group and go after them in some way, then it could have serious consequences for the markets as a whole.
Unfortunately, such an attack is currently brewing globally as the Pandemic has forced governments around the world to go deeply into debt. In the battle against COVID-19, governments around the globe are on the cusp of becoming more indebted than at any point in modern history, surpassing even World War II. Fiscal authorities have spent vast sums protecting their people and defending their economies from the wrath of the pandemic. At the same time corporations that make up the S&P 500 Index as well as other major global indices have benefited by unprecedented government support for the markets.
Despite the great majority of companies in the S&P 500 Index reporting lower financials then each did in 2019, investors have latched on to a near zero interest rate environment and have piled into the markets and (despite negative growth rates for most companies) have been buying the S&P 500 Index especially, in a sort of manic behavior with zero fear due to governments acting as backstops. The current US Administration seems to believe that since the global governments have helped corporations, by bailing them out and avoiding a deep depression, that it is now only fair for governments around the world to receive a payback in the form of increased tax revenue. I was going to spend the day writing about what may be coming to achieve this payback, but I don't have to as Ben Chapman of the Independent newspaper has already done so for me, and you can read his amazing article by clicking below.
Biden's radical plan to curb tax dodging will have 'seismic' impact on Apple, Google and Amazon
Clearly if President Biden and Treasury Secretary Yellen were to succeed in bringing the minimum global tax rate for corporations to 21%, it will have serious repercussions for the global financial markets, but none more so than the S&P 500 Index and more importantly the top five stocks listed in the table above. Now, getting Ireland and The Netherlands to go along with such a new tax plan may be difficult as each benefits greatly by providing a tax haven status, but if the Biden Administration can get a global pact done, the word "tax haven" will just be a memory going forward, as there will be a massive paradigm shift coming that could rock the global markets as tax rates would skyrocket.
According to our research at Friedrich Global Research we're already seeing the five stocks, mentioned in the table above, to be either overbought or near fully valued.
Apple (AAPL)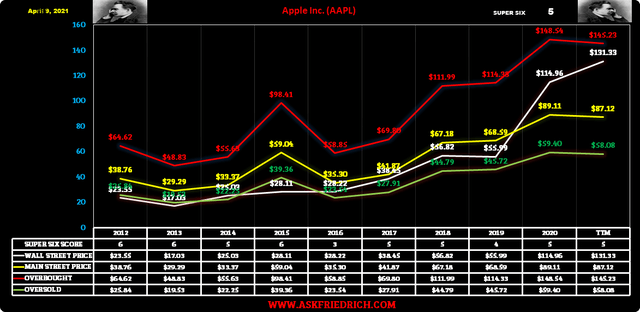 Microsoft (MSFT)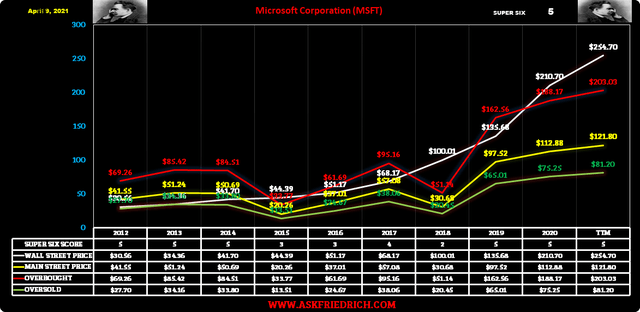 Amazon (AMZN)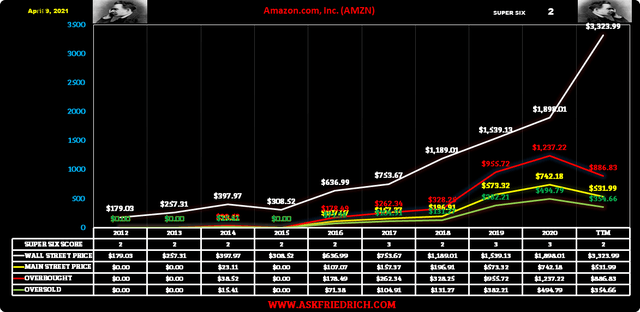 Alphabet (GOOGL)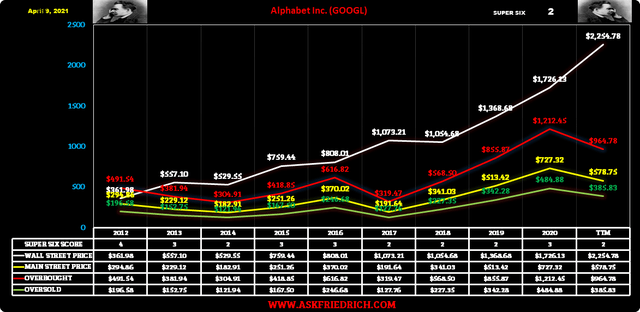 Facebook (FB)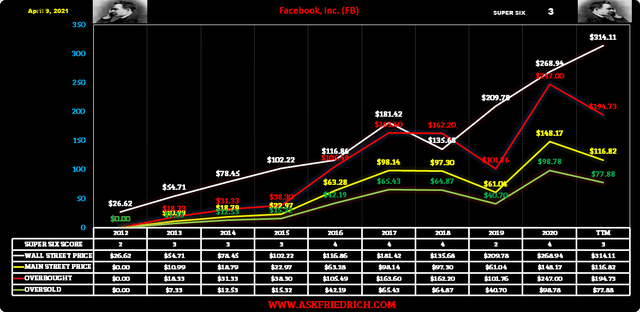 For those interested in how to best use the Fundamental Analysis Charts above, you can learn how to do so by going here.
Going forward, We believe the proposed Biden/Yellen Multinational Tax to be the No. 1 threat to the financial markets as well as Main Street, and it should be something that everyone needs to pay close attention to, especially those who use the S&P 500 Index (SPY) as their primary investment vehicle.
At Friedrich Global Research, we stick to the numbers. We do analysis like what you saw in this article, but for 20,000 stocks from 36 counties around the world. We also provide model portfolios ranging from ultra conservative to aggressive growth, so you can apply our research to your investing easily.
Interested? Go here to sign up today.
This article was written by
Friedrich is the name given to our algorithm for analyzing companies that trade on the global stock markets. In creating Friedrich we concentrated on analyzing each company's Main Street operations through various established ratios, along with our own unique ratios that we developed over the last 30 years. What we came up with is a final "Main Street" price per share based on Generally Accepted Accounting Principles (GAAP), which is a framework of accounting standards, rules and procedures defined by the professional accounting industry, which has been adopted by nearly all publicly traded U.S. companies. We feel that our Main Street price result is what each company would need to trade at in order to be attractive to a businessperson on Main Street looking to buy at a bargain.


Since the only constant in the universe is change, the results for each company fluctuate by varying degrees. No company is an island unto itself, but each operates in a world of constant change and at times in areas where Chaos is the norm. By analyzing a company's Main Street operations over time, Friedrich is able to give the potential investor a decade long analysis (opinion) as well as offering a Trailing Twelve Month (TTM) analysis (opinion), as well. Thus our readers will not only get as close to a real time view of operations on Main Street as is possible, but then can measure the consistency of the company's operations over time to determine if s/he should invest or not.



Through our Friedrich algorithm we can analyze ten years of Balance Sheet, Income Statement and Cash Flow Statement data for each company all at once and generate one final result in seconds. Friedrich was designed to be ultra-conservative and thus will cut zero slack to any company under analysis and will do so with zero emotion. Companies must be exceptional in order to get an attractive Main Street valuation and the ideal investments according to our backtesting are the ones that have been consistent over time.



By being so ultra conservative Friedrich is designed to identify bargains that Wall Street investors may have overlooked. Companies shares may trade on the stock market but the companies themselves operate on Main Street, so Friedrich is designed to generate a Main Street price per share first and only then does he go to Wall Street and see the price for which Benjamin Graham's "Mr. Market" is offering the shares.



Analyst's Disclosure: I am/we are long AAPL. I wrote this article myself, and it expresses my own opinions. I am not receiving compensation for it (other than from Seeking Alpha). I have no business relationship with any company whose stock is mentioned in this article.

DISCLAIMER: This analysis is not advice to buy or sell this or any stock; it is just pointing out an objective observation of unique patterns that developed from our research. Factual material is obtained from sources believed to be reliable, but the poster is not responsible for any errors or omissions, or for the results of actions taken based on information contained herein. Nothing herein should be construed as an offer to buy or sell securities or to give individual investment advice
Seeking Alpha's Disclosure: Past performance is no guarantee of future results. No recommendation or advice is being given as to whether any investment is suitable for a particular investor. Any views or opinions expressed above may not reflect those of Seeking Alpha as a whole. Seeking Alpha is not a licensed securities dealer, broker or US investment adviser or investment bank. Our analysts are third party authors that include both professional investors and individual investors who may not be licensed or certified by any institute or regulatory body.