Tecnoglass: Still Bullish As Blowout Earnings Support Large Rally
Summary
Window and glass producer Tecnoglass is up 90% year-to-date and 315% over the past 12 months.
Normally, I'd be inclined to take profits after such a run.
However, Tecnoglass is worth holding on to even after its gains.
The company's latest earnings report was jaw-dropping. Beyond the housing boom, the company is making progress on other fronts as well.
Looking for more investing ideas like this one? Get them exclusively at Ian's Insider Corner. Learn More »
Tecnoglass' insulating laminated glass at the Norwegian Cruise Terminal B; Miami, Florida. Source: Corporate website.
Tecnoglass (NYSE:TGLS) had been one of my bigger annoyances in recent years. The company's management bungled a great situation back in 2016, and the former SPAC, which debuted at $10, traded well under that mark for most of the past five years.
While my initial recommendation of the stock years ago was early and wrong, I came back at it for a second swing last fall. This time things went more favorably, as shares are up 150% since publication of that article: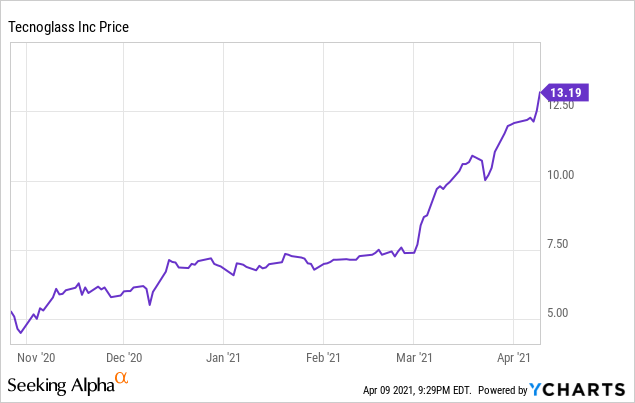 Back in October, it was a pretty simple analysis: Management has been doing a better job lately. Meanwhile, the housing market is so hot that it'd be hard to mess up the current situation, even with the company's hit-or-miss reputation historically. Tecnoglass, for those unfamiliar, primarily sells windows for houses, multifamily apartments, and commercial real estate.
Thus, I was bullish on the company as it had a good chance of delivering blowout earnings, meanwhile expectations were modest. Anyway, that's exactly what played out. Tecnoglass reported Q4 and full-year 2020 results a month ago, and they were just about perfect.
The company put up 79 cents of earnings for full-year 2020 which is their best number so far as a public company.
They managed that even with some sales getting lost in the early part of the pandemic. The company did shut down its production for a month due to Covid, among other challenges.
For Q4, it earned 39 cents profit in that three-month period alone. Annualized, that'd be more than $1.50 share in EPS on a $13 stock.
Going forward, they likely won't earn quite that much. There were some unusual gains in those earnings, as things such as currency won't always move in the company's favor. Still, even backing out favorable items, core EPS of 22 cents annualizes to nearly a buck a share.
Analyst consensus, for what's it worth, has the company earning $1.02 this year, and that figure rising to almost $1.50 per share in 2023, which again looks really attractive given the current share price.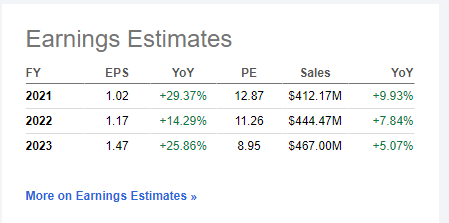 Source: Seeking Alpha
More conservatively, based on 2020's trailing earnings, the stock is at 16x earnings in the midst of a housing boom with great quarterly numbers likely coming up.
Tecnoglass' single-family residential sales spiked 51% this past quarter as the demand for housing materials is absolutely scorching. The U.S. housing market is hot right now, there's no other way to put it.
And that's caused major shortages of building materials. According to a recent Forbes article, lumber is the hardest material to come by right now. That's not surprising, given that the price of lumber has quadrupled in recent months.
Right after lumber, however, windows and doors are the next hardest category to procure. According to a National Homebuilders Association survey cited in that Forbes piece, 65% of homebuilders report a shortage in windows and doors, with 46% saying the shortage is serious. According to one senior member of that organization, the lead time on orders for windows has gone from three weeks to six months.
What do you get when you have mass shortages of a product that you sell? A huge surge in profit margins, that's right.
Not surprisingly, with demand off the charts, Tecnoglass got great pricing as well. For its most recent quarter, its gross margins surged more than 700 basis points. That's nearly unheard of for an industrial company. This is even crazier since Tecnoglass historically has earned less than a quarter of its revenues from single-family housing. So you'd expect the company to only see a modest benefit from rising profit margins on one segment of the business. Instead it reaped a historic surge in profitability.
Impressively, Tecnoglass generated far more cash from operations than its historical average, pulling in $70 million total for the year. Given that the market cap is still just $600 million, after the recent run, that's a lot of cash flow. Amazingly, the market cap was just $250 million in October, so not too long ago, it was going for less than 4x cash flow. Don't underestimate how quickly the pendulum can swing on a cyclical industry such as building materials.
The company has also enhanced its long-term positioning, in particular by replacing its old egregiously-expensive 8% yielding debt with new credit at 3%. This alone will save the company $11 million annually. That's a lasting advantage for Tecnoglass, regardless of how long the current housing boom continues. Tecnoglass has also paid down debt, and is now sporting its lowest leverage ratio since 2016.
Notably, Tecnoglass only has 47 million shares of stock outstanding, so we're talking 23 cents a share per year in added earnings (excluding tax impact) simply from securing much better financing terms. If you're comparing Tecnoglass on a pre-Covid to post-Covid basis, don't forget to account for that large improvement in its financing situation.
TGLS Stock: My Outlook
I'd originally been planning to sell TGLS stock when it hit the double digits. After all, a 100% gain in a few months is pretty compelling. That said, my plans changed when I saw the 700 basis point rise in gross margins. That's not the sort of thing that happens very often, and shows just how strong market conditions are for building supplies companies right now.
This housing surge won't go on forever, to be clear, but it doesn't appear to be ending in the near future, either.
That said, even if you're nervous about housing suddenly rolling over, Tecnoglass should still do alright. The company managed to expand its backlog in 2020, despite the pandemic and the massive slowdown for offices and other types of commercial real estate. Recall that single-family-residential was less than a quarter of Tecnoglass' business through 2020 and they only entered that market a few years ago. Historically, the company was more known for glass at high-rises and prestige buildings such as airports and museums.
Also, as management explained on the latest conference call, single-family housing doesn't generate much backlog because the time from order to delivery is so limited. So even as single-family demand booms, it doesn't really do much to increase Tecnoglass' backlog, which consists more of high-rises and other long lead-time projects.
Thus, the fact that Tecnoglass added to its backlog in 2020 should be an encouraging signal that the overall business is growing, and that it isn't just feasting off a temporary surge in housing demand. That said, the housing demand is doing wonders for the company in terms of building the brand, giving it access to financing on great terms, and introducing the stock to an American investor base that had barely heard of the company previously.
Given that analysts see the company's earnings settling in the $1.40-$1.50 range in 2023, the stock price is eminently defensible in the $13 range even if you assume growth peters out after that. 9-10x earnings for a company with strong profit margins, solid geographic niche, and a greatly-improved balance sheet is hardly a big stretch.
Additionally, the company has now been seasoned long enough to overcome its SPAC roots and its domicile in a lesser-known place (Barranquilla, Colombia). In 2016, a SPAC out of Colombia with some accounting hair was a tough sell.
In 2021, however, Tecnoglass has now been U.S.-listed for a long time and has shown its mettle through a downturn. Now it is reaping the rewards of having a well-received product for new homes that is selling at record speed into its key South Florida market. With no signs of a slowdown in the housing boom yet, TGLS stock should have more room to run as investors look forward to more strong earnings throughout 2021.
If you enjoyed this, consider Ian's Insider Corner to enjoy access to similar initiation reports for all the new stocks that we buy. Membership also includes an active chat room, weekly updates, and my responses to your questions.
This article was written by
Research and trade alerts from a hedge fund pro with a global outlook.
Ian worked for Kerrisdale, a New York activist hedge fund, for three years, before moving to Latin America to pursue entrepreneurial opportunities there. His Ian's Insider Corner service provides live chat, model portfolios, full access and updates to his "IMF" portfolio, along with a weekly newsletter which expands on these topics.
Analyst's Disclosure: I am/we are long TGLS. I wrote this article myself, and it expresses my own opinions. I am not receiving compensation for it (other than from Seeking Alpha). I have no business relationship with any company whose stock is mentioned in this article.
Seeking Alpha's Disclosure: Past performance is no guarantee of future results. No recommendation or advice is being given as to whether any investment is suitable for a particular investor. Any views or opinions expressed above may not reflect those of Seeking Alpha as a whole. Seeking Alpha is not a licensed securities dealer, broker or US investment adviser or investment bank. Our analysts are third party authors that include both professional investors and individual investors who may not be licensed or certified by any institute or regulatory body.