RNP: Building A Sustainable Income Portfolio With Real Estate Exposure
Summary
Real estate is an important component of an income portfolio. CEFs offer high yields and good prospects for capital appreciation.
RNP is a strong real estate portfolio with a mix of REIT equity, preferreds, bonds, and convertibles.
RNP is near a five-year low discount which has taken its distribution rate down to 6%.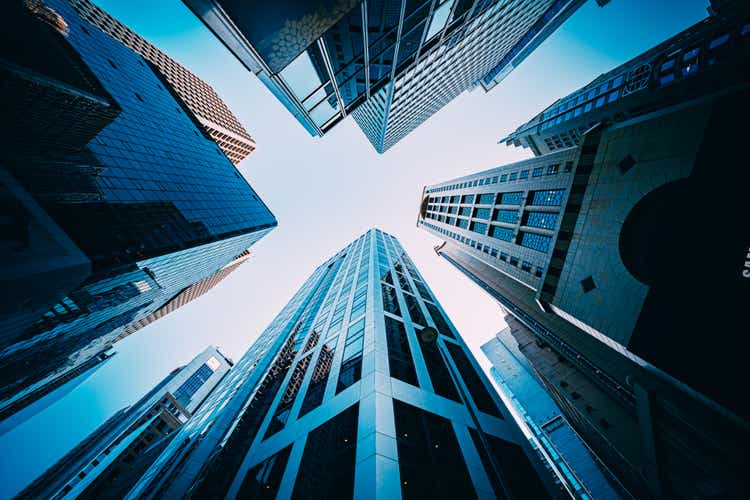 After an unscheduled excursion deeper into to woods of CEF Option-Income Equity Land than I expected to go (emphasizing ETY, EOS and CII/BDJ), I want to return to the project on Building a Sustainable income Portfolio I described here. Reviewing the objectives: high current income from a portfolio that sustains a stable capital base. Basically, we're looking for 7% to 8% yield that will be taken as retirement income. The objective is to draw that income and sustain the account's capital base. This is discussed in more detail in the previous articles.
An income portfolio needs to have some exposure to real estate, right? I have a long-time favorite fund sponsor that I go to for real estate: Cohen & Steers. Yes, there are others. Yes, there are often better-valued buys among the others. Yes, one may find higher payouts among the others. But in the long term, I do not think any of the other real estate fund sponsors can compete with Cohen & Steers' record. You can make the opposing case in the comment stream, perhaps showing me the error of my ways. But for now, I hope to stick with the folks who've been good to me over a long haul.
Cohen & Steers Real Estate CEFs
Many readers are likely familiar with Cohen & Steers' flagship equity REIT funds: Unleveraged Total Return Realty Fund (RFI) and its leveraged counterpart, Quality Income Realty Fund (RQI). Before I turn to them, I want to look at a fund with a broader approach to REITs: C&S REIT and Preferred Income Fund (NYSE:RNP).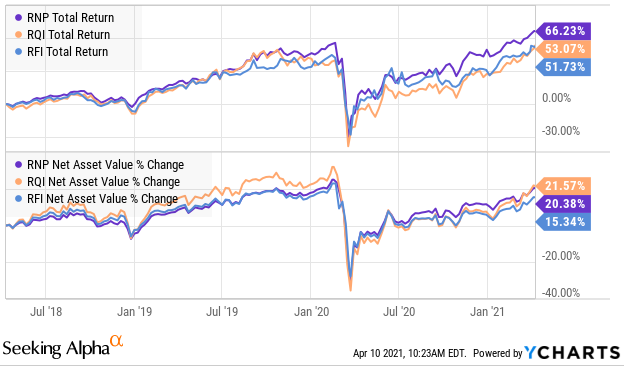 Comparing RNP and RQI Portfolios
As the name implies, RNP carries a higher allocation to fixed-income instruments in the REIT space, preferreds and bonds, than the other two funds. As you can see, over the last three years, RNP has slightly outperformed the other two funds, but that's not the only reason I'm interested. I like its more diverse portfolio mix. Of course, all three funds are heavily invested in real estate and will move in near lockstep with the sector, but I think RNP's somewhat lesser emphasis on equity is potentially a better fit overall for our portfolio.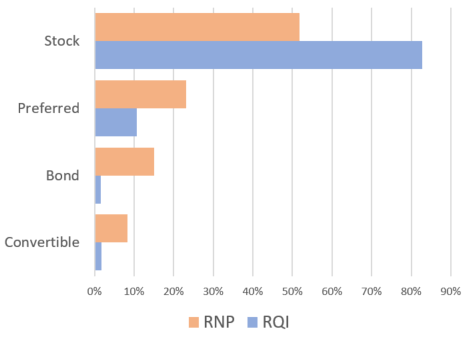 I would expect differences to show up in volatility with RNP being less volatile than the other two. And such is the case as we see in this table (two years' data from Portfolio Visualizer with distributions not reinvested).

Yes, RNP is less volatile but not by as large a margin as I might have expected. Other points to notice: All three funds had massive drawdowns (in March 2020, of course) relative to Real Estate ETF benchmark (IYR). Sharpe ratios are not particularly exciting on their own, but do represent a meaningful increase over the benchmark's cellar-dwelling 0.34. And RNP does have the leading Sharpe and Sortino ratios.
Distribution Rate and Capital Appreciation
The difference in CAGR is interesting. As noted, this analysis was run without reinvesting distributions, which is how I intend to use these funds in the final portfolio. In today's market, RNP does pay a lower distribution rate than the two equity REIT funds.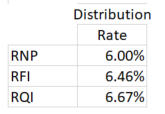 But RNP's outperformance in capital gain represents more than simply a lower distribution payout that leaves more funds in the fund.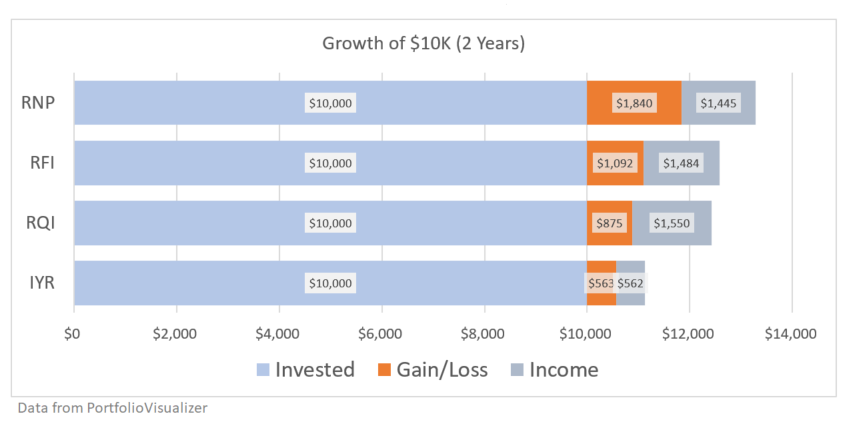 Only two years, but the pattern holds for multiple time frames.

The 1-year numbers reflect the recovery from the massive COVID crash drawdown.
The first thing to notice in those data is that the equity CEFs hold their own against the ETF while paying out a more than twofold in distribution income. I'll not run totals for each time period. We have the 2-year numbers for income shown in the chart above. I'll add 5-year totals in the table below.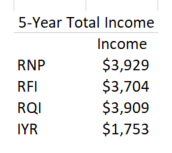 The second thing to notice is that RNP consistently has a greater capital return regardless of time frame.
And finally, note that even though it is currently paying a lower distribution rate than the two equity CEFs, over the past five years it paid out more income from the same initial investment than either equity CEF.
How to explain that? It's simple, when the five-year cycle began, RNP held a -14% discount. RQI was at a -10% discount and RFI was at -4.5%. Those differences in valuation at purchase are sufficient to turn the lowest yielding fund at NAV into the highest yielding fund.
Is RNP a Buy?
This is the present conundrum. I like RNP for its full range of real estate exposure, but its discount is only -1.32%. Over the last five years, RNP has only seen this small a discount one time.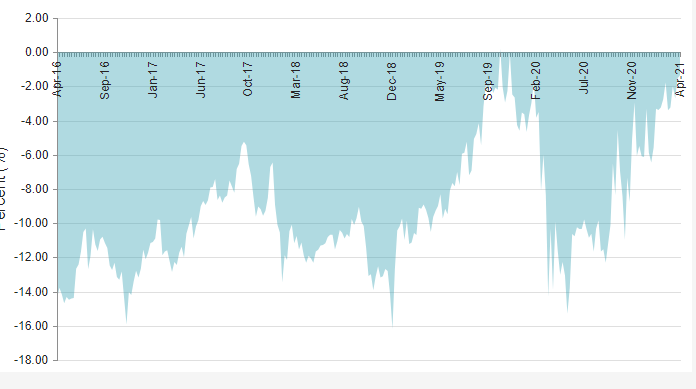 In my view, despite its strong points, RNP is not a buy at this valuation. It's difficult to know where it may go from here, but its 6% distribution rate argues against further loss of discount or even a move into a premium valuation. I suspect CEF buyers are apt to look elsewhere if RNP drops to a 5 handle on its distribution rate.
I'll be keeping RNP on my watchlist for this portfolio, but I'm not hopeful that a return to a more reasonable valuation is imminent. Getting the distribution rate to 7% will require a -14.3% drop in market price coming from either a drop in the fund's NAV or a deepening of its discount. A 6.5% yield requires a -7.7% drop. I think moves like this will have to be driven by downward changes in the real estate sector. This is not something I foresee, so it's my opinion that RNP is going to remain below my target buy point for some time.
This article was written by
I'm a retired individual investor.
Analyst's Disclosure: I am/we are long RQI. I wrote this article myself, and it expresses my own opinions. I am not receiving compensation for it (other than from Seeking Alpha). I have no business relationship with any company whose stock is mentioned in this article.

This article does not constitute investment or tax-planning advice. I am passing along the results of my research on the subject. Any investor who finds these results intriguing will certainly want to do all due diligence to determine if any fund mentioned here is suitable for his or her portfolio. And, any investor who has concerns about the tax status of an investment will want to consult with a tax professional on that topic.
Seeking Alpha's Disclosure: Past performance is no guarantee of future results. No recommendation or advice is being given as to whether any investment is suitable for a particular investor. Any views or opinions expressed above may not reflect those of Seeking Alpha as a whole. Seeking Alpha is not a licensed securities dealer, broker or US investment adviser or investment bank. Our analysts are third party authors that include both professional investors and individual investors who may not be licensed or certified by any institute or regulatory body.