Investment Thesis
With the exception of a GameStop (GME) style short squeeze in March 2021, Rocket Companies (NYSE:RKT) has traded fairly flat since its August 2020 IPO. Despite incredible sales growth, high profitability and many options for future growth, investors have not yet fallen in love with the stock. Our thesis is that Rocket's high revenue growth and low valuation multiple will not last forever and there is an asymmetric upside potential for the stock.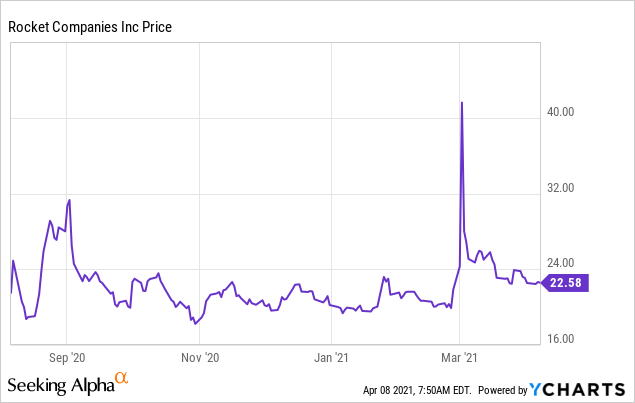 The bull case for Rocket Companies
Investors don't have to look far for reasons to be bullish on Rocket, their recent Q4 2020 earnings release highlighted revenue growth of 162% when comparing Q4 2020 vs Q4 2019, full year revenue growth was even more impressive at 187% adjusted revenue growth - $16.93 billion 2020 revenues vs $5.9 billion in 2019.
Unlike many of its technology focused and high growth peers, Rocket isn't still working out how to turn their high growth into profit for shareholders. The same earnings presentation linked above, displays earnings before interest, taxes, depreciation and amortization of $11.1 billion up 472% from $1.9 billion in 2019. The company also returned cash to shareholders through a $1.11 per share special dividend in March 2021.
In terms of future growth prospects for the company, they too look strong with their recent upwards market share trend in the mortgage origination market – Rocket recently overtook Wells Fargo to become the largest mortgage originator in the US – plus their ability to pivot and utilize their technology platforms in varying industries. Their recent 10-K displays positive developments in their Auto car sales (31% increase year on year), Amrock Insurance (110% increase year on year) and Rocket homes brands (assisted in $1.6 billion real estate transactions in Q4 2020).

(Source: Rocket Q4 2020 Earnings Presentation)
Deciphering Rocket's Current Valuation
As we outlined above, Rocket Companies trades at an unusually cheap valuation multiple for a company which is leveraging technology to disrupt complex financial industries. Based on current market cap and December 2020 balance sheet figures, we calculate an Enterprise value (EV) of $33.7 billion, being Market cap of £2.6 billion (excluding Non-controlling interest), plus debt of $27.6 billion, plus minority interest of $7.4 billion less cash of $3.9 billion. When compared against trailing twelve month revenues to December 2020, we calculate an EV/Revenue multiple of just 1.99 ($33.7 billion Enterprise Value / $16.93 billion revenues per above).
This EV figure has actually decreased since Rocket's IPO where the stock had an EV Multiple of 4.9 based on next twelve month revenues and Sept 2020 balance sheet data (see graph below per Y-Charts). As Rocket's revenue growth has increased fairly strongly and market cap remained flat, the EV multiple has shrunk. At the Sept 2020 point highlighted in the graph below, Rocket was trading somewhere between an expected multiple for a tech enabled Fintech firm, with PayPal (PYPL) and Square (SQ) being valued at multiples of 11.4 and 13.8 respectively, or an out of favour banking stock, JPMorgan (JPM) and Wells Fargo (WFC) trading close to 0. This apparent downwards re-rating by the market via an EV Multiple of 1.99, has taken place in a period where explosive revenue growth, profits and distribution of a special dividend has taken place. This appears to be highly unusual, however let's take a look at a few reasons that may cause this anomaly.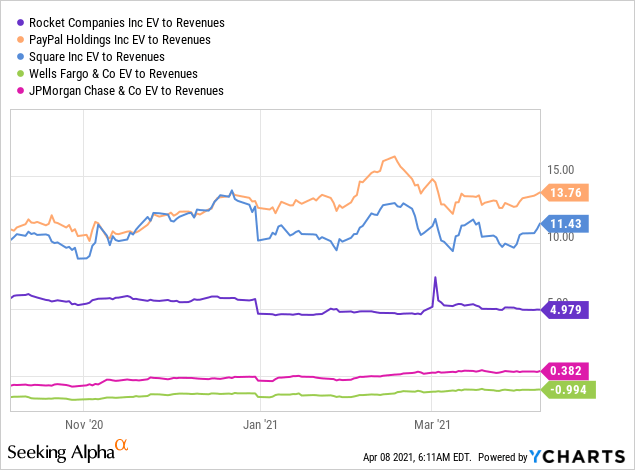 The Rocket Risk Factors
Interest Rate Risk
As a company which derives a significant portion of its revenues from the origination of mortgages, Rockets fortunes are currently inextricably linked to interest rates. The current low interest rate environment increases the affordability of new homes and also the rate at which current owners look to refinance. Any increase in interest rates may result in a downwards trajectory of the number of deals Rocket can process, as higher rates will stifle new home purchases and refinancing agreements as they become more expensive.
On the plus side however, per their recent 10-K Rocket state that "In periods of rising interest rates, the fair value of the MSRs generally increases" meaning that margins may increase during rising interest rate environments. Recent data from the Federal reserve however shows that fears of rising rates may be unnecessary, certainly in the medium term as recent forecasts see the federal funds rate staying below 1% until at least 2023, with members of the panel predicting an increase to 2-3% in the longer term.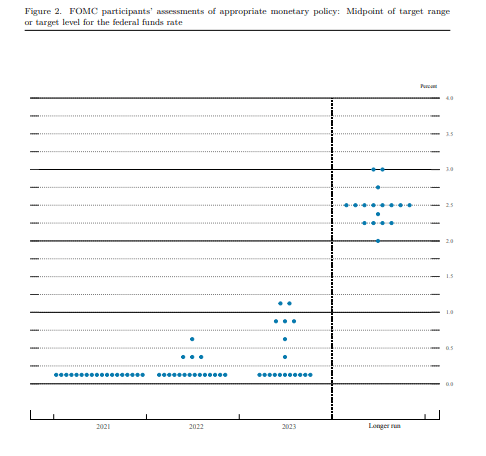 (Source FOMC Projections)
Dilution of shareholdings
This risk, in my opinion is a major factor for the hesitancy for investors to build positions in Rocket stock and may also explain the lack of upwards trajectory in the stock price. For observant investors the Rocket financials linked above will show a couple of red flags that require further analysis. The first of these is the "Non-controlling interest" line (per extract below) that seemingly captures the majority of the net income generated by their recent impressive revenue and profit growth. This is displaying in quite clear terms that the publicly traded element of the company, is only accessing a small portion of the growth story.

(Source: Rocket 10-K)
In addition, we note that the company has only 6% of their shares actively floating on the market at Class A ordinary shares. The remaining 94% per below are in the hands of the Chairman, Dan Gilbert and the Rock Holdings company (RHI below) also controlled by Mr Gilbert.

(Source: Rocket 10-K)
A key risk that many investors will be aware of, is the potential for their shares to be diluted as insiders sell the 1.8 billion units held by RHI, converting the Class D Shares into Class A publicly listed shares as part of the IPO agreement that brought Rocker public in 2020. However, it is interesting that one aspect of growth companies that is normally desirable to investors, being the control and guidance of the founders, appears to be having the opposite effect on Rockets share price. Flipping the common perspective on its head, My Gilbert and other holders of RHI's interest are hugely aligned with holders of the 6% public capital, sure they could sell and cash in their shares and dilute the public flotation, however holding 94% of the future Rocket Companies at an increased valuation must also be pretty appealing? The ability to hold for a long period and watch the company continue to grow and develop into new markets and new products may be just as enticing – and profitable.
Summarising our growth thesis
We've discussed a number of factors that sensible investors will be considering when analysing the forward growth prospects of Rocket Companies. As we set out in our thesis, it seems somewhat of an anomaly that a company that is disrupting industries with its technology led focus, is trading at such a low valuation multiple.
Key to the bull thesis will be their ability to sustain growth and capture market share in their headline mortgage origination market, however also attractive in terms of our thesis is the foray into the real estate, insurance and auto markets. Their ability to disrupt and develop market share in these new markets will guide the future direction of the stock price – as well as reducing interest rate risk as the company diversifies its revenue streams.
No doubt there are risks to the bull case, in the form of a slightly unusual capital structure which may add doubts to some investors. However, once the post IPO period of 12-18 months has passed, it may provide some further confidence that the holders of RHI are looking to the long term to convert their capital ownership to cash.
As an asymmetric upside investment opportunity, a cheap technology-focused stock that is showing signs of explosive growth and a low valuation multiple appears to offer good long term prospects, not to mention the access to future yields via dividend distributions.