Telkom: In The Right Position To Capture An Attractive Opportunity
Summary
Moderate internet penetration rate and low data consumption suggest that the telecommunication industry in Indonesia has not yet reached its mature phase, in our view.
While internet speed is slow, we think 5G technology may not be popular in retailers due to possible high tariff, at least in the short term.
Being the incumbent, we believe Telkom is attractive due to its dominant presence in the growing industry.
Telkom's TTM EV/EBITDA is trading at around 5.6x, higher than peers, but we think its fundamentals justify the premium.
Risks to our thesis include the lower-than-expected industry growth, Indosat's aggresive expansion, and possible M&A schemes.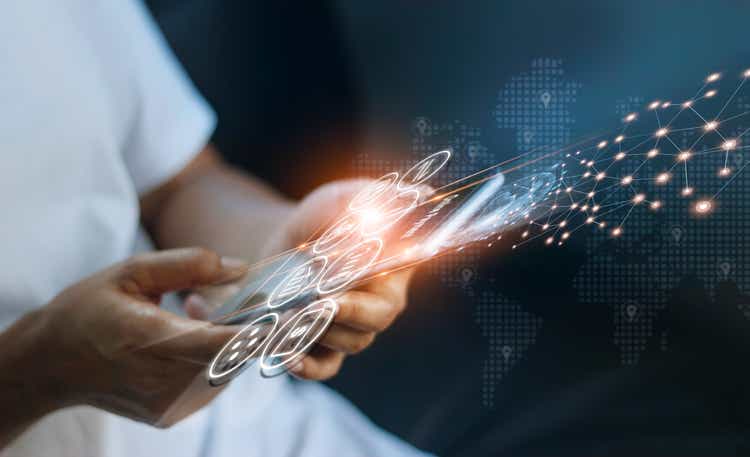 Investment Thesis
According to our analysis, Indonesia has a telecommunication industry that has not yet matured, yet it presents an attractive opportunity for growth going forward. Despite TTM EV/EBITDA trading at around 5.6x, higher than its peers, PT Telekomunikasi Indonesia (NYSE:NYSE:TLK), or Telkom, has the largest customer base and the widest network coverage in Indonesia, coupled with its solid fundamentals, which justify the premium, in our view.
The number of internet users grows...
The use of the internet is becoming more of a necessity than a discretionary nowadays, and it is especially true in Indonesia. Data from Badan Pusat Statistik (Statistics Indonesia) suggest that only 48% of the population had access to the internet, while 64% of them owned mobile phones as of 2019. However, this should not be taken with a grain of salt, as just 6 years ago only 22% of the population used the internet, indicating a significant improvement throughout the years; and just 57% of them owned mobile phones in 2015.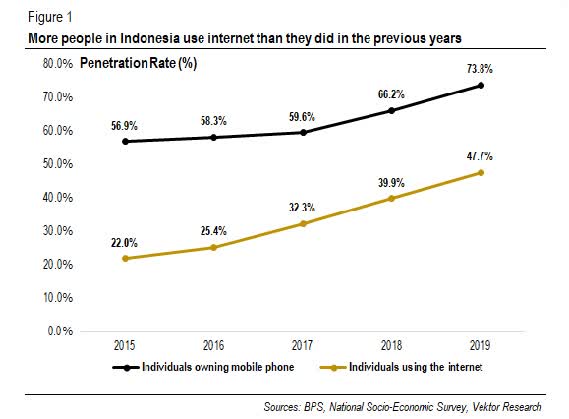 ...but data consumption per user remains low...
However, data consumption lagged behind the data consumption of other countries. We calculate the average data consumption per user a month of Telkomsel, XL Axiata (OTCPK:PTXKY), and Indosat Ooredoo (Indosat), the three biggest mobile network operators (MNOs) in Indonesia, as seen in Figure 2. Telkom, through its 2019 annual report, stated that Indonesia's 5.2 GB/user a month of average data consumption, which is only slightly higher than our estimate, fell behind that of Thailand and India at 13 GB and 11 GB a month, respectively.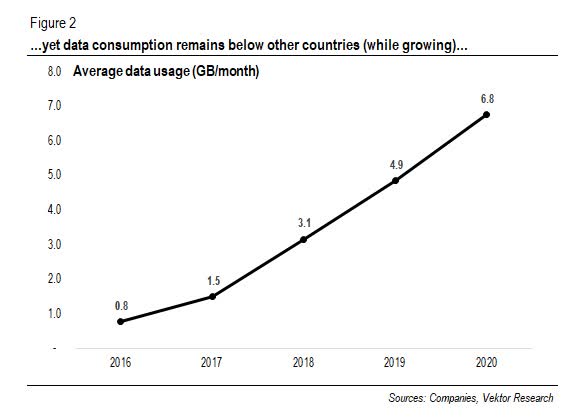 But in 2019 the year-on-year growth of Indonesia's average data consumption per user estimate exceeded that of other top countries, such as Finland, Austria, and Latvia, countries that topped the average data consumption per user list, according to the Organisation for Economic Co-operation and Development (OECD).
Although we did not explore further whether Indonesian MNOs offer a more unlimited internet package to prompt data consumption or not, we believe that in general, the data consumption has not yet matured. But this also presents an opportunity to explore further.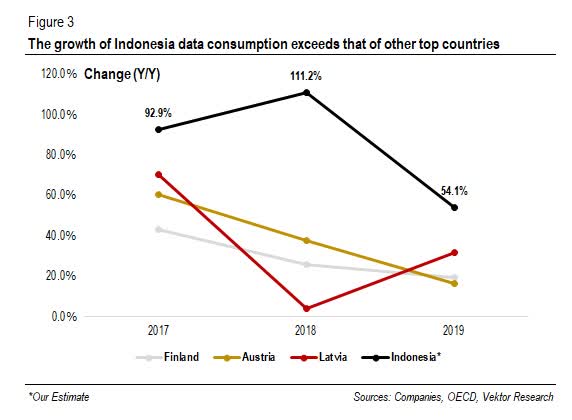 ...and internet speed is behind its peers
Despite the increasing internet penetration rate and growing data consumption per user, however, Indonesia's internet speed, on average, is also behind its peers. Media company Seasia, which cited the Internet comparison site Cable, wrote on its website that as of May 2019 Indonesia ranked 92nd in terms of broadband internet speed, requiring around 1 hour and 42 minutes to download 5GB of data. By contrast, Taiwan and Singapore, Indonesia's Asia & Pacific peers, ranked 1st and 2nd, taking jaw-dropping 8 and 9 minutes for downloading the same amount of data size, respectively.
But what causes the slow internet connection? In 2016 Rudiantara, then the Communications and Information Technology Minister, mentioned "insufficient broadband infrastructure" as a cause for lagging internet connection speed, as cited in Jakarta Globe, a media. This matter was also affirmed by Johnny G Plate, the current Communications and Information Technology Minister, as cited in Asia Quest Indonesia, a digital marketing company. He went on to say that the so-called "geographical conditions" have set the hurdles for the government to tackle in its mission to develop telecommunication infrastructure, resulting in uneven development in Indonesia. Besides, price sensitivity was seen here in Indonesia, as the users prefer a "much more affordable" internet package plan, the same source states. In turn, telecommunication companies have to adjust the service they provide according to their customers' willingness to spend.
For more information regarding internet speed and 4G coverage experience, you can visit the Opensignal website for a comparison between MNOs in Indonesia. Cable provides information about worldwide mobile data pricing.
Will the 5G technology be popular in Indonesia?
As things stand, many countries are said to have massively invested in 5G technology. Yet it is likely that 5G tariff is higher than 4G tariff. GSMA's Mobile World Live wrote on its website that "the difference in average cost between 5G and 4G unlimited plan varies from $5 to $72 per month". It is further said that the difference in tariff might be partially "explained by extras offered by operators", yet we are not going to deep dive into that in this article. Still, given the price sensitivity here in Indonesia, it is anyone's wonder whether the 5G technology will be high in demand or not.
That the Indonesian government plans to roll out 5G technology soon leads us to think that such a plan has put the telecommunication industry in juxtaposition. On the one hand, the 5G technology, with much faster speed, could indeed be beneficial to many industries utilizing such technology. On the other hand, however, one may ask whether Indonesian internet users will prefer faster internet connection to the slower one at the expense of higher tariff. We think that 5G technology will be more popular in enterprises, which are likely to have more spending power and willingness to spend, than in retailers.
We, therefore, conclude that the catalysts within the telecommunication industry may stem from the increasing internet penetration rate and the growing data consumption per user, rather than the 5G network rollout. And we think that the government's homework is to focus on the remaining 52% of the population that do not use the internet, or perhaps that are unable to do so because of the limited infrastructure. True, it is widely believed that such technology as the 5G network could boost the industry's growth; yet that may not be the case at least in the short term, or perhaps until the industry is more mature.
The incumbent in the industry
PT Telekomunikasi Indonesia (Persero) or Telkom is a state-owned telecommunication company in Indonesia. As of 2019, Telkom directly owns 11 subsidiaries and indirectly owns 24 subsidiaries, in addition to another 11 affiliated entities. The more prominent entities include Telkomsel - a cellular operator – and Mitratel – a tower provider.
Telkomsel has the widest network coverage in Indonesia...
Referring to nPerf's coverage map, we see that Telkomsel has the widest network coverage in Indonesia. Telkomsel's 4G base transceiver station (BTS) number is the highest among the three MNOs (see Figure 4).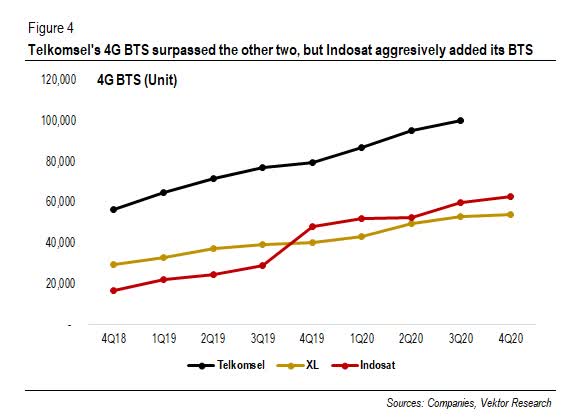 ...but XL and Indosat aggressively expanded their network coverage
Indosat, Telkom's competitor, aggressively expanded its network coverage by adding more 4G BTS, and so did XL, albeit less significant, in our view. XL grew its 4G BTS number to 54k, twice the number in 2018; while Indosat increased the total 4G BTS number by almost three times higher than the number two years ago.
Still, Telkomsel can maintain its strong position
As of 9M20, Telkomsel maintained its strong position in the market with 170 million subscribers, while XL and Indosat posted 59 million and 60 million subscribers respectively, suggesting a stark difference among the three. Please note that beginning in late 2017 to early 2018, the government stipulated SIM cardholders to re-register their SIM cards with valid identification IDs to combat SIM card misusage. As a result of the declining churn rate, the number of subscribers also went down, while in turn, the figures would reflect the real number of sim card users. Figure 6 shows that Telkomsel managed to bounce back by +5.0% (Y/Y) in 2019.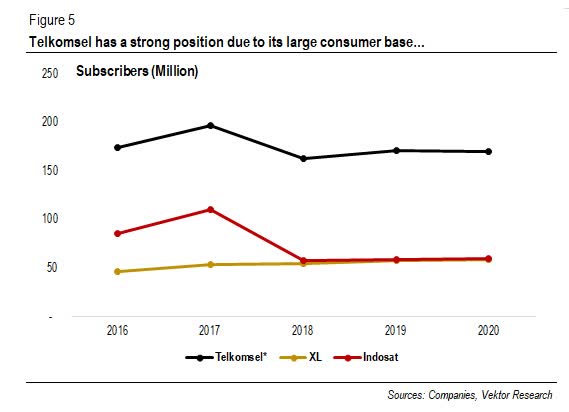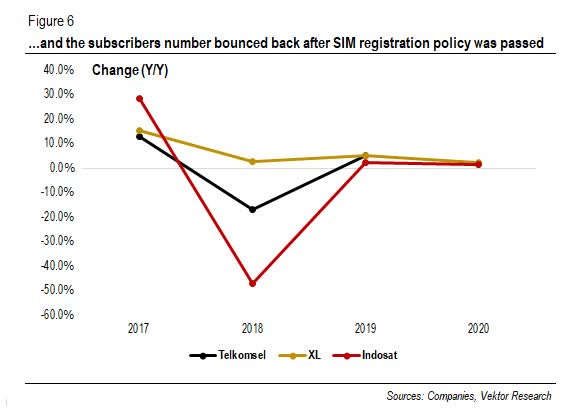 Indeed, Indosat's data revenue grew by a hefty percentage last year (See Figure 7), but we think that Telkomsel's ability to maintain its already-solid data revenue growth is something worth considering. Our data yield calculation also reveals that Telkomsel data yield is a premium if compared with the other two (see Figure 8). Please note that data yield often declines in line with the increasing data traffic. Yet the message we would like to convey is that despite selling at a premium, Telkomsel has a solid customer retention so far, albeit with supposed price sensitivity.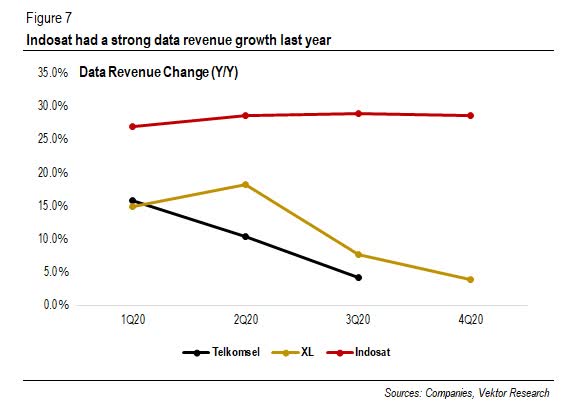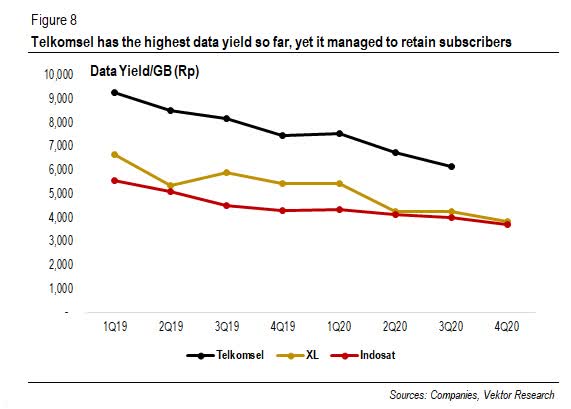 The growing IndiHome subscribers
Furthermore, Telkom's top line is supported by the growing IndiHome, a fixed broadband brand. Figure 10 indicates that IndiHome's contribution to Telkom's revenue expanded to 17.4% in 3Q20, a jump from 12.2% in 1Q19. By contrast, we see in Figure 10 that the legacy segment's (SMS and voice) contribution declined due to Telkom's strategy to replace the business with "digital businesses", as cited in the 2019 annual report. We believe that IndiHome could become a positive catalyst going forward, due to its strong position in the market with 85% of market share in 2020, according to Kompas, a media.
Another thing to consider is that Telkom finally established its long-awaited partnership with Netflix (NFLX) in July last year, enabling IndiHome subscribers to access one of the biggest OTT platforms in the world.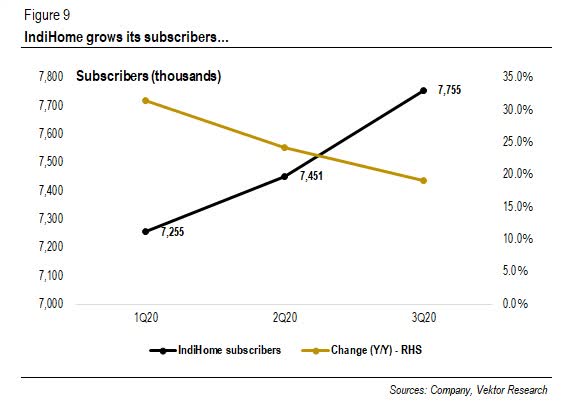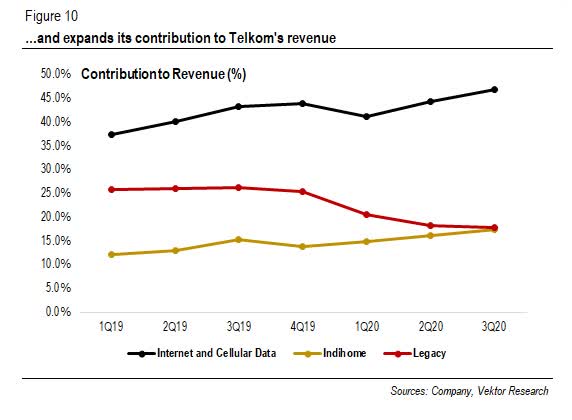 Telkom has the healthiest balance sheet
Still, the aggressive expansion comes at a cost. Figure 11 indicates that XL and Indosat Capex/revenue hovered around 50%-60% in the last 2 years, although XL's Capex/revenue declined to around 30%-40% last year. On the other hand, Telkomsel, with a more prudent expansion plan, recorded Capex/revenue of around ~25% in the same period. As a result, Telkom's net gearing was well below 1x, while Indosat, the most aggressive one, touched 2.0x in 4Q20. In our view, a healthy balance sheet offers Telkom flexibility for further expansion in the future.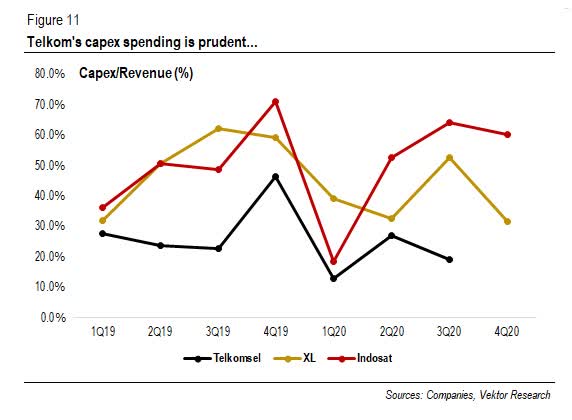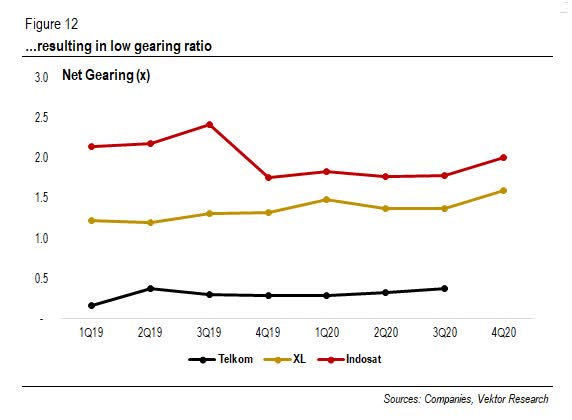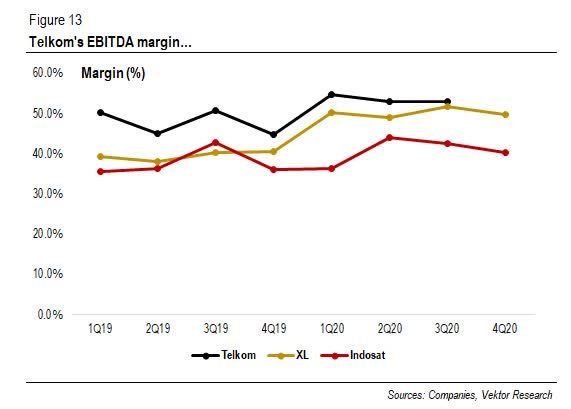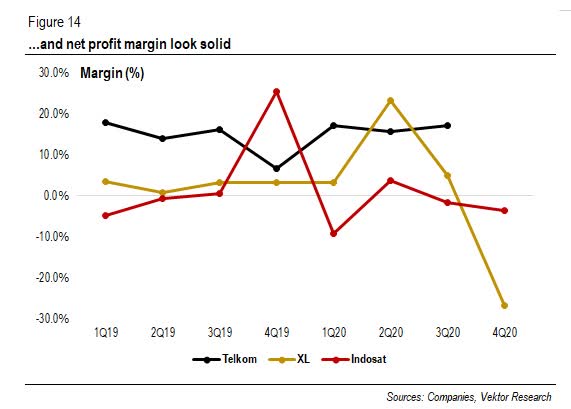 Valuation
Telkom's TTM EV/EBITDA is now at 5.6x, around its 3-year -0.5 STD, while XL and Indosat's stocks are trading at 4.1x and 5.3x TTM EV/EBITDA, respectively. True, Telkom is trading at a slight premium, but is the premium justified?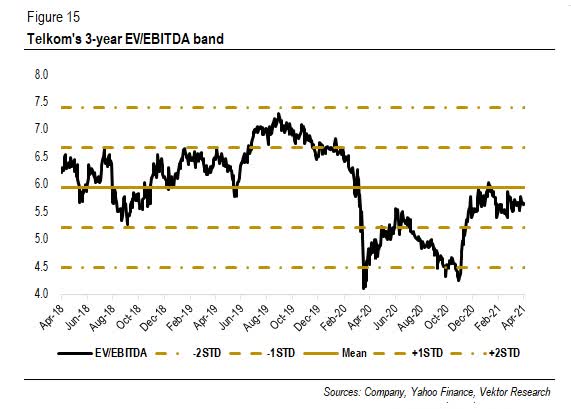 According to our thesis, the industry's catalysts may stem from the increasing internet penetration rate and growing data consumption, as they have not yet matured. We think that Telkom may be in the right position to grab these opportunities because of its status as the incumbent, with the widest network coverage and the largest customer base in the industry. Solid data revenue growth, increasing IndiHome subscribers, and healthy balance sheet, too, are key points to consider. A payout ratio of 80%-90%, which is equivalent to around 4.5% dividend yield, looks attractive. In other words, we believe that Telkom is in a right position to capture an attractive opportunity in the long run.
Indeed, Indosat is now aggressively expanding its network coverage, yet we are unsure whether Indosat will be able to maintain such a strategy in the long run, given its leveraged balance sheet, without divesting its assets first (for example, tower divestment), in our view.
Moreover, Telkom has gained around 44% after touching its lows at US$16.4/share in early March last year. Given that the stock traded at around ~US$30/share in the second half of 2019, there might be around 30% of upside, if seen historically, so an upside seems to make sense. In sum, Telkom might be something worth considering, especially if you are looking for a long-term investment.
You may also want to observe the development of the IPO plan of Mitratel, Telkom's subsidiary, a plan that could be executed at least late this year or the first half of next year, according to Kontan, a media.
Investment Risk
We mentioned earlier that the positive catalysts will stem from the increasing internet penetration rate and the growing data consumption. What if, by any chance, the industry growth is not as hefty as expected to be? Perhaps challenging infrastructure development could hamper the growth of internet users and eventually inhibit the growth of data consumption. And building that infrastructure in more rural areas requires significant investments, which in general will be more expensive than the investment in more urban areas.
Second, what if Indosat can challenge Telkomsel's status as incumbent here in Indonesia because of its aggressive expansion? We mentioned that Indosat might not be able to maintain its strategy, at least in the long run, due to its leveraged balance sheet, without divesting its assets first. But what if Indosat succeeds? Also, Indosat's cheaper package plan may be attractive to the price-sensitive mobile data users, something that is often called a price war. Price war, too, could result in the operators' margins erosion.
Third, there could be a new competition that arises from the telecommunication companies' M&A. According to Fitch Ratings, a credit rating agency, a new law permits telecommunication companies to "retain their spectrum holding" after a merger, although the Communication Minister requires an approval beforehand. Moreover, to encourage foreign investment, "foreign ownership cap of 67%" in domestic telecommunication companies is omitted. Clearly, the government encourages M&A in the industry.
Conclusion
Going forward, we believe that Telkom will be able to continue its strong presence in the industry, being supported by large consumer base, growing IndiHome subscribers, and solid fundamentals, which may justify the stock price's premium, in our view. But Indosat's expansion plan and possible M&A schemes are risks that could challenge Telkom's status as the incumbent in the long run.
This article was written by
We aim to provide investors with an independent view. For now, we will cover a group of stocks in within the same sector to provide investors with more comprehensive analysis. At times, however, we will write about companies with wide moats and sold at reasonable prices, those that fall out of favor but still retain a turnaround story, and small-to-medium cap companies that are not well-known by the market but hold significant upside. Please consider clicking the follow and the like buttons if you find our articles detailed and insightful. Thank you.
Analyst's Disclosure: I am/we are long TLK. I wrote this article myself, and it expresses my own opinions. I am not receiving compensation for it (other than from Seeking Alpha). I have no business relationship with any company whose stock is mentioned in this article.

Research reports are written based on analysis and expectations of the analyst(s), and the analyst(s) is required to include sources for external data included in the analysis. Research analyst(s) is not responsible for any inaccuracy caused by human errors, but Vektor Research will make sure, with reasonable efforts, to reduce such errors as minimal as possible. Please note that the forecasts do not guarantee any future performance and Vektor Research, along with the analysts, is not responsible for any loss, expenses, and the reader's decision making, as the reports are not made to force readers to act towards any securities.
Seeking Alpha's Disclosure: Past performance is no guarantee of future results. No recommendation or advice is being given as to whether any investment is suitable for a particular investor. Any views or opinions expressed above may not reflect those of Seeking Alpha as a whole. Seeking Alpha is not a licensed securities dealer, broker or US investment adviser or investment bank. Our analysts are third party authors that include both professional investors and individual investors who may not be licensed or certified by any institute or regulatory body.