Summary
Revenue is accelerating and the company's platform is almost endlessly leverageable with new brands and products.
However, as the company is still in the land-grab phase, investments are accelerating even more steeply, and one could argue, worryingly.
So losses and dilution are set to continue for quite some time, but if you can see beyond that a pretty attractive picture emerges.
The shares trade at a modest EV/S multiple of 5.4.
Looking for a portfolio of ideas like this one? Members of SHU Growth Portfolio get exclusive access to our model portfolio. Learn More »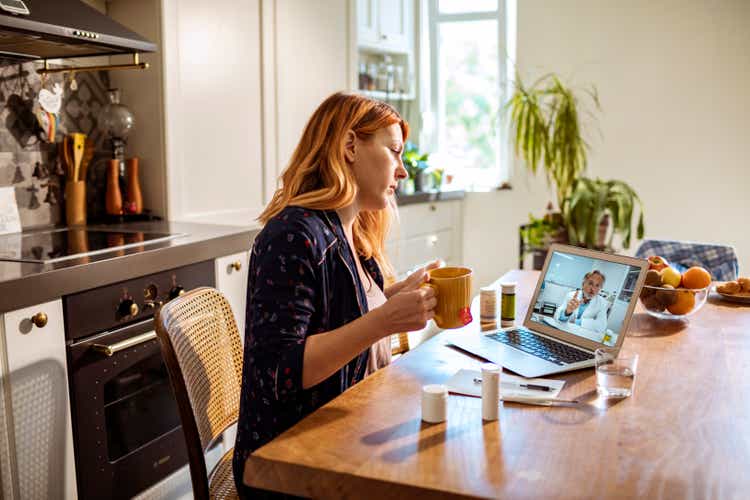 We bought shares of LifeMD (NASDAQ:LFMD) at the end of September last year at $8 for our SHU Growth Portfolio which had started a few months earlier.
The shares have been very volatile and the company is spending like there is no tomorrow. They have greatly ramped up their customer acquisition spending and are also introducing new brands and new products.
Management clearly believes they are in a crucial land-grab phase and the ones which invest the most will be the eventual winners. Here you see the sharply diverging revenue growth and operational metrics: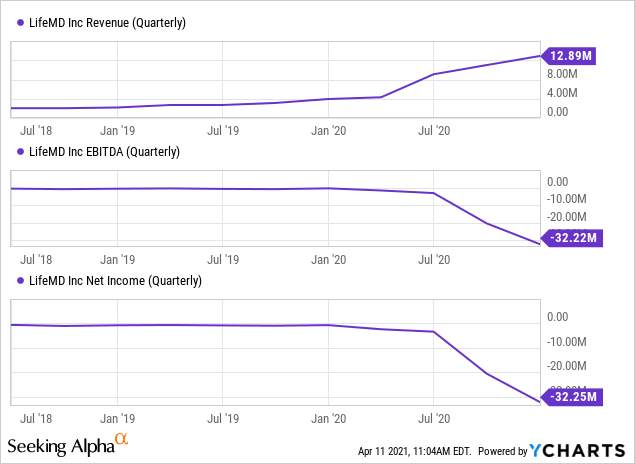 And look at the rising cost: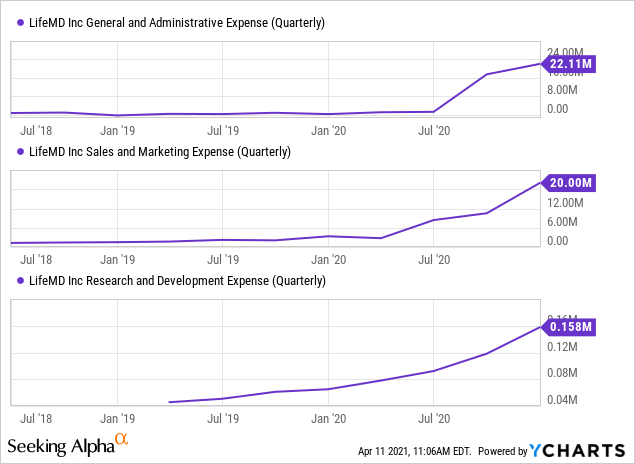 In Q4, operating expenses jumped to a whopping $41.2M from just $3.7M a year ago with S&M increasing by $15.2M and G&A increasing by $21.7M.

Source: 10-K
Even their adjusted EBITDA turned sharply negative in Q4 at -$9.7M. GAAP losses were a whopping $63.4M ($4.44 per share) although factoring out the non-cash and financing related items (adjusted EBITDA) reduces this to $16.3M with most of that adjustment coming from stock-based compensation ($37M).
There are quite a few ways management defends this huge ramp in operational cost:
Media costs were very high in Q4, they've come down considerably in Q1 already.
The ROI on customer acquisition is large.
And it will be larger as they are now converting nearly all new customers on a subscription basis.
$20.1M of this $41.2M S&M spending in Q4 was non-cash (stock-based comp and amortization).
Revenue growth is exploding.
Their concierge solution LifeMD increases upsell opportunities and stickiness.
With respect to the ROI on their S&M spending, management argues that it's paid back in 3-4 months and generates a 100%+ return within the first year of spending.
This could very well increase some more as newer customers almost entirely convert to the subscription model which was just 20% of revenue in early 2020 and is now running at 91% of revenue. Needless to say, the lifetime value of subscribers is substantially more than that of other customers. Management also argues that the ROI on their call centers is very high.
Revenue growth is of course rather spectacular at +227% in Q4 to $12.9M and +293% telehealth revenues of $10.3M (PDFSimpli came in at +96% or $2.6M, curious that this detracts from overall growth).
For the year the growth was 199% to $37.3M (telehealth +208% to $30.6M and PDFSimpli +165% to $6.7M). Gross margin is declining from 79.7% in 2019 to 76.1% in 2020 with gross profit at $28.4M (+185%). Here is where the revenue comes from, mostly Shapiro and Rex, and then PDFSimpli: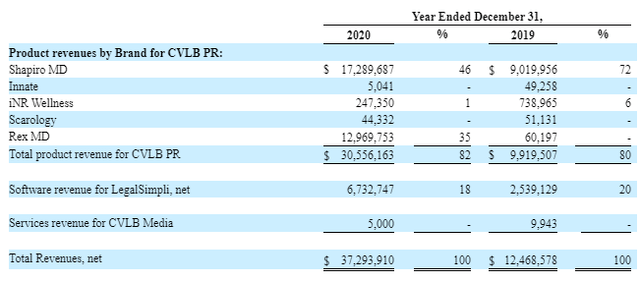 Source: 10-K
In Q4 the decline in gross margin was pretty substantial, from 79.6% a year ago to 59.1% in Q4 2020, due to a changing product mix and inventory write-offs for legacy products so we expect this to partially recover.
Subscription business
Their subscription business is mostly product-driven but also includes consults (Q4CC):
the patient or the customer is either paying a monthly or quarterly fee which is all inclusive of the treatment that our physicians provide right and the product whether it be prescription or OTC that the patient or customer is receiving from us.
It's auto-ship, auto-charge, which lowers costs.
New products
Their telehealth platform enables the company to offer highly customized and targeted offerings and tests new products and even whole new brands so it is endlessly leverageable.
The company is introducing new products and even whole new brands. As an example of the latter, it is introducing its new teledermatology brand Nava MD (the week after the Q4CC).
A host of new products for many common dermatological conditions will be introduced and the company entered into an exclusive licensing agreement with Restorsea, from the Q4CC:
It includes patented medical grade over-the-counter products for treating these prevalent skin conditions, integrating Restorsea's clinically proven technology into our Nava MD offerings represents a major competitive advantage for us as we enter this high growth market segment.
Then they are finalizing the soft rollout of their primary care and concierge business LifeMD, which specializes in integrative medicine and works on a cash subscription basis ($50-150/month). From the Q4CC:
The platform will combine a low-cost prescription drug offering, discounted access to all of our cascade telemedicine offerings and on demand access to the same doctor. While the offering will initially be launched in the U.S., we believe it has a global appeal given the high regard for U.S. medical professionals and treatment in international markets. We see this opening up new direct to consumer joint venture and partnership opportunities for LifeMD and further enhancing our value proposition.
We'll have to see but it looks like LifeMD could open a lot of new revenue streams. On the other hand, these (and other) initiatives require the company to keep investing heavily in new professionals, physicians, clinical support, and customer service, but that's the land-grab argument treated above.
Existing brands will also add new treatments for new indications, for instance in the Rex MD (Men's health) and Shapiro MD (hair loss) lines and new products in dermatology, mental health, cholesterol. And it's not going to stop there (Q4CC):
for competitive reasons I'd rather not speak specifically on other indications that we plan to launch in this year but I'll just say generically that we're looking at several other markets that we think are a perfect fit for direct to consumer telemedicine, total addressable market are massive, even bigger than erectile dysfunction and hair loss and we're very, very excited to launch another in addition to scaling the hair loss and launching the derm business and adding indications in addition to patients for health and direction we're very excited to prove out another one or two indications this year in massive markets. So more to come on some other areas
And they are also building an additional platform (Q4CC):
we're building a great technology platform that is similar to the kind of one medical but the world, right, that would integrate in one place, all the patients lab, almost there kind of medical history with us pull in all their medical records, when they initially onboard onto the platform. And so we're really excited to launch that we're aiming to launch on the summer.
This is likely to open new avenues and increase the stickiness of patients, but first, they have to finish building it and then gather all the data, again a pretty significant investment.
Outlook
Management forecasts revenue between $85M and $95M (+128%-+155% y/y). This looks doable as the yearly run rate has already reached $75M in Q1 2021.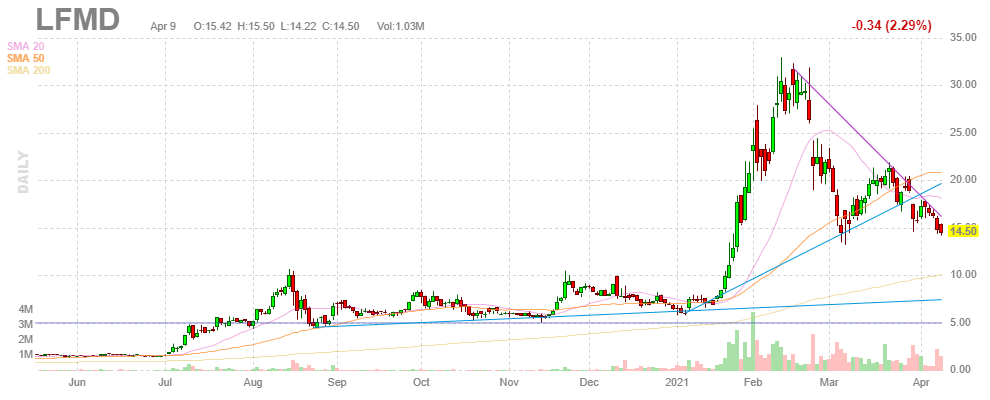 Source: FinViz
Cash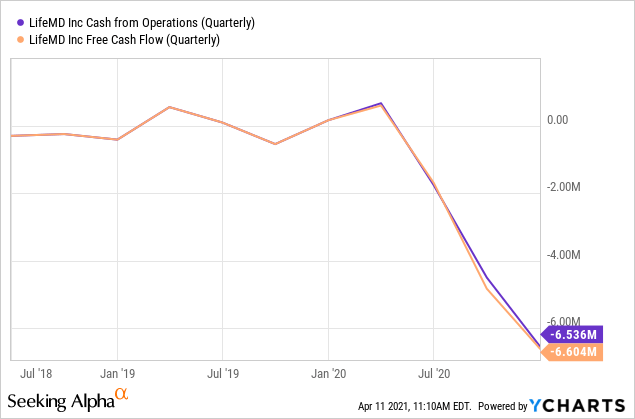 At the end of the year, the company had $9.18M in cash and $779K in notes outstanding. That's not a whole lot so they organized a $14M private placement in February 2021. All these investments have to be paid for largely in shares: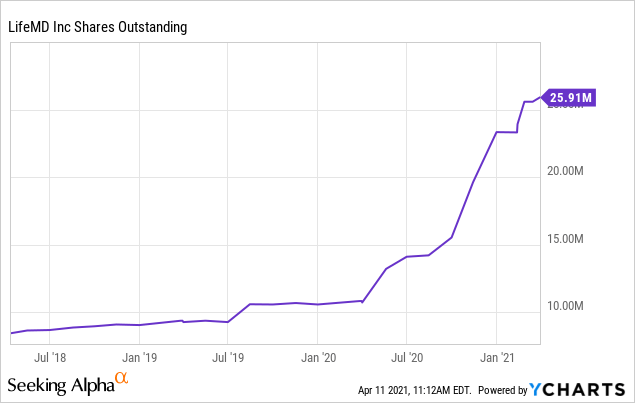 And there is more to come:

Source: 10-K
So fully diluted, there are some 35M shares out.
Valuation
At 35M shares and $14 per share, the company has a market capitalization of a little under $500M, which looks to produce a surprisingly modest EV/S multiple of 5.4.
However, given the pace of investment, there is almost certainly new financing necessary on a fairly significant scale. The company will also be producing pretty substantial losses for some time to come. If we take:
Revenues at midpoint of $90M
Gross margin at 70%
Q4 adjusted operational cost at $21
We get a $21M operational loss. Now, the company has a history of exceeding guidance, but on the other hand, we think the operational cost could rise well beyond the $21M run rate (minus non-cash items like amortization and stock-based compensation).
Conclusion
While growth is terribly impressive and likely to endure for some time to come, we must not be entirely blind to the enormous investments this requires and keeps the company from reaching breakeven or generating cash for quite some time to come. There are three main reasons we're not overly worried about this, at least not yet:
The company's spectacular revenue growth.
Platform economics; their platform is endlessly leverageable with new products, brands, and services.
They have managed to convert most clients to subscription clients.
So we think it's likely that the leverage will take over at some time, although when that will be is pretty difficult to say at this point. It doesn't look to be anytime soon so it's likely the company will need additional rounds of finance and will lead to a rather volatile ride, even if we believe that ultimately, the net vector of that ride is up.

If you are interested in similarly small, high-growth potential stocks you could join us at our marketplace service SHU Growth Portfolio, where we maintain a portfolio and a watchlist of similar stocks. 
We add real-time buy and sell signals on these, as well as other trading opportunities which we provide in our active chat community. We look at companies with a defensible competitive advantage and the opportunity and/or business models which have the potential to generate considerable operational leverage.
This article was written by
I'm a retired academic with three decades of experience in the financial markets.
Providing a marketplace service Shareholdersunite Portfolio
Finding the next Roku while navigating the high-risk, high reward landscape.
Looking to find small companies with multi-bagger potential whilst mitigating the risks through a portfolio approach.
Analyst's Disclosure: I am/we are long LFMD. I wrote this article myself, and it expresses my own opinions. I am not receiving compensation for it (other than from Seeking Alpha). I have no business relationship with any company whose stock is mentioned in this article.
Seeking Alpha's Disclosure: Past performance is no guarantee of future results. No recommendation or advice is being given as to whether any investment is suitable for a particular investor. Any views or opinions expressed above may not reflect those of Seeking Alpha as a whole. Seeking Alpha is not a licensed securities dealer, broker or US investment adviser or investment bank. Our analysts are third party authors that include both professional investors and individual investors who may not be licensed or certified by any institute or regulatory body.