Epic Vs. Apple: Every App Store At Risk
Summary
There are very high stakes in this case. Every app store and a large part of Apple's business model are at risk.
There is tortured logic on both sides, much more so and on key foundational issues from Epic.
But law is not logic. The risk is real.
If Epic wants to keep going, this will take a very, very long time.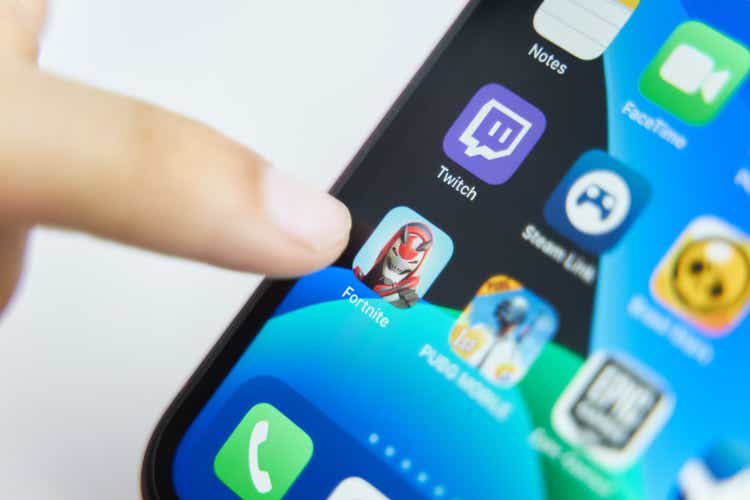 Battle Lines
Last week, both Apple (NASDAQ:AAPL) and Epic Games filed their initial proposed findings of facts in Epic v. Apple. These are the competing narratives that are at odds with each other at the trial. We'll dive into the details, but the basic arguments:
Epic: Apple's entire existence is built around the walled garden and keeping those walls high. They leverage the exclusivity of the App Store on iPhone and iPad to build those walls higher. The walls create its own market, where Apple is the monopolist. This is anticompetitive. Also, their vaunted "curation" is terrible. (Epic's filings can be accessed here)
Apple: We love our developers, to whom we've paid out many billions of dollars. But the security and privacy of our customers comes first, and this is one of the ways we have

of we enforcing that. We spend a boatload of money every year on this, and deserve to be compensated. Also, not for nothing, but we're not even close to a monopoly in phones, and especially not in gaming devices. (Apple's filings can be accessed

here

)
Both arguments hinge on two underlying questions:
Despite the fact that iPhone does not have a majority of smartphone or gaming market share, is iPhone/iOS a "relevant two-sided market" as Epic argues?
Is a phone sufficiently different from a PC that Apple is justified in locking iPhone down more than Mac? What Epic is doing would not be a violation of their developer agreement on macOS, just iOS and iPadOS.
But there is a broader question as well: to what extent do app store owners like Microsoft (MSFT), Sony (SONY, their brand new ticker as of April 1), Google (GOOGL), and Amazon (AMZN) have the right to set terms in their stores? Most at risk from an Epic win would be the Xbox and PS4 stores, which have a very similar setup to the iOS App Store — you can't get around it, and you have to pay Microsoft and Sony their cut. It is the whole basis of the console business. If a phone is the same thing as a PC, is a console also the same thing?
Ironically, Epic also has a platform they charge developers for, the Unreal Engine. I can think of a lot of ways this could backfire on them. They have a much smaller number of users than either Apple or Google, and charge much less in their store. What if that became $0, which is what Epic is asking for?
In the meanwhile, Apple will keep plugging Epic's competitor, Unity (U), to developers, like they did at the 2020 Worldwide Developers Conference.
Should be cued up, but the Unity presentation begins at 20:48
But the biggest loser should Epic win is Apple. This is an existential challenge to their way of doing business.
Before we begin, you need to know that I am not an attorney, and I will not be commenting on the legal issues of IP and antitrust law. I am here to sum up the important arguments, and the implications should Epic win. However, law and logic are not the same thing.
But even though I don't understand the law fully, this much I understand: if Epic wants to keep going, this is the opening bell of round one. Whomever loses will appeal, and this may wind up being decided by the Supreme Court, if Congress doesn't do something first. In either case, that is a very long way off.
But also, because I am not a lawyer I can sum this case up very succinctly up front. Apple has poured billions of dollars into the App Store to make it what it is today. They think they should be compensated for that from the developers who make money on the platform, who are a minority. Most apps do not make them a dime, so the ones that make money shoulder that burden. The 30% cut on everything, including in-app payments, is pretty standard industry-wide for services. For example, Google Play Store has the same policy, though it was loosely enforced until last year. Why Apple? Android has a much larger market share. Also, in the days when software came in shrink-wrapped boxes, the retail cut was closer to 50%.
Epic, on the other hand, wants to pay Apple 0%.
I'm also going to skip Apple's countersuit. They claim Epic violated their contract, the same one every developer signs. Epic clearly did, in an effort to precipitate this case, and admit so in their filing. What happened was Epic submitted a Fortnite update to the App Store with a hidden in-app payment system that skirted Apple's. Once the new version was approved and in the App Store, they turned on their in-app payment system. I think they believe they were being clever to prove that Apple's App Review process is flawed, and allowed what amounts to a Trojan through. That may be a little too clever, because they were very obviously purposefully violating their contract. Also, Trojans are bad.
Biases, I Have Them
Like everyone, I have biases. I try hard to fight them when analyzing things, but we all know that's a losing battle. So for the record:
I am a very long time Apple shareholder, continuously since 2005.
I have been an Apple customer since 1981. I generally don't even consider competing products. Initially, this was because of OS quality versus DOS/Windows, but now it is mostly because they are the only large tech company that sees security and privacy as a feature, not a cost center.
Since Steve Jobs' return, I consider them the greatest company in the history of capitalism. They still manage to exceed my very high expectations, like they just did with the M1 Macs.
So there it is: I'm a Crazy Apple Bull. I tried very hard to be fair to Epic here, but they make it difficult.
Since a lot of the key events and decisions are now over a decade old, let's back up a bit and look at how we got here.
The Background
This all begins of course with iPhone, released in June 2007. The first iPhone only had Apple apps on it. They paid Google, Yahoo and others for the services behind them, but all the apps were Apple apps. After everyone got over how awesome the phone was, the whining about the lack of third-party apps began pretty promptly, if I recall correctly, around the fall of that same year.
Some people took matters into their own hands and created an unofficial iPhone software development kit ("SDK"), based around the Mac SDK, because the operating systems were so similar. People started writing apps that leveraged the unique aspects of the phone like touch, location, orientation, and ubiquitous networking. Others released "jailbreaks" which installed a free third-party app store called Cydia from which you could download apps. At first, all of these apps were free, as there was no payment system. Most of these apps were terrible, but some were good.
So this is when Steve Jobs made a series of decisions that put us where we are today. Apple had enough trouble getting the phone out in 2007, so any idea of an SDK was shelved. They filled that hole with web apps. But once things began developing in 2007 and 2008, they were able to figure out how they wanted to approach it.
Steve Jobs was a man who had a lot of disdain for products that didn't have the Apple brand. He thought no one else thought through the user experience as completely as Apple did. Moreover, he saw the terrible average quality of apps on Cydia, so that did not help. Not having third-party apps was perfectly all right with him. But he wasn't blind to the demand, and the risks of not filling that demand with an Apple solution. There were too many people who looked at this "phone" and saw a powerful little computer. He sought to find a middle ground where Apple could retain some control.
His goals:
Treat the phone differently from the PC. The biggest issue is the phone's ubiquity in people's lives — it is always with them, and always on a network. Moreover frequent downtime like on PCs was unacceptable for this sort of device.
Retain some control over quality. Emphasize security and privacy, and filter out abusive practices.
Native is better than otherwise.
Notice I didn't mention profit. Jobs nor anyone else at Apple anticipated the scale of what this has become. In 2008 when it launched, they would have been happy with any profit from it. Some analysts pegged it as a small loss-leader to keep iPhone sales going up fast and grow the ecosystem. I was one of them.
Keep in mind what Apple was at the time of iPhone launch. There was a halo around them from iPod, but they still had big issues around third-party support for Mac retail, service and software. They stared three business more to solve these problems than to increase their bottom line, but both wound up happening. These were, chronologically, the expansion of AppleCare services, the retail stores (and more AppleCare with that), and then the App Store.
In the beginning, the vast majority of apps were free, and the ones that did charge were mostly $0.99. Still, today, many of the most downloaded apps in the store don't net Apple a dime, as they are front ends for ad-supported services, or real-world services like Uber (UBER). So Apple was surprised as anyone here about the rapid growth of the app economy. They had no idea so much money would start changing hands.
The biggest moment in monetization was when Apple turned on in-app payments for free-to-download apps in 2009, and this is at the core of Epic's complaint. Even at $0.99 and with a very simple payment method, there was a lot of friction in getting people to download paid apps. Free apps were dominating, which advantaged those ad-supported and real-world services who were getting paid elsewhere. The "freemium" model was born. South Park explains it much better than I could:
Now that you've stopped laughing, realize that all that is exactly how it works. The model is to rely on a small proportion of users who exhibit problem-gambler type behavior to fund the whole system for everyone, that large majority who only play for free, or through less-profitable advertising.
Epic is not a public company, but a good comparable is Roblox (RBLX). Their gross margin in 2020 was about 74%. Most of their in-game currency sales take place at app stores that charge them 30% like Apple, but a small portion is done on their website, at a much lower cost. So Epic's goal is that they would like their gross margin to go from something like 74% to something more akin to 95%. To be clear, they are the ones accusing Apple of being greedy.
I Read So You Don't Have To: Epic
In an effort to be fair to Epic, I wrote this section before I read Apple's response.
A High-Walled Garden
Epic's statement starts thusly:
This case is about Apple's conduct to monopolize two markets within its iOS ecosystem: (i) the iOS App Distribution Market; and (ii) the iOS In-App Payment Solutions Market.
So right off the bat, they have a high hurdle to pass, which is proving that iOS is a "market" as defined by antitrust law, despite the fact that Apple does not sell a majority of smartphones, and certainly not gaming devices where Epic makes their games available.
So let's dig in to how Epic builds their novel argument. They start here:
Since the introduction of iOS in 2007, Apple has developed myriad services and features that tie together all Apple products to create an Apple "ecosystem", but that are not compatible with devices running on other operating systems outside of the Apple ecosystem. As Apple has added more features and more devices that can interact with iOS, the reach and hold that iOS has on consumers' lives has grown. As a result, consumers—and often their households—become locked in to iOS, with high switching costs and decreased ability and willingness to extract themselves from the iOS ecosystem.
So the first thing they state as fact is that people buy Apple products serially, and do so for the entire household, because of these high walls Apple builds to make switching costs high. There is no doubt that switching costs are high, as they are going from Android to iPhone. But they elide the fact that iPhone routinely scores 85%+ in customer satisfaction, which is right around iPhone's retention rate. Maybe that's why customers don't switch? Let's drill down, because this is part of their foundational argument.
Apple's core business model is to "hook" its users on this integrated Apple ecosystem, so they "wouldn't want to leave it". To keep users repeatedly coming back to Apple's offerings, Apple has worked to "build" its App Store and other services "as far into the iPhone OS experience as possible"...

Apple recognized that "[g]etting customers using our stores (iTunes, App and iBook store) is one of the best things we can do to get people hooked to the ecosystem".

Apple has developed a number of apps, services and features that enhance "lock in" into the Apple ecosystem. iMessage (used in the Messages app), "Find My Friends" and "Continuity" are a few examples, all discussed below. As Apple has developed, updated and released its own apps over time, it has fully integrated them into the "iOS experience".

[Those heavily edited quotes are from Apple SVP of Services Eddy Cue]
There is no doubt that Apple seeks to tightly integrate all their software and services, and one of the reasons is to make switching look unattractive. Epic focuses on iMessage, and this is a good choice as it is a core app and service Apple provides. Epic's argument is that Apple could easily make an Android version, but they don't because Apple feared, for example "iMessage on Android would simply serve to remove [an] obstacle to iPhone families giving their kids Android phones" [quote from Craig Federighi, Apple SVP of Software].
Their argument that Apple very much likes their walled garden and wants to keep the walls high is pretty solid. Apple always takes the walls of the ecosystem into account when making decisions like this. But I'm not sure what the remedy should be? Should Apple be forced to make an Android version of iMessage?
But regardless, I think that Epic reasonably establishes that Apple takes wall height into consideration when making big decisions. But they leave out all the other things that factor in, like trying very hard to make a garden people don't want to leave in the first place.
Then this:
While these features designed by Apple may be responsible for the lock-in, they are not what drew most users to the iOS ecosystem in the first place. Rather, the success of the iOS ecosystem stemmed from the combination of Apple's iPhone with iOS with a world of software created by developers whose ingenuity, creativity and dedication has led to an array of apps that provide ever more functionality to users within the iOS ecosystem. As Apple's iconic commercial noted, whatever a user wanted to do with her iPhone, "there's an app for that!" [emphasis added]
That their best evidence is an ad campaign from 2009 is telling. Apple ads mostly focus on security/privacy, music, productivity, and lifestyle. They haven't talked about apps in their ads since the App Store was new, and they needed to promote it.
But there are bigger problems with this argument:
Everyone can mostly get the same apps in Android. But developers usually start with iOS. Maybe Apple has spent a lot of money developing a more valuable ecosystem for developers, whether open or closed?
They again elide iPhone's stellar customer satisfaction.
They brush over the billions of dollars Apple has invested into iPhone and iOS with a dependent clause.
iPhone was a hit before the App Store existed.
They want to make the argument that apps are more important than the device and the Apple apps that come with it, but that Apple holds all the power in bilateral relationships. The second part of that is obviously true, and that has irked more developers than just Epic. But the first part is far from obvious.
When we dig down further into their detailed argument here, it really falls apart. Much of their evidence is cherry-picked phrases from long Apple presentations. For example:
In connection with promoting the iPad Pro in 2018, for example, Apple highlighted the availability of "over 1 million apps specifically designed to transform your iPad into anything you need with just a tap."
They want us to believe that people buy iPad over other tablets because of the 1 million apps, that Apple knows this, and that they headline it. This is just not true. I went back and watched the 2018 iPad Pro introduction. iPad takes up almost an hour of the 91-minute presentation. About 10 minutes got devoted to third-party apps, near the end. These were presentations of NBA 2K and Photoshop. Then I looked at Apple's website promotion of their new product the day after the presentation via the Wayback Machine. You have to scroll ten pages before they talk about third-party apps, again Photoshop.
This whole section is things like this.
iPhone Is A Market Unto Itself
But even if the court accepts Epic's arguments, that still doesn't establish iOS third-party apps as a "relevant aftermarket," secondary to Apple's "foremarket" as far as antitrust law is concerned. This is the meat here, 29 pages with 85 subsections. They rely heavily on the theoretical analysis of their paid consultant, economist David Evans, a noted antitrust expert.
I won't walk you through the whole thing, but Evans' conclusion here is that Apple and Google both operate "foremarket" monopolies, and could "hypothetically" increase prices by 10% or more without losing anyone. Evans says that Apple could, hypothetically, increase iPhone prices by $5 or more, and the price of the $99 annual iOS Developer Program fee by $9.90 or more without losing customers or developers, because of their monopoly.
Theory is great, but it helps to check the facts: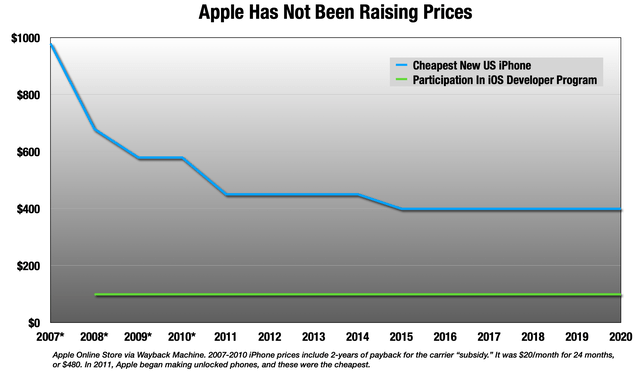 Could they raise prices slightly without losing customers and developers? Maybe. But they have kept developer fees constant for 13 years now. Apple first added an entry-level iPhone in 2009 when they introduced iPhone 4, but kept the 3GS as a less expensive model at $579. Since 2015, they have had the iPhone SE at $399. That 2015 iPhone SE is still supported, even though it has been replaced. Including payments to AT&T (T), customers paid $979 for the first iPhone. Apple has also reduced their cut for the vast majority of developers who gross under $1 million to 15%, and also for years subsequent to the first of subscriptions.
Could they raise prices without losing customers and developers? Maybe, but likely they would have done so by now.
They use more of these hypothetical price increases:
Using Epic and Fortnite as an example, Dr. Evans calculated Epic's overall EBITDA margin for 2018 and 2019 to be 22.5% [that includes Unreal Engine, which is not at issue]. He then demonstrated that it would not be profitable for Epic to leave iOS unless it could recoup 87.7% of its Fortnite iOS revenue from other platforms. As Dr. Evans demonstrated, when Epic left the iOS platform, it recouped no more than half of its iOS revenues, on the high end, which means that Epic would find it more profitable to pay a 10% increase in price than to leave iOS.
But there has been no increase in price, for all these years.
So the entire foundation of their argument is this foremarket monopoly that Epic and their economist say exist, but does not seem to in practice. There are other problems in this section, beginning with their definition of Apple's market share.
Apple's market power is demonstrated by its market share. As noted, iOS has a 40% share of the Smartphone Operating System Market by revenue as of 2019. Apple also has a 56% share of revenue for smartphones priced $300 or more as of 2019. [emphasis added]
As you see, they chose revenue, not phones, as their market share metric. What Epic is talking about throughout the document is developers and individuals making micro-decisions for themselves and their companies or families, and how Apple uses their market power to affect those decisions. The relevant metric is the number of phones sold, not how much those phones cost. They chose revenue, because it makes Apple's share sound much bigger. Estimates vary because Apple no longer breaks out units sold, but they range from 20%-27%, not 40%, which is not a majority in any event. Also, as noted, all of Apple's phones cost over $300, so that threshold was cherry-picked.
Next, they have to convince the court that all the other gaming devices from Windows PCs to consoles don't count in calculating Apple's market share. I'm not going to go through this part. But even if we stipulate Epic's argument here — consoles, PCs and phones are not the same thing and everyone treats them differently — it blows up another crucial portion which we will discuss next, and maybe the whole argument.
I am going to skip over a lot here. If the court buys Epic's arguments regarding the foremarket, it is not hard for Epic to prove that Apple is a monopolist in that foremarket, and practices anticompetitive behavior there. It's their business model to have a minority market share where they exercise absolute control.
What I am not going to skip is Epic's broadside against Apple's security practices, which is a key part of Apple's justification for the 30% skim. Apple says they put a ton of time, effort and money into this, and they deserve to be compensated. To be clear, security is only one of Apple's justifications for App Review. There are other abusive practices, such as apps that do not do what their description says they do, which is the number one reason apps get rejected. They do this on every app, whether free or paid.
The biggest headlines come from Eric Friedman, head of the Apple's Fraud Engineering Algorithms and Risk unit. Here are some of his quotes Epic highlights from internal documents and his deposition:
App Review is bringing a plastic butter knife to a gun fight.

More like a pretty lady who greets you with a lei at the Hawaiian airport than a drug-sniffing dog.

Not able to deflect sophisticated attackers.
I would of course like to know what the contexts of these edited statements are, but this is tough stuff, and damaging to Apple's reputation in this regard.
But even though these quotes are the ones that have garnered the most press attention, there's a problem in their argument from the start — that iOS and macOS are largely the same thing, and iPhone and Mac are largely the same thing. They spend the first 11 pages of the section on this, because the rest follows from it. Again, what Epic is doing on iOS is not prohibited on the Mac. But 108 pages before that, Epic is trying to convince us that the smartphone is entirely unique, because that is foundational to their foremarket argument. They cannot have it both ways, and it blows up one or both of their arguments.
But, again, it's helpful to look at facts. Epic highlights some very bad examples of malicious apps that have evaded review, mostly old ones. These are typically new exploits at the time, and get past both the automated review and humans. It is telling that most of the cases they cite are old ones. This goes back again to Apple's continued investment in the App Store, and making App Review better over time.
A good example of how this sort of thing works is the very first large-scale App Store security breach in 2015. Chinese developers had to download Apple's development software, Xcode, from US servers, and it was slow. Someone in China put up an installer hosted in China that they claimed was a mirror. But it was actually a modified version of Xcode that inserted malicious code into the developers' app at build. Something like 4,000 apps with this code found their way on to the Chinese App Store before Apple shut it down.
This is the whack-a-mole of security. Apple even let Epic's Trojan through. New exploits are happening all the time, and even the best security researchers have trouble keeping up. Everyone brings a plastic butter knife to this fight. No one is able to deflect sophisticated attackers all the time. The best you can do is work hard to close holes as soon as they open.
But the ultimate proof here is that iOS phones have something like 50 times less malware installed on them than Android phones, which have multiple App Stores and permit "sideloading" directly from the web. We can argue over what that number is, but it is somewhere in the mid-double digits. It's a bit of an unfair comparison, because there are so many more Android phones out there, and it is a larger attack environment as a result. But there again is the tricky part for Epic: iPhone is only about a quarter of phones out there.
Epic counters that most of the security of the phone comes from other places like the Secure Enclave and sandboxing. This is very true, but Apple has never claimed otherwise. Their claim is that App Review is one of the many ways they keep malware off iPhone. Those billions of dollars in investment again.
That was a lot! Before we move on, let me bullet all that. Epic claims:
Apple's primary decision-making vector is keeping the costs of switching from iPhone high.
Taken together, the third-party apps in the App Store are a bigger driver of initial iPhone vs. Android decisions than the phone and what comes with it.
After those initial decisions are where the high switching costs come into play.
Measured by revenue, Apple has a 40% global share of the smartphone market.
PCs and consoles don't count in that calculation, because consumers and developers view them very differently than phones.
Apple is a monopolist in the iPhone/iOS foremarket and practices anticompetitive behavior.
Apple has different rules for iOS and macOS. The phone and the PC are essentially the same thing.
Most of the security on iPhone is provided at the OS and hardware level, not via App Review.
Redactions Hurt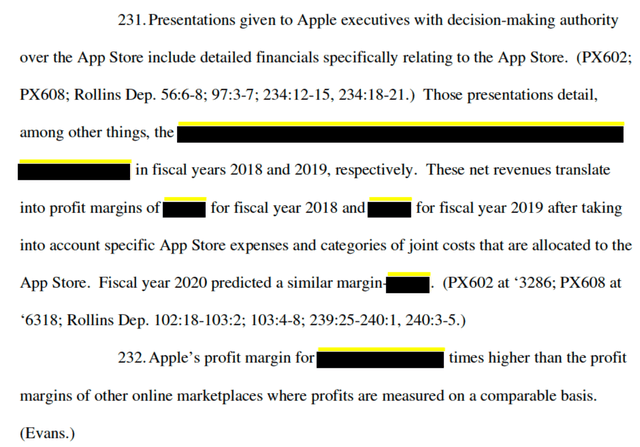 Screenshot from Epic's filing
This has nothing to do with any of this, but every single Apple analyst, including me, desperately wants to know what's under those redactions. I shake my fist at an uncaring universe.
For what it's worth, Apple disputes what's under those redactions.
I Read So You Don't Have To: Apple
You'll be happy to learn that I will be much briefer with regards to Apple, because their argument is mostly pretty simple, and the burden is on Epic in any event.
We invest a ton of money in keeping iPhone secure and private.
One of the ways we do that is App Review.
Because most app downloads net Apple nothing, developers that do make money on the platform shoulder that burden.
Selling software was far harder and more costly to developers before the App Store. We built this thing from nothing.
We are not pretending we don't benefit, but the primary beneficiaries are developers, to whom we've paid out billions, including $700 million for Fortnite. Epic just thinks that should be a billion.
A phone has different security requirements than a PC due to its ubiquity in people's lives.
The tighter restrictions on iOS App Store reflect that.
We are not a monopoly. We believe the relevant market is gaming transactions, where we think we have a market share in the range of 23-38%. Honestly we don't really know.
Lawyers being lawyers, there are plenty of laughers in here, such as claims that requiring the use of Apple's in-app payments is "procompetitive." There is some pretty tortured logic in that section. But that is not central to Apple's defense. Unfortunately, the most central parts of their defense — we are not a monopoly — are heavily redacted, like subsection 399. Here's a sample: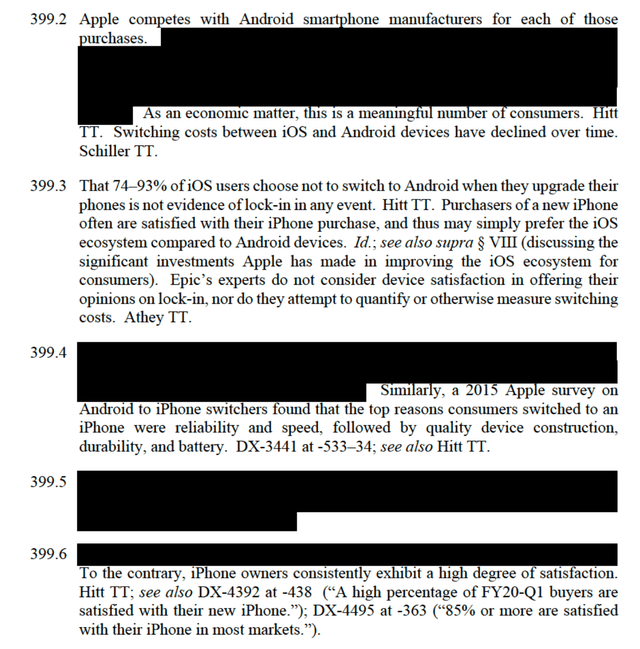 Apple filing screenshot.
Here we would have learned how many iPhones Apple sold in the US and other things. Again, I shake my fist at an uncaring universe. There are more redactions in Apple's discussion of gaming market share.
But we did get some very interesting unredacted stuff as Apple closed out their argument in this section, including this chart: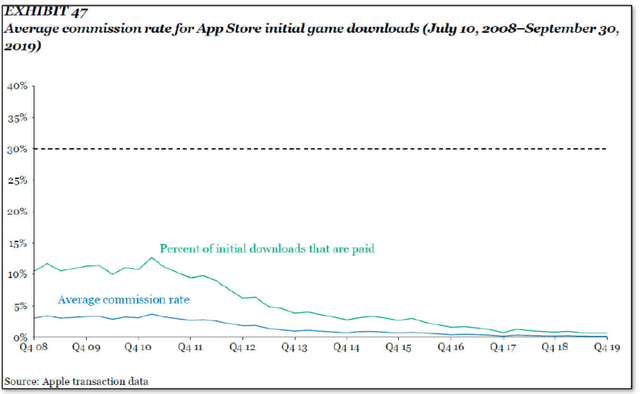 Apple filing screenshot
Apple wants us to focus on the vast majority of downloads that do not net Apple a dime. What they call their "average effective commission" is less than 1% when taking all those free downloads into account. Note how steeply the green line declines after Apple introduces in-app payments. If Apple did not charge for in-app payments, they would likely be losing money on the App Store.
But as you see, many of Apple's arguments here echo my own reactions to Epic's filing; remember, I read Epic's first and wrote that section before reading Apple's. The reason is that, to my mind, there are huge logical flaws in Epic's argument. The central one is that Apple is a monopoly, when even under Epic's generous definition using revenue instead of units, and not counting other gaming devices, Apple only has a 40% market share.
But law and logic are not the same thing.
Apple Is Not Playing
I'll get to it in the next section, but this is actually an existential challenge for Apple should Epic win. Apple is not playing around, and will go to the mat on this one, no matter what the cost. One of their primary strategies is going to be to spend Epic into submission so they will settle.
But also, they decided to really go after Epic in a very public way in their filing. Just the subject headings are brutal: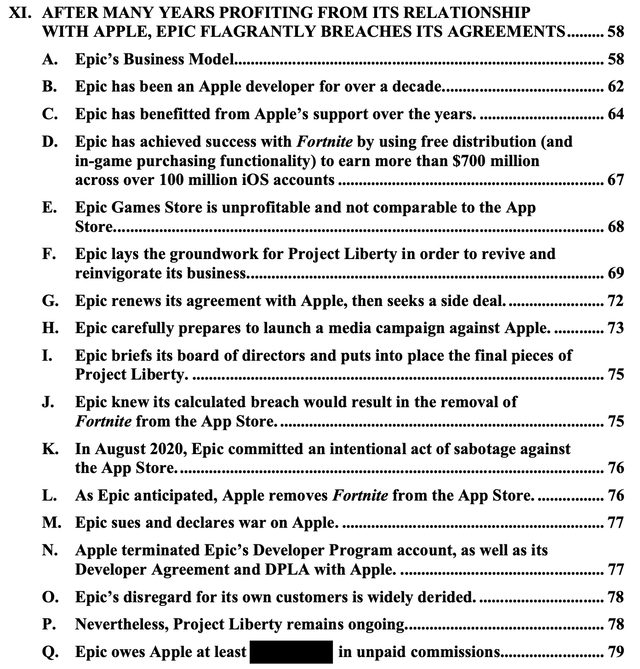 Apple filing screenshot. "Project Liberty" refers to Epic's plan to precipitate this conflict.
You come for the king, you best not miss.
Implications Should Epic Win
There is a long list of specific remedies that Epic is pursuing, but the important one is the first one. Apple should be permanently enjoined from:
Restricting, prohibiting, impeding or deterring users of iOS devices, through technical, contractual, financial, or other means, from downloading, executing, installing and/or updating iOS apps and app stores from a distribution channel other than the App Store.
If the first place, this all assumes that Apple would continue to provide $99 annual licenses to developers under that condition. Without in-app payments, the App Store likely loses money.
This would also unleash a flood of suits towards any app store, and maybe even Epic's own app store, which Apple claims is unprofitable anyway. Most at risk are Microsoft and Sony, and their consoles. These are the most locked-down platforms of them all. And it does not just apply to games. Should Epic get what it wants, there is just a ton of risk out there across a wide swath of companies.
But the company that has the most to lose is Apple. This case is an existential challenge, which is why they are going to fight it to the last lawyer. The basic Jobs-Cook formula that led to all this success was focus on two things — high customer satisfaction (Steve Jobs) and ultra-efficient operations (Tim Cook) — and the rest sort of takes care of itself.
Both parts are hard, but the first one more so. Jobs was convinced that the best user experience was when Apple controls every aspect of it. Apple's executives still believe this. In this respect, Apple believes there is a virtuous cycle here:
Make great products that people want so much, they are willing to pay more than the competition.
But because of those relatively high prices, it is nearly impossible for Apple to remain a monopoly or near-monopoly for very long after a new product launch.
That gives Apple the legal leeway to exercise rigid control over every aspect of the user experience without having to worry about antitrust.
This control of the user experience allows Apple to keep making the product better, keeping those prices high.
Should Epic win, that blows a giant hole in that cycle. If courts agree that iPhone is a foremarket, as Epic suggests, what other restrictions would developers want to rid themselves of? Apple imposes a myriad of restrictions which are a cost to developers that they may decide they don't want to pay anymore. An Epic win is an entire reshuffling of the deck for Apple.
30% or 0%?
There are all sorts of legal flourishes here but it boils down to a simple question. Apple has invested a ton into making a giant playground for developers with huge network effects. Fortnite had 100 million paying customers on iOS. Apple thinks the developers that are profiting from software in their playground should shoulder that burden for everyone, including the majority of apps that do not pay Apple anything but a $99 annual fee. For that, they get to license all of Apple's APIs. 30% is a fairly standard online retail take for software.
Epic would like to pay 0%.
This article was written by
Confirmation Bias Is Your Enemy.
Tech and macro. Deep analysis of long term sectoral trends, and the opportunities arising from them. I promise not to bore you. Author of Long View Capital, a Marketplace service for long-term investors. Risk Factors: I am also wrong sometimes.

Analyst's Disclosure: I am/we are long AAPL. I wrote this article myself, and it expresses my own opinions. I am not receiving compensation for it (other than from Seeking Alpha). I have no business relationship with any company whose stock is mentioned in this article.
Seeking Alpha's Disclosure: Past performance is no guarantee of future results. No recommendation or advice is being given as to whether any investment is suitable for a particular investor. Any views or opinions expressed above may not reflect those of Seeking Alpha as a whole. Seeking Alpha is not a licensed securities dealer, broker or US investment adviser or investment bank. Our analysts are third party authors that include both professional investors and individual investors who may not be licensed or certified by any institute or regulatory body.