There Is Still Time To Buy Carnival And The Upside Is Huge
Summary
Carnival's business update showed increasing strength in bookings. Interest in ocean cruises after a year of lockdowns is going through the roof.
The CDC could feel compelled to open up the cruise line sector sooner than expected. This would be a BIG catalyst for the sector and CCL.
Carnival's outlook is improving as is the sector outlook. Revenue and EPS estimates are very low and will likely be refreshed once the reopening takes place.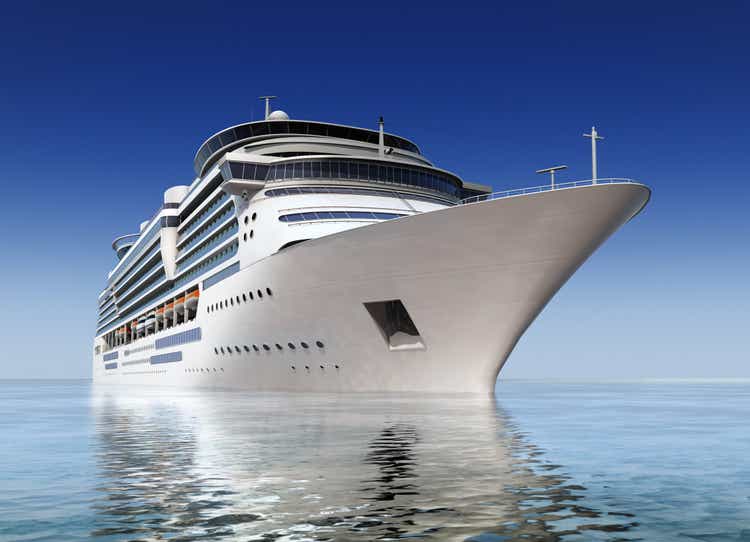 Reports and business updates out of the cruise line sector are increasingly bullish. Carnival Corporation (NYSE:CCL) is facing positive industry developments and a very strong booking situation. The CDC could reopen the cruise line sector sooner than is now priced in. The risk profile remains heavily skewed to the upside and CCL is set to go higher.
Technical consideration
Before I jump into the latest developments for Carnival, I want to quickly revisit the technical situation of the cruise line company because shares just hit a new high.
CCL is displaying positive strength amid an improving sector outlook. The stock has been in an uptrend since November and an increase in volume after good news has been released.
CCL just hit a fresh high, $36.63, and is set to break out above its upper trend line. A breakout would clear the way for $40.

(Source: Finviz)
Potential catalyst: Will the CDC cave to demands to reopen the cruise sector earlier?
Last week I proposed that cruise line companies are undervalued because
The booking trends in the cruise line industry are positive which is evidence of strong pent-up demand
Valuations are depressed because of high leverage and COVID-19 uncertainty, resulting in low earnings estimates.
Related to that, Norwegian Cruise Line Holdings (NCLH) announced that it was restarting voyages outside of the US this summer and that it has petitioned the Center for Disease Control and Prevention to allow for an earlier return to business. Based on the CDC's Framework for Conditional Sailing the date set is November 1, 2021, but the CDC has discretion to reopen the sector earlier than that if COVID-19 is no longer deemed a public health threat.

(Source: CDC)
The CDC could open up the cruise line sector earlier than expected, an event that is not yet priced into valuations and it could happen if Florida's lawsuit against the CDC is successful.
Pressure is building on the CDC to allow the sector to return this summer which typically sees the peak of the cruise season. The CDC, on the other hand, wants to keep its framework in place and has not publicly commented on Norwegian's petition to allow an earlier return of cruise ships to US ports.
Carnival has said that it is willing to find alternative solutions to start sailing again if the CDC doesn't ease up on restrictions … and threatened that it could relocate cruise ships away from their US home ports …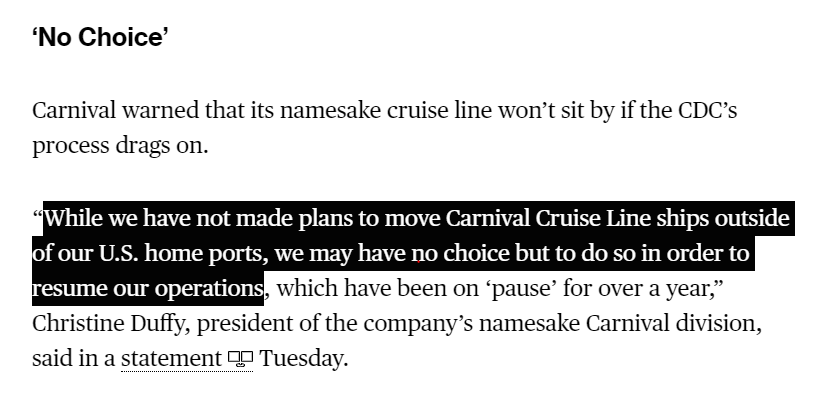 (Source: Bloomberg)
Without a doubt, the odds are improving that the CDC will allow cruise ships to sail from US ports again in the short term or at least allow a phased return of cruise ships under strict health and safety procedures.
If I had to make a guess, I would say there is a 30-40% chance in favor of an earlier reopening. Sector risks are still high here … ranging from huge debts that need to be serviced to potentially new COVID-19 outbreaks.
Carnival business update
Carnival's shares hit a new high Thursday after the cruise line company released its newest business update … which contained important information on Carnival's booking situation as the market prepares for a reopening.

(Source: Carnival Corporation)
Carnival's booking situation couldn't be any better … Carnival saw a 90% higher booking volume in the first quarter compared to the fourth quarter last year. A 90% increase!
Also important: "Cumulative advanced bookings for full year 2022 are ahead of a very strong 2019 as of March 21, 2021" ... remember that 2019 was a record year for the cruise line industry.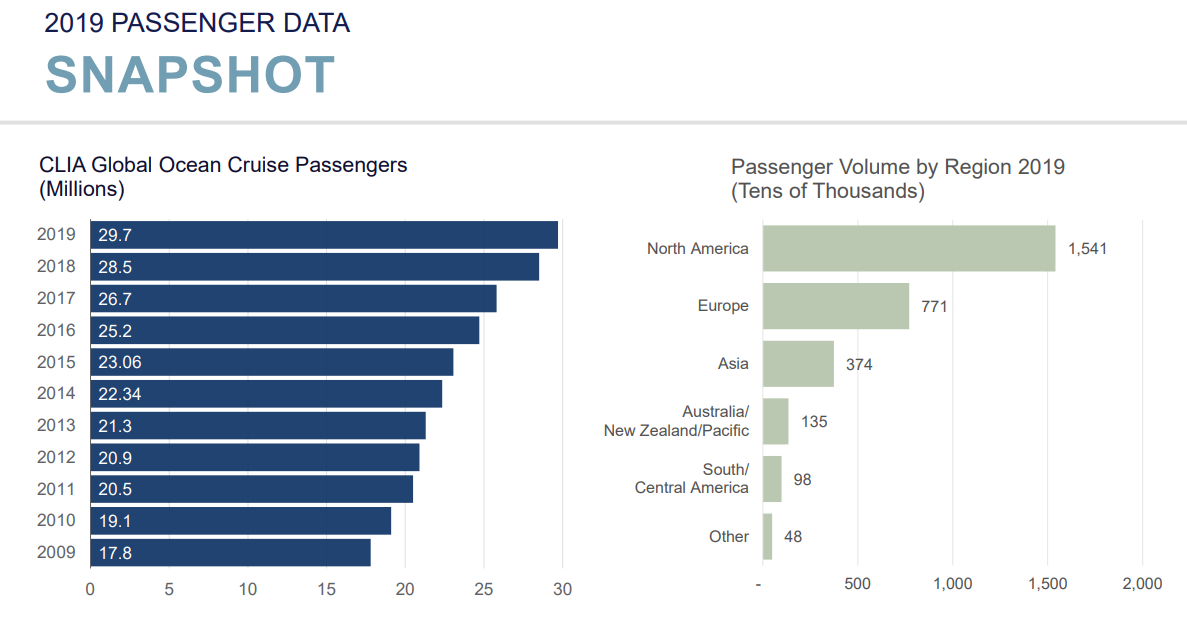 (Source: CLIA Cruise Line Industry Report 2021)
The cruise line sector is set to destroy expectations if the CDC approves of new cruises from US ports and the industry outlook has turned decidedly positive ... Carnival's business update is only the latest example that demand for ocean cruises is going through the roof.
Despite an improved booking situation, Carnival is still not going to have a great year in 2021, but valuations grow on expectations that the outlook and business results improve in the future ... and the recovery potential in the cruise sector is significant.
Expectations, valuation and a new upgrade
The expectation is for Carnival to have $4.4b in revenues in FY 2021 and more than four times that amount, $17.3b, in FY 2022, as business is expected to operate normally again.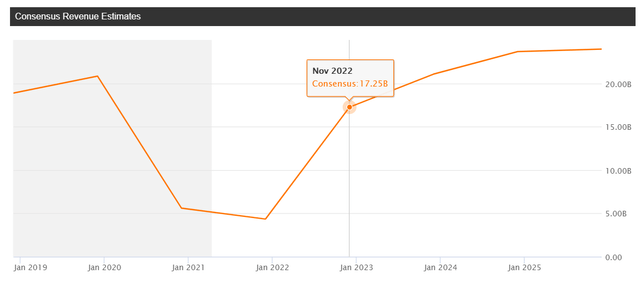 (Source: Seeking Alpha)
Carnival's EPS is also expected to see a sharp rebound. CCL is expected to be profitable again in FY 2022 after another expected loss of $4.9-share this year. I would expect Rev and EPS revisions once the sector is open again and uncertainty is removed... which itself could be a catalyst for CCL.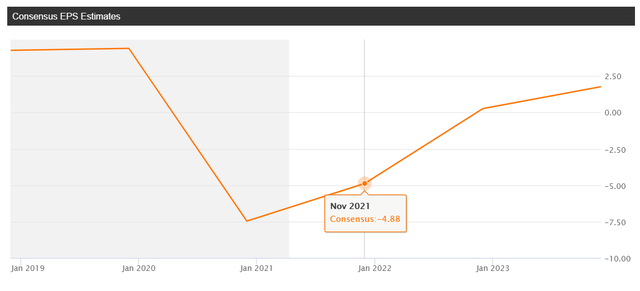 (Source: Seeking Alpha)
Carnival, despite a 35% YTD return, has more upside … with multiple potent factors working together here: The economy is going to reopen, the CDC policy could change and analysts are going to refresh their estimates once business gets going again… all of this means that Carnival could recover to its pre-pandemic bookings situation and a higher valuation… and it could do so very fast.
Carnival's historical P-E ratio has been between 10-15 ... much higher than today.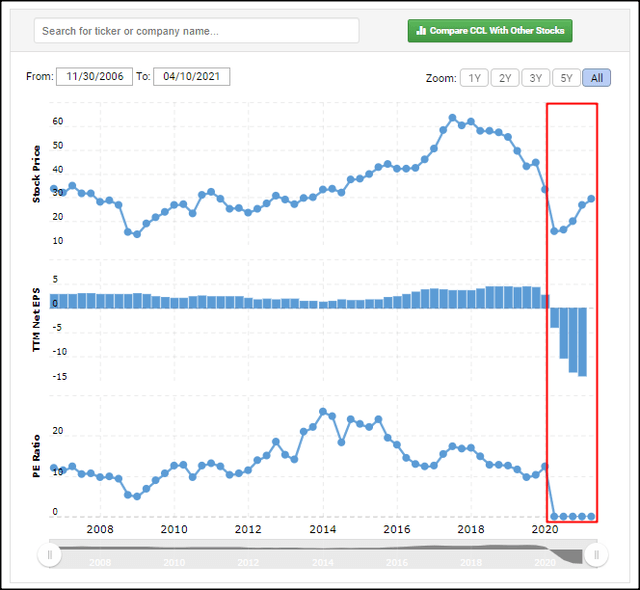 (Source: Macrotrends)
Analysts on TipRanks say CCL is a Moderate Buy with an average price target of $28.57 …

(Source: Finviz)
But this only has the story… analysts are turning more bullish on cruise line companies and Carnival received an outperform rating from Credit Suisse last week which more than doubled its price target for the cruise line company from $18 to $40 … That's 38% upside! You can look forward to more refreshed reports on CCL once the sector reopens.
Short term, medium term and long term risks
The risks coming with an investment in the cruise sector are not negligible… and can be separated based on time horizon.
Short term, the biggest risks for Carnival are COVID-19 and a delayed reopening of the cruise sector ... and thereby an unchanged CDC policy.
Medium term, I would also say COVID-19 is the biggest risk factor if there is a COVID-19 outbreak on a cruise and quarantine protocols go into effect again. This would seriously harm the cruise industry, but a repeat of 2019 is unlikely.
Long term, Carnival's growing debt is a risk factor and needs to be remedied as soon as the sector returns to normal.
Closing thoughts
Carnival is set to storm out of the gate when the sector reopens. The outlook for the cruise line industry in general and for Carnival specifically has turned from dim to bright. While challenges remain, Carnival's valuation can grow on positive reopening and vaccination news, a CDC-approved earlier start date for ocean cruises and continued booking strength. A CDC policy turnaround would be a big catalyst for the sector. 2021 is the year in which the cruise line sector gets resurrected.
This article was written by
I look for high-risk, high-reward situations. Five largest portfolio holdings: Bitcoin, SoFi, Alibaba, PayPal, Western Alliance. Early buyer of cryptocurrencies. I live in Thailand :)
Analyst's Disclosure: I am/we are long NCLH. I wrote this article myself, and it expresses my own opinions. I am not receiving compensation for it (other than from Seeking Alpha). I have no business relationship with any company whose stock is mentioned in this article.
Seeking Alpha's Disclosure: Past performance is no guarantee of future results. No recommendation or advice is being given as to whether any investment is suitable for a particular investor. Any views or opinions expressed above may not reflect those of Seeking Alpha as a whole. Seeking Alpha is not a licensed securities dealer, broker or US investment adviser or investment bank. Our analysts are third party authors that include both professional investors and individual investors who may not be licensed or certified by any institute or regulatory body.