By Leo Chen,
The US stock market kicked off the second quarter with new all-time highs above 4,000 on the S&P 500. Meanwhile, the volatility index, VIX, has closed below 20 for five consecutive days for the first time in 13 months. With the strong rally in the equity market, is this the beginning of the VIX's returning to the lower bound, as we had before the COVID selloff?
To put everything in perspective, Table 1 shows the summary statistics of VIX. The average of the VIX since 1990 has been 19.50. As the percentile table shows, VIX is unevenly distributed towards the lower half, with the 50th percentile being 17.55. However, VIX has averaged 29.62 since March 2020. That's above the 90th percentile (28.90) - an extremely high average for any rolling 13 months. Since this extreme level is unlikely to be sustainable for a prolonged period, we can expect the VIX to pull back this year. But does this mean VIX will stay low? Let's take a look from a different perspective.

CBOE provides a tail-risk index, SKEW. Like the VIX, it measures the potential risk in the S&P 500, with a focus on so-called "black swan" event. You may find our previous commentary discussing an anomaly in SKEW here. SKEW's historical average has been 120.13 since 1990. The rule of thumb is that readings above 140 imply high tail risk - less than 3% of SKEW daily prices have been above 140 in the past 3 decades.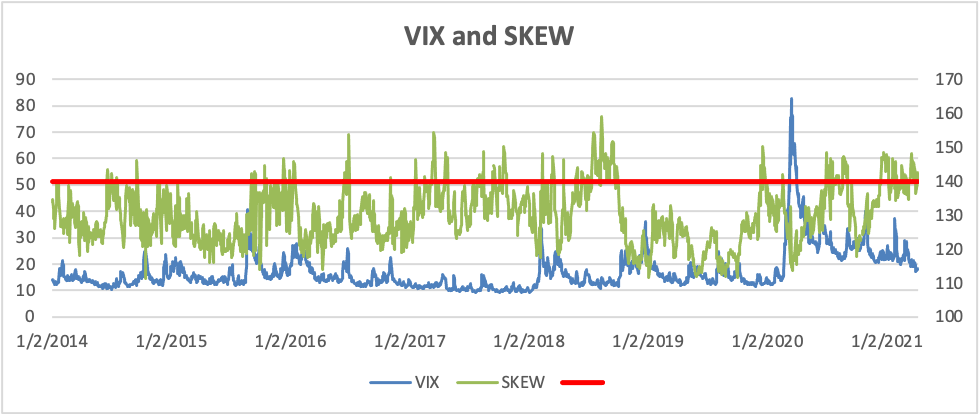 Chart 1 compares the VIX and SKEW for the past 7 years. The correlation between VIX and SKEW is -0.16, indicating opposite movements in the two indices. But we find that, since 2014, VIX has jumped more than 50%, to a level above 20 at least, each time SKEW had a run above 140. This is a significant implication from the tail-risk index. Although the market does not necessarily need to fall sharply when SKEW rises to an extremity, it does appear that market agents are hedging against potentially big losses when SKEW spikes. This response may make the market subject to high volatility and downside risk. Understandably, we may see a fast-rising VIX after a spike in SKEW.
Note that the SKEW index has closed above 140 for 49 out of the past 76 sessions since mid-December. This has been the longest 140+ run in SKEW's history. Hence, even though the VIX appears to be trying to return to its normal level below 20, we should still be prepared for VIX to rise back into the 20s or even the 30s this year.
*Data from Bloomberg.
Editor's Note: The summary bullets for this article were chosen by Seeking Alpha editors.