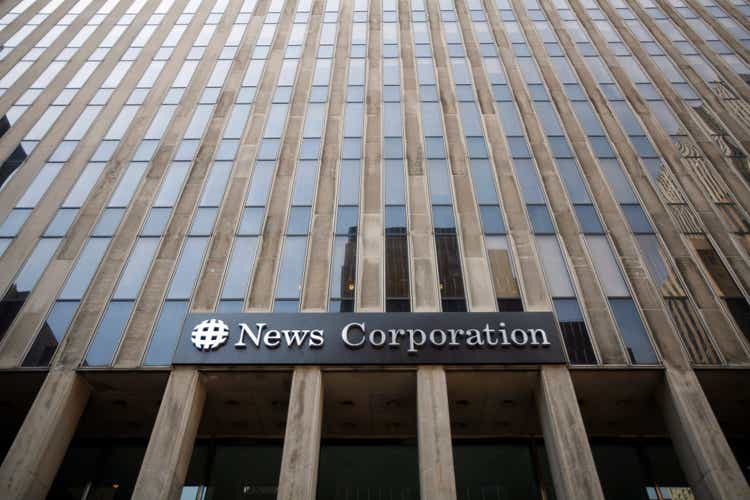 News Corp. (NASDAQ:NWS) stock may have appreciated quite nicely in recent quarters, but it continues to trade at a substantial discount to its sum-of-parts. At current valuations, only ~$5bn of market cap is being attributed to News Corp's assets ex-REA. Further adjusted for the Dow Jones business using the New York Times as a comparable, this would imply that the market is pricing the NWS "stub" (i.e., the Foxtel, Books businesses, and other investments) at a negative value. With clear fundamental value in the "stub" and ample upside catalysts ahead, I think NWS is a bargain at current levels.
IBD Acquisition Raises Important Questions for Dow Jones
NWS has been on an acquisition spree of late, kicking things off in March with the acquisition of Investor's Business Daily (IBD), which operates the Investors.com website. The deal will be all cash, for a total consideration of $275m. The rationale behind the deal isn't in question, in my view - IBD is a positive step towards the simplification and digitization of NWS' asset portfolio. Note that IBD already has a revenue and subscription base that is >90% digital, with ~100k digital subscribers across its platforms and minimal overlap with the existing NWS-owned Dow Jones subscriber base.
The possible financial implication for Dow Jones is far more interesting, in my view - assuming a $40-$45 monthly ARPU (per retail pricing) and spreading it over the ~100k subscribers, that gets us to IBD revenue of >$50m and an implied EV/Sales multiple of 5-6x. That bodes well for Dow Jones, which is on track to achieve similar levels of digitization on a far larger scale – applying the 5-6x EV/Sales multiple to FY22 revenue of ~$1.8bn (vs. FY20 revenue of $1.6bn), this would imply a potential $10bn valuation for Dow Jones at the midpoint (or ~67% of the entire NWS market cap). As the Dow Jones business increasingly transitions toward a more digital and subscription-oriented model, expect some value unlocking here.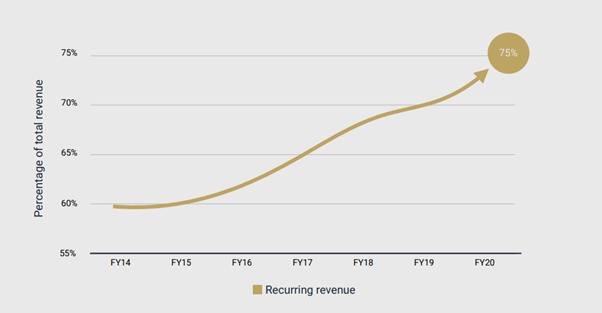 Source: DJ Investor Presentation
Another Proposed Bolt-On Acquisition with HMH
NWS will also be acquiring HMH Books & Media, a publishing business owned by Houghton Mifflin Harcourt (HMHC), for $349mn in cash. Based on 2020 numbers, this implies a ~2x EV/Sales multiple, which is slightly below the recent ViacomCBS (VIAC) divestment of Simon & Schuster at 2.7x EV/Sales. It would also imply a pricey ~13x EV/EBITDA multiple on 2020 numbers, although this moves lower to 7.5x adjusted for $20m in synergies. The pro-forma multiple screens favorably relative to the CBS Viacom/ Simon Schuster multiple of ~15x EV/EBITDA and the prior Harlequin acquisition at ~8x EBITDA.
| | |
| --- | --- |
| Deal | Transaction EV/EBITDA |
| News Corp-HMH Books & Media (pro-forma) | 7.5 |
| Viacom-Simon & Schuster | 15 |
| News Corp- Harlequin | 8 |
Source: Company Filings
The HMH acquisition seems like a solid bolt-on acquisition for NWS within a segment where it already has significant scale and a strong track record of execution on the M&A front. While NWS has quantified ~ $20m in merger opex synergies across manufacturing, distribution, and other cost-out opportunities within the next two years, I think there could be further upside from the HMH back-catalog (~60% revenue contribution for HMH) through printing and distribution efficiencies. Given NWS has historically been conservative on its cost reduction and synergy targets, I feel comfortable underwriting the current savings targets and view an accretive outcome as highly likely.
Sound Capital Allocation Strategy
The latest M&A announcements follow 62% NWS-owned REA's acquisition of Mortgage Choice for A$244m, implying cumulative investments of ~$810m as of end-1Q21, equivalent to >50% of NWS end-FY20 cash balance of $1.6bn. Net, I view the acquisitions as good uses of capital by NWS—not only does it provide increased scale in key areas such as Book Publishing at a reasonable price (post-synergies), but it also addresses any investor concerns around the hefty unused cash balance.

Source: Form 10-Q Filing
Management also remains focused on transparency and simplification, offering further details on the performance of Move in recent quarters, which should shine some light on the underlying value in the Move asset. There is a clear case for a meaningful re-rating at Move - in recent years, Move has meaningfully increased its audience delivery to ~40m/month (vs. ~15m unique users in FY14). It currently ranks behind Zillow (which has also re-rated significantly in recent years) but is similarly approaching critical mass. With the roll-out of new referral-type revenue streams gaining traction with buyers and agents post-Opcity acquisition, any positive developments here could catalyze a re-rating, in my view.
NWS Stub on Offer for a Deep Discount
At current levels, NWS has a market capitalization of ~$15bn, yet its 62% stake in REA has a publicly-traded market value of ~$10bn. This leaves ~$5bn for the ex-REA "stub," which seems unjustified given the Dow Jones' closest comp (The New York Times) has a market cap of ~$8bn, with a similar revenue and margin profile. Solely based on these two key assets, I think there is a clear argument that the market is assigning a negative value to the NWS (ex-REA and DJ) stub, which comprises prime media assets such as HarperCollins, Foxtel, and Move. There will likely always be a degree of conglomerate discount for NWS, but I think the current sum-of-parts discount is far too wide, particularly given management's ongoing efforts to improve disclosure and streamline the business. Further simplifying of NWS' corporate structure or future divestitures and spinoffs could catalyze the unlocking of significant value in the stock.
| | |
| --- | --- |
| | Market Cap (USD 'bn) |
| NWS @ Market | 15 |
| (-) REA @ $0.77 AUD/USD | 10 |
| (-) Dow Jones & WSJ @ NYT Comp | 8 |
| = NWS Stub | N/A |
Source: Company Filings, Author's Est